Finding a reliable, affordable service might seem tedious in a world where the price of cellular plans is always on the rise. Fortunately, that's where Consumer Cellular comes in.
Consumer Cellular is often regarded as the best cellular provider because of its low prices and attentive service. This Consumer Cellular review will help you decide whether the savings are worth it.
What is Consumer Cellular?
Consumer Cellular is a cellular service provider that provides inexpensive mobile plans inexpensive mobile service plans for themselves and their families. Consumer Cellular first opened its doors in October 1995.
Consumer Cellular stands out compared to other carriers due to its dedication to ease of use and excellent service. The organization is committed to providing its customers with easy-to-understand programs, fair pricing, and first-rate service.
...........................
Consumer Cellular relies on the nationwide networks of other companies like AT&T and T-Mobile to provide its customers with excellent service. Even though it is open to individuals of all ages, the focus demographic, for now, is older people.
Plans range from $20 to $55 monthly, including unlimited talk time and text. Consumer Cellular was, however, acquired by a private equity firm GTCR in 2020.
Can I Expect Good Network Coverage from Consumer Cellular?
The next thing to cover in this consumer cellular review is how good its network coverage is. Consumer Cellular has aimed to cater to those who require a mobile phone but only plan to use it occasionally. Consumer Cellular uses AT&T and T-Mobile, two of the most extensive and most dependable networks in the United States.
...........................
Consumer Cellular's nationwide coverage is made possible by its partnerships with other national networks. Your location determines which network you connect to. However, you'll need to enter your ZIP code to verify eligibility for network coverage.
AT&T and T-Mobile's extensive networks cover both urban and rural regions. As a result, you can count on having good service in urban areas and when traveling to rural areas.
Thanks to Consumer Cellular's cooperation with these major carriers, you can always make and receive calls, send texts, and access the Internet.
What is the Cost Of a Consumer Cellular Plan?
The next feature we are to touch on in this Consumer Cellular review is the various plan tiers to serve customers with different data demands. Their basic prices are as follows:
...........................
Unlimited talk, text, and 1GB of data $20
Unlimited talk, text, and 10GB of data $35
Unlimited talk, text, and data (reduced speeds after 50GB) $50
With Consumer Cellular, you can get unlimited talk and text for only $15 a month (or $20 for one line with 1 GB of internet). 3GB of data costs $25 per month, 7GB costs $35, 15GB costs $45, and total costs $50.
The monthly fee for a second line is $20, while the price for a third line is $15. You can save $5 with paperless billing and AutoPay, and no commitment is required. There is a 5% monthly fee reduction for AARP members. As a bonus, AARP members are eligible for a 45-day money-back guarantee.
...........................
The Consumer Cellular plan allows for a maximum of three simultaneous users.
This choice enables all lines on the account to share the same data bucket.
Consumer Cellular automatically upgrades customers to a more expensive plan if they go over their monthly data allotment.
You should get a warning when your data consumption is about to reach its limit. Customers who upgraded to a more expensive plan do not face overage fees, but they do have to pay for the new plan.
Customers will remain on the higher tier until they return to their previous plan. You may wind up spending more than you planned for data use if you don't keep close tabs on it with the Consumer Cellular app.
...........................
What Kinds of Phones Are Available Through Consumer Cellular?
Consumer Cellular provides a broad range of telephones to meet various demands and tastes. They have multiple choices, including basic feature phones, smartphones, and even gadgets designed with older adults in mind.
However, You can bring your phone or buy a new phone through Consumer Cellular.
Visit Consumer Cellular's website and check whether your current phone is compatible if you wish to retain it. The GSM network technology must be supported, and your phone must be unlocked.
If your device is suitable, you can get a free SIM card by ordering one online. Once the SIM card has been delivered, you can activate the service by inserting it into your phone.
...........................
How is the Customer Service at Consumer Cellular?
Regarding customer satisfaction, Consumer Cellular consistently ranks at or near the top. The joy of its clients is of paramount importance to the organization. Thus, it works hard to provide them with individualized service. When it comes to client satisfaction,
The fact that Consumer Cellular's support staff is solely located in the United States is noteworthy. In other words, if you have any issues with their products or services, you may call support and talk to someone fluent in English and based in the United States. During business hours (Monday through Friday, 9 a.m. to 8 p.m.), you talk to a representative by calling (888) 345-5509 or chatting with one online.
Pros and Cons of Consumer Cellular
...........................
Pros of Consumer Cellular
Choosing Consumer Cellular as your cellphone service provider has several benefits. Here are a few significant benefits:
1. Reasonable Pricing Plans
Consumer Cellular provides reasonably priced plans that meet the demands of various customers. They provide low pricing on their plan.
This low pricing makes them a good choice for those who want to save costs on their monthly mobile phone service.
2. Flexible and Personalizable Options
Your package at Consumer Cellular may be tailored to your exact requirements. The customizable minutes, messages, and data let you tailor your plan to your needs. They also make it easy to switch packages anytime, so you're never stuck in a contract you don't want to be in.
3. Excellent Customer Service
...........................
The customer service at Consumer Cellular is unparalleled. Their customer service agents in the United States are kind, well-informed, and committed to resolving problems as quickly as possible.
The support staff is ready to assist you with any issue, whether it be related to your plan, device, or technical issues.
4. Extensive Network Coverage
Consumer Cellular relies on the nationwide networks of other companies like AT&T and T-Mobile to provide its customers with excellent service. This means you can count on reliable network connectivity in urban and rural settings.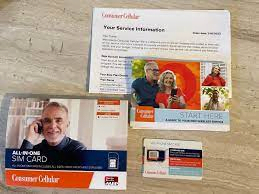 Cons of Consumer Cellular
While there are numerous benefits to using Consumer Cellular, some negatives should be considered. Some of the disadvantages we would be taking a look at in this Consumer Cellular review are:
...........................
1. Slower Data Speeds on Some Plans
Consumer Cellular's internet speeds may be lower than competing carriers with specific plans. The average user's experience may remain the same. However, it might slow down data-intensive tasks like watching a high-definition video stream or playing an online game.
2. Limited Phone Selection
Consumer Cellular's selection of phones may be more restricted than that of other well-known carriers.
Consumer Cellular has specific smartphone options, feature phones, and phones designed specifically for older adults.
However, their selection may be limited compared to that of other service providers.
3. Not Suitable for Heavy Data Users
The data plans offered by Consumer Cellular are best suited for light to moderate users. Their data restrictions and speeds might be problematic if you depend on activities like streaming video, downloading huge files, or using data-intensive software.
...........................
4. Additional Charges for International Calls
International calls made through Consumer Cellular often incur extra rates. These costs quickly pile up if you make several monthly calls internationally.
Conclusion
There are several reasons why Consumer Cellular is a good option for people and families shopping for cheap mobile service. Consumer Cellular has a lot going for it, but its low prices and adaptable plans are where it shines.
The possible downsides, however, should be considered. Whether or not you should buy Consumer Cellular comes down to your circumstances.
Consumer Cellular is worth considering if you value price, flexibility, and dependable customer service. We hope this Consumer Cellular review helps you in making the right choice.