When faced with different options for mobile service providers, selecting one is an overwhelming endeavor. US Mobile is a well-known mobile virtual network operator (MVNO) in the USA, providing customers with flexible and cheap prepaid phone plans.
However, before you sign up for the US mobile, there are several features you need to know about it. This US mobile review will guide you through everything about this mobile service provider.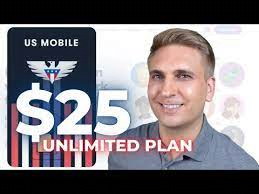 What is The US mobile?
US Mobile is a national MVNO (mobile virtual network operator) based in the USA. US Mobile relies on the wireless networks of larger companies like Verizon and T-Mobile rather than building its own.
They use the reach and infrastructure of these carriers to provide their prepaid plans and services to customers. US Mobile, being an MVNO, does not own any cell towers. It instead offers programs that operate on the 5G and 4G LTE networks of Verizon and T-Mobile, with whom it has formed partnerships.
.........................
Compared to competitors, US Mobile stands out because of the flexibility of its plans. In this way, customers who don't need limitless services may save money by purchasing the minutes, texts, and data they use.
US Mobile's plans are intended to be cost-effective while allowing customers to choose a package that best suits their needs. It offers international roaming choices for its global clients and its adaptable plans. They provide worldwide internet, voice, and text packages and services in several countries.
Remember that US Mobile is essentially an internet company; if you have any questions, you may contact them through their website, email, or live chat. They don't provide in-person or over-the-phone client service.
1. Plans and Pricing
The first thing we will look at in this US mobile review is how the plans and pricing work.
.........................
US Mobile's mobile phone plans are far more affordable than the other major networks.
It would be helpful if the service made determining which package would work best for our needs easier.
US Mobile's plans include capped amounts of data, unlimited, shared data, and the option to create a custom plan.
There are four different US Mobile plans available, and they include custom plans, data bucket plans, unlimited plans, and pooled plans.
Custom Plans
US Mobile stands apart because of the flexibility of its plans. If you want to be free of predetermined bundles, you may create your plan from the ground up. You can create custom plans by choosing the amount of call time, text messages, and data you need.
.........................
Unlimited Plans
US Mobile provides unlimited talk, text, and data for specific plans. As of May 2022, US Mobile customers can choose between two new unlimited data plans: Unlimited Basic and Unlimited Premium.
With $35 a month, a single line can access unlimited talk, text, and high-speed data. If your family uses four or more lines, you may get them for as little as $20 monthly. In addition to unlimited domestic data, the Unlimited Premium package for families provides two free streaming services.
The data bucket plans provide unlimited call and texting, with 1 GB, 5 GB, 12 GB, or 18 GB of high-speed internet. Additionally, all the lines on your account could share the same data capacity when using pooled plans.
.........................
For customers who sign up for two or more lines of Unlimited Premium, the company gives you a free subscription to its partner services in the music, video, or gaming industries. You can choose from various services, including Audible, HBO GO, Netflix, and PS Plus.
2. US Mobile Network Coverage
Another thing you need to know in this US mobile review is its network coverage. As a mobile virtual network operator (MVNO), US Mobile relies on the networks provided by larger carriers such as Verizon and T-Mobile to provide its services.
The 5G and 4G LTE networks offered by Verizon and T-Mobile, respectively, are available to US Mobile users. When you sign up, you can choose the network you want.
.........................
If you go with a US Mobile plan that runs on the Verizon network, you can take advantage of Verizon's nationwide coverage. Verizon's network has excellent coverage, even in remote and suburban regions. In many areas, you can expect a strong signal and consistent connection.
US Mobile provides options for customers who choose to use the T-Mobile network. T-Mobile's network coverage has vastly increased over the last several years, particularly in major cities. T-Mobile's network has earned a reputation for its high speeds and reliable service in heavily populated areas.
You can confirm the availability and strength of the US Mobile network in your region by visiting their website, using their coverage map, or entering your zip code. Geography, buildings, and network congestion may affect your coverage.
.........................
3. Discounts & Referral Programs
US Mobile offers its clients savings and rewards via discount and referral programs. Discounts of up to $10 are available for every referral that results in a new customer.
As a bonus, your friend may save up to $10 on their first month of service. When activating, all your friend has to do is provide your referral code. Your referral code may be found in your online profile and mobile app's "Refer a Friend" area.
When activating your account, use the code "STETSON" to get an additional $20 in account credit. With the student discount, students can save 20% on any package.
Both the Unlimited Basic and Premium plans provide a discounted rate for families. You'll get $5 off your monthly bill if you add a line. You get a $15 per line discount when you have four lines.
.........................
4. US Mobile Phones
The number of smartphones available through US Mobile's website is limited. To get the most out of your US Mobile service, we advise getting an unlocked phone from the manufacturer or bringing in your unlocked phone.
If your phone is compatible with T-Mobile or Verizon and is unlocked, you can use it with US Mobile.
5. International Features Of US Mobile
Another feature you must be aware of in this US Mobile review is that it does not provide international calling. They, however, allow global data roaming with their global eSIM subscriptions.
There are currently 154 nations where these worldwide eSIM plans are accessible. They include various data sizes ranging from 1GB to 10 GB.
Access to the foreign eSIM plans is part of US Mobile's Unlimited All package. This enables you to free global data roaming, which is fantastic.
.........................
You may need to buy an overseas eSIM plan separately if you are subscribed to a method other than the one US Mobile offers, such as a custom data bucket or pooled plan. However, it is vital to note that these eSIM plans only function with phones compatible with eSIM.
6. US Mobile Additional Features
Thanks to US Mobile's hotspot, you may share your device's data connection with other devices, such as computers, tablets, or other smartphones. This feature can be pretty helpful when you're on the move and need internet connectivity for many devices.
International data packs are available for other customers to buy. Also, Unlimited Premium members get up to 10GB of high-speed roaming.
Conclusion
With many mobile service providers available today, US Mobile is a flexible and reasonable choice. Thanks to US Mobile's various plans and services, customers may customize their mobile experiences to meet their specific requirements.
.........................
US Mobile maintains consistent coverage throughout the country using the networks of large carriers like Verizon and T-Mobile. You can decide whether US Mobile is the best option for you by considering details like the features that fit your demands.
We hope this US mobile review provides everything you need to know it.