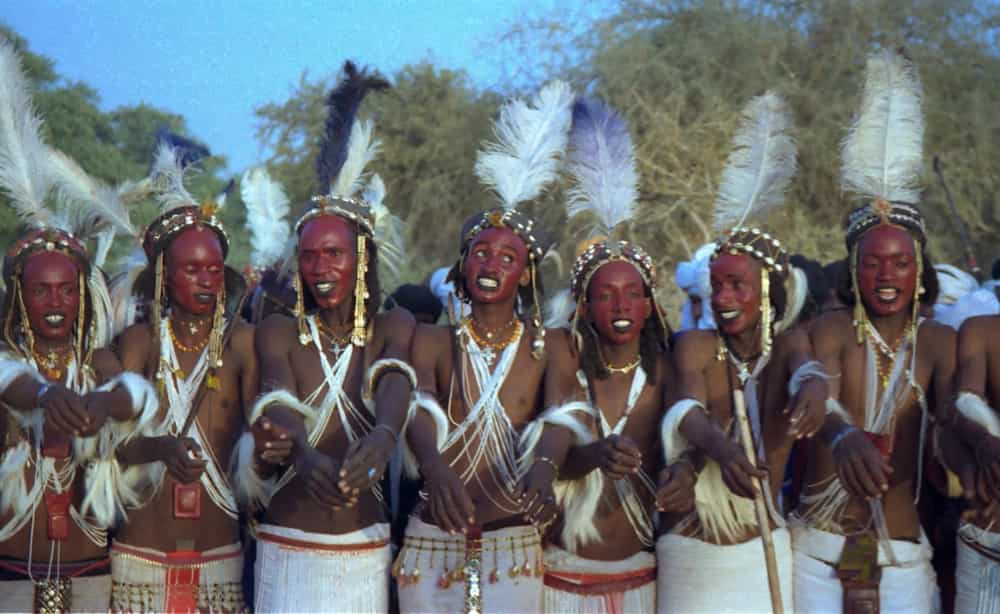 Fulani people live in certain states in Nigeria. These states are found on the Nigerian map but not identified on the map as Fulani states. They are in the northern part of the country. Some people call these places "Hausa Fulani states," but these two groups of people are not the same.
However, the Fulani people do exist and have territories and special traits that set them apart from everyone else.
Northern Nigeria is mostly home to the Hausa tribe, but small groups of Fulbe and Fula live there.
Even though they aren't as big as the Igbo tribe or the Yoruba states in the southern part of Nigeria, they are all tied together by their culture and a language called "Fulfulde" that everyone understands.
...........................
History Of The Fulani People
The Fulani people have lived in Nigeria since the Islamic theocracy of Western Sudan in the 1800s.
In the 1400s, the Fulani people moved farther east, from Futa Toro in Senegal to Macina in Niger. Then, in the late 19th century, they moved to Hausa land at Adamawa, which was in northern Cameroon.
As time went on, many Fulanis became Muslim and gave up their nomadic way of life to stay in the cities of Hausaland.
In the 1790s, a Fulani holy man named Usman dan Fodio, who lived in the northern Hausa state of Gobir, rebelled against the Hausa kings. This led to a jihad (Holy war).
Soon after, Usman led another attack by the Fulanis on the northern provinces of the emirate of Ilorin, Oyo. This is how Islam came to the land of the Yoruba.
...........................
Usman's kingdom was later divided. He gave his son Muhammad Bello the eastern part, which was in Sokoto, and his brother Abdullahi the western part, which was in Gwandu.
This lasted until the British came and joined these empires to make Northern Nigeria at the beginning of the 20th century.
See also: 7 Major Vegetation Zones In Nigeria
Common Qualities Of The Fulani People
Most Fulani groups travel from place to place. Most of the time, cattlemen look for places to graze their cows, sheep, goats, and rams.
Most of what they do is trade, which is how they make money.
The Fulani people are known for their nomadic way of life, but there are other things about them, their states, their language, and even their culture.
...........................
These people are called "Pulaaku," which means they have good discipline, are brave, humble, hardworking, friendly, and religious.
List Of Fulani States In Nigeria
Fulani people live in several states in Nigeria, including some in the North. These states are as follows:
1. GOMBE STATE
Gombe is a Fulani state in the northeastern part of Nigeria. It borders Borno, Yobe, Taraba, and Adamawa states. It became a state in December 1996, and now more than 4.25 million people live there.
Jewel in the Savannah is a name for the state. There are other ethnic groups in Gombe, but most of the people who live there are Fulani speakers who mostly practice Islam and are Muslims.
2. BORNO STATE
Borno is also a Fulani-speaking state. It is in the North-East of Nigeria's political zone. Borno state is next to the states of Yobe, Gombe, and Adamawa. Borno is the second largest state in Nigeria in terms of size.
...........................
It became a state in 1976, and its capital city is Maiduguri. Aside from Hausa and Fulani, there are other ethnic groups in Borno state.
These tribes have lived there for a long time. Dghwede, Glavda, Guduf, Laamang, Mafa, Mandara, etc., are a few of them. Over 85% of the people in Borno state are Muslim, but only a small number are Christian.
3. SOKOTO STATE
Sokoto used to be the capital of the Fulani empire. It is now located in the part of the country in the northwest. Today, it is believed that this state has more than 4.2 million people living there.
The Sultan is also Sokoto's leader and one of Nigeria's most powerful kings. Caliphate and Muslims in the country see him as their spiritual leader.
...........................
4. TARABA STATE
Taraba is both a Hausa and a Fulani state since most of the people who live there speak the languages of these tribes.
Taraba is in North Eastern Nigeria, and its capital is Jalingo. Most of the people who live there are farmers. Taraba state is home to about 40 tribes, each with its language.
5. KATSINA STATE
Fulani and Hausa are the two largest ethnic groups in Kastina state. Sharia is used everywhere in the state because it has an Islamic background in the northwestern part of Nigeria's political zone.
Katsina State was created in 1987, and its borders are shared with Kaduna, Zamfara, Kano, and Jigawa States. The state's slogan is "Home of Hospitality," and it is thought that over 5.8 million people live there.
...........................
6. BAUCHI STATE
Bauchi is a state in Nigeria's North-East region. It is in the northern region of the country. In that order, its borders are with the states of Kano, Jigawa, Taraba, Plateau, Gombe, Yobe, and Kaduna.
Bauchi is the fifth largest state in Nigeria in terms of land area and has an estimated population of over 6.5 million people. It became a state in 1976. There are also people from the Bolewa, Butawa, Warji, Fulani, Hausa, Kanuri, and other ethnic groups living in the state. Bauchi is one of Nigeria's Islamic states.
6. KEBBI STATE
Kebbi is a state in the northwestern part of Nigeria. Fulani-speaking tribes also live in the state. The state shares borders with Sokoto, Zamfara, and Niger states. Kebbi state was created in 1991, and it is believed that about 4.4 million people live there. Islam is the most common religion in this state, and Christianity is the second most common.
...........................
7. YOBE STATE
Yobe is a state in the country's northeast, mostly made up of Fulani people. Due to the constant threat and presence of terrorist groups like Boko Haram and ISWAP, it has been ranked as Nigeria's most dangerous state to live in. Yobe state was created in 1991, and Damaturu is its capital city.
CONCLUSION
Aside from these great states, Fulani people can also be found in other parts of Nigeria.
Because they are nomads, you might find them in small towns in the southeastern states of Nigeria or even in the south-south.
It is believed that most Nigerian citizens are afraid of the Fulani people. The Fulani tribe has been called the most dangerous tribe in Nigeria because Fulani herdsmen have been killing people in the country.
...........................