Do you want to explore more into the richness of the Hausa language? In this post, we shared with you 100 Hausa proverbs & their meanings.
Hausa people, the largest ethnic group in West Africa, speak the Hausa language and, of course, the Hausa proverbs.
They are predominantly settled in northern Nigeria and southern Niger but found in many other countries, including Benin Republic, Cameroon, Ivory Coast, Chad, Central African Republic, Eritrea, Gabon, Senegal, The Gambia, Republic of Congo, and Togo.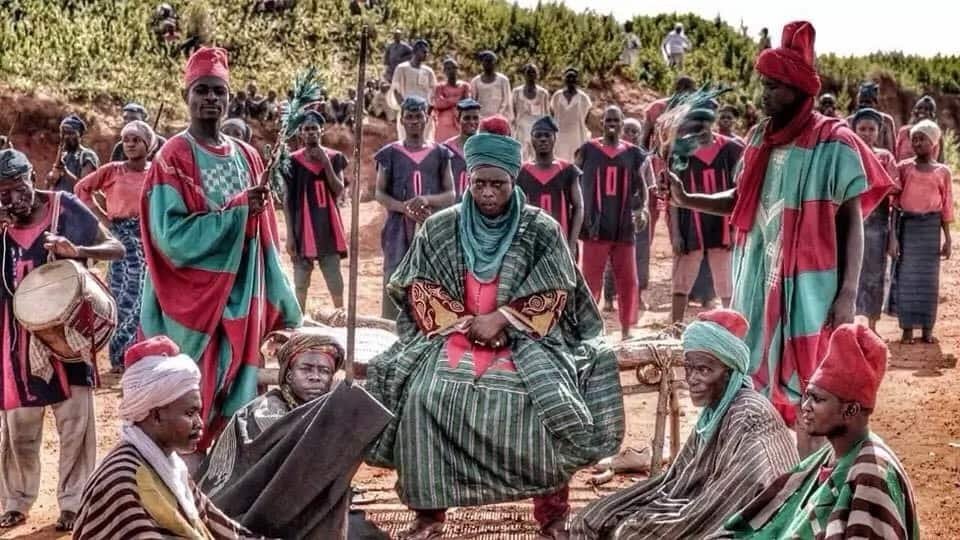 100 Hausa Proverbs & Their Meanings
Now, follow closely as we dive into the long list of 100 Hausa Proverbs & Their Meanings:
1. GIWA BA TA DA CIZO HANNUN NAN A KE TSORO.
(Elephants do not bite, it is their trunk that people are afraid of.)
2. MAI-GADO YA SO KWANA MAI-TABARMA SAI SHI NAƊE.
.........................
(The owner of the bed wants to sleep, the man with the mat must roll it up.)
3. LAIFIN BABBA ROWA LAIFIN YARO ƘIWA.
(The fault of an adult is stinginess; a boy's fault is refusal.)
4. ZAMA DA MAI-ZAKANKO SHI KAN KAWO ƊANƊANA.
(Staying with somebody with sugar brings a chance of tasting it.)
5. GIWA TA KARYE ITACE ZOMO KUWA YA KARYE DATSI.
(If an elephant breaks a tree, a hare also breaks grass.)
6. KOME NISAN DARE, GARI YA WAYE.
(However long the night is, the morning will come.)
7. KA TSARE KANKA DAGA DUKAN ƘYASHI.
(Protect yourself from all jealousy.)
8. GARA ROƘO DA SATA.
(Rather begging than theft.)
9. A SABO DA KAMA A KAN CI ƘASA
.........................
(Because of the roasting of the undried beans in an earth oven, one eats earth.)
10. A CIKIN BAƘAR TUKUNYA A KAN FITAR DA FARIN TUWO.
(From a black pot, one takes out white porridge.)
11. IN KA KWANA ƊAKI ƊAYA DA KARAMBANI IN BA KA TAƁA SHI BA, BA ZAI TAƁA KA BA.
(When you sleep together with a meddlesome person in the same room, he will not touch you if you do not touch him.)
12. MASHA RUWA MAGIRMI NE.
(One who drinks water grows)
13. MANOMA KU DENA FARIYA MAGANIN CIYAWA RANI.
(Farmers, stop showing off, the remedy for grass is the dry season.)
14. AUREN KARUWA AUREN WOFI.
(Marriage with a prostitute, a worthless marriage.)
15. GWARGWADON WAHALARKA GWARGWADON SAMUNKA.
.........................
(Great suffering, great success.)
16. ƊAN MAI-GONA YA FI ƊAN MAI-GAYYA.
(The son of a farmer is more significant than the son of a chief laborer.)
17. KWANA BUKKA DA KUƊI YA FI KWANA SORO BA WURI.
(Sleeping in a grass hut with money is better than sleeping in a good house without money.)
18. HANA WANI HANA KAI.
(Forbidding another, forbidding yourself.)
19. KAREN DA KE YAWO YA FI KAREN DA KE KWANCE.
(The dog who is wandering around is better than the dog who is lying down.)
20. NAMIJI BA DAGA WAJEN MACE BA NE AMMA MACE DAGA WAJEN NAMIJI NE.
(Male is not from female, but the female is male.)
21. HORO BA KISA BA NE GYARAN HALI NE.
.........................
(Disciplining is not killing but repairing character.)
22. KOWA NA ALLAH NE AMMA DAMO NA MAI-GONA NE.
(Everybody is for God, but the monitor-lizard is for the farmer.)
23. WANDA YA SO KU SAN SHI KU YI SANEWA DA SHI.
(The one who wants you to know him, you should also try to know him.)
24. GASKIYA GAYA NAKA DUKIYA BAI WA ƊANKA
(Tell the truth to your man, and give wealth to your child.)
25. SANDAR DA KE HANNUNKA DA ITA KA KE DUKA
(The stick in your hand, with it you can beat (something))
26. WANDA BAI ƁATA DA SAFE BA DON DA YAMMA BA ZAI ƁATA BA.
(The one who does not quarrel in the morning will not fight in the afternoon.)
.........................
27. BA ZA A JIRAYI GIRMAN WADA BA DOMIN BA A YI SHI DON YA GIRMA BA.
(One cannot wait for the dwarf to grow because he was not made to grow.)
28. MUTUM WANDA YA YI DAƊIN KAI WANDA YA YI AIKI NA ƘWARAI.
(A simple man is one who does good work.)
29. AN BAI WA KURA JIRAN AKUYA.
(One gave the hyena a goat to take care of.)
30. BA A MOWA SAI DA BORA.
(One does not have a favorite wife unless he has an unfavorite wife.)
31. IDAN KA GA MUGU A RANA KADA KA KAWO SHI INUWA.
(If you see a wicked man under the scorching sun, don't invite him under the shade.)
32. DOKIN "DA NA SANI" BA YA ZUWA YAƘI.
.........................
(The horse of 'had I known' cannot go to the war.)
33. NA ƊAUKI KARE DON HAUSHI YA KOMO YANA TUNKUYI.
(I kept a dog to bark, which turned and butted.)
34. DA KAYAN BAWA KE KAMA BAWA.
(With slave-capturing equipment, one captures enslaved people.)
35. SAI DA ABIN FAƊA A KAN TONI FAƊA.
(One does not provoke a fight unless he has something to fight with.)
36. RASHIN ARZIKI RASHIN HANKALI.
(Lack of wealth, lack of sense.)
37. LAIFIN BABBA ROWA LAIFIN YARO ƘIWA.
(The fault of an adult is stinginess, the fault of a child is refusal.)
38. TUWO NA IYALI NAMA NA MAI-GIDA.
(Staple food for the dependents, meat for the head of household.)
39. BAWAN DAMUNA TAJIRIN RANI.
.........................
(Slave in the rainy season, wealthy man in the dry season.)
40. ANA GANIN WUYAN BIRI A KAN ƊAURE SHI A GINDI.
(One sees the neck of the monkey, but he ties him up from his lower back.)
41. BANZA GIRMAN KUKA BAGARUWA TA FI TA.
(Useless, the size of the baobab, the acacia tree is better.)
42. MAGANI-N SO AURE MAGANI-N ƘIYAYYA RABUWA.
(The remedy for love is marriage, the cure for hatred is separation.)
43. CIN BASHI DA DAƊI RANAR BIYA DA WUYA.
(To collect a loan is pleasant, but the day of paying it back is hard.)
44. HARSHEN MUTUM ZAKINSA.
(A man's tongue is his lion.)
45. MAGANIN MACE MIJINTA.
(The remedy for a woman is her husband.)
.........................
46. RASHIN FAƊA YA FI NEMAN GAFARA.
Avoiding a quarrel is better than asking forgiveness.
47. RAYAYYEN KARE YA FI MATACCEN ZAKI.
(A live dog is better than a dead lion.)
48. RIBA TA FI UWA.
(Profit is better than the original starting money.)
49. MUTUNCI YA FI DUKIYA.
(Decency is better than wealth.)
50. FITA DA SA'A TA FI FITA DA DUKIYA.
(Going out with good luck is better than going out with wealth.)
We are now halfway into the list of 100 Hausa Proverbs & Their Meanings. Let's continue.
51. DUKIYA MAGANIN ƘANƘANCI.
(Wealth is the remedy for humiliation.)
52. DA ZAMAN BANZA GARA AIKIN BANZA.
(Better idly working than idly staying.)
53. KOME LALACEWAR ƊUWAWU YA ƊAUKI ƘUNZUGU
.........................
(However spoiled the buttocks, they must wear a loincloth.)
54. DARE RIGAR MUGU.
(Night-time is the cloak of evil.)
55 CIKI JAKAR MATSIYACI.
(The stomach is a needy person's bag.)
56. BIYAN BASHI IBADA NE.
(Paying debt is a way of serving God.)
57. BANZA TARON HAUSAWA BA RIBA.
(Useless thing, a gathering of Hausas without getting profit)
58. GEMU BA GASKIYA YARO NE.
A beard without truth is a child.
59. ABIN DA BAKI YA YANKA WUƘA BA TA YANKA BA.
(What the mouth slaughtered / the knife failed to kill.)
60. ALKAMA BISA DUTSE ALLAH KAN BA TA RUWA
(Wheat among the rocks, God gives water to it.)
61. TABARMAR KUNYA DA HAUKA KAN NAƊE TA.
(The mat of shame, with shame one, rolls it up.)
.........................
62. ABIN DA KA ƘI SHI KAN AMFANA.
(What you rejected (it is) it (that) someone derives benefit from.)
63. RUWAN RIJIYAR MAI-HASSADA WAWA KAN SHA TA.
(The water of the well of jealousy, the fool drinks it.)
64. MURNAR KAREN DA BA SHI DA WUTSIYA BA A SANINTA.
(The happiness of a dog that has no tail / one doesn't know it.)
65. WANDA YA ROƘE KU DON ALLAH KU BA SHI.
(The one who begs you for God's name renders charity to him.)
66. DA MUDUN DA KA KE AUNAWA DA SHI ZA A AUNA MAKA.
(With the bowl that you use to measure out for other people, with it, one will measure out for you.)
67. ƘWARON DA YA JARABA DA GANYE DA SHI A KAN DAFA SU.
.........................
(An insect that is fascinated by leaves / with it one cooks the leaves.)
68. BABBAN DA BA SHI DA HANKALI AI YARO YA FI SHI.
(An adult with no sense, a child is better than him.)
69. DAƊI YANA GA BIYAN BASHI.
(Pleasantness is in paying back a debt.)
70. DA RANA KE AWO DA DARE SAI A CI TUWO.
(By day one measure and buys (food) / at night one eats food.)
71. HAƘURI GA MUMINI SHI NE SARKIN YAƘI.
(The patience of a true believer is the king of war.)
72. KOME WAYON AMARYA A SHA MANTA A TANDU.
(However clever, the bride must drink her oil in the local vessel made of dressed hide.)
73. KOME WAYON AMARYA A SHA MANTA A TANDU.
.........................
(However clever, the bride must drink her oil in the local vessel made of dressed hide.)
74. KOME ZURFIN RUWA DA YASHI A CIKI.
(However deep the water, there is always sand at the bottom of it.)
75. ABIN DA BAI ZO DON RAI BA BA YA YI WA RAI KOME.
(What was not created for the soul cannot do anything for the soul.)
76. NA SHIGA BAN ƊAUKA BA BA TA FIDDA ƁARAWO.
(I entered, but I did not take' will not save a thief.)
77. IN BA KA CI TUWO DA MUTUM BA BA KA SHAN MIYARSA BA.
(If you do not eat food with a man, you don't know how much soup he eats.)
78. MUTUM BAI FI KA TSUMMA BA BA ZAI KAƊA MAKA KWARKWATA BA.
.........................
(A man whose clothes are less ragged than yours can't shake off lice onto you.)
79. BANZA KA RATSA RUWA RUWA BAI RATSA KA BA.
(Useless, you passed through the water, but the water did not pass through you.)
80. ABOKIN SARKI SARKI NE.
(The friend of a king is a king.)
81. ABOKIN ƁARAWO ƁARAWO NE.
'The friend of a thief is a thief.)
82. MUGUNYAR DABARA DABARA NE.
(An evil plan is still a plan.)
83. KUNNE YA JIYA JIKI YA TSIRA.
(If the ear hears, the body will escape.)
84. MASALLACIN KURA KARE BA YA SALLA.
(In the hyena's mosque, a dog cannot pray.)
85. GABA MAI-DAƊIN ZUMA AMMA SAI GABAN YARINYA.
(The front place is pleasant to stay but the front of a girl is better.)
.........................
86. TAURARO YANA HASKE A RASHIN FARIN WATA.
(The star shines in the absence of moonlight.)
87. BABBAN ARZIKI GA MAI-HANKALI.
(Great wealth is always for the intelligent person.)
88. KOWA YA ƘONA RUMBUN WANI YA SAN INDA TOKA KE KUƊI.
(Whoever burns his grain storage bin knows the place where ash is money)
89. MAI-HALI MAI-SABO.
(The man of character is the man of discipline.)
90. RASHIN SANI YA FI DARE DUHU.
(Lack of knowledge is darker than nighttime.)
91. DA ABIN DA ZA KA SAMU, DA ABIN DA ZAI SAME KA TUN RAN HALITTARKA YAKE.
(What you will get, what will happen to you, everything is predestined.)
92. BAN JI BA BAN GANI BA TA RABA NI DA KOWA.
.........................
'('I didn't hear, 'I didn't see,' it separates me from anyone.)
93. BIRNIN RAIRAI DA WUYAR TAYARWA DA SAURIN RUSHEWA.
(Sand city: challenging to build, easy to collapse.)
94. AIKIN GONA DA WUYA DA DAƊI.
(Farm work: hard, but good.)
95. MAGANA BA IKO MAGANAR BANZA:
(Speech without power is worthless.)
96. ABIN DA BAKI YA DAURA HANNU BA SHI KWANCEWA.
(What the mouth ties up, the hand can't untie.)
97. ALKAWARI CIKON (CIKWAN) MAGANA.
(Promises are language debt)
98. FADE-FADE BA YI BA NE, AN CE ZA A YI TSARKIYA DA KUNKURU.
(Talking is not doing, they said they would make a bowstring out of a tortoise.)
99. YAWAN MAGANA BA TA TADA SARKI IN BAI TASHI BA.
(No amount of talking will raise a king if he doesn't get up.)
.........................
100. MARAS GASKIYA KO A RUWA GUMI YAKE.
(A liar sweats even in the water.)
Conclusion: 100 Hausa Proverbs & Their Meanings
Here, we have it! 100 Hausa proverbs & their meanings for you to go over and over again.
They are not just some words put together, but they encapsulate lots of wisdom necessary for everyday living.