There are two kinds of travelers in the winter: those who want to get away from the cold and those who love it.
Because the United States is so big and has so many different types of landscapes and climates, there are many places to visit that are good for both snow and sand lovers.
Winter is also a good time to find deals on hotels, restaurants, and tourist attractions in places that are more popular in the summer.
No matter which side you are on, this list of 19 places to visit in the US in winter is sure to give you a memorable experience. After all, hibernation is for the bears.
19 Places To Visit In The Us In The Winter
.........................
These are the places to visit in the US in winter. Visiting these destinations leads to a lot of fun during this time of the year when most people hibernate. They are as follows:
1. Yellowstone National Park, Wyoming
One of the top places to visit in the US in winter is the Yellowstone National Park, Wyoming.
If you want to see what Yellowstone was like, before cars, the best time to go is in the winter. Most park roads close to regular traffic at the beginning of November.
This means that cross-country skis, guided snowmobile tours, and snow coach tours are the only ways to get to many areas. The extra work is worth it to see frozen lakes, white-frosted forests, and steaming geysers when it's not summer which also involves braving frigid temperatures.
.........................
After a snowshoe trek or a ranger-led nature program in Yellowstone, head to nearby Jackson Hole to ski at one of three mountain resorts, enjoy a lively après-ski scene and stay in anything from cozy log cabins to four-star hotels.
2. Key West, Florida
People in the north shiver through the coldest part of the year, but in the Florida Keys, where the average high temperature in January is 74 degrees Fahrenheit, the weather is pretty much perfect.
Winter is usually the busiest and most expensive time to visit Key West. This isn't really a secret. But that means you can join the party when it's at its peak on Duval Street and at the Sunset Celebration in Mallory Square every night.
.........................
Some of the more relaxing things to do are eating fresh seafood, seeing the famous six-toed cats at the Ernest Hemingway Home & Museum, or just relaxing on a sandy beach.
3. Minneapolis
While it's true that this strangely underrated Midwestern city gets cold in the winter, Minnesotans embrace the season in a way that would make many of their Scandinavian ancestors proud.
The city's best outdoor winter events have been combined into a 10-day festival called the Great Northern. It includes family-friendly winter carnivals, ice sculptures, the U.S. Pond Hockey Championships on Lake Nokomis, and the well-known City of Lakes Loppet Ski Festival.
The best part of the latter is the magical Luminary Loppet, in which cross-country skiers travel across a frozen Lake of the Isles while torches, lanterns, candles in ice blocks, and even the occasional fire dancer light the way.
.........................
The arts and food scenes in Minneapolis are thriving, and the city's Skyway System is made up of 11 miles of climate-controlled footbridges that connect dozens of buildings downtown.
4. Pasadena, California
Every year on January 1, the Rose Parade in Pasadena, California, rings in the new year with marching bands, teams of clip-clopping horses, and elaborate floats covered in enough flowers to fill several botanical gardens.
The parade is a beloved Southern California tradition. It is surrounded by events like Deco Week when you and your family can help decorate floats with flowers, and Bandfest, which shows off the marching bands from all over the country that are in the parade.
If you want to go to any of the above, you need to start planning early and buy your tickets as early.
.........................
5. Magic Mountain Ski Area, Vermont
This New England classic is in Londonderry, Vermont. It opened in 1960 and is a throwback to the small-scale ski resorts that were common before wide trails without trees became the norm.
So, the terrain can be difficult for people who aren't used to steep, winding hills in wooded areas. But skiers with some experience will probably enjoy the challenge, as well as the smaller crowds and cheaper lift tickets compared to New England and Rocky Mountain mountain resorts.
The place is great for purists and has a place where kids and people who are just starting out can learn. After a day on the slopes, you can get a drink in the tavern and enjoy live music, a view of the mountain, and a chance to talk with other resort fans.
.........................
6. New Orleans
The best part of winter in New Orleans is Mardi Gras, which happens every year in February. It is the biggest street party of the year and happens the day before Ash Wednesday. There's more to the party than beads and alcohol, but if that's what you want, head to Bourbon Street.
The event is surrounded by a rich and colorful tradition of parades, pageants, krewes, and king cakes, not just on Fat Tuesday but also in the weeks before. During the long weekend before Mardi Gras, all the hotels are full, so start planning early; there's no such thing as too early.
In January and February, you can also go to the French Quarter and jazz-filled historic neighborhoods like the Marigny and Treme. The weather is much nicer than in the hot summer, and good times happen all year long.
.........................
7. Fairbanks and Anchorage, Alaska
The nights are long and it's cold. But Alaska is a must-see for people who like winter sports and snowy scenery.
Anchorage offers a lot of ways to see the frozen landscape, from glacier hikes to dogsledding tours. To get to Fairbanks, take the Aurora Winter Train further inland.
The train will go through a landscape that looks like a Christmas card, with lots of snow and the occasional moose.
At the Museum of the North, you can learn all about Alaska's natural and human history. Between September and March, you can often see the Northern Lights from this spot.
8. St. John, U.S. Virgin Islands
The smallest of the three U.S. Virgin Islands in the Caribbean is also the one with the least people on it. There is no airport or pier for cruise ships. Most visitors come by ferry from St. Thomas, and a lush national park takes up more land than resorts.
.........................
Day trippers and people who stay overnight can enjoy snorkeling in the turquoise waters, pristine beaches like Trunk Bay, emerald peaks, green groves with hiking trails, and close-up views of tropical flowers, pelicans, turtles, and other paradise residents.
One thing to keep in mind if you go to the Caribbean in the winter is that it is right after hurricane season, so some places may still be getting back on their feet. Check ahead of time to see if hotels, restaurants, and other businesses have reopened in a storm-damaged area before you go there.
9. Pictured Rocks National Lakeshore, Michigan
Pictured Rocks National Lakeshore in Michigan's remote Upper Peninsula is named for a set of tall, multicolored sandstone cliffs along Lake Superior.
.........................
When snow and ice cover the area, it looks like Elsa's arctic castle from the movie "Frozen." Caves full of icicles feel like crystal ballrooms, and climbers with picks and cleats can't stay away from huge frozen waterfalls and ice towers.
This is where ice climbers gather every February for the Michigan Ice Fest. Fans can watch the action from the beautiful sidelines or join in with free classes for people of all skill levels.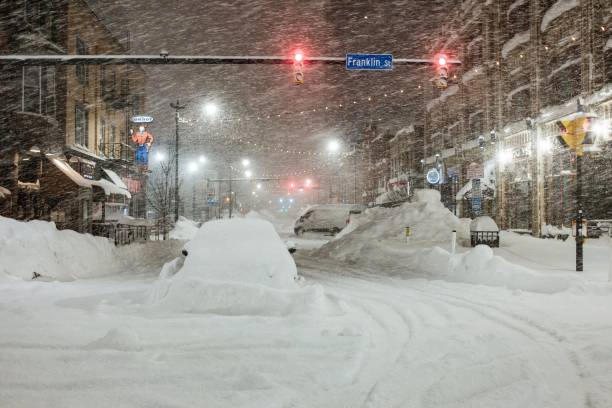 10. Las Vegas
On New Year's Eve, you can expect the casinos, clubs, and hotels of Las Vegas to be packed. After all, it's the biggest party night of the year in one of the biggest party towns in the country.
But after that, in January and February, there is usually less demand for Las Vegas vacations, so room rates and airfare drop to their lowest levels. This is especially true if you travel during the week instead of on the weekends.
.........................
Even when everyone else is sleeping off their holiday hangovers, Sin City's shows, gambling floors, weird museums, and thrill rides keep going. Get out of the house and go hiking in Red Rock Canyon or snowboarding on Mount Charleston to beat cabin fever.
But you won't be swimming in any outdoor pools: Some travelers are surprised to learn that in January and February, the average high temperature is only in the 50s.
11. Breckenridge, Colorado
Breckenridge went from being a gold mining town to a ski town a long time ago, but it still has a lot of the charm of the 19th century, especially in the downtown area, where shops and restaurants are in carefully kept Victorian buildings.
Still, Breckenridge Ski Resort, one of the most popular places for winter fun in North America, is by far the most popular thing to do. Breck has something for everyone, with nearly 3,000 skiable acres and more than 150 trails.
.........................
Expert slalom skiers and snowboarders will find many challenges, but the resort is best known for being easy. Almost half of the trails are marked as beginner or intermediate.
This is a great choice for families. And since it's close to other Rocky Mountain slopes like Keystone, Vail, and other places, a multi-resort ski pass is a good idea.
12. Crystal River, Florida
When the Gulf of Mexico cools down in the winter, hundreds of manatees move to Kings Bay, which is on Florida's western coast about 80 miles north of Tampa. There, the springs are always 72 degrees.
Crystal River National Wildlife Refuge is the only place in the U.S. that is completely dedicated to protecting these large animals. Even when it's not summer, you can find a few swimming through the preserve.
.........................
However, if you go between November and April, you're almost certain to see dozens. People are increasingly interested in tours that let them swim with manatees.
If you don't want to bother these gentle giants, you can watch them from the boardwalk at Three Sisters Springs. Marshes, tidal creeks, and the remains of a prehistoric settlement, which may be the oldest in the country, are also worth seeing.
13. Upper Mississippi River Towns, Illinois, and Iowa
What could be more American than seeing a bald eagle along the Mississippi River? January and February are the best times to see these two beautiful American landmarks at the same time.
The birds move south by the thousands. They stay close to the water to eat fish and sleep in the bluffs around them. River towns along the route have special events like the Bald Eagle Days in Rock Island, Illinois, and the Dubuque Bald Eagle Watch in Dubuque, Iowa, to mark the annual event.
.........................
In addition to bird tours either on foot or by bus, people can attend informational sessions, watch Native American demonstrations, and look at photo exhibits at these and other festivals. All of these activities are centered around celebrating the national symbol.
The Quad Cities are four cities in Iowa and Illinois that sit on both sides of the Upper Mississippi. They offer a nice mix of outdoor activities like snow tubing and cross-country skiing, as well as cultural attractions like the Figge Art Museum in Davenport, Iowa, which is known for its large collection of works from the Western Hemisphere.
14. Death Valley National Park, California, and Nevada
Travel writing about summer trips to Death Valley reads like post-apocalyptic fiction. It describes dangerous desert treks past places with scary names like Coffin Peak and Devil's Golf Course in the hottest, driest, most desolate place on earth.
.........................
During the winter, though, the temperatures have dropped from 120 degrees Fahrenheit to the 60s and 70s, which are much more comfortable. This makes hiking and camping in the backcountry less dangerous, and we find it easier to enjoy the scenery.
There are a lot of beautiful sights in the park, like the wide salt flats of Badwater Basin, which is the lowest point in North America at 282 feet below sea level. There are also long views from mountaintops that look out over red and gold sand dunes and badlands.
15. Hanover, New Hampshire
Since it began in 1911, Dartmouth College's annual winter carnival is now the oldest festival of its kind at the university in the United States.
.........................
On the school's campus in Hanover, New Hampshire, there are ski races, an ice sculpture contest, a polar bear swim, and other fun winter activities for three days in February.
Those who don't want to save their winter fun for the weekend can hit the slopes at the Dartmouth Skiway or go ice skating on Occom Pond at any time of the season.
In Hanover, a cute New England town with a touch of Ivy League sophistication, you can warm up by going to a show at the Hopkins Center for the Arts or eating at one of the many good restaurants.
16. Asheville, North Carolina
Asheville is a great place to go in the winter if you want to visit the mountains but don't want to deal with a lot of snow. The city is in the Blue Ridge Mountains in western North Carolina.
.........................
There are many ways to enjoy the outdoors all year long. You can hike quickly to waterfalls, hilltops, and meadows where you can see the misty, blue-tinged mountains in their sad winter mode.
You could also stay in your car and drive along the Blue Ridge Parkway, which is just as beautiful but much less crowded than in the summer.
The huge 19th-century Biltmore Estate, which is still America's largest private home, is also open for tours every day of the year.
Back in town, there are a lot of art galleries, shows of Appalachian crafts, live music venues, gastropubs, and coffee shops that make Asheville seem much bigger than it is.
17. Big Sky, Montana
Montana's Big Sky Resort is one of the largest ski areas in North America. It has 5,800 acres of skiable land spread out over four huge mountains in the Northern Rockies.
.........................
Dramatic views of snow-covered 11,000-foot peaks are provided when skiing or snowboarding down the notoriously steep slopes of Moonlight Basin.
The resort is also known for its excellent lessons and activities for kids, which take place on gentler slopes.
For adults and kids who don't want to shred or schuss, there are zipline tours, sleigh rides, and ice skating, or they can head southeast to Yellowstone National Park to see the winter wonders there.
18. Kauai, Hawaii
There isn't a bad time to go to Kauai. Hawaii's "Garden Isle" has warm weather all year and a tropical climate that makes it a great place to hike through rainforests and the colorful Waimea Canyon.
Look at the seaside cliffs at Na Pali Coast State Park, and find hidden golden-sand beaches.
.........................
You can also visit the migrating humpback whales that show up from mid-December to March and reconnect with nature after the stress of the holidays.
19. Santa Fe
The dreamy capital of New Mexico is quiet in the winter, but it is just as charming as the rest of the year. Historic adobe buildings are covered in snow, kiva fireplaces are lit, and the high desert air smells like cedar.
It's easy to see why so many artists, have been drawn to the area. Their work can be seen in galleries along Canyon Road, the Georgia O'Keeffe Museum, and the famous artists' colony in Taos.
Rich Native American traditions and Southwestern food are also a treat for your tastebuds. Ski or snowshoe in the impressive Sangre de Cristo Mountains, or go to a spa.
.........................
Conclusion
During the winter, you might find it cold especially in the northern states of the US. Temperatures can be snowy and freezing in some places. Yet, it's still worth going, but you should bring warm clothes, like hats and gloves.
The winter isn't the best time to spend hours on the beach, however, no matter where you go, it's best to plan both outdoor and indoor activities so that you don't depend much on the weather.