Are you an Access Bank customer and need the Access Bank ussd transfer code to carry out a transaction on the go?
If yes, you have come to the right place as this blog post will reveal all the Access Bank USSD codes for any mobile banking transactions.
With these mobile banking USSD codes, you can carry out any transaction from the comfort of your living zone.
Mobile money transfer, payment of bills, airtime recharge, Access bank account balance, etc.
All these services can be performed online with the phone number you used during your account registration.
And of course, with the Access Bank USSD transfer code and other codes that will be unraveled in this post shortly.
Features Of Access Bank USSD Codes
With the Access bank ussd codes, you stand the chance to enjoy all of the following benefits:
It reduces the frustration of queuing in the bank;
There is no need of going down to the bank for the transfer of funds;
No need to go to ATM stand before sending funds;
You can buy airtime directly from your account anywhere, anytime and any day;
Easy access to account balance;
It enhances utility bills payment;
Also, the Access Bank ussd code enhance merchant payment; etc.
How To Activate Access Bank USSD Code
You don't just dial the Access bank USSD code on your phone and expect it to perform the required operation.
There are certain requirements or steps that you need to follow before you can use the Access bank transfer code for transactions.
On this note, to activate the access bank mobile banking on your phone, it's incumbent on you to have the following:
Access bank account number;
Active phone number used when opening the account.
Once all the three conditions are met, dial *901# on your phone dialer and enter your Access bank account details as required.
Make sure that your ATM card is with you before you dial the code. You will receive a prompt response asking for the last four and six digits of your ATM card.
Kindly enter it correctly and after then, you will be asked to enter four digits numbers that you will like to use as your PIN.
Do that and make sure to use a simple, unique and easy to remember PIN. Don't tell anyone your PIN and make sure to write it down somewhere safe.
Access Bank Transfer Code
Gone are the days where you will have to go down to the bank or nearest ATM gallery before you can make transfer.
With the coming of mobile banking, everything is simpler and easier now.
You can make transfer to any bank of your choice even when you are inside the toilet.
So to transfer fund from Access Bank to another Access bank accounts, simply dial *901*1*AMOUNTNUBAN Account Number# on your registered sim card.
Be informed that a service fee of ₦20 will be deducted from your account.
To transfer money from Access Bank to any other bank, dial *901*2*AMOUNTNUBAN Account Number# on the same registered Sim card.
The service fee here is ₦50 plus the ₦2.50 (VAT) charges.
How to check Access bank account balance using the bank USSD
To check your Access bank account balance on the go and without going down to the bank or an ATM stand, kindly follow the below instructions: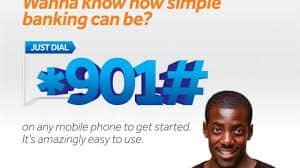 Dial *901*5# on your phone where the Sim card you used to register with the bank is inserted and follow the pop-up instructions;
Input the last four digits number of your BVN;
Your Access bank account balance will be displayed to you.
How To Buy Airtime Using Access Bank USSD Code
To buy airtime for yourself i.e. on the registered phone number with access bank, simply dial *901*amount# on the same number and press send. For instance: *901*200#.
But if you will be recharging an unregistered phone number or a third party, dial *901*amount*phone number# on your phone.
For instance: *901*200*08104128059# and press send. After that, you will receive a prompt response asking for your Access bank recharge PIN.
Kindly insert your four digits PIN and press okay to complete the transaction.
The service is not limited to any telecommunication network. You can use same code to recharge your Glo, MTN, Airtel and 9mobile lines.
How To Use Access Bank USSD Code To Pay Bills
One of the features or benefits of the Access Bank ussd transfer code is that it enhances utility bills payment.
Thus, if you want to pay for your favorite Tv networks like GoTV, Startimes, DStv, Swift, and more, there's still a code for that.
This ussd code will saves you from the stress of walking down the street to recharge your decoder.
Or the stress of calling the customer service to help you out with the subscription.
So to enjoy this service, kindly dial *901*3# on your Access bank registered sim card and follow the pop up instructions.
All Access Bank USSD Code / Access Bank USSD Transfer Codes
The USSD code to buy airtime for yourself *901*Amount#
If you want to recharge your other line or a third party, simply dial *901*Amount*Phone Number#
Opening an account with Access bank, press *901*0# and follow the prompts response
To buy data or subscription, dial *901*8#
For balance enquiry, kindly dial *901*5#
Fund or money transfer from Access bank to Access Bank, dial *901*1*AmountAccount Number#
Fund or money transfer from Access bank to other banks, dial *901*2*AmountAccount Number#
Merchant payment, dial *901*3*AmountMerchant Code#
For any type of utility bill payment, dial *901*3#
Access bank OTP generation, dial *901*4*1#
CONCLUSION
From the foregoing, it is my believe that you now know the importance of using the mobile banking to perform various transactions.
And you are equally exposed to the various Access bank ussd codes, and how to operate them to give the expected result.
You will, therefore, agree with me that these codes makes banking safe and easy.
It helps bank users keep tracks of their account record and also encourages cashless policy.
Lastly, do make use of the access bank ussd transfer code for mobile banking wisely.