To begin with, Adeleke has become a household name in Nigeria, even if you don't know Deji Adeleke, you must have seen or heard of his son Davido (aka Omo baba olowo), who is a popular and international artist. Or better still, you must have heard of his University, Adeleke University, Iwo in Osun State.
Thus, this article will feature Dr. Deji Adeleke (Davido's Father) Net worth, his biography, family background, educational background, his business enterprises, houses, cars, and lots more.
Introduction
Adedeji Tajudeen Adeleke is a patriotic Nigerian billionaire, established entrepreneur, founder, as well as president of the magnificent Adeleke University. He is equally the Chief Executive Officer of Pacific Holdings Limited. He was married to the late Dr. Vero Adeleke who blessed him with two kids in David Adeleke (Davido) and Sharon Adeleke.
Advertisements
CONTINUE READING BELOW
His late wife, Veronica Imade (which Davido later named her first child after) was a University Lecturer and a Ph.D. holder before she gave up the ghost in 2003 at age of 39.
Dr. Deji Adeleke's (Davido's Father) Biography
Adedeji Tajudeen Adeleke (Ph.D.) was born to the family of Mr. Ayoola Raji Adeleke and Mrs. Esther Nnenna on the 6th day of March 1957 in Enugu State. Deji Adeleke was raised by his maternal Grandmother in Enugu State but couldn't stay much longer with her in a bid to acquire Western education.
When Adedeji Tajudeen Adeleke was of age, he moved down to Lagos in pursuit of Primary School Education. In 1965, he was admitted into Ansaru-Deen Primary School and he graduated in the year 1970.
After the completion of his Primary School Education, Adedeji Adeleke changed his environment for the second time, and this time around, it was in pursuit of Secondary School Education. When he got to Osun State, he went to the Seventh Day Adventist Junior Grammar School.
Advertisements
CONTINUE READING BELOW
Davido's Father Educational Background
In 1975, Deji sat down for his West African Senior School Certificate (WASSC) and he cleared all his results at once. There and then, he briefly worked at the Federal Ministry of Education before he sought and gained admission into one of the leading universities in Kentucky, the United States in 1976.
In 1979, Dr. Deji Tajudeen Adeleke got a Bachelors's Degree certificate in Finance and subsequently, he enrolled in his MBA program in the same year which he finished in 1981. In his quest for knowledge, Davido's Father went ahead to obtain a Ph.D. degree certificate in International Business at the Pacific Columbia University, California.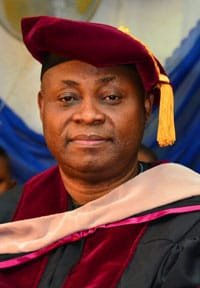 Having fortified himself with the highest class of educational degree in existence, Adedeji returned to Nigeria for his one-year compulsory National Youth Service Scheme. Subsequently, he proceeded to create his business venture named Pacific Holdings in 1983.
Advertisements
CONTINUE READING BELOW
Dr Deji Adeleke Tajudeen Business Enterprise
Adedeji Adeleke first business enterprise was birthed in December 1983 and he registered it as Pacific Holdings. Then, he created Pacific Drilling Company Ltd., specializing in the drilling of boreholes, water treatment, geographical surveys, and a host of other similar activities.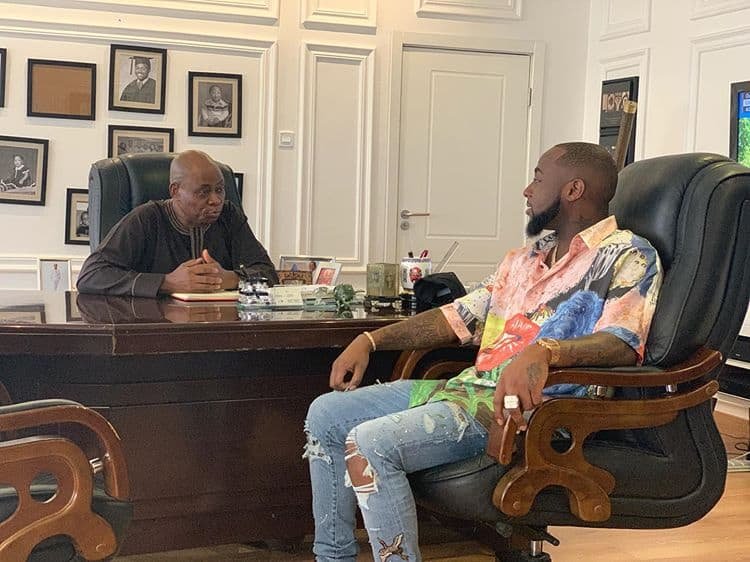 After some years, the company was upgraded and incorporated as a Limited Liability Company in December 1990. In a bid to establish a business empire, Dr. Deji Adeleke Pacific Holdings is now into Freight services, Energy and Power generation business, steel production, warehousing, and logistics. Apart from these, he is also into real estate and banking.
As a philanthropist, Adedeji Adeleke started his NGO scheme in 1996 under the umbrella of the Springtime Development Foundation (SDF). He sees it as a way of giving back to society all in the name of bettering and fostering the lower class lives through Education. After all, he is a big fan of Education.
Advertisements
CONTINUE READING BELOW
In March 2011, Davido's father was given the national license to establish his private University which he later went ahead to christened Adeleke University in his hometown, Iwo, Osun State.
Adedeji Adeleke Houses
As a prominent figure and recognized Billionaire in society, Adedeji Adeleke has several landed properties to his name both home (Nigeria) and abroad. The people of Iwo land and Osun State can testify to this.
Deji Adeleke has houses and landed properties scattered around Nigeria. He has a house in Ikoyi, Banana Island, Lekki, Victoria Island, Lagos, and in several other places in Lagos State and its neighboring communities.
This billionaire acquired a very big mansion for himself in Atlanta, the USA to mark his 60th birthday. All these, not to mention the ones in Osun State formed the part and parcel of his real estate business.
Advertisements
CONTINUE READING BELOW
Adedeji Adeleke Private Jet
Sometimes in 2018, there was a rare picture of Davido going viral on social media where he posed inside a jet and paraded himself as the new owner of the Bombardier private jet. This really stirred controversies in the entertainment industry for weeks.
However, it was later became known to the world that the actual owner of the Bombardier Global Express Private Jet is nobody other than Adedeji Adeleke, his father. The Global Express 6000 was reported to have cost $62 million and when converted to Nigerian currency, that's whooping N23, 822, 260,000.
Davido's Father (Adedeji Adeleke) Cars
One thing you can take away from Nigerian billionaires is the acquisition of cars, houses, and other luxuries. Adedeji Adeleke has numerous cars to his name. While he bought most of these cars by himself, some of them were bought for him by his children.
Advertisements
CONTINUE READING BELOW
Dr. Adedeji has Bentley Mulsanne 2017 and Rolls Royce Phantom housed in his Garage and they are the two most expensive cars he has. Not to say and mention some other luxurious as well as customized vehicles he has.
Dr. Deji Adeleke (Davido's Father) Net worth (2021)
Without any doubt, Adedeji Tajudeen Adeleke is the richest and most influential man in the whole of Osun State. He has equally been listed as one of the wealthiest and most successful businessmen in Nigeria.
With many business enterprises to his name both home and abroad, Dr. Adedeji Tajudeen Adeleke net is estimated to be $700 million or thereabouts according to Forbes.