You are probably here because you want know more about Jumobi Adegbesan, wife of RMD biography. Well, you are at the right place.
Before I say anything, let me quickly take you back on a memory lane. In the 1990s, there's one leading broadcaster on AIT named Jumobi Adegbesan.
If you are the type that watches AIT very often then I'm sure it'll definitely ring a bell. Yes, that's the wife of Richard Mofe Damijo.
Over the years, Jumobi Adegbesan has built an amazing family with her husband while achieving a lot of success in her chosen career business since leaving the corporate world.
Now, we can embark on the journey of revealing Jumobi Adegbesan, wife of RMD biography, age, net worth, lifestyle, and more.
.........................
Let's take a step at a time…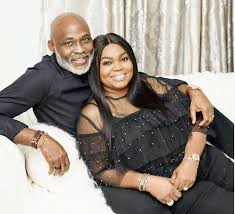 Jumobi Adegbesan Biography
Jumobi Adegbesan Damijo turned 50 in 2022. She was born on January 27, 1972. She is one woman who has achieved a lot of success in the business and corporate world and is successful in her own right, aside from being married to a successful actor.
Before becoming an entrepreneur, Jumobi Adegbesan Damijo used to anchor the popular afternoon TV show shown on African International Television (AIT) in the 1990s. If you have seen any of her shows, you will agree that she is an on-screen personality that is worth every bit of your time listening to. Simply put, she is good at what she does. But this trait is not only exemplified by her successful media career; her marriage and prosperous business attest to this fact too.
.........................
Her Marriage
Once Jumobi Adegbesan Damijo left African International Television (AIT), she decided to pursue other interests, which included business and marriage. She married her husband, Richard Mofe Damijo (RMD), on December 29, 2000, after dating for three years. The marriage was blessed with four wonderful children.
However, this is not her husband's first marriage. Richard Mofe Damijo had been married earlier to Mary Ellen Ezekiel, and their union was blessed with one child – Oghenekome Damijo – before her death in 1996.
After Mary Ellen's death, RMD married Jumbo Adegbesan Damijo in the year 2000. Since then, the couple has been going strong, celebrating their wedding anniversary each year. December 29 will be another wedding anniversary to watch out for.
.........................
RMD never passes up an opportunity to post a beautiful and interesting caption about his wife on Instagram. With these words, he constantly expresses his love for his wife, Jumobi Adegbesan Damijo, letting the world know how her unending love and support propelled him to great heights.
RMD has several pet names and endearments for her, which he uses often when making a post about her on social media. The popular few he uses are Adunmaradun (shining black beauty or ebony), Aabike (the one to be cared for), and Oluwaseunfunmi (God made this one for me).
With the frequent eulogies coming from her husband, you would know that Jumobi Adegesan has been able to build a wonderful family with her husband over the years.
.........................
Her interests
As Jumobi Adegbesan was a media person before she ventured into business, her obvious interests border on these two. But, one thing you may not know about her is that she likes tattoos. As a result, she had one done on her breast some years ago, a butterfly tattoo which she shows off occasionally.
But one shocking thing is this: Jumobi Adegbesan is not interested in social media. RMD claimed his wife dislikes social media during a "Woman Crush Wednesday" #WCW post he made celebrating her as his "Woman Crush every day." Who would have thought that a woman married to a popular celebrity as a husband could keep off social media? Again, we all love what we love, right?
.........................
RMD wife's work and career
You'll recall that Jumobi was a one-time TV presenter with the famous Africa Independent Television (AIT) in the 90′.
After her marriage, she decided to quit the corporate world where she used to host the highly rated afternoon show, 'Lunch Break.'
Ever since then, several reports have been suggested that Jumobi is running a business which she has even built an amazing career from.
Jumobi Adegbesan Marriage to Richard Mofe Damijo
The young and beautiful Jumobi got married to her hearthrobe and popular actor, Mofe Damijo on the 29th of December, 2000 after 3 years of courtship.
Their marriage has been filled with love, happiness and joy as the two lovebirds understand each other well. Isn't this wonderful?
.........................
While it's no more a news that the two are deeply in love with each other. Her husband, RMD find solace in showing off his wife on social media.
He even has several pet names by which he is fond of calling her whenever her picture is being posted on the social media.
In Richard Mofe Damijo's voice, some of these beautiful names are Adunmaradun, Oluwaseunfunmi, Abike, and many more.
Adegbesan has built her home successfully while keeping a private life. She had two sons and two daughters for the veteran actor.
While the couple have been living peacefully over 2 decades now, Jumobi Adegbesan is actually RMD's second wife.
Richard has been married before. She married to Mary Ellen Ezekiel in 1996 but they were separated by death. Sadly!
.........................
On this note, RMD previous marriage gave him a baby boy named Ogenekhome who is also married with children now.
Jumobi Adegbesan Lifestyle
After thorough investigation on Jumobi, it was revealed that she is the quiet type who enjoys keeping a private life.
According to her husband, Mofe Damijo, Jumobi believe that social media is full of vices that can destroy marriage.
Though RMD walk in the different path here. He loves the social media, and she is fond of uploading his wife pictures there.
Being a responsible wife, Jumobi is enjoying her home, so she decided to keep off from any social media platforms. Isn't that classic?
That is to say, you can't find Jumobi on Facebook, Instagram or Twitter or any social media channel. This explains why you can hardly see her picture anywhere.
.........................
Save for the ones shared or uploaded by her charming and darling husband on his social media pages.
What's more, Jumobi admire tattoos and a beautiful butterfly tattoo can be found on one of her breasts. Although she rarely displays it in public.
Richard Mofe Damijo, Jumobi Adegbesan's husband's background
Mr. Richard Mofe Damijo is popular Nollywood actor and lawyer and he is famously called Mofe Damijo or RMD by his followers.
RMD was born on the 6th of July1961. The veteran actor and socialite is from Delta State and he hailed from Aladija Community of the Udu kingdom.
He went to the University of Benin where he studied Theatre Arts. Further, More went back to the University to study law thereby fulfilling her late mother's wish.
.........................
In 2008, he was the special adviser on culture and tourism in his state before he later served as a commissioner of culture and tourism in 2015.
From his personality, one can really tell that RMD loves his family and wife. She doesn't joke with them. While this has been stated earlier, Jumoke Adegbesan is Mofe Damijo's second wife.
He was married to a popular publisher and journalist in 1996, Mary Ellen Ezekiel who gave him a baby boy, Oghenekome, before her demise.
Mofe's marriage to Jumobi Adegbesan — his current wife — is blessed with four children. Hence, RMD is blessed with 5 children in all.
Controversy about Jumobi Adegbesan Marriage
Being a popular celebrity known both offline and online, Richard Mofe Damijo has had his share of controversies. At some point, there was a serious allegation that RMD was having an affair with a young lady. But the actor has since debunked these claims on his Twitter page.
.........................
Another rumor that circulated and became a buzz on the internet was that RMD owned a N250 million property in Asaba, Delta. The popular actor was furious because of the unverified story and threatened to sue Linda Ikeji, the blogger who broke the story. However, it appears that the two have amicably settled their differences. In an Instagram message the popular actor posted, he praised the blogger's efforts.
Choosing to lead a private life, Jumobi Adegbesan Damijo has chosen to remain out of the spotlight and away from social media on purpose. If it hadn't been for the frequent posting of her by her husband on social media, it would have been difficult to find any of her photos online. Her husband began posting her photos online because he feels he can keep the joy of finding the treasure all to himself, so he wants the world to know.
.........................
According to RMD, his wife has chosen to step back from the spotlight to preserve her marriage from the prying eyes of the public and the media. She believes that social media is to blame for many broken homes and the demise of many celebrity marriages. Jumobi Adegbesan Damijo believes that one of the secrets to her successful marriage was that she kept it out of the news, and she advises others to do the same.
The rumor about the RMD family
Speculations sometimes are true but in most times, are false. Rumors have it that the award-winning and popular actor is fond of cheating on her wife, Jumobi.
However, RMD has been denouncing it maintaining the fact that he loves his wife dearly and will never have extramarital affairs with anyone.
.........................
Isn't this one of the reasons Jumobi has been avoiding the social media platforms herself?
Final note
It can be gathered from Jumobi Adegbesan, wife of RMD biography that she is an amazing woman that values her home more than social life.
This among other things contributed to the reason why she has a scanty biography. But nonetheless, his husband has been breathing life to existence by singing praises of her on the social media.
You have a useful information about Jumobi or need clarification on some things said about her? Hit the comment section.