In our biography section today, we will be looking into late T.B Joshua wife, Evelyn Joshua biography and networth.
In this post, you will find out a lot of things about the woman behind his success during his lifetime.
Hence, watch out as we tell you about Evelyn Joshua biography and networth, children, lifestyle, and lots more.
Evelyn Joshua biography
Evelyn was born to the family of Mr and Mrs Nicholas Akabude on the 17th of December, 1968 as a twin but her twin brother is no more.
She is a native of Delta State and hails from Okala Okpuno, Oshimili North Local Government Area.
Late T.B Joshua wife attended St. Emecheta Nursery and Primary School, Ezi Town in Delta State. Unfortunately, Evelyn didn't complete her primary school education in Ezi.
Later in 1977, Evelyn moved down to Lagos and she completed her primary school education at Orile Primary School, Oshodi.
Advertisements
CONTINUE READING BELOW
In other to have a meaningful education life, Evelyn furthered and had her secondary school education somewhere in Oshodi too.
Subsequently after her marriage with late T.B Joshua, Evelyn attended some paid management courses and certifications in Ghana.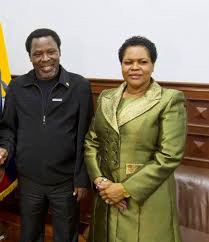 How Evelyn Joshua met her late husband
After Evelyn completed her secondary school education, she started working at the Nigerian Distilleries in Ota, Ogun State.
There and then, she started attending the Assemblies of God Church then. But the very first time she met TB Joshua was when he proposed to her. And her heart agreed.
According to Evelyn, it was within forty-five minutes of meeting, and she was just a 22 years old girl at that time.
But before they met, Evelyn paid her sister a courtesy visit at Ikotun-Egbe and everyone was talking about a prophet then.
Advertisements
CONTINUE READING BELOW
Surprisingly, her sisters and other people she met all have good and beautiful things to say about him.
Since she was desperate for a spiritual guide at that time of her career, she decided to meet the prophet as well.
Evelyn and her sister went to see him at home but they couldn't meet him. Few months after, she decided to go see him again and she was lucky to meet him.
On seeing the prophet to be such a young man, she was surprised. When TB Joshua met her, he gazed at her for some time.
Subsequently, TB Joshua wrote the word "Ejide" which means twin on a piece of paper. Of course, she was convinced about him immediately.
He (TB Joshua) told Evelyn a lot of things about her, some of which she already knew about herself and some she didn't.
Advertisements
CONTINUE READING BELOW
It was after then that he proposed to her and her heart agreed with. Although Joshua later explained that he had seen a vision about her in the morning.
Who is TB Joshua: Evelyn Joshua's husband
In case you don't know or you might have forgotten, Evelyn's husband was a Pastor and renowned preacher in Africa during his lifetime.
His full name was Temitope Balogun Joshua and he was born on the 12th of June 1963 and died in 2021.
During his lifetime, TB Joshua was the founder and the general overseer of the Synagogue Church of All Nations (SCOAN).
He was so popular with over 3 million followers on Facebook. He had more than 600,000 subscribers on YouTube, too.
Evelyn Joshua marriage life
Some months after their first meeting, Evelyn married T.B Joshua and so far, the marriage has been a happy and blessed one.
Advertisements
CONTINUE READING BELOW
The couples have been married for over 25 years before the demise of TB Joshua and the marriage was a blissful one.
Because of their marriage being cross-cultural, they had some challenges in the early days of their marriage.
Late TB Joshua was an indigene of Ondo State while Evelyn hailed from Delta. Other than this initial challenges, things later worked well for them.
Evelyn Joshua career
We mentioned earlier on that Evelyn was wondering at the Nigerian Distilleries in Ota before she met her husband.
After their marriage, she quit and joins her husband in the ministry. She is not a Pastor though but she plays a lot of roles in the church.
It was gathered that Evelyn works a lot in the church and most of the SCOAN goers believe that she's the second most powerful person (before TB Joshua death) at the Synagogue.
Advertisements
CONTINUE READING BELOW
Then, Evelyn works alongside Joshua in the ministry. She's used to meeting and counseling their visitors while waiting for the prophet.
Among many other things, Evenly career before the death of her husband revolves around the church being the wife of a pastor.
Evelyn children with late TB Joshua
All her children to TB Joshua are girls and Evelyn was never bothered about it because her husband has no problem with it.
But nonetheless, she uses to have a lot of male folks around helping her. All these are what made her relaxed and unbothered about a male kid.
Her first child is Serah Joshua and she studied Law at the London School of Economics. She was called to the Nigerian bar in December, 2015.
The name of her second child is Promise Joshua. She studied International Relations and Politics at the London School of Economics too.
Advertisements
CONTINUE READING BELOW
While the true identity of the Joshuas third child is not well known. Much of her identity is not yet revealed to the public.
Evelyn Joshua lifestyle
Evelyn Joshua is widely known for being the wife of the late Temitope Balogun Joshua (T. B. Joshua as fondly called) who's the founder of The Synagogue Church of All Nations.
There's no special lifestyle known of Evelyn. Before her husband demise, she was a busy and occupied person.
Thus, only little things is known of her. In fact, other than a counselor in her husband's church.
Although she has accumulated a good fortune from her husband inheritance, she prefers leading a modest lifestyle.
Evelyn Joshua Net Worth
As of 2021, Evelyn net worth was estimated to be around $15 million. Being her total value including her assets and income.
Advertisements
CONTINUE READING BELOW
With this figure so huge, Evelyn source of income majorly comes from her inheritance.
In conclusion, the above is all that is there to know about Evelyn Joshua biography and Networth. You have additional information, don't hesitate to use the comment section.