Who is Halima Dangote? Such is a question that begs for ultimate answer. Hence, this article will provide you with Halima Dangote biography and her net worth.
Halima "Bello" Dangote is a business woman, philanthropist, industrial conglomerate, CEO, and director of operations at Dangote Group of company.
Halima is one of the popular daughter of the richest black man on Earth, Billionaire All. Aliko Dangote, Nigerian business mogul and philanthropist.
Her dad, Aliko Dangote though divorced is the Chief Executive Officer of Dangote Group of Company.
And her mom, Zainab Dangote has lived up to expectation by handling the family affairs and corporate world together perfectly.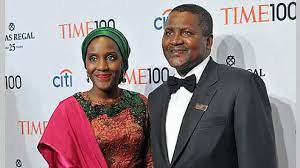 Halima Dangote Biography
Halima Dangote was born in the beautiful city of Kano, Kano state, Northern Nigeria. She is the first daughter of Alh. Aliko Dangote.
His father, Aliko Dangote is the great grandson of the famous businessman, Alh. Sanusi Dantata, one time Africa richest man and a former elder statesman.
Advertisements
CONTINUE READING BELOW
Being a daughter of the richest man in Africa, Halima had all the best thing a child could have.
Now, Halima has grown into a woman every father would be pleased with. She is now a renowned Businesswoman in Nigeria.
She is currently the Executive Director of NASCON Allied Industries, a member of the Dangote conglomerate that manufactures food related products.
This young woman is also known to be passionate about women empowerment. Like her father, she is into philanthropic activities too.
The mother of two is a equally a member of the Women Corporate Directors (WCD) and at the same time, a board member at Endeavour Nigeria.
Being member of the board of directors (a non-executive member) in a her father's Company, she is also the President of the Board of the Africa Centre in New York.
Advertisements
CONTINUE READING BELOW
Halima Dangote Academic Career
Halima Dangote attended one of the best primary and secondary schools in Nigeria before she went to overseas to further her education.
Halima obtained her Bachelors' Degree in American International University London, United Kingdom, where she studied Marketing.
After her degree, she further ahead and acquired a Masters degree in Business Administration from Webster Business School, London, UK.
Being an academic lover, Halima decided to further her education programs by attending leadership development programs.
The notable one among them is the Program for Leadership Development (PLD) at Harvard Business School, in the United States of America.
What is more, Halima received a certificate of participation at the Executive Development Program at the Kellogg School of Management.
In Columbia Business School, the Director of Operations at Dangote conglomerate attended the Finance and Accounting for Non-Financial Executives.
Advertisements
CONTINUE READING BELOW
Halima Dangote profession and job career
The daughter of the wealthiest man in Africa is the executive director of commercial operations at Dangote Group.
She is a certified Marketer and Business Administrator. Halima got her first job after her degree to operate as a Business Analyst in a company named KPMG.
In 2008, the focus young lady made her way into her father's Company, Dangote Industrial Limited.
In 2019, Halima was elevated as the Group Executive Director of Dangote Group Limited. Incredible, isn't it?
Halima Bello Dangote's family
The beautiful Halima met her darling and lovely husband, Suleiman Sani Bello during her stay as undergraduate at the UK University.
In August 2008, they finally got married and ever since then, their marriage has been fruitful with two adorable children.
Advertisements
CONTINUE READING BELOW
Halima Bello Dangote has done well in keeping her marriage life off the hook of the public domain.
She is very calm, and d reserved and so is her Sulaiman, her husband.
Halima Dangote lifestyle
Without any iota of doubt, you will agree that Halima Bello Dangote is an epitome of beautiful and a well cultured woman.
She has got a personality of a queen who is so mild and down to earth. She is very reserve and hardly flaunts her success on social media.
Her lifestyle is very simple and akin to that of an average man's daughter. Although she uses social media, she hardly posts on her timeline.
For whatever reason best known to you, if you need to contact the Kano state born Philanthropist and daughter of the Nigerian billionaire, her Instagram handle is @halimadangoteofficial.
Advertisements
CONTINUE READING BELOW
Also, Halima is all about business and she wouldn't trade business for anything. Hence, if there is need to contact her, you can send a mail to her via [email protected]
Halima age, birth day and year
Because of her reserved and simple lifestyle, we cannot confirm the exact birth day and year of Halima Dangote Bello at the moment.
But nonetheless, findings show that the iron lady and promising business women is in her late 40s now.
Hence, as soon as we get hold of real and accurate information about that, we won't hesitate to update you.
Halima Bello Dangote Net Worth 2022
As we rightly state earlier that Halima is is the Executive Director, commercial operations of her father's company, Dangote Group.
And we don't have to remind you that the Kano born certified Marketer and Business Administrator is a shareholder of Dangote Group and its subsidiaries.
Advertisements
CONTINUE READING BELOW
Currently, Halima is listed on the list of the top 15 richest women in Nigeria and Africa as a whole. Magnificent, right?
To some, Halima Bello is swimming under the influence and affluence of her Billionaire dad, but the fact that she's an astute administrator cannot be denied.
On this note, Halima Dangote's net worth is estimated to be around $500 Million. Such is a feat she is likely to surpass in the coming years.
Conclusion
At this juncture, you will agree with me that Halima Dangote is one of the few young business women in Nigeria with such huge profile.
With fortitude, she is handling her work, family, and business wonderfully without sacrificing one for another.
So when next someone ask you that who is Halima Dangote, tell him that she's one of the Dangote's damsel, a rare gem, a woman worth emulating, and a philanthropist to the core.
Advertisements
CONTINUE READING BELOW