Do not just uninstall your AMP plugin. That would be a very foolish thing to do. Some might get away with it cos google is smart, some others, not so much.
Let's get started:
Many people are wondering how to uninstall google accelerated mobile page (AMP) without losing traffic. If you are reading this, there is a good chance you are one of them. It can be confusing to know how to do it properly, but don't worry! We have you covered. Below is a list of steps with what to avoid when trying to switch your website back from AMP pages.
I decided to write this article after I couldn't find any concrete article on how to safely uninstall AMP when I decided to uninstall mine.
...........................
There is this article by Gulshankumar that shows how to uninstall AMP for WP by Ahmed Kaludi and Mohammed Kaludi.
But his method only works for AMP for WP. He went ahead to advise those who used the google official AMP plugin to uninstall the plugin, then install the AMP for WP so that they could follow his steps.
This wasn't something I wanted to do. So, I kept on searching the world wide web for a solution. And I found one.
In this article, I will be showing you how I uninstalled my official google AMP plugin without losing any traffic or getting any errors.
Related: Free Web Hosting Providers for New Bloggers.
First, what is AMP
AMP stands for Accelerated Mobile Pages. It has been around since 2015, but recently has gained more popularity. AMP pages are optimized for mobile devices. They are stripped down to the bare essentials so they load quickly on any mobile device.
...........................
Sometimes usability is sacrificed in favor of speed, which isn't necessarily a bad thing depending on your business objective. There are far fewer advertisements, which makes the pages easier to navigate and read. It's not hard to see why people would prefer it over standard organic search results, right?
That being said, there is a downside to this specific type of optimization. You cannot control as much as you could with a typical website. If Google decides to change the mobile pages for their own reasons, you have little to no say in the matter. Because of this, there are some people who want to avoid AMP pages entirely.
While some people reported a decrease in advertisement earning, especially those who monetize their site with Adsense, I didn't actually see a decrease in earnings. In fact, Adsense AMP ads in my opinion were converting pretty well. Those ads loaded instantly.
...........................
When should you uninstall google official AMP or any AMP plugin?
Simply put, there is too much code to contend with while using AMP. So if you don't know your way around WordPress codes, you should probably stay away from AMP entirely.
Your search console will keep screaming AMP errors. If you can't troubleshoot these errors, my advice is to simply upgrade your hosting and work on your speed. After all, Google says that AMP isn't a ranking factor according to Search Engine Journal.
So when should you uninstall your AMP? Once the errors begin to overwhelm you. These errors will come, the question is; can you keep dealing with it?
There are times when you should use Google AMP pages though. For example, you have a website that is not mobile-optimized and you want to draw more traffic from mobile devices. Your website may not be mobile-friendly at all and it makes sense to get rid of everything that isn't critical for your page to load. This can get rid of any problems with slow loading times and bad design.
...........................
So if this is you, yeas, by all means try out AMP, but be sure to brace for the errors that will pop up.
Did your traffic increase when you started using AMP?
Did my traffic increase when I moved to AMP? No! It definitely did not. AMP according to google isn't technically a ranking factor. My site was already somewhat fast at the time, so I am guessing AMP didn't help much.
Funny enough though, I did see an increase in traffic after I got rid of AMP.
Disclaimer: Remember correlation doesn't equal causation. So I am not saying uninstalling the AMP caused a boost in traffic, I am just saying there was a slight increase in traffic after I uninstalled the google official AMP plugin.
...........................
How to uninstall AMP on WordPress and retain your traffic
Here is a step-by-step guide on how I uninstall my official google accelerated mobile page (AMP) plugin without losing traffic.
If you are using the AMP for WP by Ahmed Kaludi and Mohammed Kaludi, you can use the Gulshankumar method, but I am sure this works too.
Also read: 17 Legitimate Ways to Make $100 a Day Online in 2021
STEP 1: Install a Redirect Plugin
This isn't the usual first step. People would tell you to uninstall the plugin first, but I like to get my equipment ready before I work (if you know what I mean). So, install a redirect plugin and activate it. But don't set it up just yet. I used the Redirection by John Godley.
...........................
STEP 2: Disable the AMP plugin for WordPress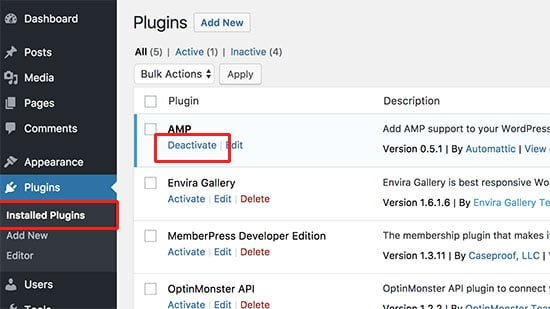 Go ahead and disable the AMP plugin. To disable the AMP plugin, go to the plugin menu and click on disable on the plugin. When that's done, you can go ahead to delete the plugin.
At this point, your site is no longer on AMP, but your pages that are cached by google will keep on being live. Don't worry, it's all part of the process. Once you've deactivated and deleted the plugin, clear your cache.
STEP 3: Set up the redirection plugin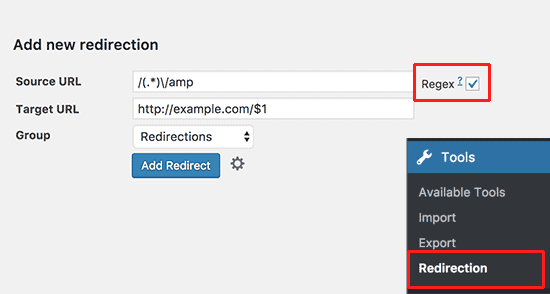 It's now time to set up the redirection. Go to tools, then click on redirection. Once the page loads, click on add new redirection.
Copy this codes and input:
...........................
Source URL: /(.*)\/amp
Target URL: http://yourdomain.com/$1
Group: Reirections
Make sure to tick the Regex?
Because some people use this amp URL format: [ /?amp=1 ] which I was using at the time, I also added a second redirect like this:
Source URL: /(.*)\/?amp=1
Target URL: http://yourdomain.com/$1
Group: Reirections
Make sure to tick the Regex?
So, this means I added two redirects.
STEP 4: Resubmit your SITEMAP
I don't know if this actually made a difference, but I did it for good measure. Go to your search console and click on sitemap. resubmit the entire sitemap again.
STEP 5: Clear the AMP cache on a few power URLs and the home page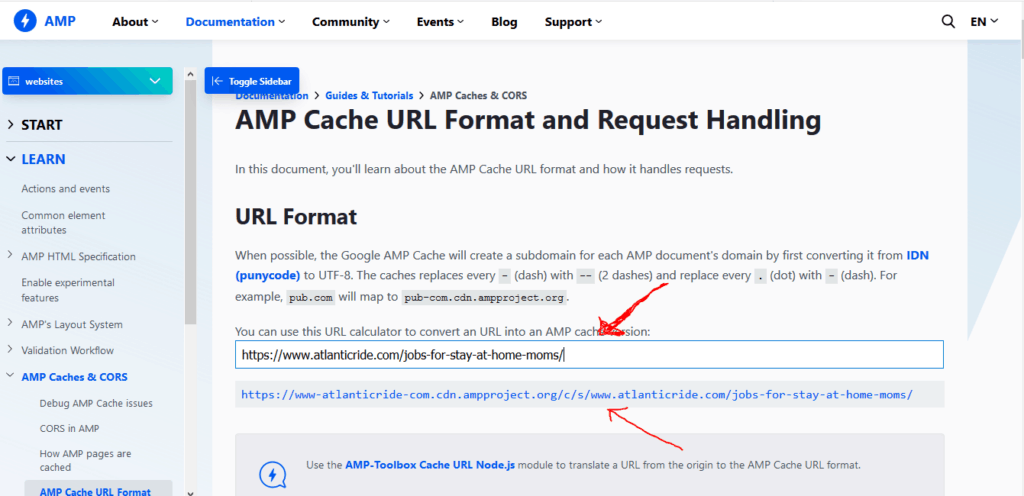 Lastly, I cleared the AMP cache on my home page and 10 other URLs, just to give Google the heads up that I was moving away from AMP.
...........................
There are many ways to clear the AMP cache, but I'll just stick to the simplest one.
Go to: https://amp.dev/documentation/guides-and-tutorials/learn/amp-caches-and-cors/amp-cache-urls/
Input your normal non AMP URL in the box and it will generate a new URL for you. Once that is done, copy the new URL and paste it on your browser and click enter.
This should clear the cache. And google will try to fetch the new page. But then it would only be able to find the new page which is non-AMP.
This should signal to Google that you are done with AMP and it would slowly begin to deindex your AMP pages and replace them with your non AMP pages.
...........................
How long does it take google to remove you AMP pages from its Cache?
For me, this process lasted less than a week. That's all I can say. The errors will also begin to slowly disappear.
Problems with google AMP Pages
Our biggest concern with AMP pages was the errors. Every day there's a new error to deal with and validate. It really got annoying.
Another problem is that they don't provide the same user experience as a normal website. You can't access as much information as you used to, and some things are just impossible to do. People expect to see the entire page load now, not just what Google wants them to see.
If your website was slow before due to a lot of java scripts, removing these elements made it faster on mobile devices, but a lot of people would rather have a slow website than one that only shows the most important stuff according to google.
...........................
AMP can also be known for having problems with SEO, especially with the ever-increasing errors that come with it.
What to avoid when uninstalling AMP pages
If you want to remove your AMP pages, there are certain things that we recommend not doing that will cause problems. The most and single most important thing not to do is: DO NOT JUST UNINSTALL THE PLUGIN AND WALK AWAY. That's a suicide mission.
There are processes to installing and uninstalling AMP pages, follow them. It worked for me; I am sure it will work for you too.
If you have any questions, please leave us a comment below. Thanks.