As a stay-at-home mom, you already have a very important job – taking care of your beloved kids. However, there is nothing wrong with wanting to make additional money to support your family. The best way to juggle your parental obligations and a job is to find something that will give you enough flexibility to work around your busy schedule. Nowadays, that's easier than ever as there are plenty of jobs for stay-at-home moms to choose from.
Pandemic made working from home a new normal, and in the 21st century, there are so many earning possibilities. You can even legitimately earn 100$ a day online! In this article, we'll present the ten best jobs options, and hopefully, you'll find something that will soon become your career.
#1 Customer service representative
In the current job market, there are plenty of customer service jobs. You can decide if you want a part-time gig or you are looking for a full-time position.
...........................
Depending on the company, you will need to provide product or service information. You will either answer phone calls or reply to different queries via email or online chat. In any case, you will need to have good knowledge of the company you work for to quickly answer any question that comes your way.
Caption: If you have excellent communication skills and enjoy helping people, working in customer service might be a good choice.
Alt: Customer service representative is one of the jobs for stay-at-home moms
You will need peace and quiet to do this job, so setting up a home office is essential. You should aim to create a productive space where you have all the freedom you need to do your job uninterrupted.
#2 Transcriber
Transcribing is listening to audio materials and recording (writing down) what you hear. If you are detail-oriented and have enough patience to sit and listen for more extended periods, this could be a good job opportunity for you.
...........................
The best part about it is that the working hours are flexible. You will get deadlines you need to be mindful of, but you'll still be able to organize your work around your home schedule.
#3 Proofreader
If you have an eye for details and you always seem to notice grammar mistakes when reading, you might want to change your career and become a proofreader. As a proofreader, you would be making money by fixing spelling, grammar, and punctuation mistakes.
Proofreaders are highly in demand, so you are very likely to find many available positions to apply for. It's another flexible job so you can still have enough time to spend with your family.
#4 Online English teacher
If your first language is English or you have a bachelor's degree and some teaching experience, perhaps you should consider teaching English online. Nowadays, there are many online platforms for teaching English to kids in China, Japan, and many other countries worldwide.
...........................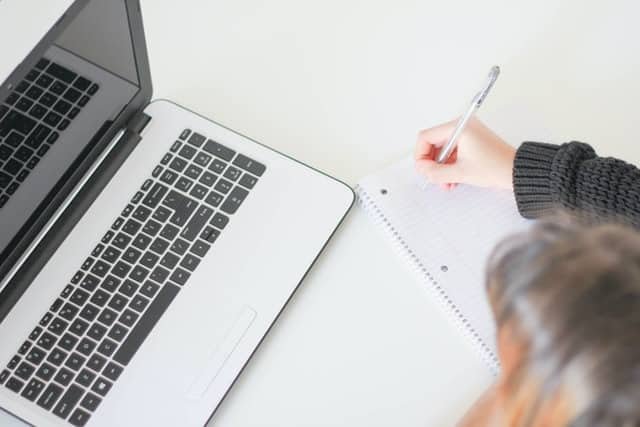 Caption: As an online English teacher, you can choose your working hours and adjust them to your schedule at home.
Alt: A woman writing on a white paper next to a laptop
This job doesn't lack flexibility, either. You can decide how many classes you want to teach per week. Due to the time difference, you'll be doing this job while your kids are sleeping. That way, you'll undoubtedly be working in peace.
#5 Virtual assistant
As a virtual assistant, you would be providing administrative support. It can be to an individual or a team, depending on the job requirements. You will be in charge of scheduling meetings, booking travel, replying to emails, handling social media and calendars, and many more.
You can find both full-time and part-time options, depending on what is convenient for you. The best part is – you can do it from the comfort of your home office.
#6 Blogger
...........................
Writing blogs is one of many online businesses that you can start without capital. It's one of the most flexible remote jobs with a very high earning potential. You can even make more than with a corporate job.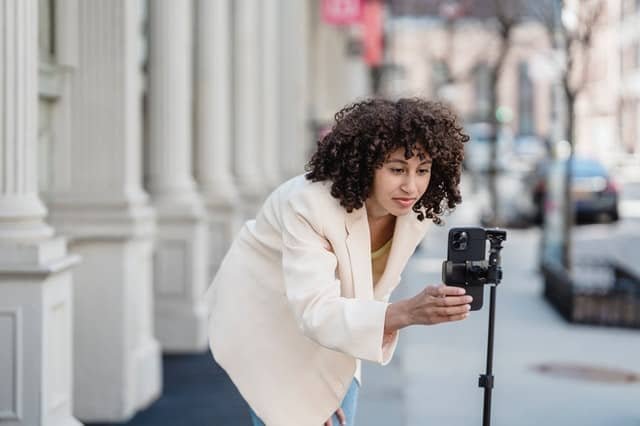 Caption: If you decide to write your own blog, you can share your thoughts and experience with different people while earning a good profit.
Alt: A female blogger with a smartphone in town
If you enjoy writing, you can start a parenting blog and share your experience with other parents. Creating a successful blog might take you a while, but it's important not to give up and constantly try to find ways to appeal to your audience.
#7 Travel consultant
If you enjoy traveling, there are plenty of job opportunities for virtual travel consultants. You can manage travel arrangements for different clients. For example, airlines, resorts, or cruise lines.
One of the benefits of this job is that many companies offer travel credits that you and your family can use to travel. Another option is to start your own business and work as an independent travel consultant.
...........................
#8 Bookkeeper
One of the best jobs for stay-at-home moms is working as a bookkeeper. You can do this job as a freelancer or for a company; the choice is on you. If you have experience in finance and enjoy working with numbers, bookkeeping might be your next career.
As a bookkeeper, you would be working for small business owners recording their financial transactions. Even if you don't have relevant experience, there are plenty of online classes (even free ones), so you can easily obtain all the knowledge you need.
#9 Tutor
Technology has made it pretty easy to become an online tutor. If you have knowledge of a specific subject and some teaching experience, you should consider this option as a job you can do from home.
As a tutor, you would have the freedom to choose how much you want to work. You can arrange classes with your students so they can fit around your schedule at home. You can make a decent salary while still having enough time to spend with your kids.
...........................
If you are wondering where to look for work like this, there are a lot of sites that post online jobs such as LinkedIn and Indeed. You can always occasionally search their job posts to see if anyone fits in. For LinkedIn jobs, make sure to completely set up your profile so that the system can match you with appropriate hires.
#10 Different freelance jobs
Working as a freelancer is probably the best way to go, as you will have the freedom to make your own schedule. Your only concern will be to meet your deadlines.
On top of freelancing jobs for stay-at-home moms we've already mentioned, here are three more you might be interested in:
Social media specialist – If you love and have a gift for creating interesting content for Instagram, Facebook, and other social media, you might want to consider working as a social media specialist for different companies.
Copywriter – There are plenty of companies looking for copywriters that would write articles on different topics. If you enjoy writing, search for copywriting jobs.
Photographer – If you are a talented amateur photographer, you can find many places online where you can sell your photos.
Final words
...........................
We hope you'll be able to find your next career among jobs for stay-at-home moms that we've listed. We wish you the best of luck with your job application and much success in the career you choose!
Meta description:
Being a mom is a very important job. However, if you want to make additional income, check our 10 top jobs for stay-at-home moms.