In this post, I will walk you through how to get a careless driving ticket dismissed in New Jersey (NJ).
Careless driving offense is one of the most frequent traffic offenses keeping municipal courts busy. It is not reckless driving so don't worry, you can fight your case successfully.
Let's get started! But first, let's quickly look at the difference between careless driving and reckless driving.
Careless Driving Vs Reckless Driving
Careless Driving is not the same as reckless driving.
Many drivers use them interchangeably but they are different in terms of definition and the charges attached.
Careless driving is just the authority saying, "You didn't do it intentionally but as a driver using the public space, you should know that it is dangerous and therefore you will be charged so that you can be more conscious next time."
Advertisements
CONTINUE READING BELOW
A typical example of an implicating activity is conversing on a handheld cell phone, improper turn, child-seat violations, texting, or seat-belt tickets.
On the other hand, reckless driving charges are levied when a driver intentionally violates the traffic rules. An example is disobeying the traffic lights.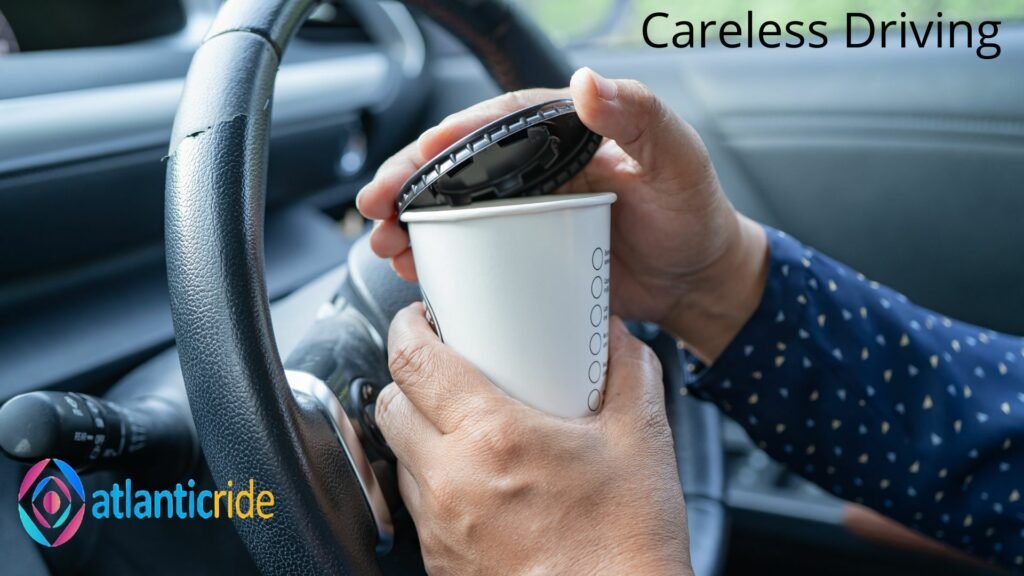 Reason for Careless Driving Tickets
Careless driving tickets are not just issued based on the free will of a police officer in New Jersey. The action has the backing of the law and the description of the offense can be found in Section 39:4-97 of the New Jersey Statutes. Simply, the law states:
A person who drives a vehicle carelessly, or without due caution and circumspection, in a manner so as to endanger, or be likely to endanger, a person or property, shall be guilty of careless driving.
Once you violate the above law, you are liable to face the consequences attached.
Advertisements
CONTINUE READING BELOW
Guideline for Careless Driving Ticket Dismissal
Before we discuss the approaches on how to get a careless driving ticket dismissed in NJ, please understand that your chance of getting a driving ticket dismissed is only feasible if you first establish a trial date to meet with the prosecutor in court.
Check your ticket to confirm whether the court date is on it or not. If it appears, prepare adequately to contest the charge against you. If not on the ticket, go ahead and take the necessary steps to get a trial date.
Before you appear in court:
Ensure you understand the legal definition of careless driving.
Identify the specific details of the incident to drive home your point.
Get a copy of the police report, analyze the statements made by the police officer and point out what is not true or what wasn't included.
Reach out to any witness you believe can testify in your favor.
Request for the incident's video that may have been captured by the video surveillance equipment and analyze it. But make sure it supports your argument.
Prepare your carefully thought out, self-rescue questions in advance.
With that said, let's move on to the real deal of this post. Shall we?
Advertisements
CONTINUE READING BELOW
How to Get a Careless Driving Ticket Dismissed in NJ
To get your ticket dismissed, there are two approaches:
1. Work with a Traffic Attorney
In all candor, an advisable first step is to leverage the expertise of an attorney who, with experience, can properly organize your case and articulate the facts.
For your information, an attempt to front the ticket dismissal case by yourself may most likely be futile. So your first best step to getting this frustrating situation out of your way is to meet with an attorney.
In a typical situation, your offense may have been a result of complete ignorance of New Jersey's traffic law. This may be an obvious tenable reason for an attorney to tender but you may not have identified that.
For example, using a handheld cellphone while driving is an offense in New Jersey and other 16 states in the USA but not in some states like Alabama, Maine, Oklahoma, and Louisiana, although the first four states restrict the usage of handheld cellphones for newbie drivers and drivers of state vehicles.
Advertisements
CONTINUE READING BELOW
In the same context, texting while driving is not allowed in 48 states in the US including New Jersey but there's no restriction to such in Missouri and Montana, although Missouri bans novice drivers from texting.
Needful to say: if you are employing the service of an attorney, you must be ready for the financial implication. If it's worth it, you can go ahead but if you deem it unnecessary, you can try presenting your case yourself and this brings us to the second approach.
So in a bid to create a solid defense, an attorney will break down the details of your situation so that an evidence-based case can be presented. If successful, your charges will be completely dropped or downgraded.
2. Negotiate with the Prosecutor
Advertisements
CONTINUE READING BELOW
There is a somewhat pleasant peculiarity in the traffic law of New Jersey.
While carelessness is apparently responsible for some accidents, not all accidents occur because the driver was careless. Therefore, in a situation whereby the accident is not in connection with careless driving after investigation, no charges are issued and the ticket is dismissed.
For instance, an accident may have occurred as a result of bad weather. If you carefully present your case with evidence of the bad weather, a dismissal might be considered.
On top of that, you will be free from paying any attorney an unbudgeted service charge.
As mentioned earlier, if you are thinking whether you can achieve that by yourself, the answer is, the probability is low but your ability to negotiate your way with the prosecutor in charge of the municipality where the ticket was issued will save you completely from the impending charges.
3. Take a driving lesson
There is one last option that seems to have worked for a lot of people. Yeah, you can take permission from the court and take a driving lesson. You can totally do this online and your certificate will be mailed to you. At this point, all you have to do is to sign the certificate and you are literally free to go.
Advertisements
CONTINUE READING BELOW
But there's a catch though, you have to take the driving lesson from an instructor that's NJ State approved. Not just any guy parading the streets or the internet. DefensiveDriving.com is one that we recommend. They've been able to dismiss 100% of tickets for careless driving over the years (information from their website) and they have reviews to prove it.
They guarantee that they can dismiss your ticket as long as you live in NJ by taking their course. Why? Because their course is 100 percent NJ state-approved for driving ticket dismissal and discounts on insurance costs. To get a $10 discount, use our link here to register on their site.
I advise you to check them out and see how if it suits your needs.
Is careless driving a major violation in New Jersey?
Advertisements
CONTINUE READING BELOW
No, it's not. Careless driving is considered a traffic violation rather than a serious offense in New Jersey. But, reckless driving is a criminal offense because it's an intentional and dangerous act.
Consequences of Careless Driving Ticket
Once a driving ticket is issued to you, the following are usually the outcome:
1. Payment of Fine
Of course, every ticket issued to a defendant comes with its own financial implication. However, the amount to be paid which is usually between $50 and $200 depends on the severity of the situation.
2. Addition of Points on Your License
No, you don't want this, and here is the reason…
The amount you pay may be less significant on your credit balance but getting some points on your license means you are already on your way to losing your license. And you don't want that, right?
Advertisements
CONTINUE READING BELOW
3. Increase in Auto Insurance Cost
Here's the fact – among other important factors, the cost of car insurance is also linked to your driving history.
If your record shows that you've been violating traffic rules, your insurance company will consider you riskier. The riskier you are, the more you will pay for their service.
4. Suspension of License
If you get six or more points within three years, you will have to pay an extra charge. Now, if you get twelve points or more, you will have your license suspended.
5. Jail Term
Depending on the complexity of the situation, a defaulter's case may warrant spending not less than 15 days in jail.
NJ Careless Driving Ticket Points
If guilty of the careless driving offense charged against you, 2 points will be added to your New Jersey State Driving Record.
Advertisements
CONTINUE READING BELOW
How to Reduce Points on License
The best you can do is to avoid getting points at all cost but if you already have some points in your record, don't fret.
There are different potent ways you can reduce your points. Let's discuss them briefly:
1. Avoid Violation in a Year
If you do the best you can to avoid traffic rules violations and suspension on your license in a year, three points will be deducted.
2. Allow an Attorney Take Charge
As discussed earlier, working with an attorney is a good option to consider. Their professionalism can prevent you from having any point in your record.
3. Take Qualified Driving Courses
One of the best ways to have your points reduced is taking a driving course.
Absolutely, some courses can better educate you on driving strategies, driving trends, rules on the road, how to predict hazards, and other driving techniques.
Advertisements
CONTINUE READING BELOW
"Where can I enroll for such a driving course?" You may be asking.
A great platform to take an approved driving course is Defensive Driving. Aside from the fact that the lessons are delivered to you online, their course is state and court-approved for driving ticket dismissal and discounts on insurance costs.
Rounding Up: How to Get a Careless Driving Ticket Dismissed in NJ
Definitely, you can fight a careless driving ticket. It is possible to have your ticket completely dismissed or your charges downgraded. The approaches to achieving this have been discussed in this post.
Follow the process outlined to have your charges reduced or walk away without opening your wallet for the fines and having the license points on your record.