There is no doubt disputing the fact that Aliko Dangote is the richest black man on Earth. But how much do you know about Dangote's children?
Well, in this publication today, we shall be bringing to your hearing the names of all Dangote's children, their ages, occupation, etc.
As matter of fact, we will go to the extent of revealing their net worth, relationship status, personalities, lifestyles, and more.
Hence, it's important you take your time to read this article line by line from the top to the end.
Who is Aliko Dangote?
While it's a known fact that Aliko Dangote is an insightful business mogul, multi-billionaire, and the CEO of the Dangote Group of Companies.
Until the beginning of 2020, when the widespread Coronavirus woefully affected the Nigeria and global economy, he was among the top 100 richest men in the world.
Advertisements
CONTINUE READING BELOW
According to a Forbes listing, Aliko Dangote's ranking went down by a unit to stand at 101 because of the ugly COVID-19 pandemic that affected his business.
Let's put his business empire aside, the richest black man on Earth is a Muslim and a serial polygamist.
Dangote took marital vows on two different occasions with two different women, before it all became history.
The incidence of legally untying the knots made a lot of people ti question if Dangote, the wealthiest business mogul in Africa, is married or a bachelor.
What's more, there was a rumor some time ago that Dangote was in a secret relationship with Sylvia Nduka, the beauty queen and the 2011 winner of the Most Beautiful Girl in Nigeria.
Whatever the case may be, what is obvious is that the romantic relationship has ended, of course, in ruin.
Advertisements
CONTINUE READING BELOW
According to the report, the Miss World Pageant revealed some piece of classified information about Dangote and things went south between them.
Before we head straight into the biography of all the Dangote's children, it's important will look into the biography of Dangote, the father himself.
Aliko Dangote's Biography – The richest man in Africa
The richest black man and the wealthiest person in the whole of the African continent is Alh. Aliko Dangote – Chairman of Dangote Group of Companies.
Dangote was born on the 10th of August, 1957, in the beautiful city of Kano, Nigeria. Of course, nobody imagined him to be the next century Africa's wealthiest man.
And no one foresaw him as the Chief Executive Officer of Dangote's empire, a multi-billion multinationals company in Africa.
Of course, all that people know is just a small boy and business-minded lad that sells candies to his mates in school.
Advertisements
CONTINUE READING BELOW
The African's most opulent and influential man's story cannot be completed without mentioning how he built his empire.
Dangote started his business in accordance with his entrepreneurship mindset. According to his story, he sells sweets and candies during his primary age.
These sweets and candies were often bought by his parents for his personal enjoyment and pleasure which he converted into business.
From the above statement, it's obvious that Aliko Dangote was born and raised in a wealthy family; sliver spoon wasn't that far from his corium.
Aliko's entrepreneurship got a better facelift to leverage all because of his parents, but as we all know, he received a grace that begets Dangote Group.
His uncle, Alhaji Alhassan Dantata, who was the then richest man in Africa loaned him $3,000 to start the importation and selling of agricultural commodities.
Advertisements
CONTINUE READING BELOW
This businessman was Alhaji Sanusi Dantata, his maternal grandfather's business flight.
After he graduated from Egypt's Al-Azhar University at the age of 21, Dangote moved down to Lagos for cement trading and other essential commodities trading in 1977.
This business mogul and billionaire are now into the production of the major household consumables as well as cement.
In 2011, Alh. Aliko Dangote was conferred with the honor of GCON by the then President, former President Goodluck Ebele Jonathan's led administration.
Later that year, Dangote's success story transcends Nigeria to its neighboring countries which include Benin Republic, Ghana, Cameroon, Tanzania, Togo, South Africa, and Zambia.
Alhaji Aliko Dangote is the largest employer of labor in the whole of Africa, his net worth was estimated to $15.3 billion making him the richest African and black in the world.
Advertisements
CONTINUE READING BELOW
This Forbes rating, therefore, means that Aliko Dangote and richest man in Africa is richer than Donald Trump, and some renowned billionaires across the globe.
Aliko Dangote's Children: Their names, ages, relationship status, net worth, and more
Haven discussed the biography of Africa's richest business Mogul, Alh. Aliko Dangote, it's high time we consider his children's biographies too.
Premise on the above, you must note that Aliko Dangote's marriage with his two wives led to the birth of these children we'll be looking into.
At least, it's not far from the public notice that the richest black man on Earth has children who are living up to the expectation of society.
Information gathered revealed that Dangote had four children out of which three are females and one male.
According to research, we also gathered that the male child is not Dangote's biological son, but rather an adopted son into the magnificent Dangote family.
Advertisements
CONTINUE READING BELOW
By and large, Dangote's children's names are Mariya Dangote, Halima Bello Dangote, Fatima Abubakar Dangote, and Abdulrahman Fasasi.
Note that Abdulrahman Fasasi is the only male and equally the adopted child in the Aliko Dangote family. You can hardly tell that he isn't filial to Dangote.
Biography of Aliko Dangote's Children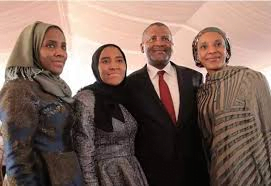 1. Halima Bello Dangote
Halima Bello Dangote is the first born and the eldest daughter of Alhaji Aliko Dangote. And of course, she is leading others by example.
Till now, her age, childhood life, and other similar facts about her are not yet revealed to the general public because of her reserved nature.
But as soon as we get more information in that respect, we assure you that we will update this article and put you on notice for your reading pleasure.
Advertisements
CONTINUE READING BELOW
According to research, it was revealed that Halimah, like other daughters of the African's Richest man, studied abroad.
The wealthiest man in Africa's first born and the eldest daughter is an Entrepreneur and philanthropist.
She had her degree certificate from the American Intercontinental University in London, where she studied Marketing.
Subsequently, she furthered her educational career and obtained a Master of Business Administration at the Webster Business School, London.
She is the Director of Commercial operations in her daring father's company – Dangote Group, an African business conglomerate.
Being a certified marketer, Halimah is serving on the board of the Dangote group, Nascon, and Dangote Foundations.
And she also doubles as the Board Chairman of Africa Centre in New York, United States of America. Cool, right?
In a bid to widen her business and Administration horizon, Halima Dangote attended several leadership development programs at Harvard, Oxford, and MIT.
Advertisements
CONTINUE READING BELOW
In fact, findings show that she is the most educated daughter of Alh. Aliko Dangote. Plus, she is the goddaughter of Alh. Sanusi Dantata.
In 2008, Halimah got married to Sulaiman Sani Bello during her academic pursuit in the United Kingdom.
So far in their marriage, Halima and her husband have two lovely and beautiful daughters.
Halima 'Bello' Dangote is barely seen on social media or even in public places. Perhaps, she may be preoccupied with administration work.
At this juncture, it is important to note that Halima is equally a strategist and the group executive director, Sales and Marketing in 'Sulaiman Sani Bello' her husband's company.
A Kano-based business organization as well as one of the keys and active directors in Dangote Group of Companies.
2. Fatima Abubakar Dangote
Alh. Aliko Dangote's second child's name is Fatima. Fatima is the second and the last daughter of Dangote's first wife, Zaynab.
Advertisements
CONTINUE READING BELOW
Fatima had her basic, secondary, and tertiary education in the United Kingdom. She is the founder and MD/CEO of a Cupcake Factory located in Lagos.
During one interview session with Fatimah, she made it known that she has had a passion for baking since her childhood days.
In fact, such passion made her start her confectionery business in Lagos. Today, her Cupcake startup enterprise is growing every now and then.
In 2018, Fatima Dangote tied the holy knot with the love of heart, Pilot Jamil Abubakar whose progeny is traced to the former Inspector General of Police, MD Abubakar.
The wedding Fatiha and ceremony were held in 8 distinct locations hosted by the big guns and crème de crème of the society.
The wedding ceremony attracts several top world dignitaries, such as the world's richest man then – Bill Gates, 5 current presidents within and outside the continent, past Nigerian presidents, etc.
Advertisements
CONTINUE READING BELOW
Among the personalities hosted at the Eko Hotels and Suites Lagos, on that day was Nigeria's current president, General Muhamadu Buhari.
His Excellency served as Fatimah's guardian while the wedding Fatiha was in progress in Kano.
3. Mariyah Dangote
Aliko Dangote's third daughter's name is Mariya. Mariya Dangote is the first and the last born of Aliko Dangote's second wife.
If you look at her picture, you will agree that Mariya is one of the beautiful daughters of Aliko, who took resemblance and look like his copy.
Being the youngest daughter of Africa's richest and most influential man, she recently finished her university education at Coventry University in the United Kingdom.
On the 15th of April, with pleasure and happiness, Mariya later received a Masters's Degree from the same university.
Advertisements
CONTINUE READING BELOW
Afterward her education, Mariya Dangote has been seen with her father in different places on several occasions.
Just like her elder sister, Halima, Mariya is also one of the top executives and directors of her father's Company — Dangote Group of companies.
Despite being the last born of the richest and wealthiest black man on Earth, Mariya derives pleasure in keeping a low profile.
In fact, this beautiful young chap was sometimes tagged as the "secretive daughter" of Aliko Dangote.
For the reasons best known to her, she just defiles social gatherings or anything that will put her in the searchlight.
Although she has a presence on Facebook, Twitter, Instagram, and others, Mariya does not post regularly on her social media pages.
4. Abdulrahman Fasasi
Haven said earlier that Abdulrahman Fasasi is Aliko Dangote's only and adopted son.
Advertisements
CONTINUE READING BELOW
The truth and accurate information about the biological parents to the legal heir to the richest black man on the continent wealth, are sparsely known.
Being the legal heir, one could easily tell apart from the other daughters that the name Abdulrahman bores shows that he is not Aliko Dangote's filial son.
Abdulrahman's family details including that of his wife, children of his own, his educational qualifications, responsibilities in his father's company, etc. are unknown.
Since he is very reserved and doesn't act like an heir to the most powerful conglomerate in Africa, it is very difficult to his net worth or assets at this moment.
Like his half-sisters, Abdulrahman Fasasi 'Dangote' is calm, tolerant, and doing wonderfully well with all other members of the family.
Aliko Dangote's Children's Lifestyle
From the foregoing, one could boldly deduce that one general unique characteristic of all Aliko Dangote's daughters is their simple lifestyle.
Advertisements
CONTINUE READING BELOW
Like their father, they kept a very low profile despite the opulence and influence, they shy away from social media.
The kids are also well educated and attended one of the best and most recognized universities oversea. They all have Masters degrees to their names.
But one will begin to wonder why all of them choose to keep such a low profile — unlike other billionaire kids — despite their father's wealth.
Their low profile made their biography and information about them a little meager. After all, they don't wear or flaunt their father's wealth and opulence on their sleeves.
Conclusion
At this juncture, it is important to state that the lifestyle Aliko Dangote's children chose explicitly revealed that being rich and being popular are different.
Some rich kids love living a simple life while other rich heirs in the society love living large.
Advertisements
CONTINUE READING BELOW
But wherever you find yourself in life, it's advisable you live honorably. The choice is always yours.