Have you been surfing the internet to no avail on how to check your Airtel number? If yes, then you've come to the right page as this article contains the most comprehensive guide on how to successfully check your Airtel phone number.
And of course, checking your misplaced, lost, or forgotten Airtel number could be done using the Airtel number check code popularly known as the USSD code and it can equally be done using some other simple ways that will be discussed here today.
But before then, we must point out that Airtel Nigeria is one of the leading network providers in Nigeria's telecommunication industry. It is loved by many and its network connection in terms of browsing is second to none.
...........................
Very fast and reliable…!
That being said, since Nigerians are known for having more than one SIM card at a time, one can forget the Sim number of the other lines that are not the main Sim card.
This and some other reasons have resulted in the query " how to check my Airtel number" becoming one of the trending searches on Google and as such, we are here to provide solutions to that.
Related: 20+ MTN Night Plans For Data and Calls Tariff Subscription Codes
How To Check My Airtel Number
By and large, this tutorial on how to check your Airtel number will be discussed under the following subheadings, so take your time to choose whichever method you think will be easier for you.
...........................
Having said that, below are the available methods for Airtel number check:
Using the Airtel number check code (USSD code).
Call a friend with the Sim card.
Use the Airtel mobile app.
Send a text message to a relative with the Sim card.
Call customer care service.
Ask a friend that saved it on his phone.
Use the " Call Me Back" SMS option.
Also Read: UBA Transfer Code: UBA USSD Code For Transfer, Airtime, Data & Bills, etc.
How To Check Your Airtel Number Using the USSD Code
The first method that comes to mind on how to check your Airtel number is using the official Airtel number check code which is otherwise known as the USSD Code.
This method is safe and secure but a bit time-consuming. But in the long run, it will really be worth it. Therefore, to check your Airtel phone number using the USSD code, simply follow the guidelines that follow:
...........................
Dial *121# on your phone dialer
Press 3 to choose Manage My Account; lastly
Press 4 to select My Number;
Having followed the pop-up instructions religiously, your Airtel number will be displayed on the phone screen, kindly write it down or you can even screenshot it.
How To Know Your Airtel Phone Number By Making A Call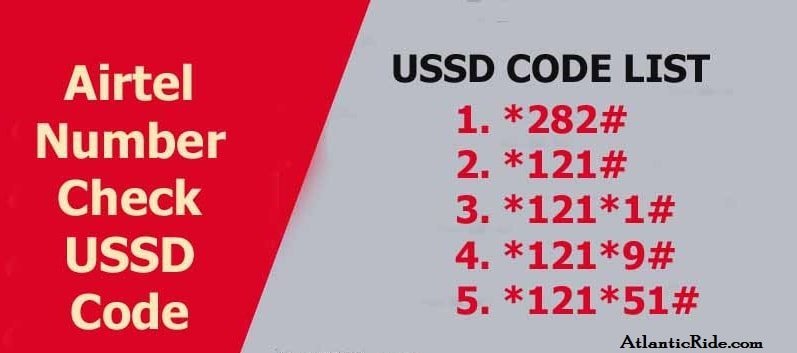 Since you have the SIM card with you just that you don't remember its number again, you can use it to call a friend or a relative who is close by to copy the number from him or her.
But before that, be informed that the same SIM card must have been inserted in a phone and you must have at least N1 on it for you to be able to make a call.
...........................
And even if you don't have a dime on it, you can still use it to beep one of your close circles that uses an Airtel SIM. Thanks to Airtel Nigeria for introducing the double star (**) plus a phone number to beep. This can be done this way, **0809XXXXXXX
Once the call goes through, just check the person's phone log and copy out your Airtel number with ease.
Related: First Bank Transfer Code: Money Transfer, Airtime, Data, FAQ, and More.
How To View Your Airtel Number on The Airtel Mobile App
Almost every network provider in Nigeria has its mobile app for internet mobile banking services. Hence, this is another great way to check your Airtel number conveniently.
To do this, make sure you have the Airtel mobile app installed on your phone, and the SIM card in question inserted on the same phone with an internet connection.
...........................
Open the app, and browse through its menus, you will see a section where you can click to access your phone number without any issue.
Related: Eco Bank Ussd Code | How to use Ecobank Transfer Code
How To Know My Airtel Phone Number Via A Text
Just like putting a phone call to your friend or relative to copy out your number, you can equally know your Airtel number by sending out a text message to someone close to you at that particular spot where you'll be carrying out the operation.
That is to say, you must have at least N4 on that particular SIM card, and the person you will be sending the message must be close by for easy access without delay.
...........................
To do this, go to your phone message gallery, type a message and send it to any close-by person. Once the message is delivered, open the message and you will see the number of the sender, copy it out as that is your Airtel number.
How To Retrieve Your Number From Airtel Customer Care Service
Alternatively, you can put a phone call to the Airtel customer care representative and enquire about your phone number. While this method is also sure and secure, it is laborious and time-consuming because the customer care service may not be reached in time.
But nonetheless, you can contact the Airtel customer care representative on 121 or 111 and ask the agent that responds to you for your number. After he must have asked you some security questions, he will definitely call it for you.
...........................
You might also love: 5 Cheapest & Best Data Plans For Netflix in Nigeria
Ask a Friend or Family That Saved It To Send It To You.
There was this day last year when I wanted to retrieve one of my old Airtel SIM cards that have been blocked by Airtel NG because I didn't use it for months. And you know I can't unblock it without knowing the SIM number of course which I couldn't remember again.
So I was confronted with how to check my Airtel number. Not quite long, I remembered that I once used the number to call my little sister so I called her to confirm if she ever saved any Airtel number with my name.
...........................
To my surprise, she has the number saved on her phone and I asked her to send it to me immediately and that's how I saved myself from a mess.
How To Use the "Call Me Back" SMS To Check Your Airtel Number
This method can only be used if there's someone around you and the person is also an Airtel user. To do this, simply dial *140*Phone Number# and press send.
Once the message is delivered, check the person's phone to read the new message he/she receives. Your Airtel number will be shown together with the "call me back" message.
Do well to copy it out and save it in a safe place.