Yes, it snows in Africa but not every part of Africa experiences snow. Snow also does not fall in the same seasons as it does in Europe, Asia and America.
Africa is the planet's hottest continent, but it's also one of the most extensive and diversified. Throughout the length and breadth of the continent, there is a wide variety of habitats, temperatures, and weather patterns. However, you might be wondering, "does it snow in Africa?"
Large portions of Africa never experience snow. The territory of the warmest continent is made up of about 60% deserts and drylands, where there is little precipitation, and it rarely gets cold enough to reach freezing point. But there are areas of the continent where snow falls every year.
Temperatures are significantly lower, and precipitation occurs more frequently in regions with high elevation resulting in frequent snowfall.
Clouds grow around the peaks of higher mountains as warm, moist air rises. Several mountains in Africa can be blanketed in the snow all year round since snowfall is more likely to occur at high elevations.
.........................
It is usual for these locations to experience snow throughout the winter months because some African nations experience cooler temperatures during specific months, especially those farther from the Equator.
This article will highlight some of the countries where it snows every year. You'll be surprised at how diverse the African continent is. Keep reading.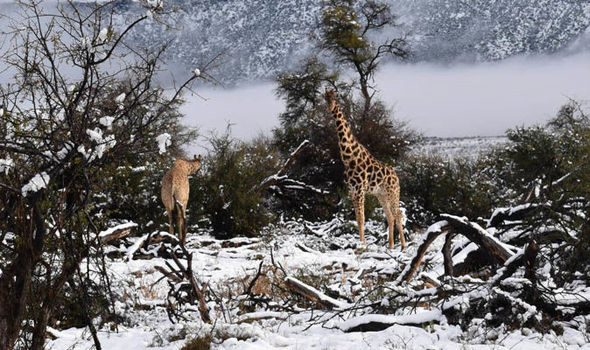 Why doesnt most countries experience Snow in Africa
Snow doesn't fall in most African countries because of the high temperatures these countries experience. Snow only falls when the temperature is 0℃ or less; however, the average temperature of the coldest countries in Africa is between 16-18℃, making it difficult for snow to fall.
Africa has one of the most complex weather conditions. Each region is influenced by a number of factors that results in either cold, hot, dry, or wet conditions. To begin with, the majority of the continent, which stretches from 35° S to around 37° N latitude, is located in the tropics.
Along the cancer tropics, the sun's heat is constant and intense. As a result, Africa has warm, hot climates everywhere, but the north is mainly characterized by aridity and high temperatures. Only the far north and far southern parts of Africa experience fairer weather, and these are the parts that mostly experience snow.
.........................
The Equator nearly splits the continent in half, creating largely symmetrical climate zones on either side. In the center of northern Africa, a quasi-permanent subtropical high-pressure cell forms causing extremely hot temperatures, while in Southern Africa, the belt of high pressure over land lessens when the sun is at its highest.
When is winter in Africa?
Unlike in Europe and other temperate regions where the winter lasts between November and February, winter months in most of Africa are a bit diverse.
Winter occurs in South African nations from roughly June through August. Temperatures at night and in the morning in Namibia, Swaziland, Lesotho, Zimbabwe, and South Africa can drop very low, leading to snow.
Considering the varying climatic conditions found in Africa, some parts of Africa also experience winter at the end of the year, as with Temperate regions. These parts are located in the northern parts of Africa, including the Sahara, Morocco, Algeria, etc.
Also read: What Countries have Temperate Climates? Top 8
.........................
Countries that experience snow in Africa
1. South Africa
Because of its vast and diverse environment, South Africa experiences a wide range of weather conditions. High-altitude areas, such as the Cape and Drakensberg regions, record extremely low temperatures that are favorable for the development of snow, while the highlands of the Highveld have frigid winters without snow.
As a result, it is not unusual to see snow on the Drakensberg and Cape mountain peaks in the winter. Regions like the Western cape and Northern cape experience the most snow, with at least five days of snow annually which can reach up to 30 millimeters.
Unlike in the far northern hemisphere, where the winter months are between November and February, winter in southern Africa begins in June and lasts till August. Snow falls in mountainous areas, but the winters are generally dry and moisture-free.
In the parts of South Africa where it snows, June marks the start of winter. Cold regions experience an average high of 12.3℃ to as low as 4.7℃. The temperature can drop further to 4℃ in the following month with an average of 6 millimeters of snow.
.........................
In the last month of winter, which is usually August, temperatures slowly begin to rise, and as much as 8 millimeters of snow can be recorded before the temperature becomes warm again.
2. Lesotho
Lesotho is the only country in Africa that is landlocked by a single country, but that's now the only unique thing about this country. It is also one of the very few African countries that experiences snowfall annually.
This country, surrounded by South Africa, is the only one in the world that is entirely above 1,000 meters. The lowest point in the country is about 1400 meters above sea level. This is one of the leading causes of the frigid climate in the country.
The weather in this country varies throughout the year. But compared to most of the countries in the region, most months are cooler.
The winter season lasts from June until August. During this time, the temperature drops significantly, and the highlands experience snowfall. Winters in Lesotho are the coldest time of year. In the midst of winter, lows can reach 0 °C (32 °F), and highs can reach 16/19 °C (61 °F).
.........................
Maseru, the capital of Lesotho, experiences year-round snowfall with accumulations of up to 13milimmeter. Additionally, June is the coldest month in the city, with January being the hottest.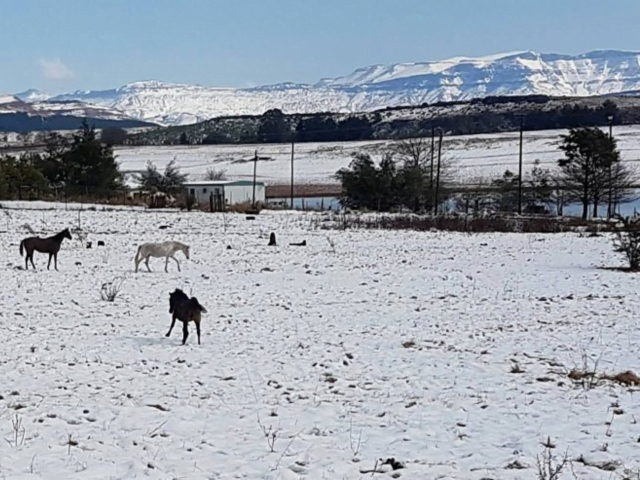 3. Morocco
Morocco, which is located at the mouth of the Mediterranean Sea, is the country with the closest proximity to Europe. Europe and Morocco are divided by the 13-kilometer-wide Strait of Gibraltar.
Throughout its region, Morocco has a variety of climatic conditions. Winters are moist, and the coastline area has a Mediterranean climate.
In contrast, the mountainous region has a continental and alpine climate, with harsh, snowy winters and semi-arid climates in locations like Marrakech. From December to March, Moroccans can see snow in the hilly areas.
Regions like Rabat (the capital city) and Ifrane experience the coldest temperatures and also have moments of snowfall.
The coldest month in Morocco is January, with average highs of 10.7 degrees Celsius in Rabat and subzero lows of -1 degrees Celsius in Ifrane, which is located in the mountains. The Atlas Mountains' highest point begins to snow.
.........................
Morocco's winter comes to an end in March, and springtime temperatures begin to emerge. The average low temperature in Rabat is 10.4 degrees Celsius, and there is an average amount of 0.47 inches of precipitation.
4. Kenya (Mount Kenya)
The Equator divides Kenya, which has a total area of 580,367 square kilometers, into two nearly equal sections. The climate of Kenya is separated into three distinct regions:
The tropical climate along the coast
The temperate climate of Kenya's inland mountains and plateaus
The dry climate of the country's northern areas
Snow does not typically fall in Kenya, but it does cover Mount Kenya, the highest summit in the nation, all year round.
Eldoret, which is located at 6,900 feet (2,100 meters) above sea level, experiences 42.5 inches of precipitation annually (1080 millimeters). In high-altitude regions, hailstorms, fog, and mist are frequent occurrences. Snow becomes a yearly fixture in places that are higher than 13,779 feet (4200 meters), like Mount Kenya.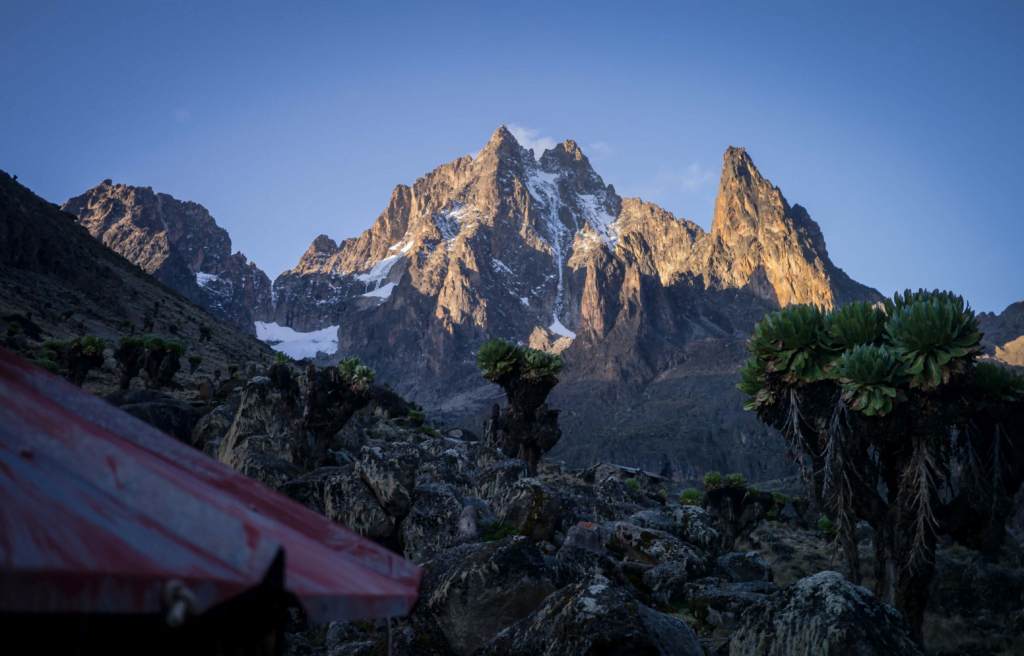 5. Tanzania (Mount kilimanjaro)
Tanzania, which is directly below the Equator, experiences wide-ranging temperature variations across its various areas. Tanzania, a country rich in natural beauty, has a lot to offer regardless of its climate.
.........................
There are over 14 separate conservation zones in the country, many of which have active volcanoes that may be reached by hiking up to their craters. Safari is a popular sport in these places.
Mount Kilimanjaro is an astonishing and breathtaking symbol of Africa and one of the world's largest free-standing mountains. It is made up of three separate peaks; Kibo, Mawenzi, and Shira, which together occupy an area of 4,000 kilometers.
This mountain is the most popular tourist destination in Tanzania and attracts tens of thousands of visitors each year from both abroad and within Tanzania.
6. Uganda (Rwenzori mountains)
Uganda typically has a tropical climate with two wet and two dry seasons. It is often around 21 degrees Celsius outside. At 5109 meters above sea level, Mount Rwenzori has snow covering its top.
Although snow falls very infrequently in Uganda, the Ruwenzori Mountains, which are located there and share a border with the Democratic Republic of the Congo, are some of the highest points on the continent and reach heights of up to 5,109m (16,761 feet). They also have glaciers on their upper slopes.
.........................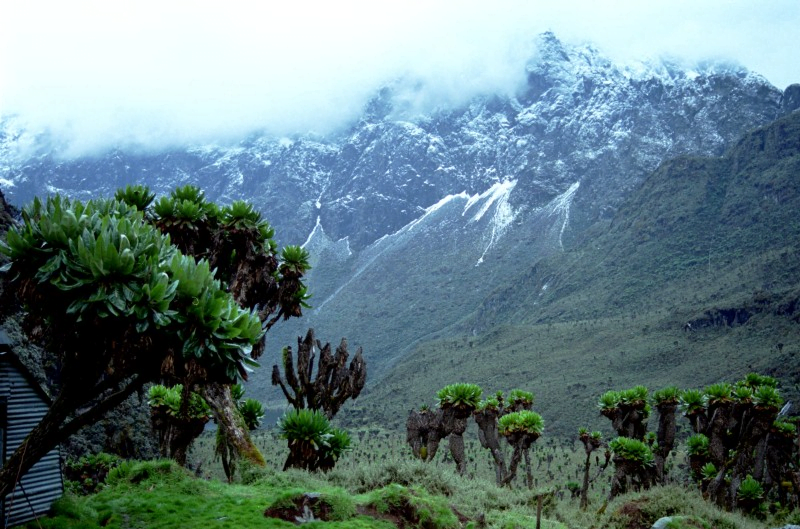 7. Ethiopia (Simien mountain)
Due to its vast size, Ethiopia faces various climate conditions. The highlands of Ethiopia have pleasant weather with seasonal variations in temperature. The dry and wet seasons are its two climatic divisions.
Although the most significant precipitation occurs between June and September, the wet season lasts from March through September. Ethiopia doesn't get snow; however, Ras Dashen's highest mountain, at 14,928 feet (4550 meters above sea level), occasionally gets snow.
Ethiopia doesn't get snow, but it gets a lot of precipitation all year round. Large volumes of rain occur in the Ethiopian highlands from June through September.
With an average low temperature of 10.8 degrees Celsius, August is one of the coldest months in Ethiopia.
The Simien mountains, located between 4,437m – 4,550m above sea level, are one of the very few parts of Africa that experience regular snowfall.
8. Namibia
Namibia does occasionally get snow, however, this is an uncommon occurrence. And there is never more than a gentle sprinkle, never enough to cause anyone's roof to collapse.
.........................
There are two seasons in Namibia's subtropical climate: a brief, hot, wet season and a longer, cooler, dry season. The chilly season is far too dry, while the wet season is too warm for snow.
Has it ever snowed in Africa at Christmas time?
Yes, it snows in Africa at Christmas time but only at specific points. These are points like mount Kilimanjaro or mount Kenya where snow covers the tip of these mountains year-round.
Other parts of Africa where it snows during the Christmas period are the far Northern parts like Morocco. Although this is a rare occurrence, it does happen.
The Algerian hamlet of Ain Sefra frequently referred to as the "gateway to the desert," had snowfall on December 19, 2016. The town, which has a population of about 35,000, is situated between the Atlas Mountains and the northern Sahara. This occurrence previously took place in the same region on February 1979.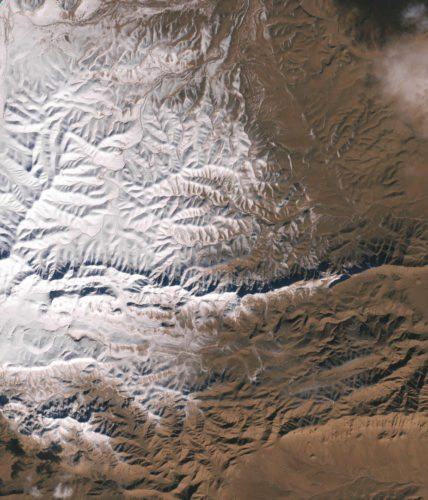 Final words
Winter does exist in Africa, but you probably won't need a snow shovel since they barely last long. You will undoubtedly need some appropriate clothing, and if you are lucky, you may find a few ski resorts to engage in some snow sports.
.........................
It's difficult to find a terrible time to travel to this vast and extraordinary continent, but winter in Africa is unarguably the best.