The most dangerous prison in the world is said to be the Gitarama Prison Rwanda which houses about 7000 inmates in a 700-capacity facility. This causes some inmates to stand throughout their sentence leading to foot gangrene that sometimes requires amputation. Inmate killings, starvation, and cannibalism are also reported in this prison.
Prisons, or correctional facilities as they are known today, are places where criminals are held for a set time as punishment for their crimes. Although this should be part of a program to help them change and reintegrate into society, some end up leaving the inmates worse off than they were before getting in.
Prisons are supposed to be correctional facilities, but sometimes, they are so dangerous that they leave inmates more damaged physically, mentally, and otherwise. In some cases, inmates end up getting murdered or committing suicide.
Advertisements
CONTINUE READING BELOW
Today's prisons are much better than they used to be, but nothing beats being truly free. This article will talk about some of the most dangerous prisons in the world that should be avoided at all costs. This list is written in no particular order.
What makes a prison dangerous?
All prisons could pose some level of danger, but some are certainly more dangerous than others. Here are some features that make a prison dangerous.
1. Violence by fellow inmates
Prison inmates are known to form groups and cults among themselves. Some of these groups consist of the hardest of criminals who make life a living hell for other inmates.
These hardened criminals rape, steal, beat up, and sometimes kill other inmates who they pick on. In such facilities, it is the survival of the fittest.
Advertisements
CONTINUE READING BELOW
2. Violence by prison staff
A small number of abusive officers can be very cruel and break the law. The prison staff engages in various forms of violence, including torturing prison inmates, corruption, starving prison inmates, and a host of other vile treatments.
When violent prison guards aren't held responsible, a dangerous culture of impunity grows that can be dangerous for prison inhabitants.
3. Diseases
Correctional facilities hardly practice safety protocols due to the conditions obtainable in these facilities.
These conditions range from sharing bathrooms and having shared or cramped cells to small general areas. This leads to a high chance of disease outbreaks.
4. Overcrowding
Increasing population and crime rates have caused more people to be put behind bars. Countries that do not have enough prison facilities end up with overcrowded prisons.
What makes overcrowded prisons dangerous is the level of unhygienic situations that prisoners are left to deal with. Also, there is a higher chance of violence among inmates in overcrowded prisons.
Advertisements
CONTINUE READING BELOW
Rape, cannibalism, gang violence, starvation, and suffocation are some of the dangers that inmates in overcrowded prisons face daily.
5. Solitary confinement
Solitary confinement sounds like peace when compared to overcrowded prisons until you understand how long these inmates are supposed to stay in solitude and the level of crimes they have committed.
Most people who are confined to solitary prisons are hardened criminals, some of whom have been placed on death row. The conditions they are faced with limit them from leaving their tiny cells for several hours a day.
Such situations lead to various health and psychological disorders that are very painful for anyone to experience.
You may also like: 11 Most Famous Criminals: Criminal Minds In History
10 most dangerous prisons
1. Patak island prison, Russia
Advertisements
CONTINUE READING BELOW
On an island in Novozero Lake is where Petak Island Prison is located. Some of the most notorious criminals in Russia are kept here, but they are not afraid of each other because they spend 22.5 hours a day in small cells with only one other person.
The last hour and a half are spent in cages. When people live in such bad conditions, it is capable of causing psychological damage that makes them even worse than before.
The prisoners don't get any education, can only see their families twice a year, don't have access to clean bathrooms, and are tortured to the point of breaking.
2. Camp 22 North Korea
The Hoeryong concentration camp, also known as "camp 22," was a prison in North Korea that may have shut down in 2012. Camp 22 was a place where people's rights were broken, experiments were done on them, and they were treated in a cruel way.
Advertisements
CONTINUE READING BELOW
The North Korean government has, however, denied the existence of this facility. Some of the worst conditions ever seen were at Camp 22. Every year, between 1500 and 2000 people, mostly children, die from not getting enough food.
Some of the ways inmates were tortured were by hanging, putting them in water, putting them in a box room, and making them kneel. They were also used as guinea pigs by young doctors who were learning how to do surgery. Most of the time, these inmates died.
3. Kamiti Maximum Security Prison, Kenya
Kenya's prisons are known for being rough, and Kamiti Maximum Security Prison in Roysambu Constituency is generally thought to be the worst. It was built by the British in 1954, and it was based on an old colonial system.
It was used to house criminals during a state of emergency in October 1952. The original gallows in Kamiti is still there, even though the last execution there was in 1987. It's well-known that it is too crowded and untidy.
Advertisements
CONTINUE READING BELOW
The prison was built to hold a capacity of 1,200 prisoners, but reports say there are between 1,800 and 2,500 people in there. The overcrowding in prison causes serious health problems like H.I.V. and AIDS, gonorrhea, syphilis, tuberculosis, and dysentery to be easily transmitted.
Even though Kamiti was already notorious for holding political prisoners and executing people by hanging, its bad reputation grew in 2008 when a video of a riot ignited by a drug search was shown on T.V.
It was also in the news again in 2021 when three people who had been convicted of terrorism escaped. Seven guards were later arrested because they helped them get away.
4. Diyarbakir prison Turkey
In 1980, Turkey's Ministry of Justice built Diyarbakir Prison. After the Turkish coup d'état on September 12, 1980, Diyarbakir was turned into a military prison under martial law. Torture was often used to make the Kurds fit in.
Advertisements
CONTINUE READING BELOW
After the September coup, 650,000 people were put in jail, and most of them were beaten or tortured. Over 500 people died, and many of them died in Diyarbakir. During "the period of barbarity," which refers to the early and mid-1980s when Diyarbakr was still being built, prisoners were routinely tortured in horrible ways.
Former inmates of Diyarbakir have told numerous stories of physical and mental abuse and lack of sleep, water, and food. Mock executions, electric shocks to the genitalia, pulling out healthy nails and teeth, rape or threats of rape, and worse have also been reported. These stories are rarely confirmed by higher-ups.
Today, Diyarbakir is still a prison, and it is known for having a high number of violations of human rights per inmate. But in 2021, Turkish President Recep Tayyip Erdogan said it would become a cultural center, which was met with mixed reactions.
Advertisements
CONTINUE READING BELOW
5. Guatanamo bay, Cuba
This prison is owned by the United States and located in Cuba. It was built to hold Taliban and Al-Qaeda suspects who were caught in Afghanistan. Even though Obama promised to close the prison when he was elected, it is still open and holding 40 people as of today.
During his time as president, Trump kept the prison open. Current President Joe Biden aims to achieve Obama's goal, which is to close the controversial detention center where "enhanced interrogation techniques" like waterboarding and sensory deprivation are used on people who are being held.
Several news sources said that by May 2011, at least six people had killed themselves at Guantánamo. In August 2003, 23 people tried to kill themselves.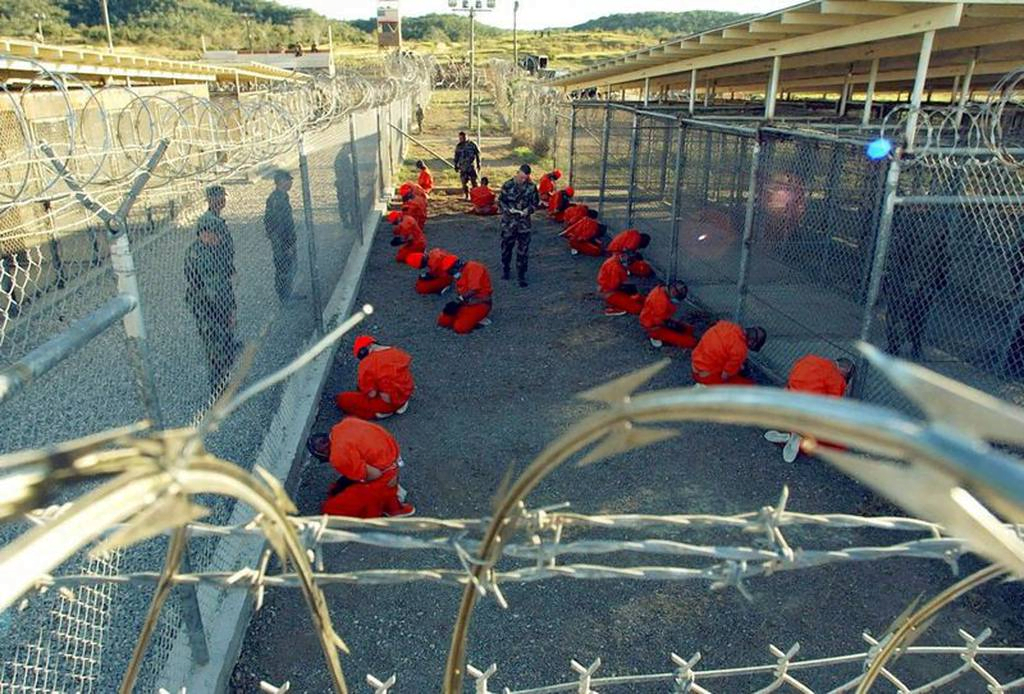 6. San Quentin State Prison, U.S.A.
San Quentin is the oldest prison located in California, and it is known for violence. Many notorious criminals have lived there, like Charles Manson, Scott Peterson, and Sirhan Sirhan, who killed Robert F. Kennedy.
Advertisements
CONTINUE READING BELOW
It was the only place in California where people on death row could stay. It was also the largest death row facility in the United States and had the only gas chamber in the state. In early 2022, three years after the governor of California stopped executions in the state, the state began the process of closing death row and moving the people who were on it.
Over the years, and especially in the 1960s and 1970s, San Quentin got a bad name for corruption and interracial riots that correctional officers fueled.
7. Gitarama Prison, Rwanda
Gitarama is the most crowded prison in the world. It holds more than 7,000 people in a building that was only meant to hold 600. Most of the people in jail are thought to have taken part in the 1994 Rwandan genocide.
Advertisements
CONTINUE READING BELOW
Because of how crowded it is, the men and women who serve their term here have to stand barefoot on the dirty ground all day, which makes their feet rot. Many prisoners end up needing amputations, but since there is only one full-time doctor for the prison, most of them can't get the care they need, and six people die every day as a result.
Inmates are also rumored to kill and eat other prisoners in the act of cannibalism while diseases spread with ease.
8. Black Dolphin, Russia
The Black Dolphin Prison, also known as Penal Colony No. 6, is close to the border between Russia and Kazakhstan. It is only for the most violent and dangerous criminals in the country, like serial killers, cannibals, pedophiles, and Chechen terrorists.
Advertisements
CONTINUE READING BELOW
It gets its name from the sculpture of a dolphin that was made by prisoners that sits on the grass in front of the prison reception. Video cameras watch the prisoners here around the clock, and guards check on them every 15 minutes.
Two prisoners are put in each 50-square-foot (4.6-square-meter) cell, which has three steel doors to keep guards and other prisoners out. Prisoners can only leave their cells for 90 minutes a day to work out in an empty concrete yard.
If they have to be moved within the facility, they are handcuffed, blindfolded, and made to walk bent over so they can't figure out how the prison is set up, talk to other inmates, or fight the guards. It is thought that Black Dolphin is the only prison that uses this method.
Advertisements
CONTINUE READING BELOW
9. La Sante Prison, France
La Sante prison is one of the most known prisons in France. There have been many riots, executions, and escapes from this prison.
Since inmates can only shower twice a week and their cells don't have enough airflow, it's not surprising that they get sick because of these crazy living conditions. In 1999, a little more than 100 people in La Sante died by suicide.
The prison system has made its own class system, which makes it harder for lower-class inmates to live there.
10. United States Penitentiary, Administrative Maximum Facility (A.D.X.), U.S.A.
This is the most secure prison in the United States. Some of the world's most dangerous criminals, like Ted Kaczynski (the Unabomber), Ramzi Yousef (the World Trade Center bomber in 1993), and Zacarias Moussaoui (who was involved in the 9/11 attacks), are locked up in this facility, which opened in 1994.
Advertisements
CONTINUE READING BELOW
Inmates at this facility are locked in their 7-by-12-foot (2.4-by-3.6-meter) concrete cells for 23 hours a day. The windows are very small, and the prisoners get their food through small holes in the metal doors of their cells.
When prisoners are let out of their cells for an hour of free time, they have to wear a lot of restraints and are led by several guards to a small outdoor cage. Robert Hood, who used to run the prison, once called it "a clean version of hell."
Final Words
Seeing all that goes on in the world's most dangerous prisons, it is clear that no one who goes there ever remains the same. It will certainly be a good idea to stay as law-abiding as possible to avoid ending up in any of these hellish prisons.
Advertisements
CONTINUE READING BELOW