There are various options in the market, but honestly, which one should you go for at all times? This post provides the details of the best rice in Nigeria.
Before we get down to that, let's give some time to understand the current rice situation in Nigeria.
State of Rice Production in Nigeria
Rice is a significant food in different households in Nigeria. From the poor to the rich, rice remains a go-to meal. On average, Nigerian residents eat rice twice a week.
In 2015, the Nigerian government made a law prohibiting rice importation through all her land borders. Why? A means to boost local production. As a result, there were restrictions placed to support the development, and they include:
...........................
Limiting importer's access to foreign currency
Banning the importation of food from neighboring countries, and
Place 70% tax on rice imported through ports, airports, and seaports.
About two years later, the ban took a new shape. The federal government placed a complete restriction on the importation of rice to support local production. Aside from that, local production will also promote local consumption.
Consequently, this measure has helped to increase the number of rice-producing brands in Nigeria. And it is imperative to know which ones are best for marketing and consumption.
Best Rice in Nigeria
Without further delay, here are the 11 best rice in Nigeria:
1. Mama's Pride
One of the names in the rice production space, and many people prefer it to other brands. Relatively cheap because it is produced locally.
...........................
Olam Nigeria Limited is the producer of Mama Pride.
This company produces the rice in different local areas in Nigeria
It's organic, with no chemical additive, making it high in nutrients.
Already parboiled and easy to cook therefore saves time and fuel consumption.
Unlike much local rice, it does not contain stone. So you don't have to go through the stress of picking.
2. Anambra Rice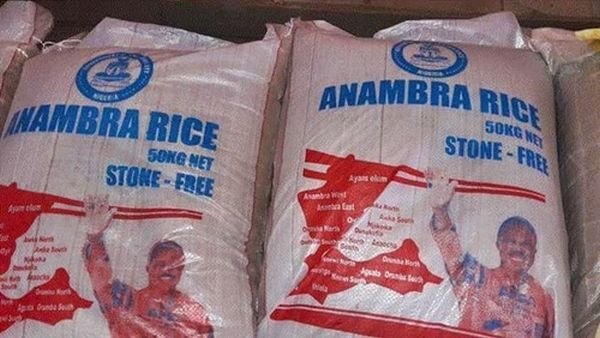 Award-winning rice. Won the African Product Best Rice in 2016.
Anambra Rice is manufactured, packaged, and distributed from Anambra State, South East, Nigeria.
The government intentionally supported the locals willing to embrace the farming and production of this stable food. As a result, loans and other supports were provided.
...........................
Also, it is a parboiled rice making its cooking relatively easier. It is long-grain rice.
It's nutritious and stone free.
3. Elephant Rice
One of the best to be reckoned with in Nigeria. This brand has stood the test of time because it has been operating for more than 25 years. Elephant rice is sortex rice.
Its impurities are removed from the source, meaning no stone is found as they've taken care of that.
It's good rice to enjoy and contains nutrients such as vitamins and minerals.
Elephant rice is packaged in different sizes, including 25kg and 50kg.
4. Umza
It is manufactured by Umza International Farms, located in Kano State.
Referred to as a premium quality full-grain rice.
Parboiled rice and free of stones.
...........................
It is fat-free and high in nutrients, including calcium and magnesium. Also, it helps to support the health of the heart.
It's pretty affordable and can be found in the market. This makes it an option for many households.
5. Adamina Rice
This rice is grown and processed in Minna, Niger State. Adamina Farms Limited, a firm notable for farming, processing, and consulting, is responsible for its cultivation. It's parboiled rice and free of excess starch. Saves you excessive spending on gas and time for cooking. Also, stone free and delicious for consumption.
6. Big Bull Rice
This rice is manufactured by West Africa Cotton Company (WACOT) Limited, a rice processing company domiciled in Argungu, Kebbi state.
...........................
WATCOT has an ultra-modern rice mill with a processing capacity of 120,000 tonnes per annum.
The rice produced and packaged is premium quality Nigerian-made rice.
It's nonsticky rice when prepared.
Also, it's parboiled rice, making it easy to cook.
In addition, it is rich in fiber and helps maintain a healthy digestive system.
Big Bull rice is available in 5kg, 10kg, 20kg, and 50kg and can be purchased in different outlets across the country.
7. Cosrice Rice
Parboiled rice. Easy to cook and safe for consumption. Premium quality
Produced in Coscharis Farms in Anambra State. This firm partners with farming communities in Sabon Gida in Abuja for the growing of rice.
One of the best indigenously produced rice in Nigeria.
The cultivation involves healthy fertilization making it safe to eat by different households.
...........................
8. Igbemo Rice
This rice brand originates from Ekiti State through Igbemo Rice Processing Company Limited. Igbemo rice is brown rice and is known to have significant health benefits. It is rich in magnesium which provides strength to the bone.
9. Labana Rice
One of the featured best is the Labana Rice. Labana Rice Mills Limited processes and packages this food item. This company is a historic rice processing company because it's the first of its kind in Birnin Kebbi, Kebbi State.
Labana rice is also parboiled rice, meaning it is easy to cook and saves time. Also, it is resistant to weevils, so you don't have to be scared of infestation.
In addition, it is firm rice and nonsticky when prepared. You can trust Labana rice for your household.
Lastly, Labana rice sells in various sizes, which include 5kg, 10kg, 25kg, and 50kg.
...........................
10. Ofada Rice
Ofada rice was named after Ofada town, where it is processed and packaged. This town is located in Ogun State.
This rice is unique and has gained massive recognition over the years.
At social events such as weddings, Ofada rice with its assorted sauce is a special delicacy people look forward to eating.
However, accessing this meal is not limited to social functions. Some restaurants have it on their menu daily.
Also, you can purchase the raw Ofada at any local market around the country. Ofada rice is naturally fortified with minerals and vitamins. Also, it is delicious, and you sure want to have it on your household meal schedule.
11. Mama's Choice
This is another rice brand coming from one of the leading agricultural firms in Nigeria, OLAM Nigeria Limited.
...........................
It is firm, nonsticky, easy to cook, and free of stones. Also, this rice is remarkably nutritious as it contains Vitamin B, carbohydrates, and minerals.
Conclusion: Best Rice in Nigeria
The price of rice in recent times fluctuates like the wind. So, it is hard to tell you what price a rice bag is worth now. You might get to the market today and discover the cost is entirely different from what you expected.
However, this post on the best rice in Nigeria has outlined the brands you can search for in different outlets, and these will give you value for your money.