You can check your BVN details online via NIBSS BVN validation portal or by dialing *565*0# via your mobile device. You can also check your BVN details offline by visiting your bank.
Bank Verification Number (BVN) is a prerequisite if you are a Nigerian who needs access to financial services in Nigeria as directed by the Central Bank of Nigeria. If you already have your BVN or intend to get yours, this post will show you how to check your BVN details.
Apart from that, it will not expose you to all the options available but the step-by-step approach for each. And when you apply any of these options, you will have the details of your BVN instantly.
What exactly is BVN?
Bank Verification Number (BVN) is an initiative of the Central Bank of Nigeria in collaboration with all Nigerian Banks. It was launched in February 2014 and it is aimed at mitigating identity theft, fraudulent transactions, and facilitating trust in the Nigerian banking system as stated on NIBSS.
Advertisements
CONTINUE READING BELOW
"With the increasing incidents of compromise on conventional security systems (password and PIN), there is a high demand for greater security for access to sensitive or personal information in the Banking System. In recent times, biometric technologies have been used to analyze human characteristics as an enhanced form of authentication for real-time security processes.
A unique ID number shall be issued to every Bank customer at enrolment and linked to every account that the customer has in ALL Nigerian Banks. Individuals shall be required to submit an acceptable means of identification as prescribed for enrolment. BVN gives a unique identity that can be verified across the Nigerian Banking Industry (not peculiar to one Bank)"
BVN is an eleven (11) digit number commercial banks issue to every bank account holder upon registration. It is a unique number which means two people cannot have the same BVN.
Advertisements
CONTINUE READING BELOW
As of 2022, a total of 55.7 million Nigerians have already registered for BVN and have gotten their personal 11-digit code.
What does that mean?
For instance, if you got your BVN through First Bank, opening another bank account with Zenith bank doesn't mean they will issue another BVN to you. That is, the BVN you have will be used in all your financial transactions irrespective of the bank or any other financial institution you use.
How to Check Your BVN Details
First, what are your BVN details?
The most important of your BVN details is your 11-digit number which makes up your BVN itself. However, there are some other backend information that are crucial to the validity and use of your BVN.
They include information such as your registered name, date of birth, phone number, email address, etc.
Advertisements
CONTINUE READING BELOW
If your details are not congruent with your new bank account details or any other financial transaction you make, such intended development won't be successful.
To check your BVN details, there are three (ways) but let's start with how to check your 11-digit number itself:
1. Check your BVN Details with USSD Code (11 Digit Number)
Checking your BVN details through the USSD Code is the easiest and as expected, the most used method. However, the details you have access to through this method are quite limited compared to the second option where you will find other information attached to your BVN's 11-digit number.
Here, you can only retrieve your Bank Verification Number (BVN) and to do this simply dial the code – *565*0# and follow the prompt.
But note:
The phone number you dial the code with must be the same number used in your BVN registration.
Advertisements
CONTINUE READING BELOW
Also, the same USSD Code works for all telecommunication networks. That is, if you use MTN, Glo, 9Mobile or Airtel, it doesn't matter. The same code works for all.
It doesn't matter how many institutions you bank with, the same BVN you retrieve functions for all.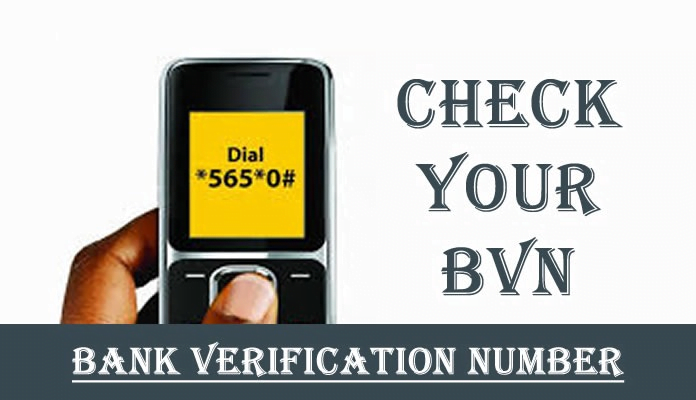 2. Check Other BVN Details Online through the BVN Validation Portal
There is a public company called Nigeria Inter-Bank Settlement System Plc (NIBSS). This company is owned by all licensed banks in Nigeria including the Central Bank of Nigeria (CBN).
Chiefly, NIBSS has a system that basically handles inter-bank payments and removes issues associated with transfers across different banks.
In addition, NIBSS also has a BVN Validation Portal where you can easily access and check your BVN details online.
You can retrieve your BVN name, phone number, address, and other records.
Advertisements
CONTINUE READING BELOW
To do this, however, you need to meet the requirements and follow the steps below:
Access NIBSS BVN Validation Portal
Fill in your BVN in the box provided
Next, click on the "Search" button
After that, choose your preferred payment option and simply pay the service charge – N25
Once your payment is successful, you will be directed to the webpage where you will find all your BVN details.
So, following the steps above will give you access to check your BVN detail online like name, phone number, address, and all other BVN details in your record.
3. Check your BVN Details by Visiting Your Bank
This is a very simple option if you do not mind visiting your bank physically. In fact, this option will help give you access to your BVN 11-digit number and other adjoining details.
Advertisements
CONTINUE READING BELOW
Simply walk into your bank and meet the customer service personnel who will assist you further. Before you pay them a visit, ensure your valid means of identification is ready and make sure it's on you while you visit.
Also, know your bank account number because this information will be used to verify if truly you are the owner of your account.
Reasons why you may not access your BVN
Sometimes, there might be issues with your BVN details such as incorrect date of birth, phone number, or name. These errors usually arise when your BVN record doesn't tally with your bank account record, especially if you're just opening a new bank account or filling out a form that requires your BVN.
An example of this error may be that you missed the arrangement of your name, used your spouse's name because you're newly married or you made a mistake in inputting your date of birth.
Advertisements
CONTINUE READING BELOW
Aside from that, if the error is coming from your uncorrelated phone number, it may be as a result of your change of phone number due to phone theft, change of mobile network, inability to retrieve a missing SIM card, or your line being blocked.
The effect is that none of your initiated transactions will go through because your details do not agree with your officially registered information. But that's not the end. You can access your BVN details and update them to the correct information.
How to correct and update your BVN details
Primarily, the only way to correct and update your BVN details is by visiting any branch of the bank that issued your BVN. When they verify that the account you claim is truly yours, all your details will be accessed and updated.
Advertisements
CONTINUE READING BELOW
To make the process faster, just dial the code *565*0# using the mobile number you opened your bank account with.
Once that is done, a "successful" request will warrant a deduction of N20 from your airtime balance. Immediately after your account is charged, your 11-digit Bank Verification Number will be displayed.
However, if you don't have up to N20 in your airtime account balance, the request will be declined and you will have to recharge before your request goes through.
Also, please be aware that they don't send BVN as an SMS for an obvious reason: the information is sensitive and should not, by any means, be available to external persons. So, your best option is to write it down or save it in a place only you have access to.
To complete the update, go to your bank with the following documents:
Advertisements
CONTINUE READING BELOW
For the date of birth issue, present your birth certificate.
If the error comes from your new name as a result of marriage, present your marriage certificate.
To change your name (if not married), your bank will request a valid means of identification such as an International Passport, National Identity Card, or Voters Card to verify your true identity.
What about a change of phone number? You will need to present your valid means of identification alongside your new mobile number.
Wrapping Up
Accessing your Bank Verification Number (BVN) details is not a herculean task. All you need to do is just follow any of the three options detailed in this article that explicitly reveals how to check your BVN details online and even offline by walking into a bank.
Each of the options has its own procedure and the extent of information you can access. Just check through and utilize the option that is more appealing to you.
Advertisements
CONTINUE READING BELOW