Do you live in Lekki? Perhaps you plan to hang out there during your next fun time. Lekki, located in the east of Lagos, is a naturally formed peninsula and one of the most beautiful places in Nigeria.
There are a lot of fun places in Lekki ranging from exquisite hotels, resort centers, shopping malls, water bodies, and parks for residents and tourists to relax, have fun and also spend time with family and friends.
After choosing from a pool of fun places in Lekki, we came up with some of the best 25 fun places in Lekki, where you can spend quality time in no particular order.
List of 25 Fun Places in Lekki to hangout
1. Lekki Conservation Center
Established in 1990 by the Nigeria Conservation Foundation, it is one of the best and most visited natural reserves in Nigeria. You can't miss the place on the ever-busy Lekki –Epe Expressway.
Advertisements
CONTINUE READING BELOW
The opening hours at the LCC are between 8:30 am to 5:00 pm daily. The entry fee is 1,000 Naira while you pay an additional 1,500 Naira to enjoy the canopy walk. Children and teenagers are required to pay only 200 and 300 Naira respectively.
It is an amazing place where you can see various animals ranging from mammals to reptiles. It has facilities like beach volleyball courts, treehouses, and jungle gym facilities like monkey bars. It also has Tilapia ponds, a barbecue stand, a nature station, and a lot of floor games like chess and drafts.
The major attraction at the Lekki Conservation Center is the canopy walk, which is the longest canopy walk in Africa. Standing at over 22 feet in height, this breathtaking piece of adventure is bound to linger in your memory for a long time.
Advertisements
CONTINUE READING BELOW
Also read: Short Guide on Getting Canadian Student Visa with Work Permit
2. The Palms Shopping Mall
This is also referred to as The Palms Lekki. It is regarded as the second-largest shopping mall in Nigeria. This is one of the most amazing fun places in Lekki.
It contains a modern cinema and over 60 stores. It is open between 9:00 am till 10:00 pm every day, and you can see a movie at the Genesis Deluxe Cinema for as low as 1,500 Naira although.
Located at 1 Bisway Street Maroko Lekki, you can grab a quick bite from any of the top-notch restaurants like Double 4 Restaurant or shop for any kind of item in the different stores such as Shoprite, the Game, etc.
3. Peninsula Hotel
Looking for an exquisite hotel for unlimited fun in Lekki, then you should pay a visit to the Peninsula hotel located at Plot 16, Lekki-Epe expressway. It has all the facilities to offer all the fun you can imagine—a ten-story building with a fantastic view of the surrounding sea and city layout.
Advertisements
CONTINUE READING BELOW
It is equipped with a restaurant that serves some of the best meals, both local and intercontinental cuisine. The bar/lounge also comes with an assortment of choice beverages, and they have other facilities like an outdoor pool, spa, tennis table, and a well-equipped gym for your sports needs.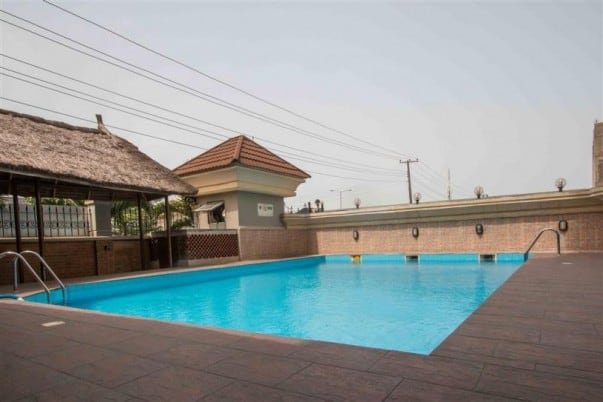 It provides free wifi to guests and has a huge event center. You will be able to get a standard room for as low as 26,250 Naira, while the upscale diplomatic experience costs about 90,000 Naira.
4. La Campagne Tropicana Resort:
Located about 15 minutes drive from the Dangote refinery in Ibeju Lekki is a lively beach resort. The La Campagne Tropicana Resort is indeed a breathtaking beautiful modern beach resort on the coast of the Atlantic Ocean with accessible mangrove forests.
It offers a refreshing glimpse into nature's beauty and aquatic scenery. It is noted for its unique mix of Nigerian culture and elegance.
Advertisements
CONTINUE READING BELOW
Related Article: 13 best Nigerian restaurants in Dubai You Should Checkout
This resort offers world-class accommodations and a variety of activities to make sure you have unlimited fun and experience. It also provides a spa, massage treatment, gym with a personal trainer and a 27-hole golf course.
Whether you are visiting with your family or planning a romantic getaway, you are bound to be wowed by the scenery of the Place.
It is best to visit during the dry season between November and March to enjoy all the numerous outdoor activities on offer such as cultural dance, boat riding, surfing, volleyball, and tennis.
The gate fee for adults is 5,000 Naira without corkage and 6,000 Naira with corkage. Teenagers pay 2,500 Naira without corkage and 3,000 Naira with corkage, children, pay a flat fee of 1,500 Naira with or without corkage.
Advertisements
CONTINUE READING BELOW
The room rates vary from 60,000 Naira to 250,000 Naira per night. This should be one of the most upscale fun places in Lekki. It is advisable to make a reservation on time. You can do that through [email protected] or call +2347085292796.
5. Elegushi Beach:
The Elegushi beach is a private beach owned by the Elegushi royal family in Lekki. Situated around the Ikate area, it is always a beehive for fun seekers, especially on weekends and public holidays, receiving over 4,000 guests weekly.
Like many other beaches in this part of the world, the Elegushi beach is a white sand beach, and you will be required to pay an entrance fee of 1,000 Naira. It is host to the famous Copa-Lagos, a world-famous beach soccer tournament.
And it offers exquisite restaurants, nightclubs and hangout spots that offer a lot of indigenous cuisines, life music and jamborees. It is one of the best fun places in Lekki for picnics, photo shoots, horse-ride, outdoor parties and sports.
Advertisements
CONTINUE READING BELOW
You should dress light and casual so you can feel the soft caress of the sea breeze and enjoy the strolling on the sand. The fun you will have at the beach is almost incomparable on a budget.
Also Read: Businesses You Can Start With 50K or Less
6. Nike Art Gallery:
The Nike Center for Art and Culture is arguably the largest of its kind in entire West Africa. Housed in a five-story building houses an art gallery, textile museum, and a coffee shop, it boasts over 8,000 collections of artworks from various Nigerian artists.
Located at No 2 Elegushi road, it is open from 10:00 am to 6:00 pm. This gallery is free, yes, you pay no gate fee to view the artworks but be ready to spend some naira if you wish to go home with any of the pieces.
Advertisements
CONTINUE READING BELOW
It can take up to a day to view all that the center has to offer. Fortunately, it is open seven days a week. The various art exhibitions and workshops held in the gallery make it a unique fun place in Lekki.
Dance troops do occasionally perform to thrill guests. Fun seekers can take a week-long art course with Nike and stay in the modest guest house provided in the center; you can even enjoy the various cuisines available within that will leave you wanting more.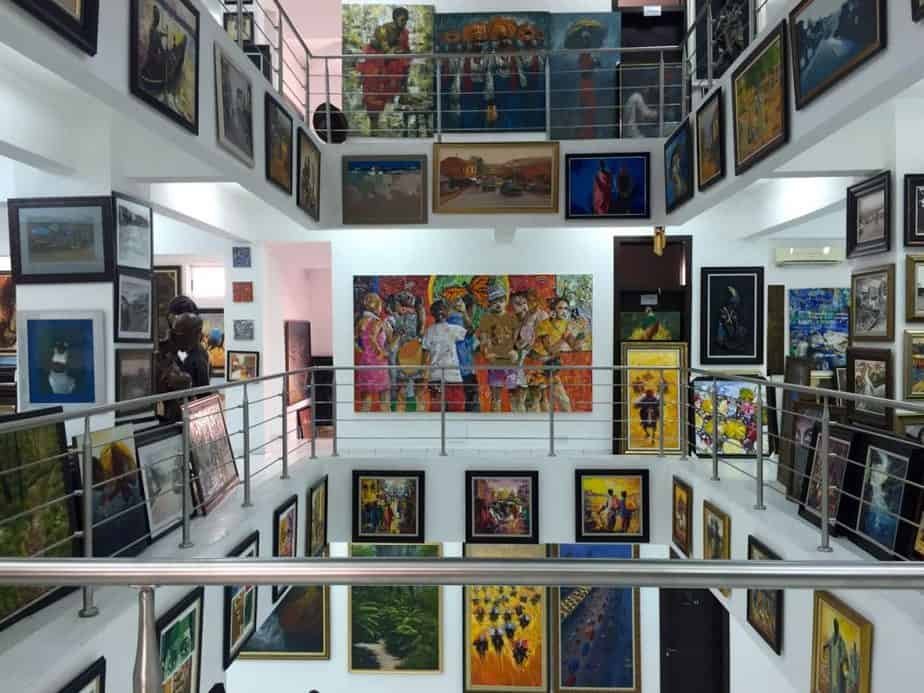 You can call the Nike Art Gallery on +2348034096656 to book a tour ahead and remember to go with someone to help in taking some pictures in that beautiful scenery.
7. Lufasi Nature Park:
The Lekki Urban Forest and Animal Sanctuary Initiative (LUFASI) sitting on 20 hectares of land at the Majek area along the Lekki-Epe expressway a little after the Lagos Business School is an urban forest created for people to interact with nature.
Advertisements
CONTINUE READING BELOW
The gate fee is 1,000 Naira for adults and 500 Naira for children, and it's open every day of the week. It is home to such endangered forest species like the "Iron Wood" tree (Lophira Alata), the Hooded Vulture (Necrosyrtes Monachus) and the African Pied Hornbill (Tockus fasciatus).
It is a great fun place in Lekki with a lot of facilities, including a children's playground, football and volleyball games. You also get to have a good view of the artificial lakes. You can decide to bird-watch, do some aerobics and appreciate nature. It's a great spot for a picnic and get-together, and you are allowed to bring in your food and drinks.
8. Domino's Pizza:
For the Pizza lovers, the Dominos' pizza is located at 69 Admiralty way, Lekki Phase 1, which is part of the Dominos' chain got you covered. For 6,000 Naira, you can get a sizable pizza that can fill two adults. It is open from 9:00 am to 10:00 pm every day except Thursdays, Fridays and Saturdays when it closes by midnight.
Advertisements
CONTINUE READING BELOW
You can sit in and enjoy your pizza in the cool interior of the outlet or call their hotline +23412954214 to order, and it is usually delivered within 40 minutes. Don't forget to try the unique Nigerianised offerings like the Suya Pizza in your next hang-out.
9. Funtopia Water Park:
This is a children-friendly fun place in Lekki where you can enjoy some recreational activities, swim and play. Located at KM 35 Lekki-Epe Expressway, opposite the Pan African University, Ibeju Lekki, it offers both indoor and outdoor fun to the family. It is indeed the most family-friendly and fun place in Lekki.
You can decide to go water sliding, swimming, gaming or offer your kids some new educational experience. You should try to take along a swimsuit and camera to keep your fun moments there. It opens between 10:00 am to 6:00 pm daily, and you can access it with a gate fee of 1,000 Naira.
Advertisements
CONTINUE READING BELOW
10. Filmhouse Imax Cinema:
Imax should be one of the first fun places in Lekki you visit in Lagos, especially if you are a fan of good movies. There is nothing like a good movie with family and friends on a massive screen in very clear and high resolution that will blow your mind away.
Located at the Rock Drive in Lekki Phase 1, you can see movies in 2D and 3D. There is also the roof-top exclusive terrace bar and VVIP signature bar.
You can even make provisions for a private screening for that unique experience through 09070362349 or visit the website to purchase movie tickets for as low as 3,000 Naira.
11. Xovar Lounge:
This is located at 19B, Sabitex Hotel Drive, along the Lekki-Epe Expressway. Xover lounge operates as a lounge, restaurant and event center. It opens by 10:00 am every day of the week on closes only when the last customer for the day is satisfied.
Advertisements
CONTINUE READING BELOW
Its architectural design is structured to make the guest feel relaxed and loved with its breathtaking ambiance. It's a one-stop entertainment center from its WIFI enabled inner lounge to the fantastic outdoor rustic seating areas with a point-and-kill fish pond.
Xovar Lounge is arguably one of the most happening places in Lagos. This is a fun place in Lekki where major people in business and celebrities relax, network and hang out in Lagos. It's a bit pricey, though, as a bottle of beer goes for around 1,200 Naira while fish and chips sell for 5,000 Naira.
12. Marcopolo Oriental Cuisine:
Also called Waterfront Restaurant offers one of the finest Cantonese and Chinese dining experiences in Lagos. It can be found at 10 Admiralty Way, Lekki Phase 1. It also features a bar/lounge.
With a menu that is highly influenced by Chinese cultures, the approximate cost for two persons is around 8,000 Naira. Its opening hours are from 12:00 pm to 11:00 pm from Mondays to Sundays.
Advertisements
CONTINUE READING BELOW
13. Sailors' Lounge:
With its Sunday live band cruise, the comedy night on Thursdays, seafood platter, grilled fish, cocktails, ambience and top-notch customer service, the Sailors' lounge remains one of the best restaurants/bars in the city of Lagos.
The Sailors' Lounge located at Plot 1, Block 12 Admiralty Road Lekki, has three sections: Captains' cabin, Captains' deck and Sailors' cabin. Quite pricey, especially if your seat is by the waterside but then it's great value for money.
14. The Pavillion:
The Pavillion is another waterside hang out with a beautiful view around and also having delicious meals and drinks.
If you are looking to experience the feeling of cozying up in an open space while taking in the beautiful scenery from the Ikoyi and Lekki bridge, then the Pavillion is the answer. It is located at Phase 1, 16A Admiralty Way Lekki.
Advertisements
CONTINUE READING BELOW
15. Lekki Leisure Lake:
This is a lakeside resort in the Lekki Peninsula overlooking the Atlantic. The resort' boasts a cool, tranquil lake to thrilling aquatic culture with jet skiing and other exciting watercraft activities. This lake also hosts several birthdays, seaside activities, fun parties and everything else.
It has several other activities such as quad bikes, pedal boats, pontoon boats and wave boats.
The lake is only open on weekends and public holidays from 12:00 pm to 10:00 pm, and the entrance fee is 1,000 Naira per head, though you pay to engage in any of the numerous water activities available in the Place.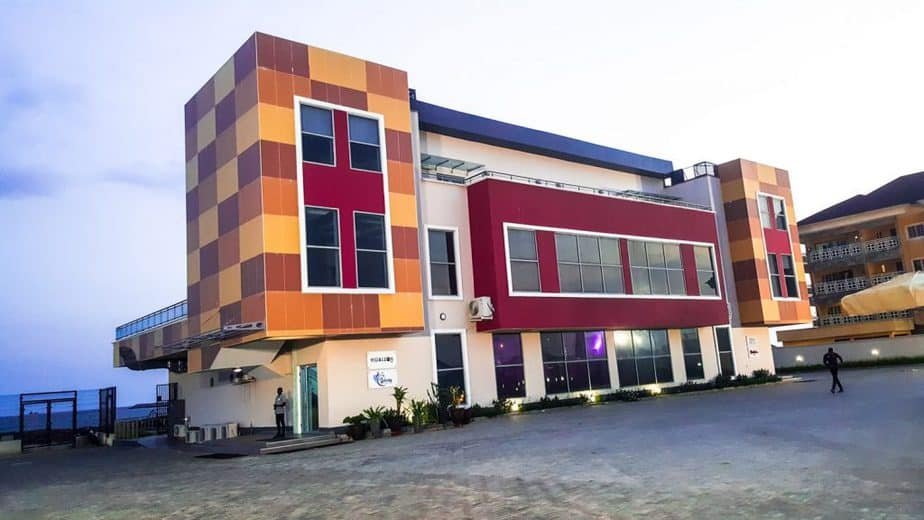 Don't worry about bringing food and drinks as you can get all your needs from the vendors at the Place.
16. Abe Igi Bar:
This is a cozy place shaded by trees as Abe-Igi means under the tree in Yoruba. It is a small suya spot at Hedge and Smith Plaza, Admiralty Way Lekki Phase 1.
Advertisements
CONTINUE READING BELOW
You could get a plate of Asun for 1,000 Naira or Nkwobi for 1,500 Naira. It opens every evening from 4,00pm to 11,00pm. The traditional setting and the smell of roasting meat make the Place a unique fun place in Lekki.
17. Bay Lounge:
Waterfront entertainment in a romantic and serene ambience is what you get on a visit to this lounge. Situated at Plot 10, Admiralty Road, Lekki Phase 1, the Bay Lounge opens around 11:00 am and closes by 3:00 am on weekends.
A bottle of beer goes for 1,500 Naira while a full barbecued fish goes for 5:000 Naira.
18. The Place Restaurant and Bar:
If you are looking to get a decent meal on a budget, The Place got you covered. This unique combination of a bar, restaurant and club is always packed full of fun-seekers. The Place has good music every evening except on Sundays, when you enjoy live performances.
Advertisements
CONTINUE READING BELOW
Located at Plot 3B, Block A10, Admiralty Way, Lekki Phase 1, and opens from 7:00 am to 12:00 am on Mondays, Tuesdays and Wednesdays, while from Thursdays to Sunday, their services run till 2:00 am.
19. Slay Karaoke Bar:
A top-notch Karaoke bar, sports viewing bar and live band located at the Penny Mall, No 1, Providence Street Lekki. A Karaoke lounge that comes alive with multiple HD screens controlled by a modern Karaoke machine created for song selection and performance.
You can get a good Karaoke fun experience for a budget in this Place between 6:00 pm, and 12:00 am.
20. E-Bar Lekki:
Located at No. 20′ Admiralty Way, Lekki Phase 1 is one of the most sought-after and visited fun Places in Lekki by nightcrawlers and fun-seekers. The casual atmosphere and music are bound to help you relax.
Advertisements
CONTINUE READING BELOW
Frequented by expatriates and locals alike, it features table games, karaoke, a live band and assorted cuisines at a very reasonable price. They open their doors from 9:00 am till 12:00 am Mondays to Thursday, and up to 2:00 am throughout the weekends.
21. Cold Stone Creamery:
For that incredible ice cream and sorbet made fresh every day with a lot of mix-ins. Located at 16B, Admiralty Way Lekki, they also have divine cakes and smoothies that make it stand out as a unique hangout spot. With about 1,000 Naira, you can hang out at this fun place in Lekki.
22. Lakowe Lakes:
This is a golf and country estate with facilities for accommodation, spa, sports club, and dining. You can get a room for 50,000 Naira or take a golfing lesson for 15,000 Naira. Located at the Lekki Peninsula 11, it is always advisable to make a reservation online.
Advertisements
CONTINUE READING BELOW
23. BLD by Play:
Breakfast, Lunch and Dinner (BLD) is one the most talked-about fun Place in Lekki. For about 2,500 Naira, you get a sumptuous buffet experience. It even has a lounge and night club and it's open from 8:00 am to 2:00 am every day. Located at 15A, Admiralty Way, you are bound to fall in love with the ambiance.
24. Empire Sports Paintball:
Located on the beachfront of Elegushi Lekki, is a recreational field where people engage in the Game of paintball. You can get a game for 4,000 Naira and open Mondays to Friday, but you need to make a reservation online.
25. BBQ and Cravings:
I recommend this place for the much-talked-about country burger which you can get for 2,500 Naira. It is located at 4 Lekki-Epe Expressway, and you can order online and open every day from 9:00 am to 10:00 pm.
Advertisements
CONTINUE READING BELOW