To start a logistics company in Nigeria, you need to put a lot of things into consideration. Logistics companies are businesses that plan, store and move goods and/or services from one place or person to another. It can be over a long distance (international), or a short distance (within the state).
The logistics business has been given a lot of names. "Delivery business", " transportation business ", " courier services", "freight company" etc.
Logistics companies are very important to businesses, both small and large scale. When customers buy goods, it needs to be transported or shipped to them.
The profit margin in the logistics business is quite high. Several companies depend on logistic companies to operate, though starting out can be quite stressful and exhausting. It can also put a strain, both physically, mentally, and financially.
.........................
This article is written to guide you on how to start up a logistics company as easily as possible.
How To Start A Logistics Company
Identify Your Mode of Operation
Firstly identify the level at which you will like to operate.
Would you prefer to be an agent, a transporter, or a contractor?
Would you like to use motorcycles or cars and buses?
Would you prefer to operate at an inter-state or intra-state level?
How many employees would you like to have?

Create a Business Plan
A business plan helps focus your business and digs out areas you are likely to overlook.
You will need to state the goals and objectives of your business and how you would achieve them.
.........................
Related: 10 Best logistics companies in Nigeria
In creating the business plan for your logistics company, you will have to note down the following
Company name
Mission/vision statement
Business strategy
SWOT analysis
Business terrain/environment and how it affects your business
Manpower/employees
A financial plan, including your charges.
Competition and what will make you stand out.
Legal plan
Funding
After identifying your operation level, the next step is thinking about funds.
Funds can be gotten from your savings or a bank loan. The capital required for this business can be as low as 300,000. This is if you won't need to buy a car or motorcycle. It can be higher if you would need to purchase them.
.........................
Purchasing Business Equipment.
This depends on your operation level. A car or a bus can be purchased though it's capital intensive. You can start out first, by hiring a vehicle.
In purchasing a vehicle too, you should take cognizance of your business environment. If it's a very busy area, a motorcycle is more advisable to navigate traffic. The motorcycle can be equipped with a plastic carrier behind it. A helmet should also be gotten for safety purposes.
A Laptop or a Mobile Phone.
This is important for taking business orders, communication and proper documentation.
This is necessary because customers might want to visit your place of work. The space should be sufficient for staff and storage of goods to be transported.
.........................
Also bear in mind that your office space is where you'll park your company vehicles.
Your company vehicles should be branded for easy identification.
Office space proves to your client, that you mean business.
Creating a Website
You should create a website to enable you to take orders or track the delivery of items. The website's home page should be colorful and catchy and also easy to navigate. A website also helps with publicity because customers can be encouraged to drop reviews.
Licensing/Registering Your Company
People trust registered businesses better. Choose a business name and get a license of operation. This is important to help your business grow and avoid unnecessary embarrassment and hassles. The business should be registered with the Corporate Affairs Commission (CAC). You can register as a business name or a limited liability company. The evidence of registration is the business certificate you're presented with. You can visit the CAC website for business registration.
.........................
Get Employees
Starting a logistics business needs employees because one person can't handle everything alone.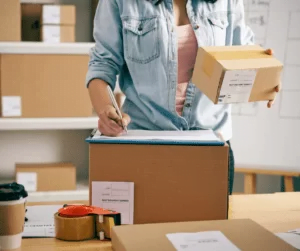 A driver or a motorcycle rider: One has to be really careful in picking a driver for your logistics company. You have to be absolutely sure that the individual can drive. You might have to train him yourself. A driver's license is also required for the individual to avoid hassles.
A computer/telephone operator: He/she takes orders and keeps in touch with customers.
A store manager: He/she ensures goods to be ferried are kept in good condition to avoid damage.
It is absolutely necessary to train your staff on appropriate etiquette and culture towards your customers. They represent you and the company.
Advertising Your Logistics Company
For your business to grow and gain customers, you would need to advertise.
.........................
With the advent of technology, one doesn't have to depend on word of mouth alone to publicize businesses.
Several other methods of business publicity include
Google Adverts
Social media advertisements. (Instagram, Twitter, Facebook)
Newspaper publications
Radio/television adverts
Referrals etc.
Unique Selling Points And Competition
Competition in the business may be a source of worry, but creating a unique selling point is necessary to stay afloat with the competition. Your unique selling point distinguishes you from the other companies and helps grow your business.
Some examples of unique selling points in the business may be
Very fast deliveries
Money back guarantee, especially in cases of damage
Very courteous staff
Sending birthday or new month text messages to your customers.
Giving mini gift bags during festivities etc.
Challenges
Starting or owning a logistics company is not bereft of challenges.
.........................
The challenges can be customer related.
1) The customer may change his/her mind about the item bought and this can frustrate both the driver and company causing a loss of fuel and man hours.
2) Customers may insist that the goods are damaged and refuse to collect them.
3) The customers may not be quick to pick up their calls to give directions.
Other challenges could be
1) Traffic: This can cause a delay in the delivery of goods.
2) Damage to goods: They may get damaged in transit and the customer will reject it.
Challenges would surely come but it's important to know how to overcome them. This is how the business grows.