In this article, you will learn how to migrate to Glo Yakata from any Glo plan. All that is needed from you is that you read this thread carefully.
Before delving into the main gist, you must note that this Glo prepaid plan comes with a lot of amazing benefits.
These benefits include free data, unlimited Glo to Glo free calls, several free minutes to call any other line, etc.
In fact, the free call bonus could be up to a total sum of N2,200 for recharging only N100. That's a whopping bonus of 2000% on each recharge. Cool, right?
All these bangers including some other goodies will be given to you by Glo whenever you recharge your line as a Glo Yakata tariff user.
Meanwhile, Globacom Nigeria still offers, even much more, data volumes at a relatively cheap price.
Advertisements
CONTINUE READING BELOW
The Nigerian-owned telecommunication network also renders a High-Speed Internet portal and self-care data management portal.
All these were introduced just to enhance its users to buy data, share data, gift it, and even check their data usage.
You may also like: All Glo Data Plans: Prices and Subscription Codes

Guide to Migrate to Glo Yakata Tariff Plan 2023
Without a doubt, the Glo Yakata tariff plan is a juicy and Interesting package offered to new and existing Glo customers by Globacom Nigeria.
This is part of the telecommunication company's initiative to keep on developing innovative products capable of delivering value and money.
Glo Nigeria introduced the Yakata Plan to reward their seasoned and prospective users with amazing data bonuses.
This is usually done after migration and recharge. So take your time and relax as this article will guide you on how to migrate to Glo yakata from any Glo plan in Nigeria.
Advertisements
CONTINUE READING BELOW
What is Glo Yakata Prepaid Plan?
The Glo Yakata prepaid plan is one of the Glo tariff plans or bundles that was introduced solely to reward Glo users.
This reward comes with amazing data bonuses and you can enjoy 2000% voice benefits on every recharge on their Glo lines.
All new Glo prepaid customers will automatically get the Glo Yakata data plans once their lines are registered and activated.
There is no need of dialing any USSD code. The bundle is automatically set, very easy and with no stress.
On the other hand, it is crucial to know that all existing Glo users will have to subscribe to the Glo yakata to enjoy all its benefits too.
Benefits of the Glo Yakata Tariff Plan
It has been stated above that the Glo yakata bundle is a prepaid plan introduced by Glo to serve both their new and existing customers.
Advertisements
CONTINUE READING BELOW
Other than that, some other benefits of the bundle are:
With the newly introduced Glo yakata bundle, you get 22 times more than the value of any amount you recharged.
That is to say, if you recharge a Glo card of N200, you will receive N1000 bonus worth of airtime. If you recharge N500, you will receive bonus airtime worth N2,500.
If you load an airtime voucher of N1000, you will receive N5,000 worth of airtime bonus, etc. All these are airtime bonuses that can be used to make national calls to all other networks.
Another benefit of the Glo yakata bundle is that when you get a new Glo sim card, it comes with 6GB of data. Additionally, such data bonuses are valid for a whole 6 months.
Advertisements
CONTINUE READING BELOW
How to migrate to Glo yakata from any Glo plan

As a seasoned and existing customer of Glo that wishes to migrate to Glo yakata from any other Glo plan, you will dial 23O# on your phone dialer.
This USSD code is the official Glo yakata tariff plan code for existing Glo network customers.
For new customers, you don't have to worry about migrating as your sim card will come with the Glo yakata tariff plan automatically.
For further clarification, keep reading.
Code to Migrate to Glo Yakata Tariff Plan
A lot has been said earlier. If you buy, register, and activate a new Glo sim, you will be added to the amazing Glo yakata tariff plan automatically.
This basically means that all new Glo sim cards come with the mesmerizing yakata tariff plan by default.
Advertisements
CONTINUE READING BELOW
If you have an old Glo sim card in existence, you still have time and opportunity to join the yakata family.
All you have to do is to dial *230# on your phone and subscribe. Nothing more and nothing less. With this, you will be able to enjoy all the bonuses each time you recharge on your Glo line.
How to check Glo Yakata bonus balance using USSD code
Be informed that the Glo yakata bonus is only valid for 7 days. And this starts from the day you recharged. You can also accumulate or get more bonuses each and every time you recharge.
To check your Glo yakata bonus balance, simply dial 2301# on your dialer and wait for a prompt response, that's your bonus balance. For airtime or data balance, the code works for both commands.
Advertisements
CONTINUE READING BELOW
Glo Yakata Data Subscription Code
To subscribe to the Glo Yakata data bundle, simply dial *220# on your smartphone dialer. Remember that you must be a tariff user to enjoy its benefits.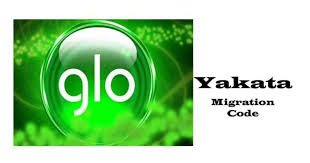 To confirm if you are eligible or already in the Glo Yakata bundle, kindly dial *100# on your phone to confirm.
Glo Yakata Call Rate
For the Glo YAKATA tariff plan, the Glo to Glo call rate is 55 kobo per second, and this amounts to N33 per minute when estimated.
Glo to other Networks within Nigeria call rate is 70 kobo per second and this amounts to N42 per minute when calculated.
End note
Did you find this article on how to migrate to Glo Yakata helpful? Kindly share this article with your loved ones so that they can enjoy the benefits, too, while it last.
Advertisements
CONTINUE READING BELOW