With law school being expensive, you might be wondering if there are opportunities for law students to make money while in school. Yes, there are.
This article explains in detail how to make money during law school. One thing you need to know, though, is that some opportunities pay better than others, and some may be gotten on or off campus. These jobs will not interfere much with studying because they offer flexible work hours.
So here it is the different ways to earn money while attending law school.
How to Make Money During Law School
Become a Research Assistant or Teaching Assistant
Becoming a research assistant or teaching assistant is a great way to earn some money for yourself while attending law school.
This opportunity comes when law professors come looking for students to help with their research (as research assistants) or have them assist with teaching students (as teaching assistants). This job opportunity is not only a means to earn an income, but an excellent opportunity to gain a deeper understanding of the course.
Advertisements
CONTINUE READING BELOW
Working as an intern at a law firm
Working as an intern in a law firm is another way to earn money during law school days. However, you should ensure that the law firm you sign up with offers a paid internship. If not, the goal of making some money would be defeated.
One benefit of working at a law firm is that you will be exposed to real-world law practices and their intricacies earlier. This would be a worthwhile experience because it would help ease you into your chosen career.
Become a Company Student Representative
Research service companies and bar preparation companies are constantly vying for law students' attention because they wish to market their tools and services to them. You can start earning money as a student representative if you are hired by one of these legal-focused companies.
Advertisements
CONTINUE READING BELOW
Your role in this position will be to spread the word about upcoming events, training, discounts, research tools, bar preparation perks, and schedules and to entice people with food and prizes. Working with them, you will learn their value proposition, and you can explain their benefits to other students.
Taking Up Other On-Campus Positions
Aside from the few mentioned, other on-campus job positions can be your answer to how you can make money in law school. Sometimes there are opportunities to tutor first-year law students, become learning consultants for undergraduates, or even serve as community advisors for on-campus housing residents. Taking up any of the positions can earn you money on the side.
The disadvantage is that these positions are frequently not advertised, and you can only find out about them by asking your professors or the career service office.
Advertisements
CONTINUE READING BELOW
Getting Part-Time Employment
Part-time employment outside school is another way to make money during law school. There are a host of legal and non-legal jobs that you can apply for, depending on your preference.
Assisting law firms and government agencies with research and litigation preparation, as well as other legal matters, are legal part-time jobs you can help with. However, for non-legal employment, you can tutor general academic subjects or the law school admissions test to earn some money.
Legal-related jobs provide hands-on experience and allow you to observe lawyers in action up close. In contrast, non-legal jobs can help you build skills such as communication, logical reasoning, and interpersonal skills that will be useful to a future legal professional.
Start a Legal Blog
If you enjoy writing as a law student, this might be a great way to make money while still in school. You can write about your experience as a law student and provide informative and educative content that can guide that starting.
Advertisements
CONTINUE READING BELOW
You can build a vast readership by establishing your blog and posting regularly. Once you have enough traffic on your blog, you can begin to look for ways to monetize your site. One way is to get into affiliate marketing and make commissions on product links on your site. With this, money comes in regularly.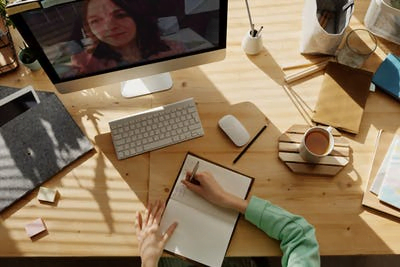 Start a Law Podcast
Is writing not your thing? Perhaps speaking is. With your excellent communication skills, you should be able to make money by launching a legal podcast. You can talk about legal matters on your podcast and offer your unique or expert opinion about them. Keep this on, and in a matter of time, you will be able to build your brand.
As a known "brand," you would be able to monetize your podcast. One way is to get sponsorship from companies, brands, or even a law school to put their name through your brand.
Advertisements
CONTINUE READING BELOW
8. Working as a Virtual Assistant
Most law students have good organizational skills. If you are one of them, you should consider being a virtual assistant to make some money. There are a lot of companies who outsource some tasks to virtual assistants to help them see to them.
These tasks may include responding to emails and phone calls; scheduling meetings; booking travel and accommodations; managing a contact list, keeping online records, organizing managers' calendars, and creating presentations when assigned.
As a virtual assistant, you work as a self-employed administrative assistant working from home and on your schedule, leaving you enough time to be a student and study.
9. Freelance Writing
Freelance writing is another job opportunity for you if you enjoy writing. Perhaps you are not so keen on starting your blog. You can work as a freelance writer. You can register for various clients as freelance writers, working from home and on your schedule to earn money.
Advertisements
CONTINUE READING BELOW
Online sites like Upwork offer free writing jobs you can take advantage of.
10. Scholarships
Applying for scholarships is another way to bring money into your pocket as a law student still in school. All year round, there are usually a lot of law scholarships. Some are from law schools and firms, while others are from corporations, bar associations, and other organizations.
To get any of them, you need to put together several application materials as stated and submit them to the designated authorities, but ensure you are eligible before you apply. Most law scholarships are often restrictive in terms of demography or legal interests.
11. Start Your Own Small Business
Yes, lawyers can be businessmen too, and since it's just a side hustle, it should be fine. While in law school, you may discover some of your hobbies, crafts, or skills are marketable and can be an excellent way to make money.
Advertisements
CONTINUE READING BELOW
With these marketable skills, crafts, or hobbies, you can start a business selling them. But of course, at your own pace and taking care that it doesn't affect your primary goal of studying.
Wrapping Up
From the list, have you decided which job opportunity would suit you best?
Then check to see if you are not violating any school policies and see if there are any precautions you should take. Once you have that sorted, you can make some money to lighten your financial burden by supplementing what you have with a regular income.