If you are looking for a way to earn some money as a college student, there are several options to choose from. In this article, we have listed the top 10 ways to make money in college without a job.
These different ways of making money we have mentioned are legit and flexible. They do not have the rigid hours as traditional jobs do nor do they limit you to a minimum wage. Rather they are side gigs that can fit into the schedule of a college student.
Given the prevailing high cost of living, these gigs can provide extra cash to supplement the regular allowances you receive as a student. So let's jump right into it, starting with the most obvious options.
You may like: Top 33 Best Jobs For Introverts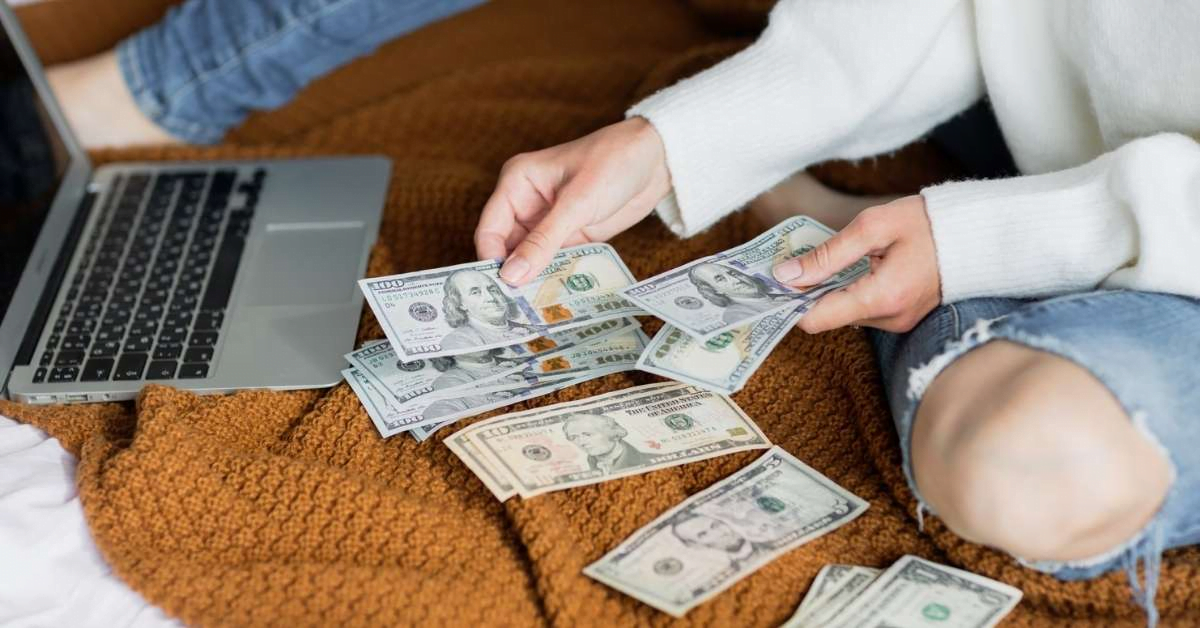 How to Make Money in College Without A Job
Advertisements
CONTINUE READING BELOW
1. Tutor other students
Tutoring other students in your school is one of the easiest ways to make money in college. It may seem obvious, but usually, we tend to forget about it when we are busy thinking of some grand option. Once you discover that you are academically gifted in some subjects or tend to excel in them, it is an opportunity you need to grab with both hands and find students who need help in those subjects.
By doing this you'll not only be getting an influx of income, but you will also be helping other students make better grades. If you are feeling up to it, you can even extend your help to include those in lower grades.
However, academic subjects are not the only things you can teach, If you're a good guitarist or pianist and there are children and students in your area who have an interest, you can teach them too.
Advertisements
CONTINUE READING BELOW
2. Offer your study materials for sale
Offering your study materials for Sale is another seemingly obvious opportunity to earn money that we often tend to forget. If you have ever been told that you take excellent notes, that's your cue right there.
What you need to do is summarize your notes so they are easily consumed and get paid for the effort. Digitizing them makes the transfer process a lot easier. Rather than having stacks of papers and the burden of carrying them around, making these materials available online or as soft copies ensure that it is more accessible.
3. Edit the work of others
Another money-making opportunity you can grab in school is proofreading. You know how students get afraid to turn in their papers because they are badly written? This is where you can help out if you have a good command of grammar and the use of English.
Advertisements
CONTINUE READING BELOW
However good you are though, the workload may catch up with you and you may not able to deliver as promised. So to keep helping out and earning more money, you can subscribe to writing assistant software to increase your productivity and delivery time.
4. Work as a freelancer with your skills
Do you have real-world skills that are valuable in the business world today? You can make money on the side with it while in college. If you have good writing skills or graphic design skills, you can become a freelancer. These are some of the skills that are essential for businesses today.
The upside to this is that as a freelancer, you will be working remotely however, you will be expected to meet deadlines. Feel free to join one of the many freelance platforms available such as freelancer, create an attractive profile and start getting clients.
Advertisements
CONTINUE READING BELOW
Before working as a freelancer be sure that your study schedule is well planned and would give room to fulfil your tasks as a freelancer.
5. Create and distribute eBooks
Creating and distributing ebooks on sites like Amazon Kindle is another option to earn a little as a student. To get started, identify a niche and genre that you have an interest in. It may be comics or graphic novels, fiction or non-fiction. Either way, write on topics that will make you stand out and head on to self-publish.
On Amazon Kindle, you don't have to pay anything upfront to publish and sell your books. But once they are sold, you'll have to pay a fee for each sale.
6. Take surveys
Taking surveys might not sound like something you do to make money, but it is. Though you may not earn a lot with it, it is still a viable option you can explore.
Advertisements
CONTINUE READING BELOW
Different sites online offer varied amounts as payout depending on the kind of survey you are required to fill; you might just be lucky to have one with a large payout.
7. Sell items from thrift stores
Are you good with sales? Then you don't need to worry much about how to make money in college without a job. You can simply sell items from thrift stores. You may require a little money to get this started, but you would be able to regain it once you start making sales.
Selling items from thrift stores is simply flipping. With flipping, you only make large profits when you follow the rule "buy low, sell high". But first, find out what the current trends and brands are before buying. You don't want to buy what people don't need.
Advertisements
CONTINUE READING BELOW
Next, look for good deals with purchases in good condition. You can clean them up and make repairs if necessary, then sell them at a higher price.
8. Become a social media manager
Making money in college without a job can mean that you'll have to take up the challenge of becoming a social media manager. Becoming a social manager is no one day's job. It requires a lot of experience that you need to bag the position and set the mind of your employer at ease that you can do the job.
If you have a social media account with a huge following and a personality to match, then you might want to consider earning some money. Businesses these days need social media managers who would be able to give their company a personality and expand their online presence. Most of these businesses do not really mind whether you still study or not. They just expect that you do a good job and follow brand guidelines.
Advertisements
CONTINUE READING BELOW
9. Volunteer as a brand ambassador
If you are a social butterfly with an attractive following on social media, this is another opportunity to earn big. You can volunteer as a brand ambassador to businesses that have products that college students need.
Your involvement can help make those products appear appealing and assist in increasing sales if you are a known face already. Although volunteering is usually 'pro bono', some brands offer stipends to their volunteers.
Though this can be more stressful than other options, it pays well. Aside from the income, you can also gather the much-needed experience to grow a career out of it.
10. Make use of your vehicle
Driving jobs can be lucrative side gigs that help supplement your income in college. Several ride-sharing apps can give you a platform to make money by driving. You can also use your cars for deliveries or courier jobs that can fetch you a handsome income.
Advertisements
CONTINUE READING BELOW
So if you have a used car or happen to have access to get one, it can be your very own answer to making money in college without a job. This is also a very flexible way to earn for a while.
Additional money-making tips
11. Make Money from Your Craft
Are you good at making things by hand? Thou can make money from your craft. You can create physical products that you can sell offline or online to interested buyers. You don't need to have a labelled brand to start. All you need is a little cash to get your raw materials and get things started.
Who knows, as people get to know your crafted products, you can steadily create an entire brand that will eventually turn into a company.
A few examples of crafts that can pay you well are cobbling, Jewellery making, candle making, growing plants, etc.
Advertisements
CONTINUE READING BELOW
12. Launch Your Dropshipping Business
If you enjoy business and everything that comes with it, consider launching a dropshipping business once you begin to earn money. Get high-demand goods directly from manufacturers to your customer. You can eliminate the need for you to ship yourself by enlisting courier services.
This last option is more demanding than the other options, so you need to consider if you are up for the task before you venture in to avoid a clash with your study schedule in college.
Also read: Jobs for College Dropouts