You could be thinking about a career in journalism if you enjoy telling compelling stories. However, given the changes in the media landscape, you might be asking if journalism is a good major and career. Should I be concerned about my job security? You may assume magazines will soon go out of business and who even still reads newspapers?
Don't give up on a career in journalism just yet. Numerous recent changes in journalism are for the better. Technology and digital media have opened up new possibilities. This has made journalism in high demand. The U.S. Bureau of Labor Statistics expects the job outlook for media and communication jobs to grow by 14% by 2030, faster than the average for all occupations, and will result in about 151,500 new jobs.
So, venturing into journalism will pay off now and even later with the possibility of opening many other career doors. That being said, let's look at the concept of journalism below.
Advertisements
CONTINUE READING BELOW
The Concept of Journalism
Journalism is the practice and profession of gathering, analyzing, and sharing news and information. So, in most cases, it involves reporting the facts and sharing them with other people. We must also remember that the word 'journalist' doesn't only refer to print journalists but also to those who report issues through different media types such as television and radio, new media, etc.
With the advent of the internet and the proliferation of various social media sites, the job prospects for those in journalism have broadened. Now we have more roles available for anyone willing to pursue this career path. You stand to gain a lot of skills when you choose this career path. We have compiled a list of some of them for you.
Various Career Options in Journalism
The following roles are just a few for you to look at as you contemplate what a journalistic career may look like for you.
Advertisements
CONTINUE READING BELOW
1. Editor
Just as the name implies, they edit the news or articles that are to be published in different publications or websites. Editors go through different articles and decide which ones will be published and which ones will not. They check for grammar, spelling, and other mistakes in different newspapers or articles. They are important gatekeepers in the news channel that proofread everything before it's published.
2. News Reporter
Being a reporter is one of the exciting job opportunities in journalism. These individuals are responsible for the collection of news reports and analysis. Then they present them as information to the public as news reports or articles, either on paper, radio, television, or blogs.
Reporters also research topics that the news editor assigns to them, conduct interviews, submit and produce scripts, and articles. One exciting thing about being a news reporter is that the job offers them the opportunity to meet various personalities in society. They are also very current with every event in society. So if you love meeting people and attending events, then you can consider being a reporter.
Advertisements
CONTINUE READING BELOW
3. Newscaster
The job of a newscaster is to read the news after it has been gathered by the reporters and edited by the editors. Being a newscaster involves that you are very comfortable with being in front of the camera. These persons present news reports either through radio or television.
They are able to present news stories in an appealing manner that makes the audience glued to their stations. A newscaster's responsibilities include presenting news, working on the radio or television shows, preparing scripts, and reading lines from the teleprompter.
4. Photojournalist
A picture they say is worth a thousand words. Photojournalists tell new stories through pictures. They take pictures to be used in different publications, either online or offline whether newspapers, magazines, television, or websites.
Being a photojournalist requires creativity. You need to have a keen eye for details and also have a good understanding of how light will affect the photo.
Advertisements
CONTINUE READING BELOW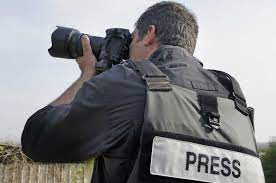 5. Public Relations Officer
Journalism is not all about the media houses. You can decide to become a public relations officer. The Public Relations Society of America defines public relations as a strategic communication process that builds mutually beneficial relationships between organizations and their public. Image is everything for every organization so they go on to have a public relations officer or department.
These persons are the image makers for the organization. They ensure that the organization has a favorable image in public and maintain mutual understanding between an organization and its various publics. They also prepare press releases on behalf of the company and are in charge of tracking media coverage.
6. Producer
Within the context of broadcast journalism, such as on television and radio, producers shape and deliver stories and sections. Often, they are in charge of compiling the various stories that are covered in the day.
Advertisements
CONTINUE READING BELOW
Producers work together with reporters, studio workers, and visual designers to create high-quality programs for the audience.
7. Copywriter
A copywriter is a writer whose primary objective is to influence, persuade, or educate their audience through their writing with the intention of selling a good or service.
Copywriters are aware of their audience and are skilled at using words to influence behavior. You might want to think about a career in copywriting if you enjoy writing. Copywriters write slogans and advertising copy for different publications.
Reasons to Pursue a Journalism Career
i. Up to Date with Current News and Events
You will be able to stay up to date with current events and what is happening around the world. As a journalist, you need to be able to stay current on different topics and events.
Advertisements
CONTINUE READING BELOW
It is not just about what is happening now but also in the near future. This attribute of being current enables them to get hold of breaking news from all around the world.
ii. Earn While You Learn
Journalism is not just a profession but also one that requires passion. You have the chance to learn while you earn. As you write articles, which are published online and in print, you derive a source of income even while learning.
It is one of the most creative jobs out there because it allows you to show your creative side. You also have the opportunity to intern for various news and media outlets and earn stipends.
iii. Travel
One of the things that can encourage you to choose a particular career is the benefits and perks that it comes with. While most jobs now have similar perks, some are still better than others out there.
Advertisements
CONTINUE READING BELOW
Journalism is more suited for those people who want to travel around the world and meet new people everywhere they go.
vi. Flexible Schedules
This type of job can be done from anywhere. It's one of the most flexible jobs out there. You can work from home or in the office but this is not limited to that.
You can also write your articles when you are on vacation as long as you have access to the internet and your computer or laptop. This means their job does not depend on where they are. For example, reporters can write their stories and send them through mail to the editors.
v. Build an Exciting Career
As mentioned above, you have the privilege to choose from several career opportunities. You will be working with different people as a team to accomplish tasks. This will make you be able to build a valuable network of people that you may need later in life.
Advertisements
CONTINUE READING BELOW
vi. Meet People
One of the perks of choosing a journalism career is the ability to meet people from every work of life. It is one of those careers that allow you to meet and network with other people.
You will also make contacts that will help pave your way in life. This is one career that allows you to meet the high and mighty in society. If you are a people person, journalism will enable you to meet people from all works of life.
vii. Earning
Just like every other profession, the money that you will earn as a journalist depends on the position you hold in the organization. Those who are more experienced and hold more advanced positions can earn more than those at the lower level positions.
However, you can decide to open your media outlet or website. This way you become self-employed and your earnings can be unlimited.
Advertisements
CONTINUE READING BELOW
viii. Varieties of Career Opportunities
As mentioned above, you have the privilege to choose from several career opportunities. All you have to do is just to find out which niche interests you the most. Is it a writer, photojournalist, editor, social media manager, etc? The choice is all yours.
Also read: What Is A Career And How Do I Find The Best One For Me
Wrapping up
So yes, I will say that journalism is a good major and career. It has a lot of career opportunities for everyone. Whatever route you choose after graduation will depend on the type of work you want and the level of income you want to achieve. But since there are so many different career options available to journalism majors, it shouldn't be too difficult for you to discover the niche that interests you.
Advertisements
CONTINUE READING BELOW