Introduction
Ibadan is the capital city of Oyo state, located in the South West region of Nigeria. Its name was coined from the phrase "Eba odan" meaning "the edge of the meadow". It's the third most populous city in Nigeria, coming after Lagos and Kano.
It is mostly inhabited by the Yoruba tribe. It boasts of a population of about six million people. Ibadan is an ancient city and history says it was built as a war camp for warriors coming from Ife, Oyo, and Ijebu. It was known as a military base and grew till it dominated the Yoruba region militarily, economically, and politically. It is the second-largest non-oil producing State second only to Lagos. The city is known for its Agricultural produce – Cassava, Cocoa, Timber, Rubber, and palm oil.
The predominant occupation of the inhabitants include; Farming, Public service, Trading and Artisanry. Ibadan city also boasts of unique places of interest that can serve as tourists sites.
Fun places to hang out in Ibadan
The city of Ibadan is known for its brown roofs and old structures. Well, believe me when I say there is more to Ibadan than just that. This Large city is the Capital of Oyo state. It is interesting to note that its name originated from a Yoruba phrase "Eba Odan". Which we now pronounce as Ibadan. The city of Ibadan has a rich history filled with stories of ancient Yoruba warriors, conquered battles, intrigue and fleeing from oppression. Fortunately, as a visitor or a resident, your stay in Ibadan can be as exciting as the history of this great city.
Also read: Top places to visit in Nigeria
With these fun places to hangout in Ibadan, you can be certain of having a pleasant time.
1) Bowers Tower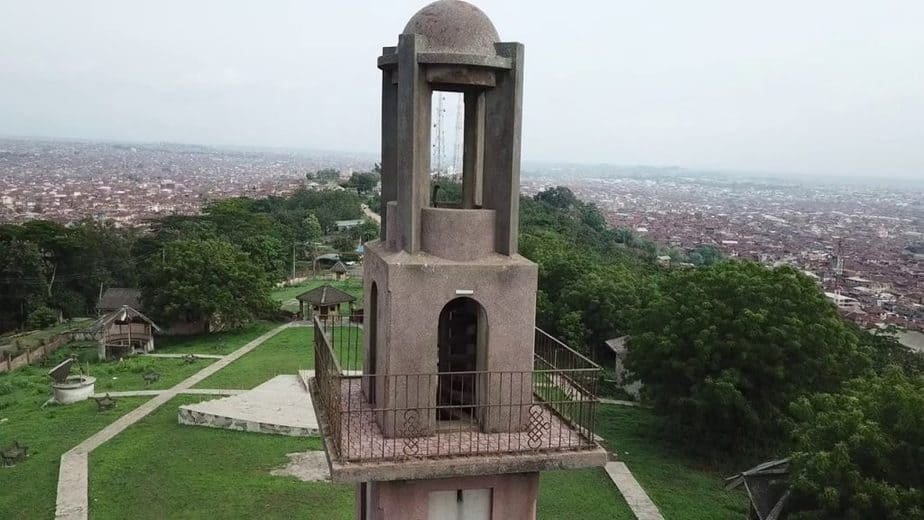 On the top of Oke Are Hill in Igbo Agala, the highest hill of the city, sits an over 60 feet tall Tower, called Bowers Tower. It was designed by Taffy Jones. It was named after the first British resident and travel commissioner of the interior of Yoruba Land Captain Bower in 1936.
The Bowers memorial tower is one of the grandest monuments in the city of Ibadan. It was built in honor of Captain Robert Lister Bower. Now the unique experience visiting this tower gives you is a breathtaking view of the city of Ibadan. Rising up about 60 feet, it gives a vantage view of the sights of Ibadan.
The peak of the tower can be assessed through a stairway. Arriving at the top of the tower, one can get a panoramic view of the University of Ibadan, UCH, and with a sharp sight, one can view the toll gate on Lagos- Ibadan road. This is undoubtedly a fun place to hang out in Ibadan and surely a sight to see.
About 47 spiral staircase lead to this towering edifice and it has two entrances. From the top of the tower, one can appreciate a vast view of the town, like the Cocoa house, the University college hospital, Dugbe market, Agodi gardens, Lagos Ibadan toll gate and of course the signature brown roofs.
The famous Bowers Tower served as a watchtower, during the days of colonization. It enabled the guards and soldiers observe what went on in the city from a vantage point. The tower is open from about 9am till 5pm. It cost about 200 naira to gain entrance. One can decide to, asides enjoying the view, have a picnic, or create social media content like taking pictures there.
Also read: 17 Top Fun Places To Hangout In Accra
2) Agodi Gardens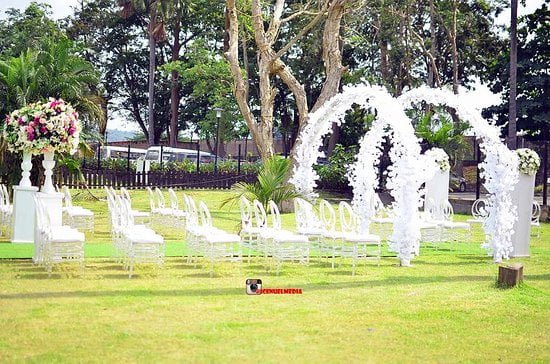 It is known as Agodi zoological and botanical gardens and sits at the foot of old mokola hills. For a fun-filled day and an amazing variety of activities, Agodi Gardens is the place to be. The garden is has a perfect picnic arena with luxuriant vegetation that instantly leaves you feeling relaxed.
Furthermore, it has a grand swimming area and inflatable boats with which one can spend some moments floating on water. In addition to these, the garden hosts a couple of other attractions that ensures your visit is pleasurable. Among other things, this in includes a mini zoo, water park, and rides for children. Whether it is enjoying a picnic by the lakeside, visiting the zoo or taking enjoyable rides, Agodi Gardens definitely provides a fun place to hang out in Ibadan.
Location
It is located along parliament road, Mokola, Ibadan.
It was created in 1967. Some of the side attractions include a mini zoo, a water park, a play area for kids, and a play area for kids.
For the love of nature and the peaceful aura it brings, the sweet smell of flowers and the chirping of birds then visiting Agodi gardens, is a must do.
The visiting hours spans from
Monday- Thursday : 10:00am- 8:00pm
Friday – Saturday: 10:00am- 9:00pm
Cost of hanging out here
Walking into the garden is free but one might be required to pay for facilities used in the garden.
Related: Top 10 beach resorts in Lagos
Some fun activities that can be engaged in includes
A picnic. One can come either alone or with family and friends. The ambience is great for picnicking.
Taking pictures or making videos.
Taking pre-wedding pictures.
Get together and small gatherings.
Garden parties and
Plain relaxation or unwinding after a long day.
3) Cocoa House
Cocoa house is an edifice located in Ibadan. It stands 105 meters tall and comprises 26 storeys. It was completed in 1965 with the proceeds from commodities – rubber, Cocoa, the cotton of Western Nigeria. It is owned by Wemabond estates, a subsidiary of the Odua group of companies.
It was once the tallest building in West Africa.
It's initial name was "Awon ogbe" meaning "house of farmers".
Location
It is located in the Dugbe area, Ibadan and is unmistakable.
In January 1985, the building was gutted with fire, but it has since been renovated and open for use commercially.
The "skyscraper", houses major firms, and the last floor is reserved as the Odua museum and hall of fame.
One can visit the building as a tourist.
It is in use commercially, but one can pay a visit to the museum and hall of fame above.
4) Mapo Hall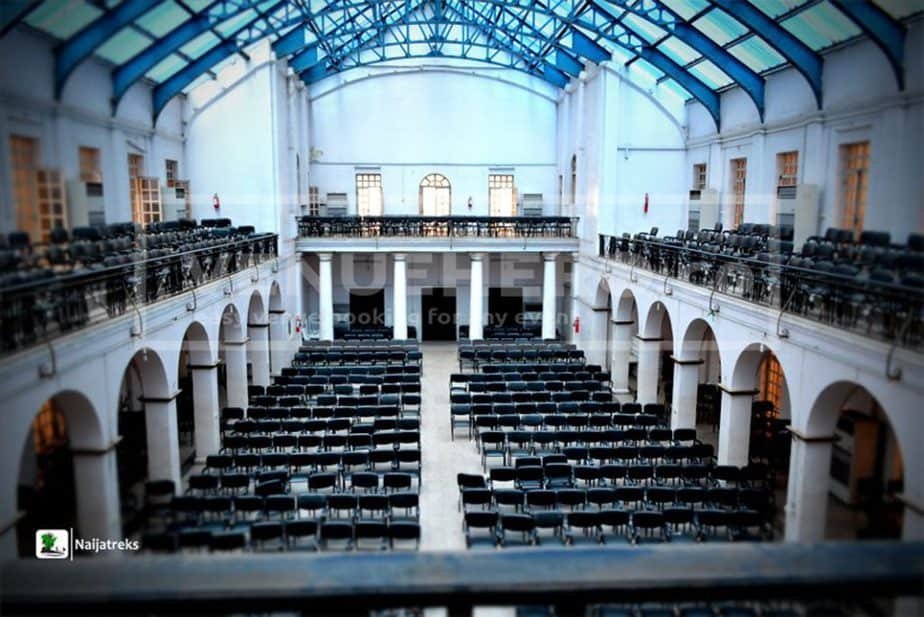 Mapo Hall is a colonial-style of the town hall in Ibadan City. It is situated on top of Mapo hill. It was commissioned by Captain Ross during the colonial era in 1929.
Check out this youtube video on Mapo hall
It was designed and contracted by Engineer Robert Jones, and its construction took four years (1925-1929). It has an ancient British architecture and was modelled after St George's hall Liverpool, United Kingdom.
Mapo hall is an important landmark to the natives of Ibaday and is visible from various parts of the city.
The building was renovated in 2006, and commissioned by Olusegun Obasanjo, the former president of Nigeria on the 6th of September 2007.
Location
The hall is located in the older part of Ibadan town. It's main entrance overlooks Ogunmola street, facing Mapo Road.
The hall serves as a political or social event venue in the city. It has served as a venue for coronation of several Obas.
The hall hosts a museum where the relics of chains used to hold tax evaders in the colonial era are kept. It contains pictures of past and present Obas.
Located few minutes away from the hall, is the palace of the Olubadan of Ibadan and the Oluloye statue and Dugbe railway station.
The Mapo hall speaks of a rich cultural heritage.
It is managed by the Ibadan local government property company limited.
One can take photos or videos, plan a wedding or go for educational purposes.
Cost of hanging out here in Ibadan
It costs nothing to enter into Mapo Hall. Just make sure proper permission is taken from the care takers.
5) IITA Forest Reserve Ibadan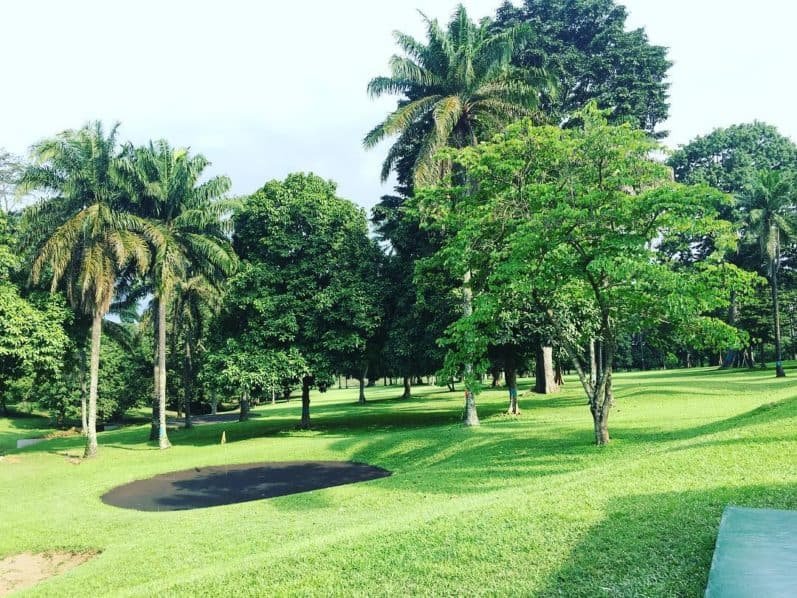 This stands for the International Institute of Tropical Agriculture. It is the best and only protected urban forest in the South West region of Nigeria. It was established in 1967, with the aim of improving the quality of tropical foods.
The IITA Forest reserve is massive expanse of Land designed and preserved to promote biodiversity. The forest reserve is distinguished not just for entertainment but education as well. With a wide range of up to 200 species of birds, over 100 species of butterflies, over 400 species of plants, 48 species of mammals as well as over 20 species of reptiles. These numbers are just those that been observed and recorded.
Furthermore, aside from the amazing opportunity to observe rare and protected animals, the reserve offers other source of fun and entertainment. In the first instance, with the forest school initiative, visitors can experience special fun activities like camping sites and camping activities, bird watching, picnics, and hikes around the botanical gardens, lakes, and forest. Furthermore, you can play golf, go biking and fishing. As evident in these available activities, the IITA Forest Reserve is a fun place to hang out in Ibadan.
Related: Top Fun Places To Hangout In Lagos Nigeria + Videos
Location
It is located at Oyo road, between Ojoo and Muniyan town, Ibadan, Oyo State.
It sprawls over about 350 hectares of land. It is a centre of rich bio diversity. It is home to about 450 different plant species, 272 birds, 236 butterflies, 48 mammals and about 28 reptiles and amphibians. More are still in discovery.
It serves as a training and research institute for students and professionals of Agricultural research, and is managed by Natural Resource Management department. It has a natural landscaping, and wooded lands, eight lakes, ponds, wetlands and farmlands.
It is best to visit in the rainy season as the forest is in full bloom, and the lush vegetation is better appreciated and the rare migratory birds that stay there albeit temporarily, can be seen.
One can take a forest tour, to learn about different plant species, bird watching, fishing, play golf, take pictures, ride bikes and just listen to nature.
Most of the plant species present in the reserve are medicinal. The facility also has a hotel and restaurants. Small programs or conferences can be organized there with adequate permission from the management.
Cost of hanging out here in Ibadan
Entering the facility is free of charge, but additional costs like a tour guide and other activities may incur cost which will be made known to you.
6) Trans Amusement Park
This is a fun park in Ibadan. It is also called "Trans wonderland". It has a wonderland theme and often referred to as Nigeria's "Disney World". That is why it is in our list of places to visit in Ibadan for a hangout.
This is a park that features a lot of fun rides and wheels. There are a numerous activities to keep you entertained and ensure you have a fun-filled day. Additionally, the park has activities that keep the children engaged and entertained. Worthy of note is the ice-creamery on the premises. This provides delicious treat will further enhance the experience. Furthermore, a well mowed lawn provides a resting area. Relaxing on the soft lawn and basking in the ambience can leave you feeling exceptionally refreshed and invigorated.
It was opened in November 29 1989.
Location
Sango Ojoo road, Ibadan Oyo State.
It features a merry-go-round, ferris wheel, roller coasters, panoramic wheels, flying chain chairs, dragon boats, space station, basket chairs, electric bumper cars and much more.
One can organize a picnic, take pictures and just chill. It's also very children friendly.
Pete's bar, a very notable venue to unwind and have fun is also located inside the park. One can have fun and have a good dream or snacks there.
Cost of hanging out here
Gate fee is just #500. Additional expenses may be incurred when taking rides in the park though.
It is best to visit during weekends, when families come with their kids.
7) National Museum Ibadan
This is known as the National Museum of National Unity Ibadan. It was opened on the 12th of April 2002. You cannot talk of places to visit in Ibadan without mentioning this.
Location
It is located along Alesinloye Area, Ibadan, Oyo.
It houses a vast array of cultural artifacts.
Ones Inquisition about the Yoruba history would be sated, following a visit to the museum. It's one of the top places to visit in Ibadan.The museum is divided into four galleries.
The Unity gallery
The masquerade gallery
The pottery gallery and
The Yoruba gallery.
The Unity gallery is home to objects collected from various parts of the country. These include and not limited to gongs, beads, xylophones, rattles etc
The Masquerade gallery holds outfits of masqurades and spirits from all over Nigeria. The Eastern "mmanwu" and the Western "egungun". It also displays the masks worn by the "spirits".
The pottery gallery, puts on display, a vast collection of ceramic bowls and plates. Example is the Kula.
The Yoruba gallery has relics of ancient Yoruba land and portrays very rich cultural heritage. Some artifacts that are there include carved door posts and door panels, single head drum, the regalia of an old Chief Etcetera.
Visiting this museum, a camera or a phone will come in really useful.
One can visit the galleries, take a history class, or appreciate other beautiful works of art.
Cost.
To gain access to the facility, a ticket fee of #250 for adults is paid and #100 for children.
8) University Of Ibadan Zoological Garden
The zoological garden of the University of Ibadan was built in 1948, by the University of Ibadan Zoology department. It is a place of educational learning, conservation, and protection of animals and tourism.
The UI zoo is a great place to hang out. It offers the opportunity to see in person different animals and species not to mention the refreshing feeling of being outdoors in nature. The zoological garden accommodates various animals including various species of birds, mammals, and even reptiles. Specifically, some animals you can find there includes Lions, Ostrich, Hogs, Alligators, Giraffes, Monkeys, Tortoise, and Camels. In addition, there are a lot of activities you could plan to do as you visit the zoo.
Firstly, it has great picnic spots where you can relax and share a meal in nature, so a picnic is a great idea. Furthermore, you could arrange for an excursion, snap photos and record videos, play games, and connect with the splendor and beauty in nature. Indeed a visit to the UI Zoo will leave you informed about the wildlife as well as refreshed.
Location
It is located along Appleton Road, University of Ibadan, Oyo State, and open 7days a week from 8:00am-6:30pm.
It is home to a number of animals, especially endangered species and plants.
Animals range from amphibians, reptiles, monkeys etc.
While visiting, one should carry along his/her camera to take pictures of the beautiful scenery and nature, presented before you.
There are shops in case one gets hungry. The scenery is also ideal for a picnic as there are large trees which provides shade.
Cost
#500 for adults.
Additional #200 if using a phone to take pictures
#1000 if using a professional camera.
#1000 for a tour guide.
9) Irefin Palace Oyo
The palace was built over 200 years ago by Ba'ale Irefin. It was primarily inhabited by one warrior of the Irefin clan which consists of very powerful warriors. It comes highly recommended in the list of places to visit in Ibadan
Location
It is located along Beere road Ibadan.
It consists of 120 rooms and is presently inhabited by the Irefin family.
It is a historical monument and also teaches a lot about the history of Yoruba land.
It is said to be built with just mud and timber. This puts people in awe seeing as the building is still standing.
One can visit for sightseeing and also for educational purposes. Lots of pictures can be taken too.
Opening hours.
It is open daily from 9:00am-6:00pm.
10) Oke-Ibadan Hill
It is an ancient historical landmark in Ibadan city. It is part of the core history of the people of Ibadan. It is also one of the choice places of interest to visit in Ibadan.
It was formerly known as the Eleleye hill.
According to ancient history, the hill housed the deity that was said to house the deity that protected the people during the war. The deity is "Oke-Ibadan". The hill is still very much revered among the people of Ibadan. It is considered a source of unity and protection among the people of Ibadan.
The "Oke-ibadan festival" also takes place on this hill.
The sight from the top of the hill is very beautiful. The landscape of the city and buildings can be visualized. It is a must see.
11) NTA (WNTV) Ibadan
This was the first television station in Africa. It was previously known as the Western Nigeria Television and presently Nigeria Television Authority.
It was established in the year 1959.
It is close to the states Government house.
The old buildings and communication devices, used when the station first started, are still there, for sightseeing.
The television station has a museum, that houses objects of interest and fascination.
12) Palms shopping Mall Ibadan
Visiting a place without shopping? No. Shopping is compulsory.
Palms city Mall Ibadan was built in 2014 by Persianas properties.
Location
It is located on liberty road Oyo.
One can window shop, shop or just take pictures.
13) Ibadan Recreation Club
It was established in 1902 and was known then as the Ibadan European Club. It used to be an all-British club. In 1950, the name was changed to the Ibadan recreation club.
Location
It is located at GRA, Ibadan North, Oyo.
It is equipped with sand and tar tennis courts, swimming pool, billiards table and a squash court.
There is a mini restaurant and bar where one can wet ones throat. There's also a grill where one can purchase barbecue fish and chicken.
It is a safe environment and perfect for engaging in sports or just sightseeing.
Costs may apply in using the facilities at the club.
14) Ibadan Polo Club
Ibadan polo club is located at 1, Leutemock Cantonment Close, off Eleyele Road, Oyo.
Polo is a game played on horseback. It is sometimes referred to as 'horse back hockey'.
It has a beautiful scenery and perfect for playing or watching polo and hosting events.
One can also relax with family and friends here.
It is a very safe environment and can be perfect for socialization or sightseeing.
It is also the venue for polo tournaments held in Ibadan.
15) Old Oyo National Park
It was named after "Oyo ile" old Oyo.
Location
It is located at the northern part of Oyo.
The park had two reserves, the Upper Ogun and Oyo Ile, but was joined in 1952 into a game reserve and then a national park.
It has a variety of Flora and fauna.
The Ogun river, Owu, Owe drain the southern forest while Tessi river, drains the Northern part of the forest.
Some of the species of wildlife in the park include the patas monkey, buffalo, water buck, bush buck, Roan antelope, warthog, Grimm's duiker, duiker, Colobus monkey, Green monkey etc.
There are lots of fish species to be seen in the rivers and lots of bird species to be seen too.
The park also contains the Ikere gorge dam and other beauties to behold.
It's a perfect venue for sightseeing, bird watching, fishing and of course taking pictures.
There are applicable costs when entering the park.
16. Oke-Ado Mountain.
Though not in Ibadan town, the Oke-Ado Mountain is easily accessible from Ibadan. It is in a community called Ado-Awaye. Now if you are the adventurous type this is a great place to visit. The mountain is flush with astounding unique geography which makes the 2-4 hours hike to the peak definitely worth it.
Unquestionably, one fact that makes the Oke-Ado Mountain a fun place to hang out in Ibadan is the opportunity to see the suspended Lake. Interestingly, all over the world, there are only 2 suspended lakes. One in the USA and the other right here on the Oke-Ado mountain. Therefore if you are in Ibadan you cannot miss this opportunity to visit a unique sight like this.
Conclusion
As we have noted, there are a lot of fun places to hangout in Ibadan. These places offer education, excitement, motivation, rejuvenation, and relaxation. The beauty of the experience itself cannot be fully pinned down. We have to say that seeing is indeed believing. Therefore why not take the step to check out some of these and many more exciting experiences which the city of Ibadan offers?
Ibadan is a beautiful city and there are so many places to visit in the course of your stay there. Asides fun and relaxation, one comes out richer in knowledge about the Yoruba culture, and the history of the Ibadan people. One should be sure to visit one or two of these locations for a thrilling adventure.
Make sure to leave us a comment below.