Curiosity is something most humans have. We wonder a lot. If you have found yourself wondering what are the states in South Africa and their capitals? Or how many states are there in South Africa? What are the capitals of the states in South Africa?
Wonder no more. I too wondered and did a little research. So, in this article, I will be showing you the States in South Africa and their capitals.
Buckle up, cos we have them for you. But before we start, let's look at few facts about South Africa, called SA in short.
Related: List of States in Ghana and Their Capitals (2021 Updated list)
A few Facts SA before we go into States in South Africa and Capitals
South Africa is Officially known as the Republic of South Africa. It comes in as the 23rd most populous country in the world with a population of 58.56 million people as of 2019. It is also the southernmost country in Africa.
.........................
SA as it is popularly called has three capitals. Yes, three capitals.
The executive capital is Pretoria which is the seat of the president.
The judicial capital is Bloemfontein
While the legislative capital is Cape Town.
Another noteworthy fact is that Mahlamba Ndlopfu (formerly known as Libertas) is the official residence of the President of the Republic of South Africa. Just like the white house is the official residence of the United States President. The Mahlamba Ndlopfu is located in the Bryntirion Estate in Pretoria.
The largest city in South Africa is Johannesburg and a major population of South Africans is black. But about 20% of South Africans are white.
Now that we are done with this, let's get into the business of the day.
List of States in South Africa and Capitals (2021 Updated List)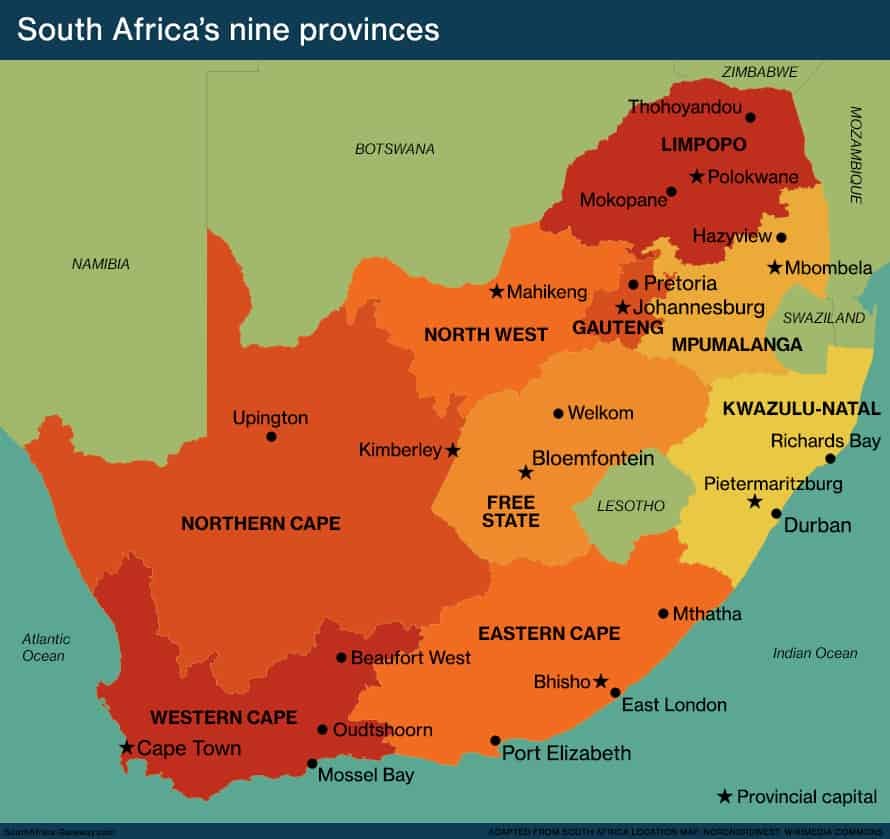 Unlike the United States, where states are referred to as states, or in countries like Nigeria where they are referred to as states, States in South Africa are called Provinces.
.........................
Now that this is out of the way, the table below will show you the states in South Africa, or properly called provinces in South Africa
| | | | | | |
| --- | --- | --- | --- | --- | --- |
| S/N | Province in South Africa | Capital | Premier (Leader of Government) | Area (Square Kilometers) | Population |
| 1 | Eastern Cape | Bhisho | Oscar Mabuyane | 168,966 km2 | 6,734,001 |
| 2 | Free State | Bloemfontein | Sisi Ntombela | 129,825 km2 | 2,928,903 |
| 3 | Gauteng | Johannesburg | David Makhura | 18,176 km2 | 15,488,137 |
| 4 | KwaZulu-Natal | Pietermaritzburg | Sihle Zikalala | 94,361 km2 | 11,531,628 |
| 5 | Limpopo | Polokwane | Stanley Mathabatha | 125,754 km2 | 5,852,553 |
| 6 | Mpumalanga | Nelspruit | Refilwe Mtsweni-Tsipane | 76,495 km2 | 4,679,786 |
| 7 | North West | Mahikeng | Job Mokgoro | 104,882 km2 | 4,108,816 |
| 8 | Northern Cape | Kimberley | Zamani Saul | 372,889 km2 | 1,292,786 |
| 9 | Western Cape | Cape Town | Alan Winde | 129,449 km2 | 7,005,741 |
List of States in South Africa
List of the 9 Provinces in South Africa and their Capitals and population
Related: 36 States and Capital in Nigeria and their Governors 2021 Update
1. Eastern Cape
Eastern Cape is a province of South Africa with its capital at Bhisho. The largest cities in the Eastern cape are East London and Gqeberha. Eastern Cape was formed in 1994. It currently has a population estimated to be 6,734,001. The premier of the Eastern Cape is Oscar Mabuyane
2. Free State
Free State is another province of South Africa or State in South Africa with a population of about 3 million people. The capital of Free State is Bloemfontein and its premier is Sisi Ntombela. The Free State covers a landmass of 129,825 km2 and is considered one of the best provinces in South Africa. As earlier stated, Bloemfontein is the judicial capital of South Africa.
.........................
3. Gauteng
Gauteng is the most populous Province in South Africa with a staggering population of over 15 million inhabitants sitting on just 18,176 km2 of land. It is the state in South Africa with the highest population density. If you are wondering why this Province is the most populous despite its small landmass, here is why.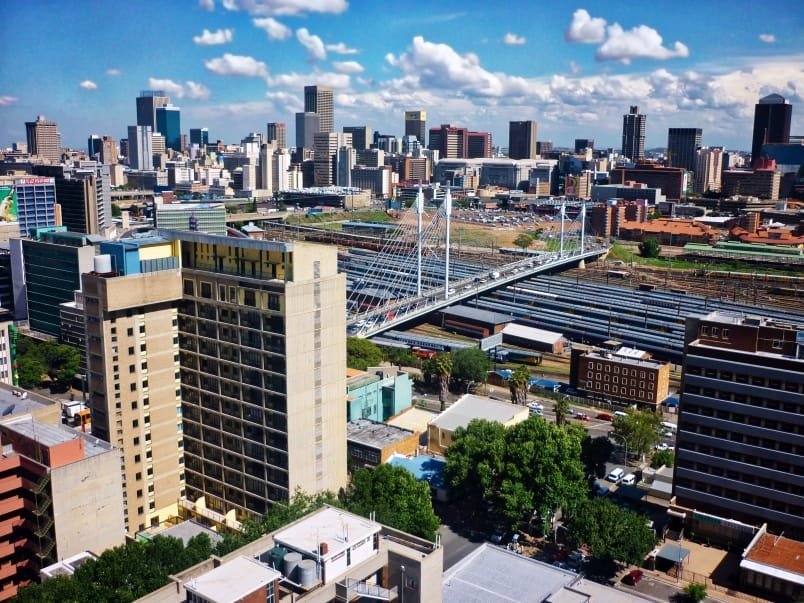 The capital of Gauteng is Johannesburg. Johannesburg is South Africa's largest city. This province is governed by David Makhura who is the premier of Gauteng.
4. KwaZulu-Natal
The fourth South African state or province is KwaZulu-Natal. It has a population of over 11 million people and sits on 94,361 km2 of land. It is Premiered by Sihle Zikalala who is the head of the government. The capital of KwaZulu-Natal is Pietermaritzburg.
5. Limpopo
Limpopo is the fifth State in South Africa and it has a population of almost 6 million inhabitants. It has a population of 5,852,553 as of 2020 estimates. It is the northernmost province of South Africa and it gets its name from the Limpopo River, which borders the western and northern parts of the province.
.........................
Some of the important and popular municipalities in Limpopo include Capricorn District, Blouberg Local, Lepelle-Nkumpi Local, Molemole Local, Polokwane Local, Mopani District, Ba-Phalaborwa Local.
6. Mpumalanga
Mpumalanga is the 6th South African province on our list. Its name is derived from the word "east". It means "the place where the sun rises" in the Swazi, Xhosa, Ndebele, and Zulu languages literally speaking. It sits on a land area of 76,495 km2 which translates to 6.5% of South Africa's total land area.
Blacks mainly from Nguni (including the Swazi and Ndebele) make up ninety percent of the province's total population. The residents mainly reside in rural areas and mostly speak Bantu, a local language. While blacks make up 90% of its total population, whites make up about 10% of the province's population.
7. North West
North West, (not to be mistaken as with the name of the daughter of Kim Kardashian and Kanye West "North West"), is another province in South Africa located around the north-central. It was created in 1994 from portions of Transvaal and Cape of Good Hope provinces.
.........................
North West is bordered by Botswana to the north and northwest, Limpopo province to the northeast, Gauteng province to the east, Free State province to the southeast, and Northern Cape province to the southwest. The provincial capital of North West is Mafikeng and its head of government (Premier) is Job Mokgoro. North West has a population of just over 4 million people. North West has a total landmass of 104,882 km2
8. Northern Cape
Northern Cape is the 8th province on our list. North to its border is Namibia and Botswana. It is boarded by North West, Free State, and Eastern Cape provinces to the east. to the south and southwest by Western Cape province; and finally to the west by the Atlantic Ocean.
Northern Cape was created out of the northern and central Cape of Good Hope province in 1994. Kimberley sits as the provincial capital and is Premiered by Zamani Saul. It has a population of about 1,200,000 people who habit a landmass of 372,889 km2
Also Read 88 Top gangster quotes on love money, loyalty, friends, family, and enemies in 2021.
9. Western Cape
The Western Cape is the final province or State in South Africa on our list. It is located on the south-western coast of the country. It is the fourth largest province among the states in South Africa with an area of 129,449 square kilometers while being the third most populous state in SA with an estimated population of over 7 million inhabitants as of 2020.
.........................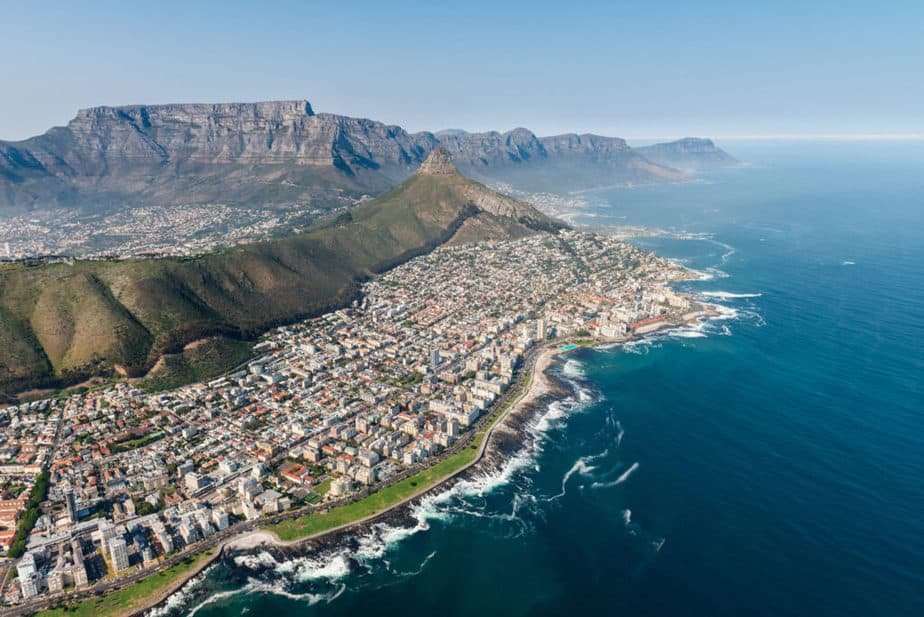 Over 60 percent of these inhabitants live in the metropolitan area of Cape Town, which also happens to be the provincial capital. The two largest cities in Western Cape are Cape Town and George. The premier of the Western Cape is Alan Winde.