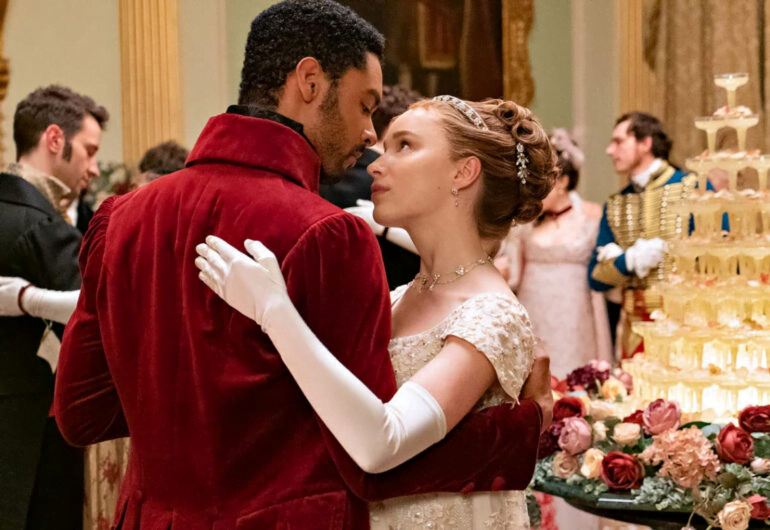 The movie Bridgeton, based on Julia Quinn's series focuses on the many siblings of the Bridgeton family. They lost their father leaving their mum and the eldest son Viscount Anthony to take care of the entire family. The names of the members of the Bridgeton family member are Anthony, Benedict, Colin, Daphne, Eloise, Francesca, Gregory, and Hyacinth.
This season focuses on the life of the eldest daughter Daphne finding a love match. Every year, an annual event is held where the eligible daughters are presented to the queen, and she names which of the young ladies is the diamond of the season.
The enchanting young girl Daphne participated just like other maidens and was surprised to be named the diamond of her season. That being a coveted honor many maidens envied, became the beginning of her woes.
.........................
Daphne wanted a love marriage but that was far from her reality. Being the diamond of the season comes with a privilege. Many eligible men will seek your hands in marriage.
But that did not happen in her case rather it was mostly Lord Berbrooke who she can't stand and was much older than her.
She knows she needs to find a suitor for herself as fast as possible or risk being married to him but no solution comes readily to mind. Until Simon, the Duke suggested that they put up a front as lovebirds to enable him to escape being hooked to any maiden.
Daphne readily agreed to the plan. But we all know that love can be found in unlikely places and that was the beginning of their love story.
.........................
On the other hand, the name Lady Whistledown rings a bell in the ears of everyone and is a nightmare for the queen. Being unknown yet she knows every secret in the entire city and makes sure to publish it for the town to read.
Many people love her but she is a pain in the neck of people like the queen. And the question on many lips is who is Lady Whistledown?
Simon and Daphne's plan worked and Daphne almost secure a marriage proposal with the Queen's nephew, a prince. It took Simon seeing his friend and companion on the verge of an eminent proposal to accept his feeling for her.
Caught in the garden making out with Daphne by her brother Anthony, Simon was asked to marry her which he refused. Anthony had no choice but to ask Simon his close friend for a duel.
.........................
Simon due to his love for Daphne and being aware of her desire to have kids while he has decided to end his father's lineage because of his ill-treatment when he was a kid, preferred to die than marry her and deny her the joy of motherhood.
It only took the intervention of Dapnes to prevent what would have been bloodshed when Simon opened up on his reason for refusing her. And because of her love for him, decide to make that sacrifice to marry him regardless of the situation.
In a bid to make sure nobody knew about the incident, their marriage was fixed in three days. Although Simon wasn't comfortable with this arrangement, he just had to play along.
.........................
After the wedding, the new couple settled into their lives as new couples. And Daphne was able to find out that her husband Simon lied to her about his inability to bear children. This deceit caused a rift between the both of them. But it was a happy ending as love prevailed. They were able to resolve their differences and the product of their love is a beautiful baby boy.