Today, businesses of all sorts, from tiny "mom and pop" shops to enormous global brands, are now using google ads to attract new clients through the biggest search engine on the planet.
However, just because companies are swarming to display advertisements on Google Ads doesn't mean you should do the same.
Reaching potential clients at the right time and place with the correct answers they need is the foundation of digital marketing.
You can achieve this by employing an advertising platform. But it may also be a massive waste of money if your campaign targets the wrong audience or uses irrelevant keywords. Online advertising helps you get to reach customers who use multiple devices like smartphones, smart TV, laptops, desktops, and tablets.
.........................
Google Ad enables you to take advantage of the numerous opportunities that come with internet advertising, regardless of your level of skill.
In this article, we will be discussing how google ads can advance your business goals and the types of google ads for businesses.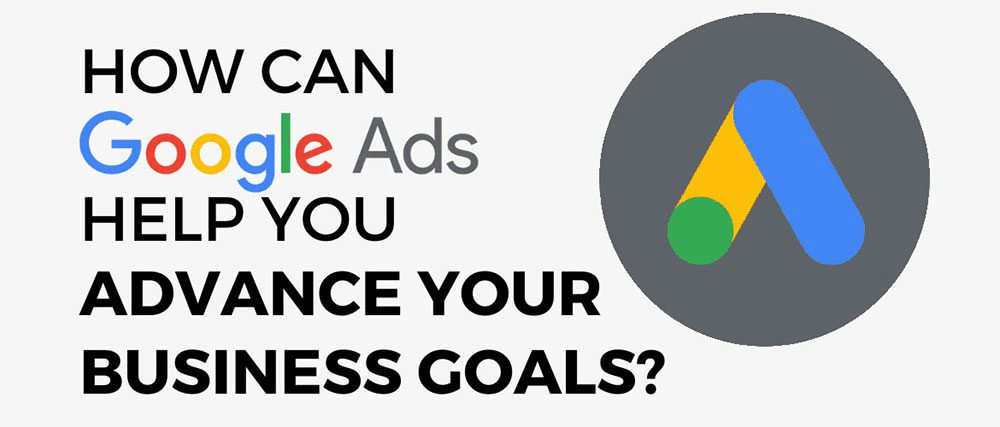 What is Google Ads?
Google Ads is an online advertising platform that allows businesses to market their products and services to potential customers. Ads can be made by businesses to run on YouTube, the Google Display Network, and Google's search results.
Google Ads is the biggest and most popular pay-per-click (PPC) advertising platform. Businesses that use PPC pay a fee each time one of their ads is clicked.
With Google Ad, companies may set a budget for their advertising campaigns. These companies can only be charged when their ad is clicked.
.........................
Additionally, Google Ad provides a number of tools that can improve the targeting of advertisements for businesses, including keyword and location targeting. Businesses can also use detailed analytics to monitor the effectiveness of their advertisements.
In general, Google Ad is a successful way for companies to reach a large audience with their marketing messages.
How Google Ads Works
Learning how Google Ads work is the key to understanding how Google determines which ads to show.
This process is known as auction-based pricing. It considers a number of elements, such as the quality of your ad, and its relevance to the user's search intent. Also, the price you are prepared to pay per click (PPC).
The quality of your ads is determined by the click-through rate(CTR). This is the number of times people see your ad and click on it. The higher your CTR, the higher your quality score. The more probable it is that your ad will be displayed.
.........................
Your ad's position in the search results is determined by the amount you are willing to pay per click when you bid on keywords. A higher bid increases the chances of your d appearing.
In addition, you can target your adverts to specific demographics, interests, and areas in addition.
Google Ad are a useful tool for connecting with prospective clients who are already interested in your products and services.
How Can Google Ads Advance Your Business Goals?
Google ad help you build brand awareness. Based on demographic information and search history, advertisements target certain users. If a user meets the requirements, your adverts will be immediately displayed to them, promoting brand awareness.
Brand awareness is essential when aiming toward the top of the sales funnel. At this point, consumers are looking for knowledge on how to solve their problems. But may not be ready to buy anything.
.........................
You develop trust and goodwill by getting ahead of the customer at this point and answering their questions. In this manner, the possibility that they will select you as a solution provider when they start to move down the funnel and become more prepared to buy is much higher
Google Ad can promote sales in a variety of ways. Google Ad gives you a way to reach customers who are more ready to buy by giving them a direct route to your product.
The consumer will currently be in the consideration and conversion stages of the sales funnel.
As 87% of shoppers start their purchase journey online, your capacity to drive sales, both in-person and online, is dramatically increased when your ads are the first thing people see.
.........................
Google Ads can influence people's decisions to consider your products and services. In order to achieve this, google displays your advertising to users who are already familiar with your brand and are looking for your solution but have not previously explored your website (Within the last 30 days).
By doing this, users will be able to view your offers and contrast them with those of your competitors.
Types of Google Ads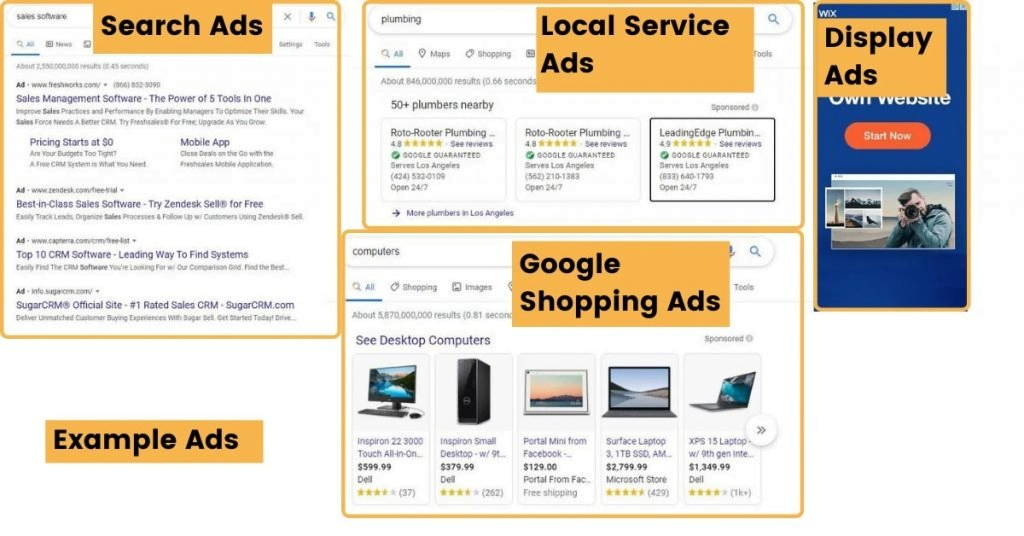 Google as the leading search engine receives lots of queries from people all over the world. To help businesses connect with potential customers, google offers a variety of ad options. There are 5 main types of google ads, the most popular of them is the search ads.
Search ads are a type of online advertising that allows businesses to place their ads on google SERP. When someone types a relevant keyword into the search bar, your ad has the chance to appear alongside the organic search results.
.........................
If you've ever used google to search for something on the internet, you've likely seen a google search ad.
Through the use of Google Display Ad, businesses can advertise their products and services to potential customers on websites across the internet. Display ads can be placed on any website in Google's vast network, unlike common search ads, which are text-based.
On YouTube and the Google Display Network, Google Video Ads can be seen on video partner websites, mobile apps, and game levels. They may come before, during, or after the video content and may be skippable or not. Reaching your target audience with interesting video content is easy with Google video ads.
Google Shopping Ads are a type of online advertising that enables companies to advertise their goods on Google's search engine. Traditional text advertising is displayed alongside google shopping ads, which can be aimed at specific users depending on their spending habits. Nevertheless, they might cost more per click than other types of online advertising.
.........................
The number of individuals using apps is increasing along with the usage of smartphones. Having a mobile app is therefore an added advantage for a business. This offers a special chance for companies to use app ads to reach their target audience. Google App Ad are an excellent way to attract customers to your app.
Conclusion
As the dominant player in online advertising, google ad is an excellent tool for companies to meet their lead generation and conversion goals.
Google ads not only help you advance your business goals. They can also drive sales by giving your business an edge when customers are ready to purchase.
See also Tactics to Gain Engagement on Youtube Channel in 2022
.........................