Living in the exotic city of Dubai brings the next level of thrill and excitement. Apart from visiting the best tourist attractions, enjoying nightlife & unlimited shopping, Dubai brings a lot of relaxation activities like massage in Dubai. These massage centers provide different services to relax your whole body using different therapies & treatments.
In the blog ahead, we will cover the best massage centers in Dubai to get rid of stress & fatigue.
La Beaute Dans Spa
It Feels like heaven! Visit the most famous massage center in Dubai to enjoy the range of the best European & Russian massage spas. The center is placed at the prime location at Hyatt Centric Jumeirah – the 5-star hotel where visitors get premium services delivered by trained professionals. They use the best therapies & spa treatments to bring full relaxation to every visitor.
.........................
This massage center is growing at a faster rate attracting more customers. Core massages in Dubai offered at the center are Swedish relaxing massage, deep tissue, aromatherapy, bamboo massage, facial, six hands massage, couple massage, Swedish relaxing massage, hot stone massage, and Lomi-Lomi massage.
Address: La Mer Beach – Jumeirah – Jumeirah 1 – Dubai – United Arab Emirates
Phone: +971 58 565 0977
European Spa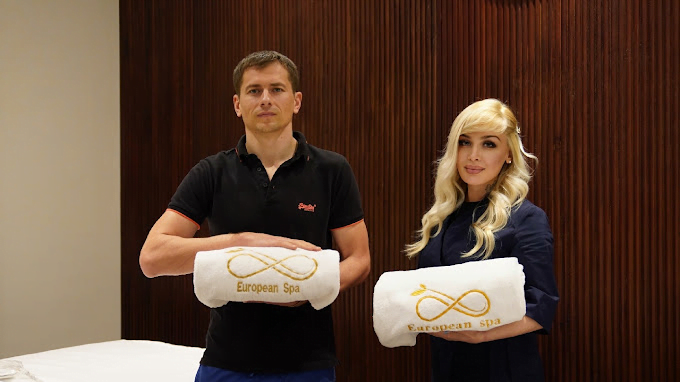 If you want to feel the relaxing atmosphere at the best European massage center in Dubai, this place is for you. It offers premium service quality delivered by highly skilled & organized therapists. It helps every visitor to feel the magic & enjoy the best pampering experiences.
The place is well-versed with several treatment rooms, exclusive couple suites, and shower rooms. A range of services comprises tension relief massage, relaxation aromatherapy massage, revitalizing hot stone, signature bamboo fusion, muscle recovery, healing Hawaiian, and double paradise. Consider this massage center to avail the benefit of special offers and amazing deals on massage in Dubai.
.........................
Address: Sofitel Dubai Jumeirah Beach Residences, The Walk P3 floor – Dubai – United Arab Emirates
Phone: +971 58 213 4017
Yas Beauty Spa
Located in the premium location at the Oberoi Hotel in Dubai, visiting Yas Beauty Spa brings more comfort & relaxation. Here, you can enjoy a lot of spa therapies, such as YAS combination, foam massage, Foot Reflexology, Hand Massage, Head, Neck, and Shoulder Massage, On Chair Massage, Indian head Massage, Thai Massage, Shiatsu Massage, Hot Stone Massage Balinese Massage, and Deep Tissue Massage. The place is known for offering international-grade beauty and spa services.
They look forward to delivering the best quality spa service from around the world and giving them a chance to experience the glitz and glamor of the United Arab Emirates.
.........................
Address: Old Town Island – Downtown Dubai – Dubai – United Arab Emirates
Phone: +971 4 451 3333
Tao Spa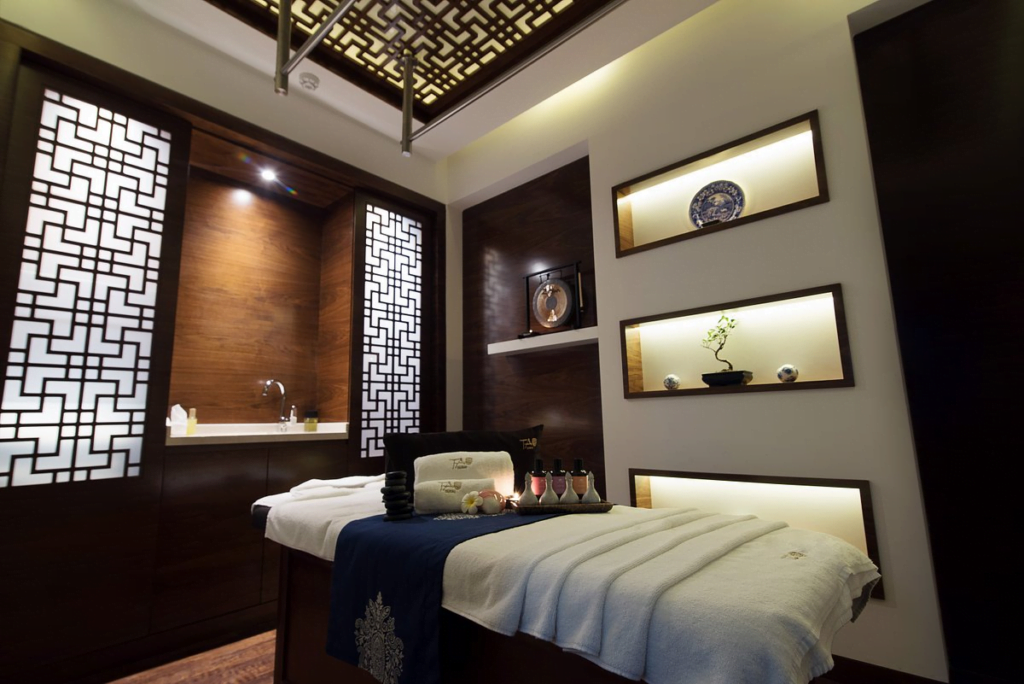 Feel the magic of immense relaxation with Tao Spa! They bring the authentic oriental spa experience exclusively to Dubai. It was founded on the basis of Taoism philosophy to bring balance & harmony to life. The team of Tao Spa uses different traditional healing techniques to enhance beauty & provide healing to the body parts.
With customized treatment, the spa centers aim to share complete relaxation and rejuvenation. Also, the sleek modern design interior of the Spa merges with a natural ambiance of an oriental oasis. It provides a comfortable setting that is perfect for enjoying a variety of relaxing and invigorating treatments.
.........................
Address: The Mall Ground Floor Jumeirah Road Opp Jumeirah Beach Hotel – Dubai – United Arab Emirates
Phone: +971 4 227 2304
The Ritz-Carlton Spa, DIFC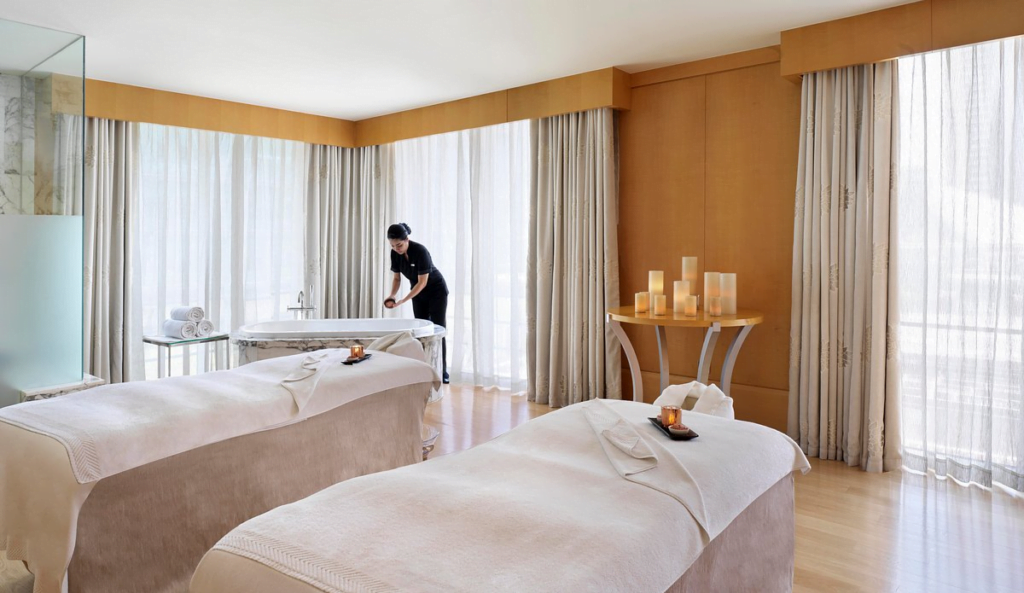 Visit the exotic spa center of Dubai to enjoy a range of therapies & spas. The best services, treatments & amenities at the Ritz-Carlton Spa, DIFC are Body Scrub, Body Wrap, Couples Massages, Facials, Fitness Classes, Fitness Counseling Services, Foot Baths, Massages, Men's Services, Separate Men's & Women's Lounges, Steam Room, and Therapy Bath. Feel the luxurious experience of Dubai while enjoying the best relaxation time at the best spa & Dubai massage centers.
Address: The Ritz-Carlton – DIFC – Dubai – United Arab Emirates
Phone: +971 4 372 2777
Elixir Spa
To relax your mind & body, visit the best spa center in Dubai – Elixir Spa! The place brings the ultimate relaxation with spa treatments in order to rejuvenate the whole body, mind, and even the soul. With an eco-friendly ambiance, this spa delivers quality spa services to take a break from hectic lifestyles & enjoy the therapies. Enjoy deep tissue massage, Swedish massage, feet reflexology, aromatherapy, hot stone therapy, Thai massage, and Thai herbal ball hot compress massage.
.........................
Address: Near SkyDive – Habtoor Grand Resort – Jumeirah Beach Residence – Dubai – United Arab Emirates
Phone: +971 4 408 4266
Perfect Match Spa Club Marina
Best recommended place to sit back & relax enjoying the best massage & spa treatments. The place offers immense silence at the wellness center to feel relaxed, and more energetic, and enhance beauty & vitality. These treatments offer the best chance to feel refreshed with body & soul. Enjoy a different massage, such as hot stone therapy, dry cupping massage, Moroccan bath-free arima therapy, oil-free waxing, or shaving. Visit the spa center to get an effective massage at an affordable price range.
Address: the jewels tower 2 Shop #6 Basement 1 – Dubai Marina – Dubai – United Arab Emira – Dubai Marina – Dubai – United Arab Emirates
.........................
Phone: +971 52 622 8299
Wrapping Up!
To get more detailed information about Dubai massage centers, check out sites like Dubai Local! Get concise information, and authentic details of the best massage centers in Dubai to pick the suitable one for your relaxation.