Have you ever thought about what the Nigerian Maritime Administration and Safety Agency (NIMASA) pays its employees? The NIMASA salary structure is similar to that of other federal government agencies.
NIMASA is a federal agency that supervises every waterway and coastline activity in the country. In addition, they monitor and control all domestic and international maritime activity.
NIMASA is a great place to work if you want a company that pays well. They also have allowances and bonuses just like other government agencies.
This blog post will look at the NIMASA salary structure and what it is like to work in this prestigious agency.
Nigerian Maritime Administration And Safety Agency (NIMASA)
NIMASA is the top maritime agency that is in charge of regulating and supervising shipping.
This agency was created in 2006 due to the merger between the National Maritime Authority and the Joint Maritime Labour Industrial Council. Then, they were both parastatals of the Federal Ministry of Transport.
Advertisements
CONTINUE READING BELOW
The agency was set up primarily to oversee Maritime Labour, Maritime Safety Seafarers' Standards and Security, Shipping Regulation, Pollution Prevention and Control in the marine environment, Promotion of Commercial Shipping and Cobatage activities, domesticated International Maritime Organization (IMO) and International Labor Organization (ILO) Conventions.
Since its inception, it has lived up to its expectations and it is one place where many desire to work.
Duties of Nigeria Maritime Administration and Safety Agency(NIMASA)
This agency is charged with the following responsibilities:
They ensure that shipping and regulations for seafarers and merchant shipping are improved.
They regulate and supervise the certification of seafarers and shipping licenses.
They are in charge of setting safety standards for new NIMASA officers and organizing Maritime training from time to time.
Regulating and ensuring safe shipping during the construction process and transportation.
They conduct maritime searches and rescues.
Give rules and regulations regarding vessels to ensure their security.
They are in charge of conducting air and coastal surveillance.
They prevent maritime pollution.
Formulation and implementation of policies, programs and strategies to promote local ownership and the construction of ships.
Do everything that has to do with the Port and the Flag State.
They provide the highest level of security on water territory in Nigeria.
Also read: Civil defense salary structure: How much do civil defense workers earn?
Advertisements
CONTINUE READING BELOW
What is the NIMASA salary structure?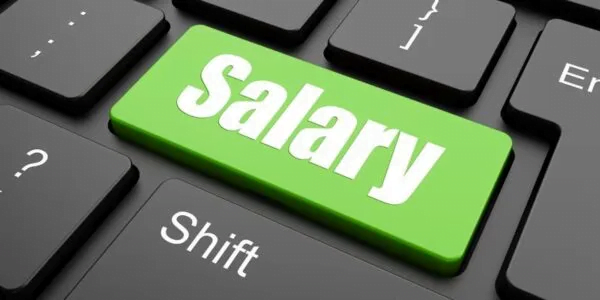 NIMASA is one of the top government agencies that pay well. Their staff is paid according to the Consolidated Research and Allied Institutes (CONRAISS) Salary Scale.
This means that the pay system in the public sector is based entirely on experience and grade level. If you are looking for a good government agency to work for, NIMASA is definitely one.
In the list below, you can find information about the NIMASA salary structure, including how much they earn based on the grade level of each staff.
Entry level salary
Employees at this grade level are paid between N100,000 and N150,000 per month. They receive between N1.2 million and N1.8 million annually.
Grade Level 7
Employees at this grade level are paid N90,000 every month. This means that these employees at this level are paid about one million naira yearly.
Advertisements
CONTINUE READING BELOW
Grade Level 8
Employees in grade level 8 are paid N103,988 per month. So employees at this grade level earn about N1,247,856 every year.
The Nigerian Maritime Administration and Safety Agency pay its existing employees according to the pay system described above. This is before taxes are removed. Although just like other government agencies, this is the basic salary apart from other bonuses and allowances they are entitled to.
Other job positions in high demand in this agency are Senior Marine Officer, Marine Engineering Trainee, Assistant Manager of Harbours etc.
Job Descriptions At NIMASA
To gain employment in this agency, you need to meet certain criteria. These include the following:
The candidate should not be above the age of 35 years.
And must be computer literate.
You should have an Engineering degree or an equivalent recognized by Nigerian Council for Engineering regulation (COREN).
You should have an HND, BSc, NCE, or OND from a recognized university.
The candidate should have a medical fitness certificate.
At least 18 years of work experience after college and a Certificate of Competency (Engineering) from a reputable university.
NYSC Discharge Certificate or Exemption.
The candidate should have a West African School Certificate (WAEC), General Certificate of Education (GCE) or the National Examination Council (NECO)
Additional qualification is an advantage.
Conclusion
Advertisements
CONTINUE READING BELOW
If you have been trying to know the NIMASA salary structure, we hope this blog post has been able to satisfy your curiosity. The agency is undoubtedly one of the most important government agencies in the country and is instrumental to the country's economic growth. It is surely a great place to work.