Do you want to subscribe to MTN night plans for data but don't know the subscription code? Do you need the list of the available MTN midnight bundles? If yes, make sure to read this article to the end.
Specifically, after the demise of the popular MTN Extra cool tariff, there was no MTN night sub in existence again for the vigil users. Not long after, we saw one of their updates re-introduced the night plans but under the auspices of MTN Pulse tariff.
As such, the present MTN night browsing is meant for heavy subscribers because it is not free, it comes with a price. That is, to enjoy the MTN midnight bundle, you will sacrifice your sleep from 11 pm – 6 am with N25 or N50 subscription plan!
.........................
Also, Read Top 15 Richest Pastors in The World and Their Source of Wealth.
About MTN Midnight Bundle
Most importantly, the MTN night plan is also known as the MTN Pulse or MTN Pulse night browsing, simply because it works only on the MTN Sim card that is on the MTN pulse tariff plan.
This MTN night sub is specifically meant for telecommunication users who need an additional data bundle to stream or download movies and all sorts or for those who have important things to browse about but can't afford the heavy daylight subscription plans.
Hence, many people out there have been enjoying using the MTN N25 night plan for 500MB for the past 6 years (July 2016) because it is the cheapest MTN night sub amongst others.
.........................
Also Read UBA Transfer Code: UBA USSD Code For Transfer, Airtime, Data & Bills, etc.
MTN Night Plans Browsing Time
The MTN midnight bundle is referred to as MTN night browsing for a reason. That is to say, the bundle can only work at night between the late hours of 11 PM down to 6 in the morning every day, with weekend days and public holidays included.
List Of MTN Night Plans and Their Subscription Rates
1. 500Mb MTN Night plan for N50.
2. 250Mb MTN Night plan for N25.
Note that there are no more midnight bundles for 200naria. You can only access 2GB of data using any of the options listed above. Once you get 2GB of data, you won't be allowed to get more data for the midnight bundle.
.........................
How to Subscribe to Mtn Night Browsing Using the USSD Codes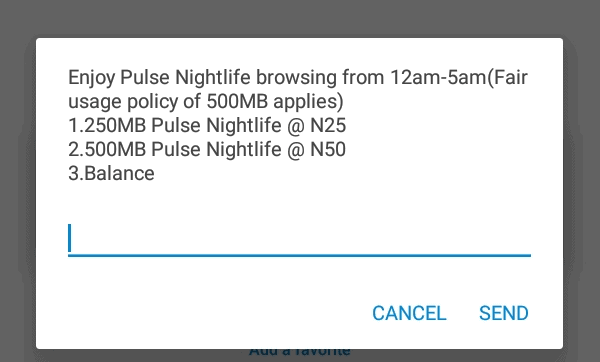 To enjoy the nightlife MTN pulse bundles, you must be an MTN pulse tariff plan user, if you are, however, using another tariff plan different from this, you can migrate to MTN pulse by dialing *406# on your phone and following the prompts instructions.
Having migrated to MTN Pulse Nightlife, the following are the respective USSD Codes to subscribe to the various MTN midnight browsing plans:
How To Subscribe For The N25 MTN Night Bundle Using USSD Code
The minimum amount you can use for the MTN midnight data sub is N25. Hence, to subscribe for the 250MB worth of data, kindly follow the steps below:
Dial *406# on your phone;
Press 3 to choose the MTN nightlife plan;
Press 1 to select the N25 naira for 250MB data plan;
Press 1 to confirm your operation.
Subsequently, you will receive a message from MTN informing you that your MTN midnight plan sub is successful. This data is only valid for 7 hours (11 pm to 6 am), after which it will expire.
.........................
How To Subscribe For The MTN N50 Midnight Data Plan
Dial *406# on your phone dialer;
Reply to the prompt instruction by pressing 3 to choose the MTN nightlife plan;
Then press 2 to choose the N50 for the 250MB data bundle;
Reply 1 to confirm your midnight browsing data bundle purchase.
Thereafter, you will get a message from MTN telling you that your night browsing subscription plan is successful.
Note that the maximum amount of data you can enjoy using this method is 2GB in a single night.
Related: First Bank Transfer Code: Money Transfer, Airtime, Data, FAQ, and More.
How To Subscribe For The MTN Nightlife Plan Using Text Message
Other than using the USSD code, you can activate the MTN night sub using a text message. To enjoy this service, follow the guidelines below:
.........................
For the N25 for 250MB worth of data, send NT1 to 131
For the N50 for 500MB worth of data, send NT2 to 131
Note: To activate this MTN night browsing bundle, you must have nothing less than N50 on the MTN Sim card you'll be using for the service.
Related: 5 Cheapest & Best Data Plans For Netflix in Nigeria
How to Check Your Midnight Data Bundle Balance on MTN
After you must have activated the MTN night sub, you may want to monitor the data plan to know how much you've used and what you have left as your data balance. Hence, to check your MTN Night bundle data balance, kindly follow the steps below:
Dial *406#;
Press 3 to choose the MTN nightlife plan;
Press 3 to check your night data balance.
In a few seconds, you'll receive a prompt message on your phone screen showing you what you have left as your night data plan balance.
.........................
Conclusion
If there's any network provider in Nigeria that is doing wonders in terms of call tariff rates, browsing speed, and affordable subscription plan, you will agree with me that it's the MTN Telecommunication service.
As such, the above discussed on MTN night plans for data and calls tariff are what is obtainable in the MTN Telecommunication industry as of the time of writing this. Remember, MTN rolls out updates on their tariff now and then, as such the subscription codes are subject to change.