Do you want to know how many presidents Nigeria has had since its independence? This article highlights the list of Nigerian presidents from 1960 to the present.
During the colonial era, from 1914 until 1960, the Queen of England presided over the affairs of Nigeria through an indirect rule system. But once Nigeria gained independence in 1960, indigenous Nigerian presidents took control of the country's affairs.
The history of Nigeria is not complete unless we mention the leaders and their impact on the land.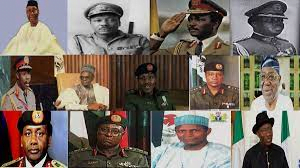 Here are the Nigerian presidents we have had from 1960 until today.
List of Nigerian Presidents
1. Dr. Nnamdi Azikiwe
Chief Benjamin Nnamdi Azikiwe was the very first president Nigeria had as a federation. He served in the office alongside Alhaji Abubakar Tafawa Balewa as the head of state from October 1, 1963, until January 16, 1966, during the coup.
...........................
He was one of the well-known figures on the front lines fighting for Nigeria's independence in 1960.
Though Nigeria had its first prime minister, Alhaji Abubakar Tafawa Balewa, who was elected as the head of government through a political alliance formed by the National Council for Nigeria and the Cameroons and the NPC on October 1, 1960, it didn't have a president until it adopted a new constitution and became a republic in 1963.
He was born on November 16, 1904, and died on May 11, 1996, at age 91, in Enugu state, where he was buried.
2. Major Gen. Aguiyi Ironsi
Following the coup he spearheaded in 1966, Major Gen. Thomas Umunnakwe Aguiyi Ironsi became the succeeding president. He is regarded as the leader who established Nigeria's unitary government system. However, the system of government did not last long since he was killed in a coup on July 29, 1966. He was the first military Head of State in Nigeria.
...........................
Aguiyi Ironsi joined the Nigerian Regiment at age 18. He later joined the Nigerian Army as a private in 1942 and was promoted to Major General in 1964. On January 16, 1966, he became the Nigerian president.
3. General Yakubu Gowon
The assassination of Major Gen. Aguiyi Ironsi established Yakubu Gowon's government in 1966 after a successful military coup. According to history, he is the youngest leader Nigeria has ever had. At age 31, as Nigeria's youngest military chief of staff, he seized power in July 1966 and ruled from August 1, 1966–July 29, 1975.
His administration established the first 12 states in Nigerian history. And his government was preoccupied with keeping Nigeria united during the civil war (1967-1970) following the regional tensions caused by the January and July 1966 coups d'etats. He was the leader of Nigeria during the Civil War.
...........................
4. General Murtala Mohammed
General Murtala Ramat Mohammed established his government after successfully overthrowing Yakubu Gown in a coup in 1975. However, he was killed in an abortive coup attempt on February 13, 1976, when his car was ambushed in Lagos traffic. Members of Dimka's failed coup assassinated him. Murtala Mohammed ruled Nigeria from July 29, 1975, to February 13, 1976.
5. General Olusegun Obasanjo
The death of Murtala Mohammed ushered in the rule of Gen. Olusegun Matthew Aremu Okikiola Obasanjo. He was chief of staff during the Murtala R. Muhammed regime before being appointed as the country's military leader after his death.
Olusegun Obasanjo took over on February 13, 1976, to complete the plan of his predecessor's vision for the country and handed over power to a civilian government on October 1, 1979.
...........................
Obasanjo joined the Nigerian Army in 1958, and his administration is regarded as one of the most successful in Nigerian history. Most of Nigeria's military achievements are attributed to his administration, mainly because his administration restored civilian rule in the country.
6. Alhaji Shehu Shagari
Alhaji Shehu Usman Aliyu Shagari was Nigeria's first democratically elected president after a series of military successions. His election gave him the sole right to exercise full executive powers after the Obasanjo government handed power over to him. This historical event established Nigeria's Second Republic. He ruled from October 1, 1979, to December 31, 1983, with Alex Ekwueme as his vice president.
Research reveals that Shehu Usman Shagari was among the most well-liked people in the NPN (National Party of Nigeria) before he was elected President of Nigeria. He was actively involved in the country's development after entering politics in 1951.
...........................
His acknowledged contributions included being the country's minister of economic development from 1959 to 1960, where he accomplished much, and being a World Bank governor and a member of the International Monetary Fund (IMF) committee of twenty.
7. Major Gen. Muhammadu Buhari
Major General Muhammadu Buhari and Major General Tunde Idiagbon were chosen to lead the country by middle and high-ranking military offices after a successful military coup d'etat on December 31, 1983, which overthrew the then civilian President Shehu Shagari. They both ruled from December 31, 1983, to August 27, 1985.
Muhammadu Buhari was already a Nigerian Military Training College student when he was 19 years old (NMTC). At the age of 20, he was promoted to the second lieutenant and assigned to be the Platoon Commander of the Second Infantry Battalion in Abeokuta. During his presidency, Buhari was a crime fighter. He despised corruption and did everything he could to combat it. His mission to fight corruption continues as the current president of Nigeria.
...........................
8. General Ibrahim Babangida
General Ibrahim Babangida, also known as IBB, is one of Nigeria's eight presidents from 1960 to the present. According to research, he was an exceptional leader and one of the best military presidents the country has ever had. His military rule started on August 27, 1985, and ended on August 26, 1993, when he resigned.
He was addressed as "military president" in Nigerian politics, and history still remembers him as Nigeria's only military leader addressed by that title. His administration attempted to reverse the unpopular policies he inherited in office and introduce more liberal economic policies.
Babangida was born on August 17, 1941. He enlisted in the Nigerian Army on December 10, 1962. Babangida, according to research, was a key plotter of military coups.
...........................
9. Ernest Shonekan
As a result of the pressure mounted on Babangida to hand over power to a civilian government, Nigeria witnessed the Third Republic. The third republic of the country started when Babangida handed over power to another president, Ernest Shonekan, on August 26, 1993.
Chief Ernest Adegunle Oladeinde Shonekan had Moshood Abiola as the country's vice president, and they both ruled together until the military took over in November of that same year.
Chief Ernest Adegunle Oladeinde Shonekan was the first lawyer to become the president of Nigeria. Shonekan previously served as the chief executive of the United African Company of Nigeria PLC, a sizeable Nigerian conglomerate. His reign as the president only lasted from August 26 to November 17, 1993.
...........................
10. General Sani Abacha
General Sani Abacha became the military head of state in Nigeria when he overthrew the government of Ernest Shonekan in 1993. He ruled from November 17, 1993, to June 8, 1998, when he died of a heart attack.
Abacha's style of leadership was dictatorial in nature. His leadership was unlike any previous Nigerian leader, and his policies and decisions were heavily criticized in Nigeria and other parts of the world. Before he became the head of state, Abacha served as a platoon and battalion commander during the Nigerian Civil War.
11. General Abdulsalami Abubakar
General Abdulsalami Abubakar was another very active military personnel in the Nigerian Civil War before he became the head of state, succeeding General Sani Abacha after his death. He served as Nigeria's head of state from June 8, 1998, to May 29, 1999.
...........................
Abubakar was in the Nigerian Air Force from 1963-1966 and later joined the Nigerian Army in 1966 and served until 1999.
12. Olusegun Obasanjo
The government of Olusegun Obasanjo ushered in the Fourth Republic of Nigeria. Though he was once the head of state in Nigeria during the military regime in 1976, he won the election as a civilian on May 29, 1999. He became the second democratically elected president to exercise full executive powers after Alhaji Shehu Shagari. The vice president at that time was Atiku Abubakar. They both ruled the country for eight years, from May 29, 1999, until May 29, 2007.
According to research, President Obasanjo is one resilient leader among the list of Nigerian presidents that were able to win some Western support for strengthening Nigeria's budding democracy.
...........................
13. Umaru Musa Yar Adua
Umar Musa Yar'Adua was the next elected president after the tenure of Olusegun Obasanjo ended. On April 21, 2007, he took over power from Obasanjo after being declared the winner of the controversial Nigerian presidential election held on April 21, 2007. However, his rule did not last because he died due to his sickness on February 24, 2010.
Before becoming the president of the country, Umaru Musa Yar'Adua was once the Kastina State Governor. He is among the Nigerian presidents who had won the state governorship before becoming president.
14. Goodluck Ebele, Jonathan.
Following the death of Yar'Adua in 2010, Goodluck Ebele Jonathan, the then vice president, was granted the power to continue the seven-point agenda policy framework of the former president. He ruled for five years, from May 29, 2010, to May 29, 2015, and contested again in the presidential election in 2015. However, he lost to Muhammadu Buhari.
...........................
His administration was plagued with ongoing security problems and was heavily criticized. However, on the list of Nigerian presidents, he is still regarded as one of Nigeria's best leaders. Before he became the vice president, Goodluck Ebele Azikiwe Jonathan was a one-time governor of Bayelsa state.
Goodluck Jonathan is currently the chairperson of the newly inaugurated International Summit Council for Peace (ISCP). He is also known as the "ambassador of peace."
15. President Muhammadu Buhari
President Muhammed Buhari is the current president of the Federal Republic of Nigeria. He took over power from Goodluck Ebele Jonathan when he won the presidential election in 2015.
Muhammadu Buhari was once the Governor of Bornu state and the head of state who ruled during the military regime from 1983 to 1985. Just like then, his administration is entirely focused on eradicating corruption.
...........................
However, with the constant insecurity and economic meltdown plaguing the nation during his tenure in office, some citizens consider President Muhammadu Buhari's admiBuhari'son ineffective. Muhammadu Buhari has ruled Nigeria since May 29, 2015, until date.
16. Bola Ahmed Tinubu (To be sworn in)
Note that the election was probably stolen. To early to tell.