Are you in dire need need of the best solar inverters in Nigeria and their prices? If so, kindly read on.
It is 2023, and Nigerians still complain about the constant power cuts in the country. Nigeria is a global leader in using renewable energy sources despite its inadequate electricity infrastructure.
In the last few years, solar inverters have become a popular type of infrastructure for renewable energy all over the country.
Buying an expensive inverter system and using PHCN or a generator to charge it can be annoying. Solar inverters are quickly becoming the standard replacement for traditional inverter sets.
A solar inverter converts the power generated by your solar panels into usable energy for your home's electronics.
While only a few manufacturers control the solar inverter market, understanding how inverters function is essential for ensuring that your system is optimized and meets your needs.
Choosing the best solar inverter for your needs involves carefully considering several factors before purchasing one.
There are several varieties of inverters, each with its own set of capabilities and characteristics.
.........................
Since we know how valuable a solar inverter can be, we've compiled a list of the best solar inverters in Nigeria.
What Does A Solar Inverter Do?
The solar inverter is a crucial part of any solar energy system. It changes the PV solar panel's direct current (DC) output into an alternating current (AC).
When there is a blackout, the battery can power electronics and appliances in the home.
The fed-in alternating current can power your home's electronics.
Most manufacturing facilities, retail establishments, residential homes, academic institutions, and other organizations are actively exploring the possibility of switching to solar energy as a viable alternative power source.
The average lifespan of a solar inverter is 10–20 years. Also, they come with an extended guarantee that typically lasts between 5 and 12 years, with some manufacturers even offering paid service extensions to that period.
These benefits make sense when you consider how solar inverters excel over our current power solution (generators), such as their low environmental impact, portability, and low need for repairs and upkeep.
.........................
Factors To Consider Before Buying a Solar Inverter in Nigeria
If you're looking for the best solar inverter in Nigeria, keep the following in mind:
1. The Efficiency Of The Solar Inverter
One factor that can affect the cost of solar inverters in Nigeria is how efficient they are. However, your solar system's overall output is proportional to your inverter's efficiency.
An inverter's efficiency is the percentage of its output power relative to its input power under standard operating conditions.
When evaluating efficiency, it is essential to consider how much DC power can transform into usable AC power.
Depending on the inverter type and manufacturer, solar inverters can have an efficiency of anywhere from 85% to 90%.
An inefficient solar converter would waste 20% of the energy produced by the panel array as heat.
You'll lose only about 5% of your power if your inverter's efficiency is 90%. Thus, you should carefully read the inverter's specs before purchasing.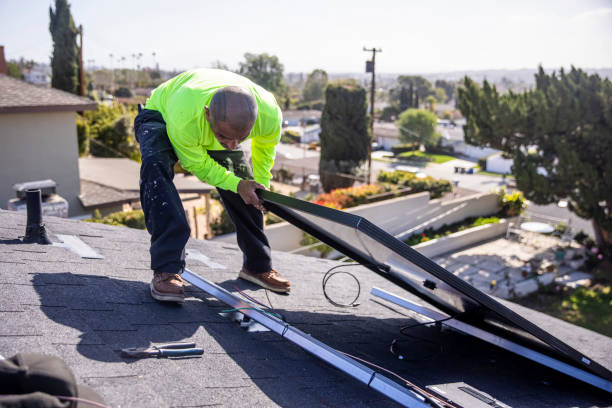 2. Safety Measures and Warranties
Nigeria's solar inverter's warranty and safety features are essential when choosing a solar inverter. The warranties on inverters are just as solid as those on solar panels.
.........................
You should check the security and see what it covers before purchasing an inverter you have never used before.
The built-in protection of an inverter is also essential to consider before making a purchase. The output of a high-quality inverter is safeguarded against short circuits, overcharging, excessive temperatures, etc.
3. The Type of Solar Inverters
Before settling on one for your solar PV system installation, you should do homework on the many inverters available. There are different solar inverters, like a hybrid or standard inverters.
In this context, the term "standard inverter" refers to the most popular type of inverter, which come in various sizes and power outputs. One of the newest developments in the solar PV industry is the hybrid inverter.
Hybrid inverters are the most effective equipment for solar systems since they combine the features of many inverters.
Best Solar Inverters You Can Buy In Nigeria And Their Prices
Getting a solar inverter can be the best solution to end the constant power supply issue. Some of the best solar inverters you can get in Nigeria are:
.........................
This inverter is an advanced, high-performance solar inverter that requires minimal setup time. During a power outage, the inverter will automatically convert to solar and battery mode.
Additionally, during the day, your home appliances are powered by solar, allowing you to maximize your savings. It has features like anti-dusk equipment and a pure sine wave solar inverter for extreme conditions.
Powering delicate equipment like PCs, TVs, and more is a breeze with this advanced, space-saving solar hybrid inverter, thanks to its pure sine wave output.
You can get it for around 434,000 – 450,000 Naira.
2. Felicity Solar 10KVA / 48V Solar Inverter
Felicity's FL-IVP10048-10000VA solar inverter is the best solar inverter to get if you want to install a solar power system.
It's the most advanced off-grid inverter, allowing you to manage your electricity production and consumption independently. This solar inverter's usefulness extends beyond the domestic sphere and into the commercial and manufacturing sectors.
.........................
Some features of this solar inverter are that it has high and low voltage safety, is available with remote control for your convenience, has battery chargers to maximize battery life and power, and is grid-friendly.
You can get this inverter for about 965,000 – 1,663,430 Naira.
3. PowMr 4200W / 24V Solar Inverter
This solar inverter is one of the top inverters in hybrid and off-grid solar systems.
It has protection against over-voltage, over-temperature, overload, and short circuits and has a rating of 4200W, making it a good choice for use in homes and recreational vehicles.
It is compatible with all battery technologies and has four distinct operation modes. As long as the solar panels can charge the batteries, they can operate independently of the grid in a "Solar only" way.
It has a solar priority where solar energy comes before charging the batteries; the grid system comes on only when solar power is unavailable.
The hybrid model is suitable for domestic use. The grid system will kick in to fill the gap when solar panels don't produce enough energy.
.........................
If you want to cut down on the cost of your electricity bill and still enjoy the benefits of both modes, this is the one for you.
The average price for this inverter is about 411,00 – 412,000 Naira.
4. Bluegate 10KVA / 192V Solar Inverter
This inverter is also one of the best solar inverters in Nigeria, which you can use as a backup power source in commercial buildings, industrial facilities, and construction sites.
You can also use it for power-intensive devices such as medical equipment, elevators, and other similar devices.
This BlueGate high-capacity inverter supplies clean electricity for an extended period using energies from the sun, utility companies, or generators.
The average selling price of this model is between NGN 480,000 and NGN 500,000 in Nigeria.
5. SunGoldPower 3000W / 24V Solar Inverter
This solar inverter is perfect if you need a solar inverter with U.S.-style electrical plugs and appliances. This 3000W inverter performs similarly to the larger 4000W PowMr model but with a lower AC output of 110V / 120V rather than 220V / 240V.
.........................
It has the same range of four settings, from entirely off-grid to a hybrid system. If you're looking for a solar inverter, this is one of the better options because it works with practically every battery.
You can get it for about 445,000 – 446,250 Naira in Nigeria.
6. Prag 3.5KVA / 48V Solar Inverter
Numerous countries use Prag solar inverters, and the company has received multiple accolades for the quality of its products. The 3.5kVA / 48V solar converter from Prag is a top choice for homes, offices, and even factories.
You can use this solar inverter to reliably run your home's electronics, your office's computers and other machinery, gas station pumps, and any other industrial machinery you need.
You can purchase it on the company's website or local e-commerce platforms for NGN 197,000 – 198,000.
7. Mercury 5KVA / 24V Spirit Plus Solar Hybrid Inverter
Mercury 5kVA/24V inverter and 5KVA inverters will serve you well if you require a solar inverter for use in a medium to big office or business, to charge power-intensive equipment, or for use in your home.
.........................
Featuring inverter, AC, and solar charger modes, this inverter is built to last and make your life easier by providing power for an extended period without interruption.
You can buy this online or at a local store for about NGN 245,000.
Conclusion: Best Solar Inverters In Nigeria And Their Prices
You can finally end your power/electricity supply problems with one of the best solar inverters we've highlighted above.
There are a wide variety of solar inverters on the market, so it should be easy to locate one that fits your price range and energy needs, no matter how big or small they may be.
If you want your inverter to last for many years, you should invest in high-quality solar panels and batteries. We hope this article serves as a guide for you when choosing the best inverter for your needs.