Are you a Nigerian and need the guidelines on how to apply for the Nigerian Youth Investment Fund (NYIF)? If your answer is in affirmation, then read on.
In a bid to eradicate unemployment and fight poor and unhealthy living among the Nigerian youths, the federal government has deemed it fit to bring in this program.
The program is specifically dedicated to invest in the innovative skills, ideas, and talents of Nigerian youths and as such, turning them into successful entrepreneurs.
Not limited to that, the Federal Government is also ready to make skillful and innovative Nigerian youths employers of labour and wealth creators.
Application guidelines for the Nigerian Youths Investment Fund Program
Ideally, the Nigerian Youth Investment Fund (NYIF) program was an initiative sprung out of the Federal Ministry of Youth and Sports Development (FMYSD).
And it is heavily funded by the Central Bank of Nigeria (CBN). The application portal for the youth investment fund program is now open.
Interested youth can now go to the portal access as much as N3 Million Credit Facility. Remember, the program is targeted — only — at young and business minded entrepreneurs.
.........................
Plus, if you are not interested in getting as high as the NEW Million, you can request for just N250, 000 (being the minimum).
At this juncture, you must note that the Nigeria youth investment fund (NYIF) program it loan to is 5 good years and the interest rate is 5% P.A.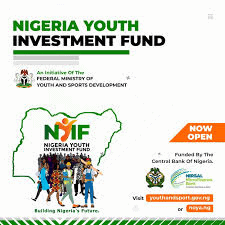 The eligibility criteria for the Nigeria Youth Investment Fund 2021
Knowing how to register for the Nigeria Youth Investment Fund program is one thing and knowing the criteria or your eligibility status is another.
But before then, be informed that there are two categories of business enterprises owners that are considered for this loan.
There are informal business owner and registered business. Thus, the eligibility criteria will, therefore, differs from each other.
Hence, you must take note of the following criteria for selecting candidates for the NYIF;
1) Informal business enterprises
These selection criteria is specially meant for individual or sole business owner who so desire to access the youth investment fund.
.........................
Such person must possess all of the following requirements:
Must be a citizen of Nigeria, youth and within the age 18 — 35 years of age;
He or she must have an operational business domiciled in Nigeria;
An unregistered business owner who is a Nigerian with a business enterprise domiciled in Nigeria can also apply for the fund;
He must not have been convicted of any crime related to finance in the last 10 years;
He must have a valid and active Bank Verification Number (BVN); and
A Local Government indigene certificate evidencing your claim.
2) Formal business enterprises
The second categories of youth that can access this empowerment fund program are Nigerian youths with registered business enterprises.
And the selection criteria for this category also include:
A day and formally registered business enterprises (Youth owned enterprises) with the Corporate Affairs Commission (CAC);
A completed questionnaire or provision of your business plan summary;
A Training Certificate approved by the FMYSD EDIs evidencing same;
A valid and active Bank Verification Number (BVNs) of the enterprise Directors; and
Provisions of your business enterprise Tax Identification Number (TIN).
Nigerian Youth Investment Fund Active or Eligible Businesses
As an innovative Nigerian youth, you can access these youth empowerment funds so far you meet the above discussed requirements or criteria.
.........................
However, there are specific classes of business enterprises that are given — even more — than others.
These activities or businesses include:
Technology and Innovation
Agriculture and other related value chain
Green Economy and Renewable energy sector
Logistics and supply chain
Who are the applicants that are not eligible for the Nigerian Youth Investment Fund?
Below are the set of applicants that are eligible to apply for the youth investment fund program.
Among them are;
Any beneficiary or beneficiaries of the NMFB loans (e.g Targeted Credit Facility (TCF) and Agribusiness/Small and Medium Enterprises Investment Scheme (AGSMEIS) that have been paid are not eligible;
All beneficiaries of other Government loan programs that are yet to be paid are not eligible to apply
How to apply for Nigerian youths investment fund
Having explained some key and important things that are there to know, we will be discussing the NYIF application procedure guidelines now.
To apply for the youth loan scheme, kindly go to the official portal of the said scheme here and filled out the application form.
.........................
Note that the information to be supplied about yourself should be based on the information you provided on noya.ng.
More so, your participation in the youth investment fund program will involve all of the following steps;
Step 1: Get Trained
All interested Nigerian youths in the NYIF must attend a compulsory entrepreneurship training approved by the Federal Ministry of Youth and Sports Development (FMYSD) EDIs.
Step 2: Apply For Loan
Only the successfully trained youths and prosperous applicants can proceed to NIRSAL Microfinance Bank (NMFB) official portal to apply for the empowerment loan.
Step 3: Submit an Application
All Nigerian youths investment fund scheme eligible applicants must submit their application successfully on NIRSAL Microfinance Bank (NMFB) portal.
Step 4: Approval
The NIRSAL Microfinance Bank will conduct a loan assessment using the Risk Assessment Criteria & program guideline.
After that, they will make appropriate decision and send the list of the recommended applicants to CBN for the final approval.
.........................
Step 5: Disbursement
Once the CBN reviews all the applications before it, it will give final approval and the fund will be disbursed to NMFB.
Once the NIRSAL Microfinance Bank receives the fund, it will disburse it accordingly to the chosen applicants.
In conclusion, be enlightened that you should only fill the online application forms that made available at the official Nigeria Youth Investment Fund websites nyif.nmfb.com.ng as well as noya.ng.
Don't register or supply your information online elsewhere other than the two mentioned portal. Internet fraudsters are real, be informed please.
If you have any problem or issue related to how to apply for Nigerian youth investment fund, kindly state the problem using the comment box below.