Are you in need of a comprehensive guide on how to make puff puff? If yes, kindly read this article to the end as it is specifically meant to guide you through.
But before then, it is vital to state that making Nigerian puff puff requires a lot of attention and patience in other to get the desired results.
You will agree that the Nigerian Puff Puff is originated from Nigeria and it is usually spongy, deep and well fried in a spherical shape.
If fried by a professional, it is often soft, oily and springs back to its original touch as though you just pinch a foam sponge. Do you just picture that in your head?
Well, learning how to make puff puff is one thing, deciding on what to do with skills acquired is another.
...........................
If you are here to learn how to make Nigerian puff-puff so that you can venture into the business, then listen to all I'll be saying henceforth attentively.
How to make Nigerian puff puff
Apparently, making the Nigerian Puff Puff recipe is quite easy and at the same time complicated. That sounds odd, isn't it?
Yes, it is easy because mixing of the ingredients is somewhat straight-forward and it is very easy to see through that one is doing the right thing.
However, making puff puff will only become complicated the moment you refused to follow the steps to be explained later on detailed on.
Ingredients for making Nigerian puff puff
...........................
Without any doubt, like any other dishes, you cannot make the puff puff in a vacuum. There's need for ingredients.
As such, below are the needed ingredients for making, at least, 20 balls of puff puff. Note that you can't do without one of these items.
They are all vital and important to making a decent puff puff ball. These ingredients include:
250g (2 cups) of Plain Flour;
2 teaspoons of baking yeast;
Half teaspoon ground nutmeg;
Half cup of granulated sugar (better still, measure it to your satisfaction);
Lukewarm water to mix the ingredients; and
Things to know before mixing it;
Before you go into the final stage of making the Nigerian Puff Puff, kindly check your yeast if it is like a paste or tiny pebbles.
...........................
Whatever it is, make sure to mix it with lukewarm water and then set it aside. Of course, you will need to add it later to the batter in the cause of mixing.
However, if the yeast is well grinded as in powder form, gently add it to the puff puff solution while adding other dry recipe to the flour.
Directions on how to make Nigerian puff puff
The following are the steps or directions to be followed on how to make spicy Nigerian puff puff: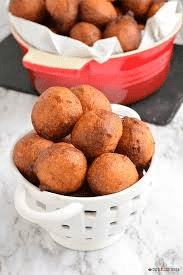 Step 1: Add puff-puff solutions
The first thing you are expected to do here is to pour all the puff puff ingredients in a bowl. Of course, you need to measure the quantity to your own satisfaction.
...........................
Put the flour, sugar, ground nutmeg, powdered yeast, and salt in one bowl and mix them all together.
Add small water to the ingredients poured in a bowl and mix everything with a washed and cleaned hands till all the ingredients are blend together.
Step 2: Add lukewarm water
After, kindly add the lukewarm water you mixed with yeast to the puff puff if solution.
If you want it to rise, make sure to use warm water in the course of mixing the puff puff ingredients.
There and then, mix the ingredients incessantly until you are satisfied that the batter is smooth and not too watery.
And of course, the batter mix should be way much thicker compare to pancake batter and the likes.
...........................
Step 3: Cover the mixed ingredients to rise
Having add all the necessary ingredients needed to make the puff puff together, cover the bowl — whether with an aluminum foil or the likes.
Then, leave the mixed ingredients for 45 minutes to rise. Once it is okay to fry, you will see the Puff Puff batter risen in quantity with some air bubbles.
Step 4: Pour Oil into the frying pan
The next thing to do having left the puff puff batter alone for some minutes to rise up is to fry it.
To do this, please coconut oil in a frying pan or deep pot — deep enough to give room for the puff to fries — and allow the oil to heat up.
...........................
Be informed that the vegetable oil should be 3 inches deep, at least. This is to give room for the puff puff to take a spherical shape once scooped into the vegetable oil.
But before you pour the puff puff ino the oil, make sure to check if the oil is hot enough before scooping the puff puff into it.
You can do this by dropping a bit of the puff-puff batter into the fire. If it sizzles or even comes up to the oil surface, then it is hot enough.
The implication if the vegetable oil is not hot enough before you pour the puff puff batter is that, it will go down frying pan and stay there.
...........................
Step 5: Frying proper
Once you noticed that the oil is hot enough to start frying, scoop some puff puff batter to your desired size with your hand and press the batter.
The moment you pressed it tight to your hand, it will come out in between your index finger and thumb.
Make sure to scoop in more of the batter into the frying pan in as much as there is space without any issue of overcrowding.
Related: How to make Nigerian doughnuts at home
Step 6: Flipping the puff-puff
Once you notice golden brown colour at the underside of the puff puff, endeavor to flip the puff-puff ball to enable the topside of the ball be fried too.
Lastly, immediately the both sides of the ball have turned golden brown, pack out the puff puff balls with scooping spoon and place them in a sieve.
...........................
Conclusion
Other than the above steps explained, there is no other special way or method on how to make puff puff in Nigeria.