As a user of Ecobank, do you know that your bank has a unique Ussd Code that can be used to transfer money and make payments?
Well, this article will just explain to you how to use your Ecobank Ussd Codes without problems.
You can even transfer money from your own Ecobank account to other banks in Nigeria using USSD code via your mobile phone.
This article about Ecobank Ussd Code is just a guide on how you can easily make transfers to friends, or anyone via your mobile phone with Ecobank Ussd transfer code.
Related Article: First Bank Salary Structure: How much does first bank staff earn?
Ecobank USSD Unique code.
The unique Ussd Code for Ecobank is *326#. With this unique Ussd Code for Ecobank, you can make all transactions right on your mobile phone without data!
The advantage of using the Ussd transfer code or unique Ussd Code for Ecobank is that it's charge free.
No charges.
It hardly has any errors.
First, you have to activate your Ecobank Ussd Transfer Code.
How to activate Ecobank transfer code| How to transfer money with Ecobank USSD code.
As I said before, the code that can be used to transfer money through Ecobank and also carry out all mobile banking transactions with Ecobank is *326#.
With this Ecobank unique Ussd code, you are allowed to do the following:
Send money,
Pay bills,
Top-up airtime,
Subscribe Data,
And so on all from your mobile phone without using a byte of data!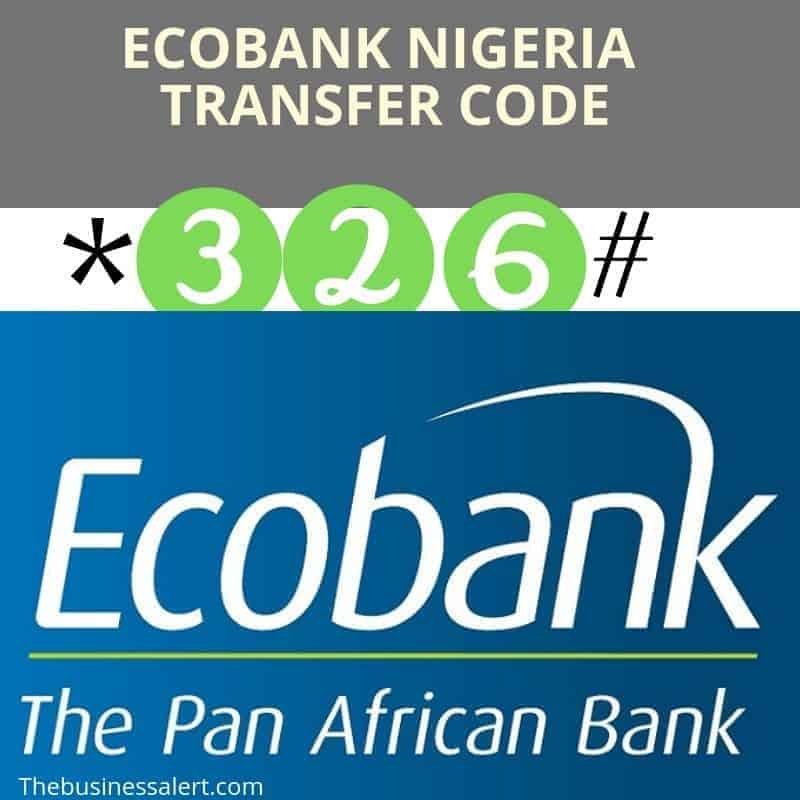 Benefits of using the Ussd Transfer code from Ecobank
Using these codes have a lot of advantages and is even better that the Ecobank Mobile Banking Application.
Why is the Ecobank Ussd Code better than the Ecobank Mobile App?
The code's not a time-waster.
It's a very fast and secure process to send money, pay bills, top-up airtime and conduct all processes that the Ecobank Mobile banking Application can do.
It is simple to use because it works on all types of mobile phones, Button Phones, Android or iOS.
With the code *326#, you can even easily open an Ecobank account if you don't use an Ecobank Bank account yet.
As I said earlier, you don't even need Internet access to carry out any transaction, all that you need is a working Sim Card in your phone with good network signal or "Service" as you call it.
You can also easily check your account balance at whatever time you wish to provide you have a good network signal or service on your mobile phone.
Service is available to all networks, MTN, Glo, Etisalat and Airtel Network users.
The Ussd Code is also available at all times and can be used when needed.
Also Read: Access Bank Salary Structure: How Much Does An Access Bank Staff Earn?
Activating the Transfer Code | How to activate Ecobank transfer code.
It's a bit funny how people have this kind of notion that they need to activate the transfer code before it can be used.
Well, this is just what you need to start using the Ecobank Transfer Code:
To make everything simpler, when you have a bank account with Ecobank, you can use the code.
All you need to do is to follow the right process.
After you've registered your phone number with Ecobank, the bank will then automatically associate you with the USSD money transfer platform.
Simply put, you don't need to register or activate the transfer code or the Ussd code before you can use the Ecobank transfer code because you can use it by dialing *326# from the phone number you used to register with Ecobank.
Below are the details you need to make a transfer of fund make payments:
How to Transfer Money with Ecobank USSD code *326#
Anytime you wish to make a transfer of funds or you wish to make a payment without the Mobile banking App (which uses data), just follow these steps to transfer the amount of money you want.
Related: Fidelity Bank Salary Structure; How Much Do Fidelity Bank Staff Earn?
Steps to follow to Transfer Money with Ecobank transfer code.
Dial *326# on your mobile phone in the dialer.
From the list of options, enter transfer funds.
You will then be required to input the account number of the recipient(receiver of the money). Input it.
Select the recipient's bank from the list of banks you see on your mobile phone, like GTB, Diamond, Access, and so on.
The name of the recipient is displayed, confirm if it's the person you want to send the money to.
If it's not, cancel it and start all over.
Press next.
Your password will be required, to confirm if you are the one trying to make the transfer.
Input your four-digit transfer PIN and click send.
Your payment has been done!
You will receive an SMS from your bank informing you that your transaction was successful, and giving you a debit alert.
And that's it!
You now know how to use the Ecobank transfer Code or the Ecobank Ussd Code!
If there is any confusion, please leave us a message on the comment section.