Cincinnati is a city teeming with life and culture, and those who seek adventure will be satisfied by the city's numerous exciting sights and delicious cuisine.
While in Cincinnati, you may get excited about various meals and cuisines. Cincinnati has some of the best foods in the country, and you'll have a great time trying it all. You could easily spend your whole trip exploring the local cuisine.
This article reveals the best restaurants in Cincinnati to use as a guide while making travel plans.
30 Best Restaurants In Cincinnati
Below is a list of the best restaurants in Cincinnati.
Sotto is a casual underground restaurant with a romantic setting that serves new takes on traditional Italian food. This underground restaurant has peeling wallpaper, brick walls, and dim lighting, which might seem strange for one of the best restaurants in Cincinnati.
Here, the atmosphere is rustic and mysterious, which makes your meal more enjoyable. Also, they have a great menu that you will enjoy. You can try the Insalata and the Gnocchi Alla Romana for appetizers.
.........................
Pick the Wood-Fired Branzino with some Potatoes and Asparagus for your main dish. As the last course, try a couple of Ricotta Doughnuts.
2. Jeff Ruby's Precinct
Jeff Ruby's Precinct is a high-end steakhouse that has been around for a long time. It serves the best meats, seafood, and wines. When you eat in this restaurant, you'll find a unique mix of historic architecture and a warm, modern atmosphere.
When you eat good food under a row of stained-glass windows, there's something magical about it. You can start with Boomer's Blue Crab Bisque and Florida Stone Crab Claws.
Then, eat the Steak Burrow with Spaghetti Carbonara and Roasted Asparagus.
Jeff Ruby's Steakhouse is a fancy art deco restaurant that serves fresh seafood and steaks that have won awards. When you eat at this restaurant, you'll feel like a star.
From its vast crystal chandelier to its relaxed, old-school club feel, it's hard to find a more luxurious restaurant downtown. You can start with the Oysters Rockefeller or the Freddie Salad.
.........................
Next, order a plate of the Steak Collinsworth with Jeff Ruby's Baked Macaroni and Cheese.
4. Orchids At Palm Court
Orchids At Palm Court is a high-end Hilton Cincinnati Netherland Plaza restaurant that serves New American food with French influences. This restaurant has a large room to enjoy fine dining in Cincinnati.
Its retro, classic design, white-clothed tables, and very high ceilings make it easy to feel pampered as you eat well-presented plates. It's great for going out on fancy dates.
You can try the Orchids House Salad and the Blue Cheese Beignet. Before the Snapper in Miso Truffle marinade, have a bowl of the Butternut Squash Soup. They have Chocolate and Banana Sabayon as the last course.
5. Eagle Food and Beer Hall
Eagle Food and Beer Hall is a cozy modern restaurant that serves classic Southern dishes, sandwiches, craft beers, and cocktails. This stylish gastropub is a great place to meet up with friends if you're looking for a fantastic place to hang out.
.........................
It has a simple but stylish look, and its significant portions of comfort food are sure to please everyone.
Start your meal with some Brown Sugar Bacon and Hush Puppies. Next, get a plate of Fried Chicken with white cheddar grits and coleslaw.
6. Tony's Of Cincinnati
Tony's of Cincinnati is a modern restaurant with a long list of wines and upscale versions of classic American steakhouse dishes. Undoubtedly, this is one of the best restaurants in Cincinnati. It has a classic, easy-to-understand menu and a classy atmosphere.
You'll be able to relax in the large, simple room and pay attention to what's on your plate. You can try the Alaskan King Crab and Tony's Greek Salad. Then continue with a plate of Pappardelle Fra Diavolo and a New Zealand Rack of Lamb.
7. Bakersfield OTR
Bakersfield is a busy restaurant where you can buy Mexican street food, tequila, and American whiskey. This is the place to be if you're looking for cozy restaurants near you that are great for chilling out.
.........................
This storefront restaurant is made to look classy but not too fancy. Considering how small it is, you're sure to have a good time catching up with friends here. You can try the Short Rib Queso if you don't want your stomach to growl.
Next, get the traditional Carnitas Taquitos before you get the larger Pollo Diablo. Pair these with a glass of the Pomegranate Paloma, a cool drink.
8. Turf Club
At the Turf Club, you can get burgers, seafood, sandwiches, and a drink from their well-stocked bar with their unique twist on everything. You can tell that this neon-lit Cincinnati institution is one of the best restaurants in Cincinnati just by looking at the outside.
This location is always filled with people, and the atmosphere is electric because of the numerous lights. The TTC's Famous Filet Mignon Chili is a great meal to start with. Alongside the Nueske Ham Sandwich with a side of onion rings.
9. Nicola's Ristorante
Nicola's is a stylish and cozy restaurant that serves modern Italian food in a warm setting. This rustic restaurant's comfortable atmosphere and country-style decor will make you feel at home while you enjoy the fresh flavors of the Italian dishes here.
.........................
Also, this is a great place to meet up at any time of the day, whether for lunch or dinner. You can start with the Grilled Octopus and the Boucheron Goat Cheese. Then, eat the Short Ribs with the Maccheroni Three Cheese.
10. Taste Of Belgium OTR
Taste of Belgium is a casual restaurant that serves American classics with a Belgian twist and cocktails made by hand from morning to night. When you eat at this storefront restaurant, keep it simple and fun.
It has a small, bright dining area with lots of art on the walls, which is the perfect place to start your day with a good meal.
You can share some dishes with your friends, like Belgian Chicken Wings and Mac & Cheese. You can get the Beltucky Hot Brown before the New York Style Cheesecake for dessert.
11. Moerlein Larger House
At Moerlein Lager House, you can eat modern American food and drink craft beers. Inside this restaurant's elegant dining room, you can enjoy drinking beer and eating tasty snacks. You'll even be able to watch the game on a row of TV screens.
.........................
If you want something more relaxed, you can also eat outside on the balcony and relax while looking at the city bridge. You can pick the Chef's Charcuterie to share before a plate of Mediterranean Pasta. If you're hungry, go to the German Sausage Fest instead.
12. Taft's Ale House
Taft's Ale House is a casual brewpub serving steaks, salads, and hand-made beers in a renovated old church. The beautiful look of this pub shows that it is a mix of the past and the future.
The furniture is made of polished wood, and the room is bright and large. But the black metal details everywhere make the place look more modern. Choose a few appetizers like the Deep Fried Wings and Loaded Tots.
Then, keep things easy and simple with a 27 Burger and Mac & Beer Cheese.
13. Incline Public House
The Incline Public House is a casual restaurant that serves American gourmet classics and craft beers from the area and has a great view. Not only does this restaurant have some of the best food in Cincinnati, but it also has one of the city's best views.
.........................
This is an excellent place for low-key dates where you don't want to get too fancy. But at the same time, you would like to take it to the next level with the view of the city. Start with Fire-Roasted Meatballs and Truffle & Parmesan Tots to curb your hunger.
You could also get pieces of the W 8th Street Pie for your friends and the bourbon BBQ Salmon for yourself.
14. Nada
Nada is a stylish, high-end restaurant that serves small plates, margaritas, and cocktails inspired by Latin food. This small restaurant looks fancy and fun because of its bright chairs, patterned floors, and colorful walls.
It's a unique and beautiful place to stay while eating huge portions of your favorite Mexican food. Small plates, like the Jalapeno Cornbread, Hongos Taco, and Chicory & Candied Pecan salad, are a fun way to try new tastes.
The Peruvian Chicken is a good choice for larger plates that two people can share.
.........................
15. JeffRiby's Carlo and Johnny
Jeff Ruby's Carlo & Johnny is a Chicago-style restaurant from the 1930s that serves top-quality prime steaks, fresh seafood, a raw bar, and live music. Eating in this restaurant's fancy room makes you feel like a wealthy person from a different time.
It is cozy and stylish with its red leather booths, hanging chandeliers, and patterned carpeted floors.
Choose the Braised Short Ribs and the Classic Caesar Salad as your first course. Barrel-Cut Filet Mignon with Bourbon Peppercorn Sauce, Potato Hasselback, and Classic Creamed Spinach will fill you up. Finish with the Butter Pier a la mode.
16. Boca
Boca is an elegant, high-end restaurant that serves Italian and French flavors in new ways. Enter this fancy bistro through the red door, and you'll see why it's one of the best places to eat in Cincinnati.
The old-world charm of the dining room, with its soft Victorian furniture and sparkling crystal chandelier, will make you feel like royalty as you eat the delicious food.
.........................
Share a few small plates, like the Pommes Souffles and 'Boca Oysters, with the people at your table. For your main entree, go for the Cappellacci di Giano.
17. Alfio's Buon Cibo
Alfio's Buon Cibo is a cozy, classy place to eat Italian food with an Argentinean twist. This restaurant has a relaxed vibe that you can feel.
The red walls and white tablecloths make the place look more mysterious and stylish. Choose the Tomato Mozzarella Salad and the Four Empanadas. You can also continue with a plate of mashed potatoes and pistachio-crusted salmon.
18. Primavista
Primavista is a classy restaurant with a romantic atmosphere that serves Italian classics that are both vegan and gluten-free. There's no question that this beautiful restaurant is one of the most popular places to eat right now.
Who can beat a glass of wine and a clear view of the city? Because of the city's beautiful views, this is where you can be sure your date will go well.
.........................
Start with a simple dish like Bruschetta and pass the Caesar salad around the table. Also, you can choose a plate of the Veal Saltimbocca for yourself.
19. Vincenzo's
Vincenzo's is a family-run restaurant with a casual atmosphere that serves Italian dishes and wines from late afternoon until night.
This restaurant is at the top of the list when you want to eat traditional, authentic Italian food. It is both cozy and fancy. You're sure to have a great time here with its dimly lit room, beautiful bar, and large settings.
Start with the Fritto Misto and the Funghi Con Salsiccia. After this, order the Ravioli Arrastao, the Contadina, and House Salad. Finish the meal with Panna Cotta.
20. Krueger's Tavern
Krueger's Tavern is a casual restaurant that serves sausages, in-house-made burgers, and canned craft beers.
You could eat your delicious plates inside the industrial-chic pub or on the small balcony outside for a more relaxed atmosphere.
With your cold pints, have some Sauerkraut Balls and Hot Beer Cheese. Get a plate of Krueger's Burger with French fries if you want something more filling.
.........................
21. Dewey's Pizza
At Dewey's, a casual restaurant in the Midwest, you can get gourmet pizzas, salads, calzones, craft beers, and wine. Go to this restaurant if you're busy today and want something simple.
Its menu is easy to understand and familiar. It is great to bring the whole family because there are flavors for everyone, regardless of age.
Share a meal with your table, like the Peppercorn Ranch Salad, and a few pizzas like Socrates' Revenge, Southwest BBQ Chicken, and Caprice.
22. Lonely Pine Steakhouse
Lonely Pine Steakhouse is a casual restaurant that serves fresh cuts of meat, wines, and cocktails made with ingredients from the area. This small restaurant has light-colored walls and light-wood furniture that make it feel like home. It is an excellent place to hang out with friends and relax.
Its mid-century modern design adds to its overall look and makes it a great place to take trendy #foodstagram photos.
The Bread Service and Ranchero Chili are for everyone at your table to share. Then choose the Petite Tender in Herb Butter with Asparagus and Fingerling Potatoes.
.........................
23. Nicholson's Tavern and Pub
Nicholson's is a traditional pub that serves Scottish-American food, craft beer from the area, European ales, and spirits. If you want to celebrate your birthday in style, this Tavern is one of the best restaurants in Cincinnati.
The bar's beautiful black and wood colors, exposed brick walls, and impressive round bar make it a nice place to hang out on your big day.
Start with the Ploughman's Bread and the Scotch Egg. Then, choose a cup of the Cock-a-Leekie before a plate of Nicholson's Fish and Chips.
24. Via Vite
Near Fountain Square, Via Vite is a modern restaurant that serves authentic Italian food and wines. This stylish restaurant is a great place to eat because it has windows that go from floor to ceiling and let in natural light.
Even though the place is big, it is also cozy. While eating here, you can enjoy a clear view of all the tall buildings.
.........................
Start off with Mama's Eggplant Parmigiana and Burrata Panzanella. Next, eat the Lamb Shank with a plate of Lobster Tortellini Al Nero.
25. Catch-a-Fire Pizza
Catch-a-Fire Pizza is a popular restaurant serving food cooked over a wood fire and craft beer, wine, and cocktails. This casual restaurant is an excellent place for people who like simple food. Here, it's all about how good your pies taste, so if you're here, get some pizza.
It's also nice to eat here around sunset when the sky changes colors. Start with the Grain of Truth Salad, then have a plate of the Simmer Down Piadina with orange juice. Or you can get a Buffalo Soldier pizza and Wood-Fired Wings before a dish of Sticky Toffee Pudding.
26. Tickle Pickle Restaurant
Tickle Pickle is a cozy restaurant that serves burgers, sides, shakes, beers, and desserts from noon until late at night. This place is popular because it has bright blue walls and a mid-century modern feel.
You'll also have fun taking pictures from every angle to share on your social media accounts. After you eat the Goetta Van Fleet, eat the Free Bird Salad and the BreadZepplin Burger. Remember to pair these with a simple Vanilla Ice Milkshake.
.........................
27. Mazunte Taqueria
Mazunte Taqueria is a busy restaurant that serves street food from Mexico, homemade salsas, beers, and other drinks. The trendy country-industrial chic style is fun, bright, and just what you want after a long day at work.
Even though the tacos are served simply, it's heaven to eat them. Ensure you don't miss them. You can start by ordering Chicken Soup, Chips, and Salsa. Then fill your stomach with a plate of Tacos, Dorados, and Mexican rice, and get a glass of Horchata.
28. Northside Yacht Club
The Northside Yacht Club is a gastropub with a nautical theme. It serves house-smoked meats and vegan, vegetarian, and gluten-free options. This pub differs from others in the area because it has low lights, dark wood furniture, and a beautiful piece of art on the ceiling.
Here, you can relax in the small, cozy room and feel like you're in a James Bond movie because of how classy it looks.
The extra-large Double Smash Burger comes with fries and will fill you up. You can also get the Smoked Wings and Creature Fries, which are both tasty.
.........................
29. Parts & Labor
Parts & Labor is a restaurant that serves smoked meats, sandwiches, salads, and sides from noon until 8 p.m. for pick-up or delivery. Parts & Labor is one of the best restaurants in Cincinnati, especially if you want to try many different kinds of food.
The food at this restaurant is also a mix of dishes from different cultures, so it will be fun to decide which ones to try today and which ones to try next time you come.
You can start with the Fried Mac & Cheese Bites. Then get a BBQ + Rice Bowl with pulled pork, rice, and vegetables.
30. Taglio
Taglio is a full-service restaurant with a relaxed atmosphere that serves traditional pizzas from New York and Detroit, salads, craft beers, wines, and cocktails. You can have a hearty brunch if you choose pizzas with already-known flavors.
The bright windows that line your wall make the room feel cleaner and more radiant. This place is good for meeting up for lunch or dinner.
.........................
Combine the Appetizer Trio with the Apple Pecan Salad and a few pizzas, like the Deluxe, Spanish + Ricotta, and BBQ Chicken.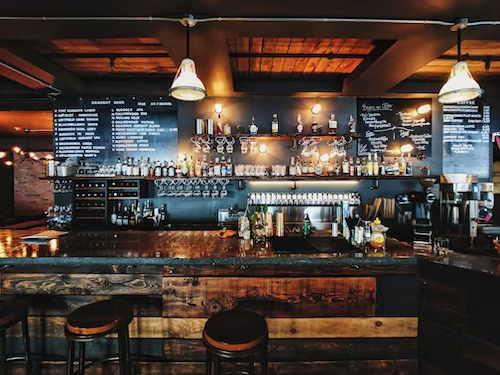 Conclusion
Even though German immigrants founded the city, food from around the world has made its way to Cincinnati. This post lists the 30 best restaurants you can try with your family and friends today. We hope you find this post helpful.