Most people only know Afeez Owo as a prolific Nigerian movie actor and director but on this page, you will find out more about him.
Where is Afeez Owo from?
Afeez Abiodun popularly called Afeez Owo is from Iseyin. This town is one of the most popular settlements in Oyo State, Nigeria.
It's located about 100km away from Ibadan, the capital city of Oyo State.
Early Life
The thespian was born on April 12 (the year is unavailable at the moment) and he had his primary school education at St. Paul Anglican School, Idiroko while his secondary education was at Faramora Secondary School in Oyo State.
Career
As far back as when Afeez was in primary school, he has always had an interest in acting. During this period, the report says he wrote a drama titled, "Kokoro aiye."
After his secondary school, he left for Lagos in the mid-1980s in search for better opportunities and thankfully, he connected with Razaq Olayiwola popularly known as "Ojo opa gogo" who was also a native of Afeez's hometown. Razaq Olayiwola's influence afforded him the opportunity to be a part of the Yoruba movie industry and this privilege has promoted his to where he is today.
.........................
The prolific actor began movie production in the year 2000 and he's produced a number of movies. His maiden production was the movie titled "Majen Sinwon Waiye." The movies below are some others he has produced afterward:
Adurotoluwa (2001)
Abusi Edumare (2002)
Yonu simi (2003)
Agbalam (2004)
Eje tutu (2005)
Gbenren meje (2006)
Oba bi Olorun (2006)
Ifé owó (2008)
Eekan soso (2009)
Ipinu mi (2016)
In addition to producing movies, Afeez Owo also features in other movies. Overtime, he has acted in more than fifty movies including Iwa Ose Meji, Kostrobu, Oloto ati Bada, Omoge Lekki, Ega and so on.
Afeez Owo's Marriage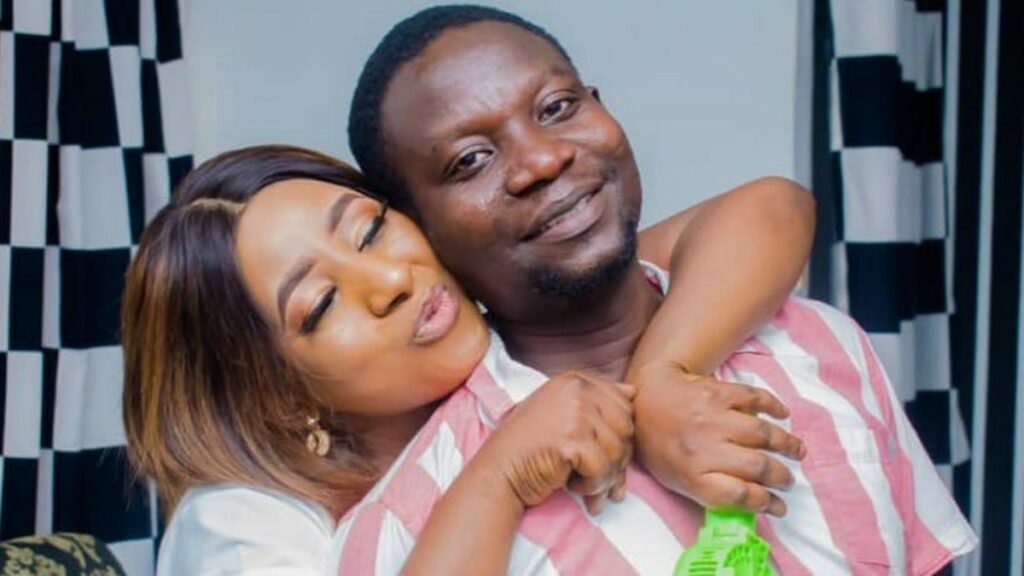 Mide Martins is the wife of Afeez Abiodun. His wife is the daughter of the popular late Nigerian actress, Funmi Martins. They got married in
Mide opened up concerning how their relationship started. Afeez was Funmi Martin's manager when she was alive but at that time, there was no romantic relationship between himself and Mide.
After the demise of Mide's mother, they got so close but still, Mide regarded Afeez as her elder brother.
.........................
So, when he asked her out Mide said she initially rejected the request.
From her words, she confessed it sounded strange and he asked Afeez if he was okay.
Furthermore, her initial response to him was that such an affair wouldn't be possible but as time went by, she began to be more conscious of some admirable qualities Afeez possessed.
Contrary to the notion of many ladies, Mide said the qualities she noticed were not related to how wealthy or physically appealing he was. Instead, he was reliable, faithful, easy-going and caring. As a result, she decided to give him a chance in her life.
Going forward, she also shared how their marital relationship had been, especially their romantic life.
Mide mentioned that she's a kind of wife that does all she can to ensure other ladies do not appeal to her husband.
She then appealed to all married women to always have a quality "bed" time with their husband so they wouldn't have any cause to go astray.
.........................
Afeez Owo's Children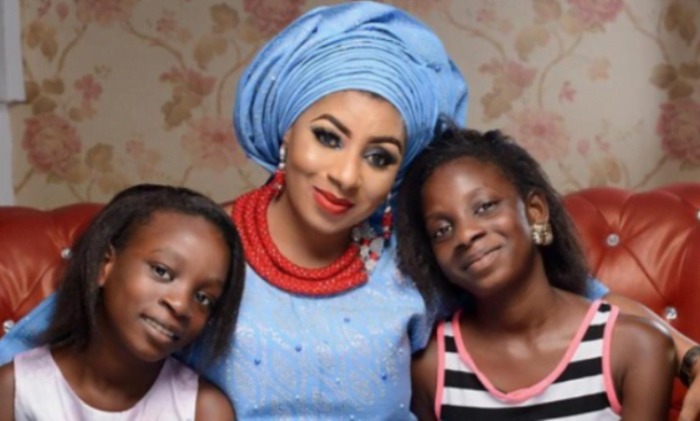 Mide Martins and her husband have two beautiful daughters together. Their names are Anuoluwapo Abiodun and Omotola Abiodun.
Outlook
Many times, there had been discussions about how Mide's husband looks. Some say he's not a match for his wife. They thought someone who looks more appealing should have the beautiful Mide.
However, Mide appeared not to be ever bothered about what people thought about her husband's appearance. Overtime, she's taken pride in the number of years their marriage has lasted.
Is Mide Martins still married to Afeez Owo?
It's very easy to come to a conclusion that the couple has gone their separate ways. This is because of the infidelity saga that rented the air sometimes back. The news about Mide Martins extramarital affair with MC Oluomo truthfully almost instigated an end to their union.
This case erupted some form of fracas between the two lovers and it was reported that Afeez Owo left the house, leaving behind his wife and his two children. He was reportedly away for three months.
.........................
However, recent research shows that the couple still have their marital vows intact and they are currently living as husband and wife.
Did Afeez Owo give birth to twins?
No, he didn't. Although he has two lovely daughters with his wife, the two of them are not twins; one is older than the other.
Anyway, the insinuation came as a result of the picture he posted on his Instagram page. In this picture, he held a set of twins and as human, people thought his wife had just delivered twin babies.
However, he communicated on the same platform that the picture was only a way to show his admiration for twins.
Wrapping Up
Afeez Owo has been a popular figure on the screen of many Nigerians, especially the Yorubas, over the years. Apart from that, he also got married to another talented Nollywood actress and the two have gone to build a thriving family and career together. This post shared more information about him including his background and how he found his way into the movie industry.
.........................