We think of orphans whenever the topic of orphanages comes up. But most of the kids who live in orphanage homes have living relatives. They were either left behind when they were born, got lost, or their extended family was too poor to care for them.
When a child is removed from their family, they need a place to stay until they can find more permanent care. When and where there aren't enough foster homes, children are put in orphanages, where they can grow up with other children who have lost their parents.
There are a number of these registered orphanages in Lagos state. Non-government charity organizations like these take care of children whose parents have died or who have been abandoned.
.........................
Also, they take care of children with special needs whose families may have given up on them and help put a smile on their faces by giving them basic needs.
This article will look at ten orphanage homes that you can visit or donate to in Lagos.
See also: 10 Non-profit Immigration Organizations
10 Orphanage Homes in Lagos
1. Little Saints Orphanage

Little Saints Orphanage is a non-government orphanage home that has been approved by the government of Lagos state.
Since it opened in 1994, the Little Saints Orphanage has taken in hundreds of abused orphans, kids who were left alone, and kids who lost their mothers. The Little Saint Orphanage makes sure that the kids have a safe place to live and have access to other basic needs, like clothes and food.
.........................
The nannies and babysitters who work at the orphanage home are kind and take good care of the kids in their care. They keep an eye on what the kids are doing and also make sure they have the best moral and mental support possible.
Even though it may not be the best education, The Orphanage Home makes sure the kids have access to basic education that will help them in the long run with their reasoning and mental skills.
You should know that the Little Saint Orphanage Home is a safe and approved place to adopt a child. Adopting a child from the Little Saints Orphanage Home shouldn't be hard if you follow all the steps and meet all the requirements.
.........................
Location: 10 Ayinde Bisi Close (Blessing Gate) off Gani Animashaun Street, Akowonjo, Dopemu, Lagos
2. SOS Children's Home
Lagos's SOS Children Home is an orphanage home that is registered and approved by the government. This orphanage home in Isolo is known for putting a lot of emphasis on education. It uses state-of-the-art facilities to help the kids get a better education.
All of the kids, no matter how old they are or what brought them to the orphanage home, can get love and care from the nannies and other caregivers.
Because its sponsors care, SOS Children's Home makes sure that kids have clean water, clothes, a place to live, food, an education, and a place to learn.
.........................
If you want to be a sponsor who keeps putting smiles on the kids' faces, you can do so by visiting them at their location.
Location: 153 Mushin Rd, Adjacent to the Lagos State Polytechnic, Isolo, Oshodi-Isolo, Lagos.
3. Love Home Orphanage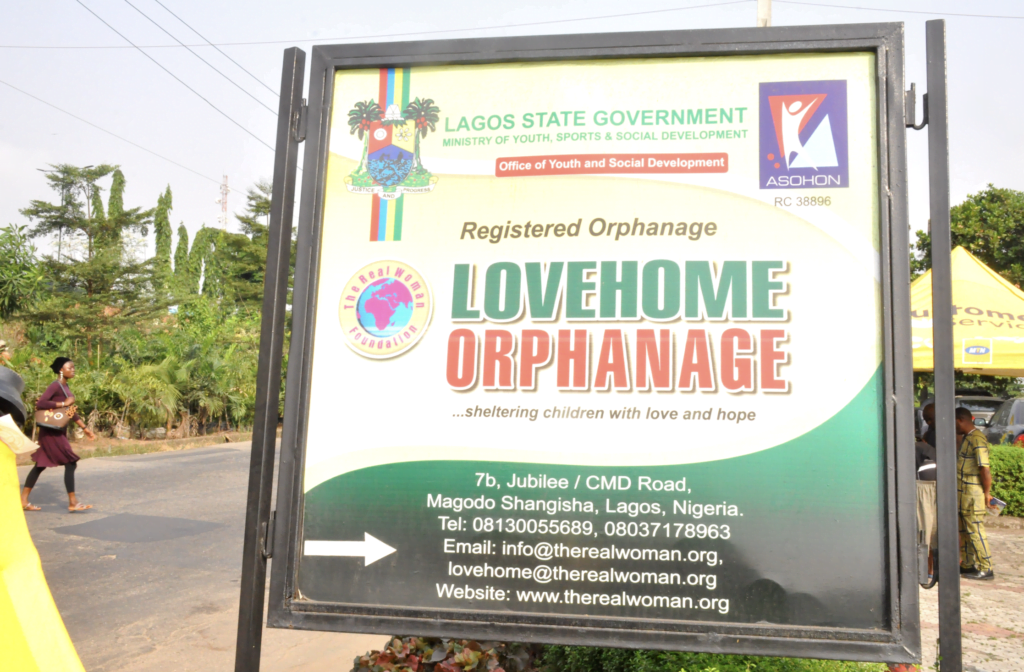 Love Home Orphanage is in Magodo, Lagos, and was set up by Nike Adeyemi through the Real Woman Foundation. She says that she started Love Home because she loves girls and wants them to be able to have a voice in all parts of life without being scared off by men.
The foundation gives the best care and love to orphans and poor children whose futures look uncertain because they don't have parents.
Location: Plot 7B, Jubilee/ CMD Road, Magodo-Shangisha, Lagos, Shangisha, Lagos, Nigeria, Lagos State
.........................
4. House Of Mercy Childrens Home
The House of Mercy Children's Home opened in 2006 and is in the town of Egbeda. Its main goal is to keep orphaned or abandoned kids from getting hurt or doing things that are bad for them and could slow down their growth and development.
The government-approved orphanage home feeds the kids under its care for free. It also helps the kids get a good education through its sponsorship program.
Some of the kids at the orphanage home also learn one or two skills that can help them make money in the future.
In its effort to give the kids a good life, the House of Mercy Orphanage also makes sure that they are only adopted by couples who pledge to take care of all their needs.
.........................
Location: 44 Prince Abiodun Adebambo street, Egbeda, Lagos, Nigeria
5. Belle Vie Orphanage Home
Belle Vie Orphanage is one of Lagos's best orphanage homes. It has cared for and fed orphans for a long time to give them a good life.
The organization does more than just give the kids things that will make their lives better. It also helps them with the treatment of diseases and ailments such as cancer.
When you think about how good the services are, it's clear that the organization will need donations and help from the public to keep going.
Location: Zone 2 unity estate opposite pipeview hotel Isashi, Lagos, Nigeria 100297.
6. LIFE Foundation
.........................
The Literacy Integration and Formal Education Foundation (Team LIFE) is a non-profit organization that works to improve literacy and social integration for all children, especially orphaned and vulnerable ones.
LIFE has helped change and improves the lives of children in many ways, such as through education sponsorships, educational support programs, advocating for and coordinating international adoptions, and paying for health care needs, among other things.
Their aim is to set up and improve care and education programs for young children who are socially and culturally disadvantaged, especially girls.
7. Compassionate Orphanage Home
Compassionate Outreach is a faith-based organization that does not get money from the government. It was set up in 2001, and its main office is in the Alimosho Local Government Area of Lagos.
.........................
Compassionate Outreach is made up of four main parts: the Compassionate Orphanage, which gives shelter and care to orphans and other vulnerable children; the Compassionate Outreach for the Homeless, which helps homeless people find jobs, shelters, counseling, and other social services; including the "Area Boys and Girls,".
The third group is compassionate, positive families responsible for looking after people with HIV/AIDS. The organization helps people living with Aids by giving them care in their own homes and creating a support group program that provides counseling and psychosocial support.
The last part is Compassionate Outreach Ministries, which is a church group set up to give spiritual advice and follow-up. The organization's main goal is to show homeless, helpless, and hopeless people the compassionate love of God through a wide range of assistance, care and psychosocial support.
.........................
With the help of the Lagos Ministry of Youth and Social Development, the orphanage branch has been able to place more than 80 orphans in family-based care.
Location: 6/8 Compassionate Street Greenland Estate, Idowu – Egba, Bus Stop, Isheri – Lasu Express Isheri, Alimosho, Lagos.
8. Arrows of God Orphanage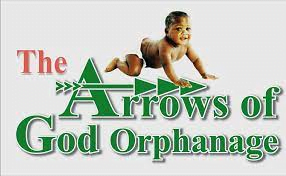 The Arrows of God Orphanage was opened in January 1998 to help children who have been abandoned, lost a parent, or don't have any parents to care for them.
The orphanage, started by Lt. Col. D.C Ogo, is a place where these kids are accepted and cared for with love, making their dreams go from having no hope to being important. The idea came from seeing babies who were hungry, skinny, sick, and in pain and who were crying out for help.
.........................
Location: Ira nla Road,Okeira-nla, Ajah Eti-Osa L.G.A, Lagos
9. Citadel Of Grace Mission Int'l Orphanage Home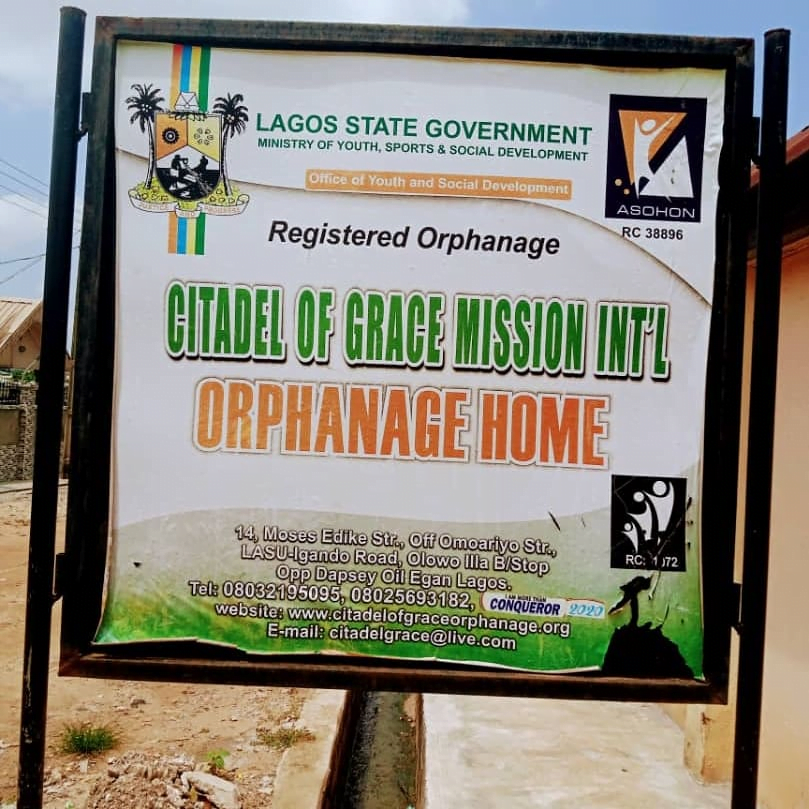 Citadel of Grace Mission Orphanage is a home run by CITADEL OF GRACE MISSION INTERNATIONAL. It is registered to do missionary, evangelical, and charitable work. Pastor Mrs. Christy Iyile started the group in 2008.
The group helps children who have been abandoned, orphans, people who are being mistreated, and even the poor. People in these groups need care, assistance, a sense of belonging, and a place to call home.
Pastor Christy was touched by the struggles of these groups and had the vision to meet their needs in the areas of shelter, healthcare, education, food, and clothing, which are the basic comforts of life.
.........................
The group's goal is to get rid of psychological problems, low self-esteem, bad moral habits, children without homes, and child abuse and to protect the rights of children in our society.
Location: 14 Moses Ejike Street, off Omo-Ariyo Street off LASU- Olowo Illa bus Stop, Egan, Igando Road, Ijegun, Lagos
10. Chosen Child Orphanage And Care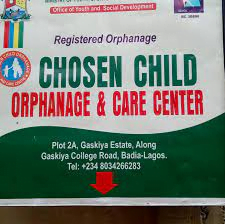 Chosen child orphanage and care is a non-governmental charity that started in 2007. It started out of a deep sense of empathy and sincere concern for the nation's poor and needy, helpless and malnourished orphan children, children living with HIV/AIDS, and children with different kinds of mental and physical problems.
The organization's main goal is to find orphans, poor children, children with disabilities, children with special needs, and other children who are in danger in our community and other communities nearby.
.........................
They help these kids by giving them food, a place to live, medical care, emotional support, an education, and work.
Their aim is to improve the overall health and well-being of disadvantaged children by making sure that their basic needs, such as shelter, food, education, medical care, and psychological and economic support, are met.
Location: Plot 2a Gaskiya Estate Along Gaskiya College Road Badia, Near Ijora/7up Lagos.
Final Words
Lagos, Nigeria, has the most people in any city in Africa, but that's not what makes it a great place for orphanages. There's something special about these homes that makes them stand out from the rest.
Each orphanage home in Lagos is different and has something special to offer. Many thanks to them and all other orphanages for making the world a better place.
.........................