Classy But Cheap Restaurants In Abuja And Their Addresses And Prices
Restaurants are eating establishments. Food, being a basic need of man, is not something to toss around with. The city of Abuja plays host to a lot of restaurants from the upscale to the average restaurants. The different restaurants cater to different pockets sizes.
This article lists classy and cheap restaurants in Abuja and their price list.
Classy and cheap restaurants in Abuja
1) Blu Cabana restaurant and Cafe Abuja
Blu Cabana restaurant is located at Plot 1322 Shegu Yaradua way Mabushi, Abuja, Nigeria.
Blu Cabana restaurant is one of the classy restaurants in Abuja that caters to different palates and social strata.
.........................
It is located in Mabushi district, a highbrow area of Abuja. The restaurant is equipped with a swimming pool, a gymnasium, a lounge and a indoor and outdoor kids play room.
The chefs of Blu Cabana prepare the meals with exquisite care and skill. They offer a vast majority of dishes that can be enjoyed as casual lunch, business lunch, dinner or a late night meal. The dishes they offer are both local and intercontinental dishes.
The staff are very warm to customers and the ambience is absolutely heavenly. This is the perfect venue for one to "relax and be taken care of".
Related: 15 top places to visit in Ibadan
Menu and price list
Soup
soup(minestrone) -#1,900
Chicken pepper soup -#2,200
Beef pepper soup -#2,200
Fish pepper soup -#2,200
Chicken mushroom soup- #2,500
Shrimp soup -#3,900
Salads.
salad (chef) -#3,400
Greek salad -#3,000
Caesar salad- #3,400
Blucabana salad- #3,400
Balsamic beef steak salad-#3,400
Crab salad- #3,900
Shrimp salad -#4,900
Fattoush – #2,500
Tabbouleh #2,500
Dressings.
Lemon Mayo, Mustard vinegar, Balsamic and Lemon oil.
Appetizers
Mozzarella sticks (four pieces) -#1,950
Calamari fritti (five pieces)- #3,500
Vegetable spring rolls (four pieces) -#1,800
Chicken spring rolls – (four pieces)- #2300
Shrimp spring rolls (four pieces) -#3,900
Chicken strips(six pieces) -#1,900
Buffalo wings (six pieces) -#1,900
Shrimp balls(four pieces) -#3,200
Tempura prawns -#4,500
Salmon on toast -#1,900
Chicken pakoda – #1,900
French fries -#1,600
Cheese garlic bread -#1,500
Potato wedges -#1,800
Grilled halloumi (Five pieces) -#3,400
Combo platter -#3,200
Sandwiches
Halloumi wrap -# 3,400
Club sandwich-#2,800
Fajita sandwich -# 2,800
Chicken taouk sandwich -# 1,800
Beef Sharwarma sandwich -# 1,700
Chicken wrap -# 2,000
Crispy Chicken wrap -#2,200
Falafel sandwich -#1,200
Soujouk sandwich -#1,600
Turkey and cheese sandwich -#2,600
Philadelphia sandwich -#2,800
Philly steak sandwich -#2,800
Submarine–#2,800
Charcoaled meat sandwich -#1,850
Beef kebab sandwich -#1,600
Chicken sharwarma sandwich-#1,700
Labneh wrap -#2,000
Tandoori chicken wrap -#2,800
Related Article: 30 Best Nigerian Restaurants In London That Cook Amazing Food
.........................
Barbecue
Grilled beef-#1700
Chicken tauok-#1600
Beef kebab-#1500
Chicken kebab- 1500
Beef suya-#650
Chicken suya-#800
Fish skewers-#950
Fish-#1900
Prawns-#5900
Main dish
Japanese shredded beef-#4600
Beef stew-#4600
Cordon bleu-#5600
Tenderloin steak (local) – #5600
Chicken curry- #4950
Fish and chips-#5900
Chicken Escalope- 4300
And many more accompanied with a side dish.
Kids menu
Fish fingers- #2200
Chicken nuggets and french fries-#2500
Mini hotdogs-#1900
Mini beef burger and fries-#2500
And many more all accompanied with a juice pack.
Dessert
(One scoop of ice cream. Flavours include Chocolate, Vanilla and strawberry).
Chocolate mou-#2200
(Glass of Chocolate ice cream with whipped cream and chocolate sauce)
Banana Split-#2200
(Three scoops of Ice cream between a sliced banana with chocolate syrup and whipped cream)
(Almond croquant, Ice cream and caramel sauce)
Fruit salad-#1800
Cheesecake-#1900
Breakfast
Buffet breakfast-#3850
English breakfast-#3500
Pancake with butter and jam-#1800
For more information on the menu visit here
2) Nkoyo
This is a continental restaurant located at 1 Bathurst Street Ceddi Plaza, Central Area, Abuja 900241 Nigeria. It is an indoor service restaurant but one can also buy take out packs.
Reservations can be made and it is wheel chair accessible. Parking of ones vehicle can be done on the street and a garage free of charge. No dress code is required and smoking is not allowed within the restaurant.
.........................
It specializes in African cuisine and has a selection for vegetarians and gluten free diet consumers.
It's open from 11:00 am to 11:00pm every day.
Menu and prices
Starter
Moimoi-#700
Akara-#750
Barbecued Chicken wings-#1650
Spicy yam cakes-#750
Meat samosas-#750
Garden salad-#750
Pepper soup
Fresh Fish-#1800
Pepper soup of the day-#1500
Vegetarian
Grilled home made Cheese-#1800
Mixed vegetable stew-#1800
Red kidney beans bagout-#1800
Baigan bharta-#1800
All served with a choice of white rice, french fries or garlic bread.
Traditional soups
Vegetable soup-#2000
Afang soup -#2250
Miyan Taushe soup -#2000
Banga soup-#2250
White soup-#2250
With a choice of goat meat or fresh fish
Oha soup-#2000
Bitter Leaf soup -#2000
Gbegiri Soup-#2000
Edikan Ikong soup -#3500
Ogbono soup -#2000
Okro soup -#2000
All soups served with a choice of wheat, Semolina, starch, pounded yam, garri or tuwo shinkafa.
Nigerian special
Isi Ewu-#3000
Ugba-#3000
Nkwobi-#3000
Dry Fish Pepper Soup-#2850
Ofada Rice-#2000
served with traditional sauce
Green Plantain Pottage-#2500
Served with peppered goat meat.
Riro-#2750
Shrimps in Palm Butter Sauce+#2750
Served with white rice and plantain
Served with chicken stew and plantain.
Ekpang nkwukwo -#3500
Nigerian Spinach (Efo)-#3000
Served with stock fish or fresh fish
.........................
You can visit here for more on the menu.
3) Wakkis restaurant
Wakkis restaurant is one of the classy and cheap restaurants in Abuja Nigeria. It is an Indian Nigerian restaurant. The restaurant is located in Plot 171 Aminu Kano Crescent, Wuse 2, Abuja. Nigeria. P.O.Box 8098, Wuse, Abuja, Nigeria.
The restaurant opens everyday by 11AM and closes by 11PM.
Its environment screams serenity and has fast become a tourist attraction site. The restaurant is located in a very natural environment with a heavenly ambience.
Wakkis restaurant has clay ovens that makes roasting meat easy and hygienic. The customers can see the meat being roasted.
Food is made as orders are taken and is brought to the table, piping hot.
The restaurant can also be used to host meetings or receptions.
The staff are serviceable, polite and welcoming.
Meals can be ordered and delivered to homes or offices.
Related: 15 Affordable fun places to hangout in Abuja
Menu and price list
Wings (tandoori) #2650
Tikka masala(murgh) -#3700
Murgh Malai-#3700
Tandoori chicken-#3700
Crumbed king prawns-#4000
Buffalo wings-#2700
Meat samosa-#1300
Vegetable samosa-#1300
Tossed salad-#2300
Dessert
.........................
Fresh fruit salad-#1400
Ice cream on fresh fruits-#1800
mousse (chocolate) -#1700
For more information about the restaurants menu and home deliveries click here
4) DUO Restaurant and Lounge
Duo restaurant and lounge is located at Plot 98, Aminu Kano Crescent Wuse Abuja, Nigeria and their operating time is from Saturday to Sunday, 9 am to 12 am. You can equate its services to that of classy and cheap restaurants in Abuja
Duo restaurant and Lounge was established in 2017 in Abuja and later expanded with a branch established in Anambra state.
The restaurant has an outdoor setting and has a cheerful ambience. The food and drinks collection is vast and affordable.
The staff are very professional and friendly and available to answer questions and meet the customers needs.
The restaurant serves an array which includes breakfast, Lunch, dinner, drinks and coffee.
They undertake catering services, home deliveries, outdoor services, takeaway and a host of others.
Menu and price list
Main Course
Chicken escalope- #4,400
Jollof rice with meat-#4,250
Beef Cordon Bleu_#4,700
Chicken Marina -#4,900
Kids corner
Barbecue corner
Nuggets (5 pieces) #3,000
Mini beef burger (2 pieces) #3,000
Mini Chicken Burger (2 pieces) #3,000
Beef suya skewer ₦750
Chicken suya skewer ₦900
Fish suya skewer ₦1,100
Prawns skewer ₦3,300
Lebanese corner
Fatayer spinach (4 pieces) ₦1,450
Labneh ₦1,500
Falalel (5 pieces) ₦1,550
Hommos ₦1,650
Continental corner
French Fries ₦1,500
Garlic Bread ₦1,800
Chicken strips (4 pieces) ₦2,600
Salt & pepper calamari ₦2,900
Drinks
Passionist ₦1,200
Pineapple Juice ₦1,200
Milkshake ₦1,200
Virgin Mojito ₦1,700
Visit here for the restaurants menu
.........................
5) 355 Restaurant and Lounge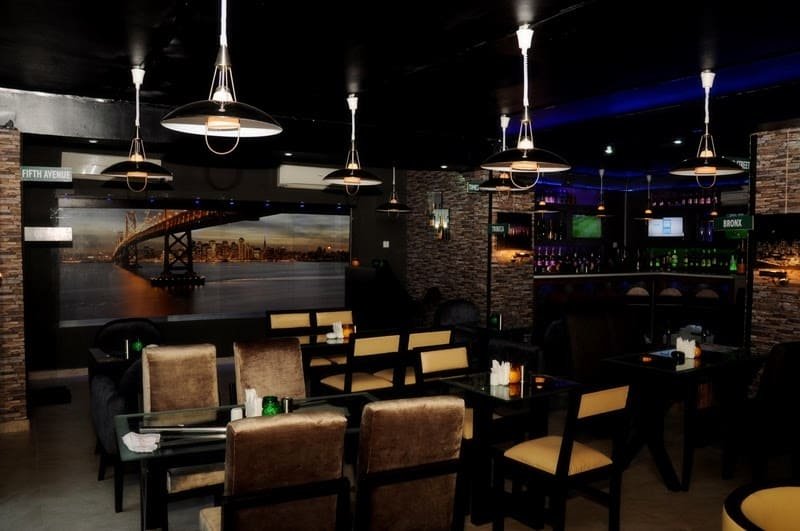 355 restaurant and lounge is located at 38 Osun Cresent , off Ibrahim Badamasi Babangida way, Maitama, Abuja.
It is a steakhouse and continental restaurant that caters to several people in the city of Abuja, especially those who are looking for an experience out of the ordinary.
The restaurant is located at the first level of the building and it also sports two outdoor Cabana areas with two lounges on the floor above. The restaurant also has a wine cellar that boasts of variety of wine.
Contact address for reservations and enquiries are 0809 994 2355 and 0809 994 335.
The restaurants opening hours are as follows
Opening Hours
Mon: 12:00 pm – 12:00 am
Tue: 12:00 pm – 12:00 am
Wed: 12:00 pm – 12:00 am
Thu: 12:00 pm – 12:00 am
Fri: 12:00 pm – 12:00 am
Sat: 12:00 pm – 12:00 am
Sun: 12:00 pm – 12:00 am
Menu and price list
Starters
Double spring roll -#3200
Chicken spring roll -#2650
Bruschetta -#3000
Shrimp martini -#4600
Thai spice calamari -#4750
Suya spice prawns -#5000
Salad
Chicken Caesar salad -#4000
Salad nicoise -#4400
Greek salad -#4000
Steaks
Fillet 355-#9300
Peppercorn New York strip-#11500
Surf and turf-#10500
Grilled T-bone steak-#10500
Dry-aged rib-eye-#11500
Grilled lamb chops-#9300
For more information on the Menu and pricing visit here.
.........................
6) Jevinik restaurant Abuja
This restaurant in Abuja is located at 494 Bangui Street, Off Adetokunbo Ademola Crescent, Wuse II, Abuja 900247 Nigeria.
It is a restaurant that specializes in African and intercontinental meals. Their meal schedule includes; Brunch, lunch, dinner and after hours.
They have a vegetarian friendly special diet.
The staff are very polite and the customer satisfaction rating is high.
They offer take-out and home delivery options.
Also read: 7 Best hotels in Abuja that you didn't know about
Menu and pricelist
Soup
white Soup- #1242.00 Price
( Available only on Fridays)
Vegetable Soup- #1050.00 Price
Uziza soup- #1242.00 Price
Okro soup-#1050 price
Oha soup-#1050.00 price
Ogbono soup-#1050 price
Ofe Owerri-#1242.00 Price
(Available only on Mondays)
Native Soup-#1050.00 price
Mama's Delight-#1242.00
(Available on Tuesdays alone)
(Tuesdays Only)
Efo Riro-#1242.00
Egusi Soup-#1050.00
Editang soup-#1242.00
Fisher Man soup#1242.00
Thursdays Only
Bitter Leaf Soup-#1050.00
Abak-#1242.00
Prepared only on Thursdays
Afang Soup-#1050.00
Swallow
Wheat- # 850.00
Semovita- #850.00
Pounded Yam-#850.00
Garri-#650.00
Protein
Stock Fish-#1700.00
Peppered Fish-#1700.00
Peppered Chicken- #1000.00
Goat Meat-#1050.00
Gizzard-#1000.00
Fresh Cat Fish- #1250.00
Dried Cat Fish-#1250.00
Cow Leg-# 900.00
.........................
Chicken-#1100.00
Beef-#850.00
Asun-#1100.00
Assorted-#900.00
Rice dishes
White Rice- #780
Jollof Rice-#1100
Fried Rice-#900
Coconut Rice-#1050
Sauces
7) Panache restaurant Abuja
Panache restaurant Abuja is located at L'eola suites Boutique hotel, Leadway House (Near NNPC Building), 1061 Macaulay Way, Central Business District, Abuja, Nigeria.
It models fine dining. The decor and ambience are top notch exuding a peaceful and relaxing feel.
The restaurant offers premium Indian dishes with an African touch. So, if you seek one of the classy but cheap restaurants in Abuja, this is a place to go to.
Hours of operation
Monday-Saturday: 11:00 am – 22:00 pm
Sundays: 11:00 am – 20:00 pm
Public Holidays: 11:00 am – 20:00 pm
To make reservations, visit their website here
Menu and price list
Salad and soup
Roasted tomato and pepper soup-#3200
Roasted pumpkin and red onion soup-#3300
Chicken soup -#3500
Chicken tandoori salad -#3500
Traditional Caesar salad-#4100
(Optional grilled chicken-#5000)
Creamy spinach salmon salad -#4400
Panache green salad -#4600
Spicy chicken liver salad – #4700
Peppered prawn salad – #4900
Starters
Chicken livers- #2100
Garlic snails- #2200
Stuffed calamari- #2800
Tempura prawns – #3200
Prawn spring rolls -#4300
Fish cakes – #5800
Panache dishes
Oxtail- #7500
Prime rib- #7600
Curry lamb shank – #7800
Short ribs -#8400
Vegetarian
Vegetarian pasta- #6500
Wild mushroom risotto -#6500
Desserts
Berry and mascarpone cheese cake- #3400
Rose water, toasted almond and ginger pannacotta – #3400
American style baked cheese cake – #3500
Trioof créme brûlée- #3500
Lindt chocolate Fondant – #3700
Chocolate duo -#3700
Cheese platter -#4700
For more information on the menu visit here
.........................
8) Jake's club restaurant
Jake's club restaurant is one of the classy but cheap restaurants in Abuja. It is located at ​Memorial Drive, By Musa Yar'Adua Central, Central Business District, Abuja.
It is an upscale restaurant with great ambience and a panoramic view of the city of Abuja. They offer African and intercontinental food and beverage. They also have an expansive wine collection. It promises to be a great culinary experience for ones taste buds.
It has a restaurant, a lounge and a VIP section.
For reservations, you can send an e-mail to [email protected]
Opening hours
Monday: 4:00pm-1:00am
Tuesday: 4:00pm-1:00am
Wednesday: 4:00pm-1:00am
Thursday: 4:00pm-4:00am
Friday: 4:00pm-4:00am
Saturday: 4:00pm-4:00am
Sunday: 4:00pm-12:00am
Food menu
Appetizers
Salsa and guacamole
Traditional Nachos
Grilled Beef
Grilled Chicken
Grilled Shrimp
Shrimp Chicharron
Fish Tempura
Plantain Croquettes
Smoked Salmon
Fish Soup
Moi-Moi
Spring rolls
Salad
Caesar salad
Green salad
Crab salad
Burgers
Jake's burger
Cheese burger
Main dish
Salmon ALa Veracruzana
Short Beef Ribs
Beef Fillet Steak
Ribeye Steak
Chicken Escalope
Lamb Chops
Seasonal Grilled Fish Fillet
Nigerian Snails with Vegetables
OxTail with Tomato Sauce
Jollof Rice with Grilled Fish or Chicken
Jollof Rice with Grilled Chicken
Grilled Jumbo Shrimp
Shrimp Curry
Bouillabaisse
Fish and Chips
Tomahawk(1500g)
Dessert
.........................
Chocolate Fondant
Crème Brulée
Pain Perdu
IceCream
(Vanilla,chocolate)
Sorbet
Cheese Cake
Mille Feuille
Apple tarte
And much more.
Find out about prices here
Visit here for more information
9) City view restaurant and grill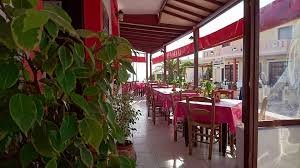 City view restaurant is the ideal restaurants in Abuja to have meals, host functions like a business dinner, a romantic evening with ones significant other and to unwind after a long hard day.
It is located at 7 Cape Town Street, off IBB way, Beside Imperial Bakery, Zone 4, Wuse 1, Abuja.
It merges comfort, elegance and exquisite cuisine to leave one wowed.
The restaurant also offers takeout services, outdoor catering and the likes.
Opening hours
Mon: 12:00noon – 10:00pm
Tue: 12:00noon – 10:00pm
Wed: 12:00noon – 10:00pm
Thu: 12:00noon – 10:00pm
Fri: 12:00noon – 10:00pm
Sat: 12:00noon – 10:00pm
Sun: 1:00pm – 8:00pm
Food Menu and price list
Soups
Vegetable Soup 1100.00
Chicken Cream Soup 1500.00
Chicken Soup 1300.00
Mushroom Soup 1100.00
Onion Soup 1100.00
Corn Soup 1500.00
Shrimp Soup 2200.00
Rice and spaghetti
Spaghetti with White Sauce 3100.00
Jellof Rice and Chicken 2700.00
Fried Rice and Chicken 2700.00
Fried Cicken with Brown Rice 3300.00
Seafood, Rice and Sauce 3100.00
Grilled Chicken/Brown Rice 4200.00
Spaghetti with Chicken 3300.00
Fried Rice only. 1500.00
Spaghetti Bolognese 2500.00
Spaghetti Tuna 2900.00
Chinese Spaghetti 2600.00
Spaghetti with Shrimp 3900.00
Seafood Fried Rice 3300.00
Plain Spaghetti 2000.00
Jellof Rice Only 1500.00
Brown Rice Only 1800.00
HOT DRINKS
Arabian Coffee 500.00
.........................
Lipton Tea 400.00
Nescafe 500.00
Mint Tea 400.00
Turkish Coffee 500.00
Barbecue
Mixed Grill/ Brown Rice 4500.00
Beef kafta (Each) 450.00
Chicken Wing 550.00
Shesh tawook 600.00
Beef Suya 450.00
Mixed Grill Only 3400.00
Beef Kebab Ram (Each) 600.00
Beef Kebab Cow (Each) 550.00
BBQ Full Chicken 5500.00
Fish Suya (Each) 600.00
Chicken Suya (Each) 550.00
Mixed Grill/ Chips or Rice 4400.00
Half BBQ Chicken Only 2750.00
Chicken Kafta (Each) 650.00
SEA FOOD DISHES
SFFR/Grilled Fish 5500.00
City Special Fish/ Chips 4300.00
Fried Fish/ Chips 3800.00
Hot Chili Fish/ Chips 4000.00
Jambo Prawns/ Chips 6800.00
Fish Finger/ Chips 3700.00
Sweet & Sour Fish/ Chips 4000.00
Prawn Panel/ Chips 6900.00
BBQ Suya Fish/ Chips 4000.00
Calamari 3400.00
Fried Prawns/ Chips 5600.00
Hot Chili Prawns/ Chips 6900.00
City Special Prawns/ Chips 6900.00
BBQ Whole Fish/ Chips or Rice 5300.00
BBQ Whole Fish Only 4000.00
Fried Fish Only 2800.00
Jumbo Prawns Only 5400.00
City Special Fish Only 3300.00
Grilled Fish Only 2900.00
Fish Finger Only 2800.00
Sweet & Sour Fish Only 2800.00
Prawns Panel Only 5800.00
BBQ Suya Fish Only 3000.00
Fried Prawns Only 4600.00
City Special Prawns Only 5800.00
Conclusion
Having a meal should not just be about the food. A lot of other factors like hygiene, price, and the general feel-good aura the atmosphere gives off should be brought into perspective. Having a classy and cheap restaurant in Abuja is a sure advantage.
.........................
Do have a nice time.
​