Are you in doubt as to the authenticity of the fact that some African footballers also have a private Jet of their own? Do you need names of African footballers who own private Jets? If yes, you're at the perfect place.

Without doubt, footballers of this modern era are stinkingly rich irrespective of the league or country they're playing for. They live a life that is full of fun and luxuries during their leisure or holiday season.

Some of them decorate their garage with different class and model of cars, some fancy gold and expensive chains and jewelries and all of them live there life to the fullest.

However, top foreign footballers like Messi, Ronaldo, Neymar and the rest have their own private Jets and so does some superstars in Africa too.

List of African players that have private Jets
Advertisements
CONTINUE READING BELOW

Without much ado, the following is the full list of all African footballers who own private Jets.
Happy reading..!
1. Samuel Eto'o

One of the best and outstanding footballers the African continent will ever produced is Samuel Eto'o. He's so skillful and resourceful.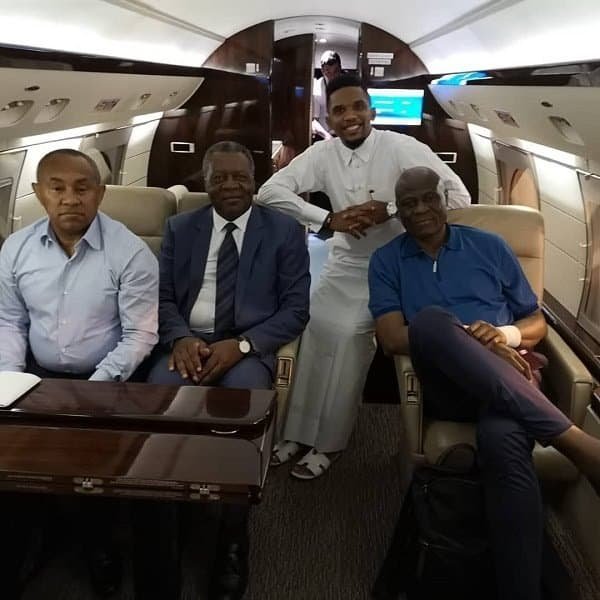 Samuel Eto'o is a Cameroonian but plighted all his footballing trade abroad. Eto'o had played for many football teams in Europe. He once played for Inter Milan, Real Madrid, Barcelona and Chelsea where he had over 200 career goals to his name.

In the same vein, Samuel had several honours (both individual and collective) won to his namea and one of them is the African player of the year award that he won for good four year.

However, Samuel Eto'o as a net worth that is estimated to be be around $95 Million dollars or thereabout according to legit.ng
Advertisements
CONTINUE READING BELOW
2. Didier Drogba

Didier Drogba (retired) is a veteran Ivorian professional footballer, former captain and the all-time goal scorer of the Côte D'voir national team.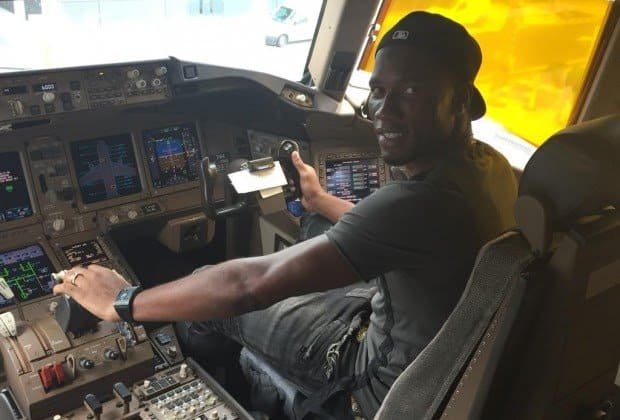 He was a fine player during his prime and his brilliant performance at Chelsea named him the African Footballer of the Year on two different occasions; 2006 and 2009.

Drogba played for few top clubs in Europe but his best and most successful spell was in a blue jersey. Drogba style of play is second to none. He was a ruthless striker with many trophies to his name.
The erudite striker is Chelsea's overseas player of all time and he is one of the most influential and richest football players in Africa. He owns a private Jet too with an estimated net worth of about $90 Million.
3. Muhammed Salah
Advertisements
CONTINUE READING BELOW

Muhammed Salah, the Egypt and Liverpool forward is one of the highest paid African footballers (as at 2020) in the world.

He's one of the core players that helped Liverpool lifted the premier league after 30 years of attempt. Salah is currently earning $14 million as an estimated annual salary at Liverpool.
Equally, the superstar also won the 2019 English Premier League (EPL) golden boot that worth $40 million or thereabouts when valued.

In addition, Mo Salah was nicknamed Egyptian Messi because of his style of play. He has several awards and nominations to his name and the most prominent ones include:
2018 African player of the Year,
2019 African player of the year,
BBC African Footballer of the Year 2017,
CAF Most Promising Talent of the Year (2012),
FIFA Puskas Award (2018),
Premier Lague Golden Boot 2017 and 2019.
4. Asamoah Gyan
Advertisements
CONTINUE READING BELOW

Another important figure on the list of African player who own private Jets is Asamoah Gyan. Asamoah is at the moment the all-time highest goalscorer and he's also the general captain of his national team; the Black Stars, Ghana.

The superstar is nicknamed 'Baby Jet' and he's one of the the richest football players in Africa. This guy has been an instrumental figure to the Black Stars as he's known for his fun as well as lavish lifestyle.

At the time of filling this report, Asamoah Gyan is currently plying his trade with the Kayserispor FC in Turkey. He has — sometime — played for other famous clubs in Europe and among them are Stade Rennais, Sunderland and Al Ain FC in Saudi Arabia.

However, this multi-billionaire and owner of Baby Jet Airline had recently acquired an air carrier travel license for his enterprise and his net worth has been estimated to worth $ 23 Million.
Advertisements
CONTINUE READING BELOW
You may also like: Top 10 Resort Beach to visit in Lagos
5. Emmanuel Adebayor
Emmanuel Adebayor was the general captain of the Togo national team during his prime. He is rich and he derives pleasure in luxuries. He's one of the football players that recently converted to Islam.
The former Arsenal and Real Madrid attacker, Emmanuel Adebayor is one of the finest strikers that the African continent has ever seen and he's known for his affection for finer things.
From expensive houses, Rolls Royce down to a private jet, Emmanuel Adebayor lives an expensive life many football players dream of.
Also, he's famously called SEA and still plying his footballing life for one İstanbul-based football club Başakşehir F.K.

In 2009, Adebayor was crowned as the African Footballer of the Year and he was the first-ever and (till date) only Togolese footballer to ever win the highly celebrated African player of the year award. His estimated networth is value around $45 million.
Advertisements
CONTINUE READING BELOW
6. Pierre-Emerick Aubameyang

Aubameyang is the latest world star African player to have joined the league of the big boys. The Arsenal and former Dortmund star now have a private Jet to his name.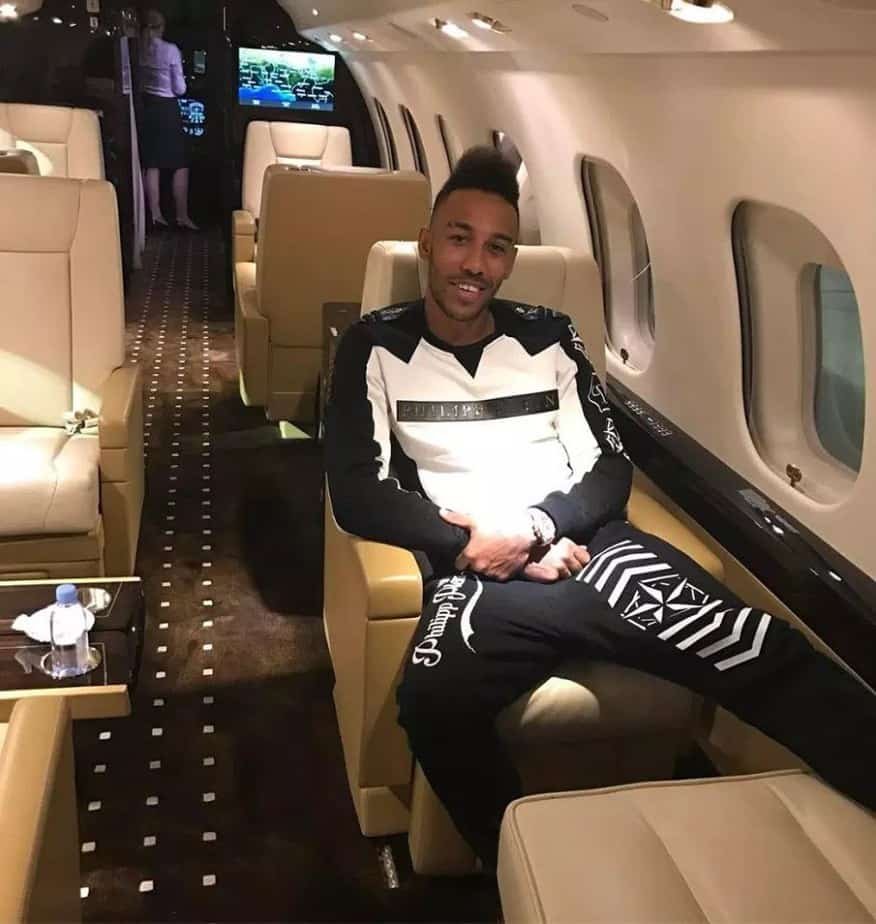 The Gabonese star lives an expensive life as he drive around a customized Lamborghini, with an ultra-shiny metallic paint-work and the signature "A" is placed on the bonnet. He cruise the London city with a gold colour Range Rover Sport, too.
7. Suleiman Ali Muntari
The list of the African players that own private Jets wouldn't be completed with mentioning the powerful Sulley Muntari.
The former Milan and Porthsmouth star is one of the best midfielder the Ghana national team have ever seen.
Sulley Muntari is rich and have a private jet too. He was said to worth $40 million as at 2015.
Advertisements
CONTINUE READING BELOW
Read also: Top Sights and Reasons to visit Ibiza
Conclusion
The above mentioned personalities are the African footballers who own private Jets amidst other luxuries. They're all stinkingly rich and live life's any football player will wish for.