Do you need a comprehensive list of cheap but luxury hangout spots in Festac Town, Lagos? Will you be hanging out with an old folk in Festac Town but don't know the best place?
If yes, consider yourself lucky for coming down to Atlanticride to read our comprehensive list of the best hangout spots that nobody will ever tell you in Festac.
And of course, you will agree that Festac Town is one of the most popular localities in Lagos State. It encapsulated a federal housing estate situated along Lagos-Badagry Expressway.
Originally, Festac Town was designed as a residential estate which was built purposely to shelter all the participants of the Second World Festival of the Black Arts and Culture held in 1977.
.........................
The place housed 5,000 contemporary dwelling buildings with seven distinct avenues namely; 1st, 2nd, 3rd, 4th, 5th, 6th and 7th avenues.
Top 10 Luxury Hangout Spots in Festac Town, Lagos
Before, Festac Town used to be a boring estate with little or to no social activities and recreation center to burst of.
Today, there are plethora numbers of fun places to visit. On this note, this blog post will provide you with a list of cheap but luxury hangout spots in Festac.
These are places you can actually hang out with your family, friends, and beloved ones to experience real fun.
In no particular hierarchy or order, the best hangout spots in Festac Town are as follows:
1) Festival Mall
.........................
Anybody leaving in Festac, Okota, Mile 2, and other nearby towns will agree with me that Festival mall is one of the top hangout spots in Festac Town.
The Festival Mall began its full operation 2015 and ever since then, it had established itself as one of the best places to chill, catch fun, cruise, and more in Festac.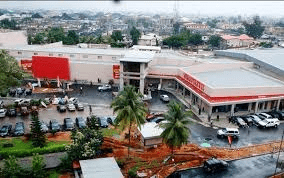 Most importantly, the Festival Mall is located at Durbar estate, very close to the Festival Hotel — the former Golden Tulip Hotel.
In Festival Mall, there's hangout spot, retails stores selling different kinds of things, restaurants with delicious dishes, cool bars, cinema, etc.
Without doubt, taking your date to this place will surely makes her like you even more. Although their treat may be cheap, the environment looks luxurious.
.........................
2) Domino's Pizza
The moment one hear Domino's Pizza, what will come to the mind immediately is hot, yummy, and quality pizza with bread, chicken or drinks as sides.
Who wouldn't want to go to Dominos for a hangout self? The place is absolutely one of the busiest and most crowdy hangout spots in Festac.
The fascinating Domino's Pizza has one of its branches situated in Festac Town, and it can be found beside Fidelity Bank in a quiet but neat part of the 1st Avenue.
In fact, the place is very tight too, you can sit around and enjoy your delicious hot and yummy pizza without thinking much much about safety.
Hence, if you will be hosting a get together party but don't know a better place to hangouts in Festac, then visit Domino's Pizza.
.........................
3) The Place Restaurant
Equally, The Place Restaurant has been considered as one of the cheap but luxury hangout spots in Festac Town by many people who have been there before.
As the name implies, The Place Restaurant is a popular restaurant that serves all types of Nigerian foods. It is located before the Festac link bridge.
There, you can get different class of tasty meals — both local and international cuisines. It's a nice place to go. You can visit the place with a friend or family for a lunch or dinner.
Going there alone is not enough but visiting the place as a group will definitely give you the real fun of place.
4) Cold-Stone Creamery
Worthy of mention on the list of the affordable but luxury hangout spots in Festac, Lagos is Cold-Stone Creamery.
.........................
Well, Domino's Pizza and Cold Stone Creamery are like twins. Wherever you see one, the other must follow.
Especially where the best combo to ever go with pizza is ice-cream, both the Cold-Stone Creamery and Domino's Pizza are, therefore, located close to each other in Festac.
Thus, making the place an ideal luxury hangout spot for a date in Festac Town.
5) De Santiago Milan Hotel and Suites
In the same vein, De Santiago Milan Hotel and Suites is a classy and private place to hangouts in Festac Town.
This place has a little romantic setting that is very suitable for pick-nick, get-together, data, family dinner, reunion, etc.
In addition, De Santiago Milan Hotel remain one of the elegant and luxury hotels in Festac Town that speaks class.
.........................
It is perfect for business, corporate or casual outings. If you will like to patronize this Hotel for your forthcoming hangout, it's situated in Festac link road, Amuo-odofin.
Find cheap hotels in Festac Town here.
6) Juba Group
If you are seeing this building for the first time, the first thing to come to your mind is that the building is a corporate office.
But in reality, the Juba Group building in Festac Town means more than just a business or corporate building. Its an amazing relaxation Hub with
At Juba group in Festac, you can have lunch or dinner with your friends, family or beloved ones and you can host your upcoming hangout party there too.
Why don't you try out the place and come back here later to give us feedback? We are pretty sure that you and your friends will like the place.
.........................
Conclusion
If you know LAGOS state very well, you will agree that Festac Town used to be a boring estate with little or no social activities or recreation center to boast of.
But now, the reverse is the case. There are several recreational centers there now with lots of amazing activities that are making the town loud and busy.
Accordingly, there are tons of cheap but luxury hangout spots in Festac Town down to Amuo Odofin that are doing great.
Therefore, if you will be hosting any of your old folks for a reunion, get-together, pick-nick and likes, any of the above mentioned places will do just fine.