Nigeria officially the Federal government Republic of Nigeria is made up of 36 States and the Federal capital territory Abuja. So basically, it's Kind of 37 states, but officially, there are 36 states in Nigeria.
Nigeria has a population of about two hundred and ten million (210,000,000) inhabitants as of 2021 estimates even though this figure is widely disputed by many.
Nigeria has a GDP of about four hundred and fifty billion dollars ($450,000,000,000) making it the largest economy in Africa with a per capita income of $2,229.9 as at 2019 estimates according to The World Bank.
In this article, we will talk about the 36 States in Nigeria. Their capitals, their GDP and their population.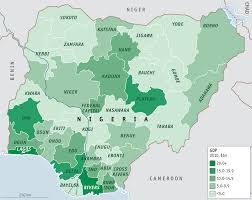 36 States and Capital in Nigeria and their Governors, Population and GDP
Here is a list of state governors in Nigeria currently, their states and capital.
Advertisements
CONTINUE READING BELOW
| | | | | |
| --- | --- | --- | --- | --- |
| States | Capital | Current Governor | Population | GDP |
| Abia State | Umuahia | Okezie Ikpeazu | 4,000,000 | 11,954,295,628 |
| Adamawa State | Yola | Ahmadu Umaru Fintiri | 4,500,000 | 3,995,509,662 |
| Akwa Ibom State | Uyo | Udom Gabriel Emmanuel | 6,000,000 | 14,394,934,514 |
| Anambra State | Awka | Prof Charles Soludo | 8,300,000 | 8,551,191,419 |
| Bauchi State | Bauchi | Bala Abdulkadir Mohammed | 9,000,000 | 4,351,446,293 |
| Bayelsa State | Yenagoa | Douye Diri | 2,277,961 | 5,517,415,395 |
| Benue State | Makurdi | Samuel Ortom | 7,800,000 | 11,463,880,127 |
| Borno State | Maiduguri | Babagana Umara Zulum | 6,000,000 | 5,770,088,940 |
| Cross River State | Calabar | Benedict Ayade | 3,866,269 | 12,260,535,098 |
| Delta State | Asaba | Ifeanyi Okowa | 6,000,000 | 20,795,033,384 |
| Ebonyi State | Abakaliki | Dave Umahi | 2,385,516 | 6,084,268,690 |
| Edo State | Benin City | Godwin Obaseki | 4,235,595 | 14,690,747,744 |
| Ekiti State | Ado – Ekiti | John Olukayode Fayemi | 3,270,798 | 3,592,364,990 |
| Enugu State | Enugu | Ifeanyi Ugwuanyi | 4,411,119 | 5,860,198,009 |
| Gombe State | Gombe | Muhammad Inuwa Yahaya | 3,256,962 | 2,162,199,971 |
| Imo State | Owerri | Hope Odidika Uzodinma | 6,000,000 | 18,316,956,593 |
| Jigawa State | Dutse | Badaru Abubakar | 8,000,000 | 4,200,635,064 |
| Kaduna State | Kaduna | Nasir Ahmad el-Rufai | 12,000,000 | 14,383,292,476 |
| Kano State | Kano | Abdullahi Umar Ganduje | 16,000,000 | 16,060,452,398 |
| Katsina State | Katsina | Aminu Bello Masari | 10,000,000 | 8,715,622,952 |
| Kebbi State | Birnin Kebbi | Abubakar Atiku Bagudu | 4,440,050 | 4,265,932,882 |
| Kogi State | Lokoja | Yahaya Adoza Bello | 4,473,490 | 6,423,622,338 |
| Kwara State | Ilorin | Abdul Rahman Abdul Razaq | 3,192,893 | 5,028,001,438 |
| Lagos State | Ikeja | Babajide Olusola Sanwo-Olu | 21,000,000 | 50,834,641,732 |
| Nasarawa State | Lafia | Abdullahi Sule | 2,523,395 | 4,060,789,133 |
| Niger State | Minna | Abubakar Sani Bello | 6,000,000 | 7,315,871,445 |
| Ogun State | Abeokuta | Dapo Abiodun | 5,500,000 | 18,478,286,455 |
| Ondo State | Akure | Rotimi Akeredolu | 5,000,000 | 10,986,434,580 |
| Osun State | Oshogbo | Isiaka Adegboyega Oyetola | 4,705,589 | 10,023,288,394 |
| Oyo State | Ibadan | Oluseyi Abiodun Makinde | 15,000,000 | 27,251,181,227 |
| Plateau State | Jos | Simon Lalong | 4,200,442 | 6,696,670,490 |
| Rivers State | Port Harcourt | Ezenwo Nyesom Wike | 11,000,000 | 33,697,048,223 |
| Sokoto State | Sokoto | Aminu Waziri Tambuwal | 5,000,000 | 5,957,303,706 |
| Taraba State | Jalingo | Darius Ishaku | 3,066,834 | 1,908,888,779 |
| Yobe State | Damaturu | Mai Mala Buni | 3,294,137 | 2,261,353,875 |
| Zamfara State | Gusau | Dr Bello Muhammad Mutawalle | 4,515,427 | 7,758,988,606 |
| Federal Capita Territory (FCT) Abuja | Abuja | Mohammed Musa Bello | 3,277,740 | 8,709,940,093 |
Major Cities In Nigeria by Population
These are the major cities in Nigeria and their population for 2021
| | | |
| --- | --- | --- |
| # | CITY NAME | POPULATION |
| 1 | Lagos | 9,000,000 |
| 2 | Kano | 3,626,068 |
| 3 | Ibadan | 3,565,108 |
| 4 | Kaduna | 1,582,102 |
| 5 | Port Harcourt | 1,148,665 |
| 6 | Benin City | 1,125,058 |
| 7 | Maiduguri | 1,112,449 |
| 8 | Zaria | 975,153 |
| 9 | Aba | 897,560 |
| 10 | Jos | 816,824 |
| 11 | Ilorin | 814,192 |
| 12 | Oyo | 736,072 |
| 13 | Enugu | 688,862 |
| 14 | Abeokuta | 593,100 |
| 15 | Abuja | 590,400 |
| 16 | Sokoto | 563,861 |
| 17 | Onitsha | 561,066 |
| 18 | Warri | 536,023 |
| 19 | Ebute Ikorodu | 535,619 |
| 20 | Okene | 479,178 |
| 21 | Calabar | 461,796 |
| 22 | Uyo | 436,606 |
| 23 | Katsina | 432,149 |
| 24 | Ado-Ekiti | 424,340 |
| 25 | Akure | 420,594 |
| 26 | Bauchi | 316,149 |
| 27 | Ikeja | 313,196 |
| 28 | Makurdi | 292,645 |
| 29 | Minna | 291,905 |
| 30 | Efon-Alaaye | 279,319 |
| 31 | Ilesa | 277,904 |
| 32 | Owo | 276,574 |
| 33 | Umuahia | 264,662 |
| 34 | Ondo | 257,005 |
| 35 | Ikot Ekpene | 254,806 |
| 36 | Iwo | 250,443 |
| 37 | Gombe | 250,258 |
| 38 | Jimeta | 248,148 |
| 39 | Atani | 230,000 |
| 40 | Gusau | 226,857 |
| 41 | Mubi | 225,705 |
| 42 | Ikire | 222,160 |
| 43 | Owerri | 215,038 |
| 44 | Shagamu | 214,558 |
| 45 | Ijebu-Ode | 209,175 |
| 46 | Ugep | 200,276 |
| 47 | Nnewi | 193,987 |
| 48 | Ise-Ekiti | 190,063 |
| 49 | Ila Orangun | 179,192 |
| 50 | Saki | 178,677 |
| 51 | Bida | 171,656 |
| 52 | Awka | 167,738 |
| 53 | Ijero-Ekiti | 167,632 |
| 54 | Inisa | 164,161 |
| 55 | Suleja | 162,135 |
| 56 | Sapele | 161,686 |
| 57 | Osogbo | 156,694 |
| 58 | Kisi | 155,510 |
| 59 | Gbongan | 139,485 |
| 60 | Ejigbo | 138,357 |
| 61 | Funtua | 136,811 |
| 62 | Igboho | 136,764 |
| 63 | Buguma | 135,404 |
| 64 | Ikirun | 134,240 |
| 65 | Abakaliki | 134,102 |
| 66 | Okrika | 133,271 |
| 67 | Amaigbo | 127,300 |
| 68 | Lafia | 127,236 |
| 69 | Gashua | 125,817 |
| 70 | Modakeke | 119,529 |