This post features detailed information about Musa Danjuma and what you may currently not be aware about him and by that we mean his family, relationship, career, business and so on.
Early Life of Musa Danjuma
Musa Danjuma was born on November 4, 1954 into the family of Kuru Danjuma and Rufkatu Asibi. His birth place is Takum, Taraba State and he's the last child of his parents. He's a native of Taraba State and Jukun by ethnicity.
Education
The prominent Musa Danjuma completed his elementary education at St. Bartholomew's Primary School in Wusasa Zaria though he started at Tarkum,. His university education was at Ahmadu Bello University, Zaria where he graduated with a degree in Law. After, he proceeded to Nigerian Law School, Lagos and later, he attended Lagos Business School.
Advertisements
CONTINUE READING BELOW
Career and Business
Aside from working as a lawyer with the Federal Ministry of Justice, he has also worked with a number of companies including Songhai Petroleum Co. Limited, Inter-Contractors Nigeria Limited and Albeco International Limited.
Musa is a renowned businessman in Nigeria even though he had a career as a lawyer. He's currently the chairman of Cornet Shipping Agencies Nigeria Limited and has an estimated net worth of $10 million. Apart from Comet, he's also the chairman of Nigeria America Line and an executive at Trabaroz Fisheries Ltd.
Musa Danjuma's Father
The name of Musa Danjuma's father is Kuru Danjuma. Probably, Musa's father was one of those who infused the desire for business in him. If not directly, Kuru Danjuma's exploits in the world of business must have played a role in his son's interest in building a business empire.
Advertisements
CONTINUE READING BELOW
Kuru Danjuma was a farmer and a trader. Also, he didn't limit his trading activities to his local environment as he actively involved in interstate business. Basically, he sold products including beniseed, salt and soybeans.
While Kuru Danjuma was much more active in business, his son, Musa was relatively young and was more focused on his education. But even at that, he wasn't completely off the radar in his father's business. Sometimes, his father saddled him with the responsibility of taking the stock count and making sure there was proper accounting.
Musa Danjuma and TY Danjuma
What relationship exists between Musa Danjuma and TY Danjuma?
Musa Danjuma is a blood relation to General Theophilus Danjuma famously called TY Danjuma. In fact, Musa Danjuma is a younger brother to him. Theophilus Danjuma is a retired army general, an erstwhile Minister of Defence of the Federal Republic of Nigeria during Olusegun Obasanjo's first term administration (1999-2003) and a prolific business mogul.
Advertisements
CONTINUE READING BELOW
TY Danjuma is the chairman of South Atlantic Petroleum Limited (SAPETRO).
Talking of impact, TY Danjuma has been a domain of motivation for Musa Danjuma. In fact, his impact on him is synonymous to that of a parent.
Musa Danjuma and Ishaya Danjuma
Ishaya Danjuma is a son to TY Danjuma and by default, he's Musa Danjuma's nephew. He's the husband of the famous former beauty queen Agbani Darego. Ishaya who trained in the United Kingdom, United States of America and Nigeria functions as a director at TY Holdings Limited and Unitrust Insurance Company Limited. Also, he's a member of Central Realities and Pleaidex boards.
Musa Danjuma's Marital Life
So far, research says the business magnate has had five wives. As if that's not enough, Many reports have linked him to many extra marital affairs and as a result, he's termed as a polygamist and a regular divorcee.
Advertisements
CONTINUE READING BELOW
Now, let's take a look at some of his wives.
First Wife of Musa Danjuma: Dr. Nkiru
Dr. Nkiru Nzegwu-Danjuma was a lawyer, author, poet and also a businesswoman. She founded Johanam Chambers and was a principal partner. Their marriage couldn't stand the test of time as it ended up in a divorce after having four daughters together. In 2014, she died of renal failure after surviving a battle with cancer.
Musa Danjuma's Ex-wife: Pauline
Information about Pauline Danjuma is not so much because she decided to maintain a low profile. Reports also made it clear that the marriage between the two also crashed.
Musa Danjuma's Ex-wife: Caroline Hutching
Nigerian actress, Caroline Uduak Abasi Ekanem was born to a Scottish father but her mum is Nigerian. She's also the first of three children. Caroline studied Environmental Protection Management, Geography and Regional Planning at the University of Calabar and in 2016, she bagged a certificate of achievement in organizational behavior from Edinburgh Business School.
Advertisements
CONTINUE READING BELOW
Caroline Hutching, formerly called Caroline Danjuma married Musa Danjuma in 2007. Unfortunately, the usual marital result became evident for Musa Danjuma as the marriage also hit the brick wall in 2016. But the almost 10 years' old marriage produced three children comprising two sons and a daughter.
Musa Danjuma's Children
The successful business man has no less than 7 children.
First, he had four children with his first wife, Dr. Nkiru. These children are all females and their names are Saratu, Asibi, Jennifer and Jessica. Also, his almost 10 years' marriage with Caroline produced three children two males and a female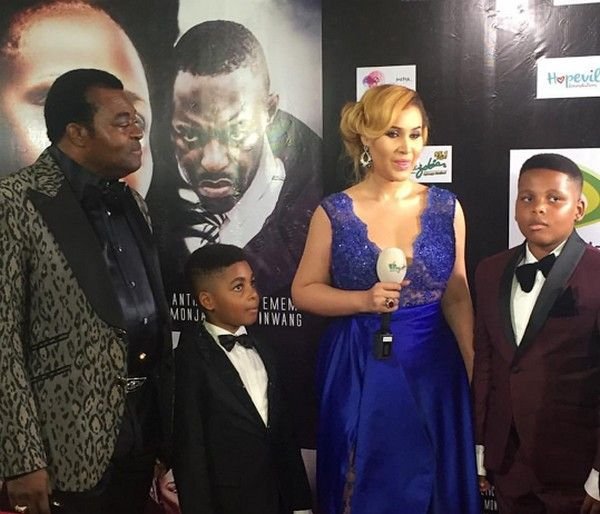 Is Musa Danjuma a billionaire?
Yes, he is a billionaire. Musa Danjuma, a younger brother to Theophilus Danjuma is a businessman with ventures in the shipping and paint industries. He had a career as a lawyer and also worked in different companies. In addition, he's the chairman of Cornet Shipping Agencies Nigeria Limited and an executive in many others.
Advertisements
CONTINUE READING BELOW
Is Caroline still married to Danjuma?
Caroline and Musa Danjuma are not in a marital relationship. The former couple called their marriage to a halt in 2016 after 10 years of tying the knot. On her Instagram page, Caroline Hutchings herself shared her divorce experience and there's been no information pointing to their coming back as husband and wife.
Wrapping Up
If you wanted to know about Musa Danjuma, this post discussed his childhood, education, professional career, business and of course, his family which includes his famous brother, wives and children. And if you want to know other rich individuals in Nigeria, an article on this website has a list of these persons.