Reviewed by Soliu.
The most luxurious hotel in Dubai and the world is the Burj Al Arab in Dubai, United Arab Emirates. It is a seven-star hotel that is known for its luxury and stunning views of the Arabian Gulf. Its sail-shaped masterpiece is an architectural marvel and a symbol of Dubai's grandeur.
Dubai, popularly known for its opulence and extravagance, is one of the world's premier destinations for luxury travellers; it boasts a breathtaking skyline, man-made islands, and a wealth of world-class amenities. Among the many lavish offerings that Dubai has to offer, its collection of luxurious hotels stands out.
In this article, we will take you on a virtual journey through the most opulent, extravagant, and awe-inspiring hotels in Dubai, where indulgence knows no bounds. Let's check out the 10 most luxurious hotels in Dubai.
.........................
Top 10 Most Luxurious Hotels In Dubai
1. Burj Al Arab Jumeirah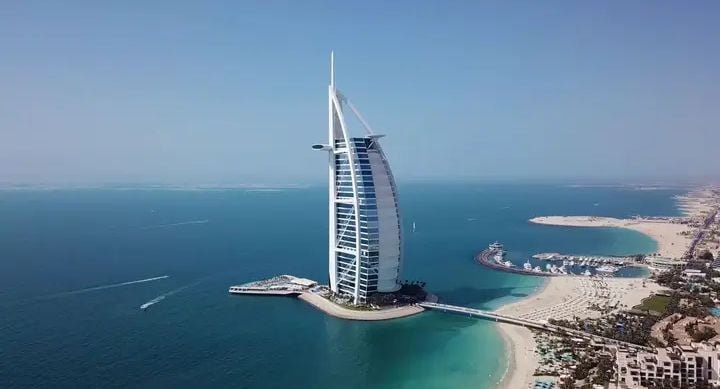 The iconic Burj Al Arab Jumeirah, often referred to as the "7-star" hotel, stands majestically on its island in the Persian Gulf. This sail-shaped masterpiece is an architectural marvel and a symbol of Dubai's grandeur.
Its sail-shaped silhouette soars 321 meters into the sky, making it one of the tallest hotels in the world. Inside, you'll find an extravagant lobby adorned with gold leaf, mosaic tiles, and a cascading waterfall.
When it comes to luxury Suites, the Burj Al Arab boasts some of the most opulent suites in the world, including the Royal Suite, which spans two floors and comes with a private cinema, dining room, and a rotating canopy bed. The hotel also offers an array of lavish amenities, from chauffeur-driven Rolls-Royces to a private beach, infinity pools, and a spa that will transport you to a realm of relaxation.
.........................
Guests can savour culinary delights at the hotel's nine world-class restaurants and bars. Al Mahara, the underwater restaurant, offers a unique dining experience surrounded by a massive aquarium. This is undoubtedly the most luxurious hotel in Dubai!
2. Atlantis The Palm
Atlantis The Palm is a magnificent resort located at the tip of the Palm Jumeirah, one of Dubai's iconic man-made islands. The hotel is renowned for its underwater suites at the Lost Chambers Aquarium. Guests can sleep surrounded by the mesmerizing marine life of the Persian Gulf, making it an unforgettable experience.
For thrill-seekers, the resort's AquaVenture Waterpark is a paradise of exhilarating water slides, including the heart-pounding Leap of Faith that plunges you through a shark-filled lagoon. Guests can also swim and interact with dolphins at Dolphin Bay, a unique and educational experience for visitors of all ages.
.........................
The resort's design is inspired by the grand palaces of Arabia, with lush gardens, intricate mosaic tiles, and ornate archways creating an atmosphere of pure opulence and serenity. The Palm boasts a private beach where guests can relax or indulge in water sports, all while enjoying the lovely views of the Arabian Gulf.
3. Four Seasons Resort Dubai at Jumeirah Beach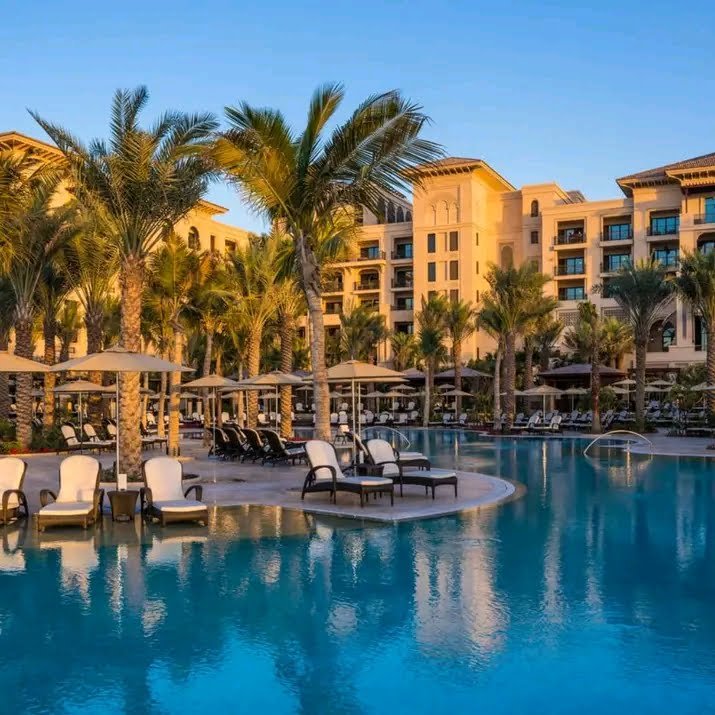 Four Seasons Resort Dubai at Jumeirah Beach stands as a beacon of luxury and offers impeccable service. This hotel boasts a wide range of luxurious accommodations, from elegant rooms to opulent suites, crafted to perfection for your ultimate comfort and style.
Guests are treated to a visual feast of the ocean, the Dubai skyline, or the lush resort gardens, ensuring a serene and picturesque backdrop for their stay.
.........................
The Four Seasons Resort Dubai is home to a private stretch of sandy beach overlooking the Arabian Gulf. Guests can bask in the sun on comfortable loungers, take refreshing dips in the turquoise waters, or enjoy thrilling water sports. For a more exclusive experience, the resort offers luxurious cabanas around the pool, where guests can unwind in privacy and style.
4. One&Only The Palm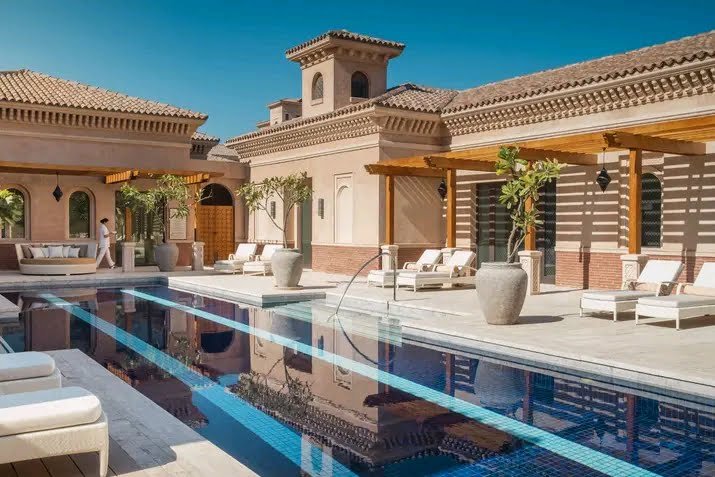 One&Only The Palm is a haven of luxury in the heart of Dubai. This luxurious resort offers a one-of-a-kind combination of Moorish and Andalusian architecture, creating an atmosphere of timeless elegance and sophistication.
One&Only The Palm features 94 luxurious rooms, suites, and villas, each meticulously designed to provide the utmost comfort and style. Guests can enjoy lovely views of the Dubai skyline or the lush gardens surrounding the resort.
.........................
For the ultimate in privacy and luxury, the resort offers a selection of exclusive beachfront villas. These spacious retreats come with private pools, lush gardens, and direct access to the resort's private beach, ensuring a secluded and intimate experience for discerning guests.
The hotel also offers unique experiences to its guests. From private yoga sessions on the beach to bespoke culinary journeys curated by expert chefs, the resort caters to the individual preferences and desires of its guests. In addition, the resort's private marina provides opportunities for yacht charters and water sports adventures in the Arabian Gulf.
5. The Bvlgari Resort Dubai
This hotel is situated on the exclusive Jumeira Bay Island. This opulent retreat offers discerning travellers a harmonious fusion of contemporary design, impeccable service, and breathtaking views of the Arabian Gulf.
.........................
The resort boasts a selection of luxurious rooms, suites, and villas, each meticulously designed with modern aesthetics and traditional Arabian influences. It features exquisite Italian furnishings, private balconies, and lavish marble bathrooms; the accommodations provide an atmosphere of refined luxury.
The resort's crown jewel is its collection of Overwater Villas, offering direct access to the sea, infinity pools, and panoramic views of the Dubai skyline. Bvlgari's Yacht Club provides a luxurious haven for boating enthusiasts. With a private marina and a range of water activities available, guests can embark on private yacht charters, enjoy sunset cruises, or explore the Arabian Gulf on a traditional dhow, creating unforgettable maritime experiences.
Guests can unwind with personalized massages, facials, and body treatments, all performed by skilled therapists using premium Bvlgari products.
.........................
Bvlgari Resort Dubai provides a stunning backdrop for private events, weddings, and celebrations. Its elegant event spaces, attentive event planners, and exquisite catering services ensure that every occasion is elevated to a realm of luxury and sophistication.
6. The Ritz-Carlton, Dubai
This Resort is also tagged as the most Luxurious hotel in Dubai. It is situated on the shores of the Arabian Gulf, Ritz-Carlton, Dubai. The hotel features a private beach where guests can relax in opulent cabanas or indulge in water sports like kayaking and paddleboarding.
The Club Level experience offers exclusive access to a private lounge, where guests can enjoy complimentary culinary offerings and personalized service. Culinary excellence takes centre stage at The Ritz-Carlton, with nine restaurants and bars, including the award-winning Blue Jade, serving up delectable Asian cuisine.
.........................
For the utmost in luxury, the hotel offers The Ritz-Carlton Suite, a palatial retreat with panoramic sea views, a private terrace, and a dedicated butler.
7. Palazzo Versace Dubai
For those with a flare for fashion and style, Palazzo Versace Dubai is a dream come true. This opulent hotel bears the mark of the Italian fashion house Versace.
The entire hotel is a homage to the iconic Versace design, from the Medusa head logo in the lobby's mosaic to the opulent furnishings and fabrics in the rooms and suites.
Palazzo Versace Dubai offers sumptuous rooms and suites, each adorned with Versace's signature style, making it a visual feast for fashion enthusiasts.
The hotel's wellness centre and spa offer a range of indulgent treatments, including facials, massages, and body scrubs, all delivered with Versace's signature elegance.
.........................
8. Waldorf Astoria Dubai Palm Jumeirah
Situated on the iconic Palm Jumeirah, the Waldorf Astoria Dubai Palm Jumeirah is a symbol of timeless luxury and hospitality. The resort boasts a private beach with breathtaking views of the Dubai skyline, offering the perfect setting for relaxation and water activities.
Guests can savour gourmet cuisine at the resort's signature restaurants, including Social by Michelin-starred Chef Heinz Beck and Lao, serving up Southeast Asian flavours.
The Waldorf Astoria Dubai Palm Jumeirah offers a variety of luxurious suites, each meticulously designed to provide guests with a truly unforgettable experience. These stunning accommodations feature floor-to-ceiling windows that offer mindblowing views of the Arabian Gulf, as well as a host of amenities and services to ensure a stay that is both relaxing and indulgent.
.........................
The spa offers a variety of revitalizing treatments and therapies to help guests relax, rejuvenate, and heal, including bespoke experiences that cater to individual preferences.
9. Armani Hotel Dubai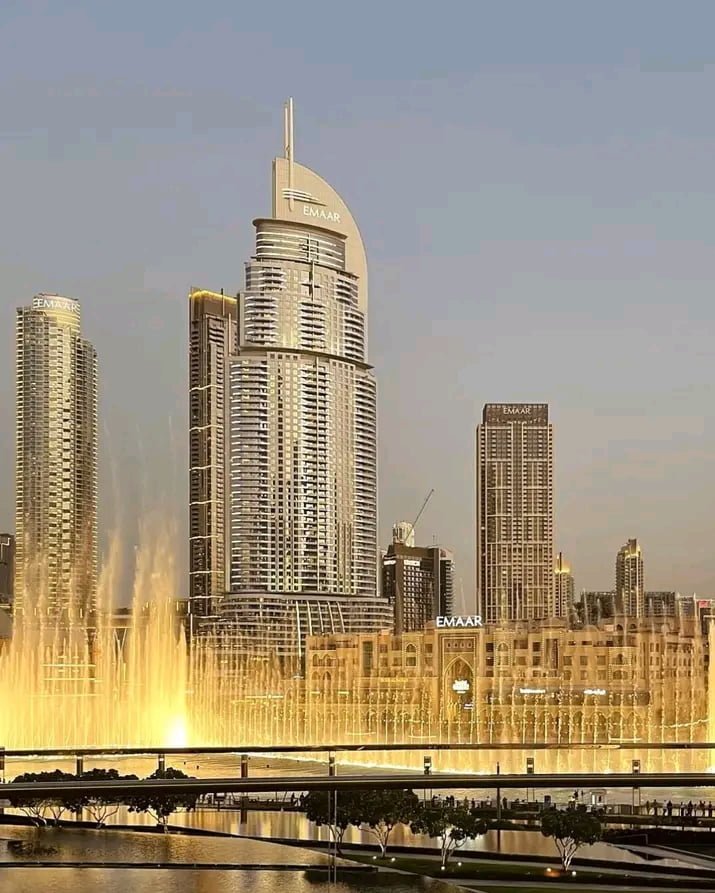 For those who appreciate the intersection of fashion and luxury, the Armani Hotel Dubai is an exquisite choice. It is situated within the iconic Burj Khalifa.
Armani Hotel Dubai is infused with Giorgio Armani's signature style, from the minimalist yet opulent decor to the custom-made furnishings and exclusive fabrics.
Guests of the Armani Hotel are treated to a level of personalization that's unmatched. Each guest is assigned a dedicated Lifestyle Manager who caters to their every need and preference.
The hotel offers numerous dining experiences, including the renowned Armani/Ristorante, where guests can savour Italian cuisine with a modern twist.
.........................
10. The St. Regis Dubai, Al Habtoor Polo Resort & Club
This Luxurious hotel is home to the Dubai Polo & Equestrian Club, making it the perfect destination for polo enthusiasts or those looking to experience the sport.
Guests can stay in luxurious villas, each with its private pool and courtyard, offering the utmost in privacy and comfort.
The Iridium Spa offers a range of treatments and therapies, including massages, facials, and body scrubs, all designed to rejuvenate the body and mind.
What is the Most Luxurious Place in Dubai?
Dubai is home to numerous luxurious places, but one of the most opulent and luxurious places is the Burj Al Arab Jumeirah. It's often considered one of the most luxurious hotels in Dubai and globally. It is known for its unique sail-shaped architecture and extravagant amenities.
.........................
Where do Celebrities stay in Dubai?
Celebrities often stay in exclusive resorts and hotels in Dubai. Atlantis The Palm is a popular choice due to its luxurious accommodations, private beaches, and underwater suites. In addition, One&Only The Palm, located on the Palm Jumeirah, is known for its privacy, which makes it a preferred choice among celebrities.
What is the Most Expensive Hotel in the Emirates?
The most expensive hotel is the Emirates Palace in Abu Dhabi, UAE. It is one of the most expensive in the world.
How much is the 7-star hotel in Dubai per night?
The term "7-star" is often colloquially used to describe the luxurious Burj Al Arab Jumeirah. The exact price per night varies based on the type of suite, time of year, and any special packages. However, in general, staying at Burj Al Arab Jumeirah for a night can cost anywhere from AED 4,500 (about $1,225) $1,000 to AED 8,000 (about $2,175).
.........................
In as much as we have pictures and texts here to describe the most luxurious Hotel in Dubai, we can also watch this video to have a better view of what luxury is all about.
Conclusion: Most Luxurious Hotel in Dubai
Dubai, with its relentless pursuit of luxury and extravagance, has become a global hub for opulent travel experiences. The hotels featured in this article represent the pinnacle of hospitality, offering guests a taste of the extraordinary in the heart of the desert.
If you need underwater suites, Italian fashion in every detail, or equestrian elegance, Dubai's most luxurious hotels are ready to exceed your wildest expectations.
In Dubai, luxury knows no bounds, this is why the most luxurious hotel in Dubai is a testament to the city's commitment to creating magical, one-of-a-kind experiences for every traveler who visits this extraordinary destination.
.........................
Did I forget to include one hotel? Let me know in the comments box.