Whether primitive or advanced, true sickness made us to recognize the value of health center. Hence, we'll be discussing the best hospitals in Nigeria today.
Like the old cliché "Health is wealth", but in reality, it's hospital we go to if a health condition is not normal and not a bank.
It is the best and only place to visit for proper check-ups, diagnosis, and treatment. As such, there is need to know the best health centers in the country.
Best Hospitals in Nigeria and their cost
Be informed that this list of the best hospitals in Nigeria are compiled putting in some important factors into consideration.
Factors like modern and state-of-the-art facilities, team of doctors and surgeons, nurses, number of research carried out, types of surgery they did, among others.
...........................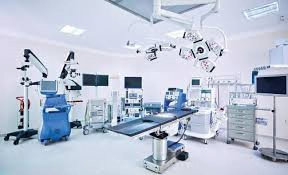 Without putting much emphasis on hierarchy, below are the best hospitals in Nigeria right now that you can trust with your health, wellness, and well-being.
1. Lagoon Hospital
The Lagoon Hospital is located in Lagos and it was established in 1986 by Hygeia Group with the main aim of providing standard and international clinical services.
This medical center is one of the leading private healthcare service providers in Nigeria right now. With over 30 years experience, the hospital has been investing and updating their skills and tech.
Being the first health center in sub-Saharan region, Lagoon hospital is recognized as one of the best tertiary care providers in Nigeria.
The hospital has been accredited and reaccredited by the Joint Commission International (JCI), certifying that the hospital is rendering qualitative services.
...........................
2. Primus Super Speciality Hospital
Also, Primus International Super Speciality Hospital, Karu is another leading and top hospital in Nigeria you can seek medical attention from.
The medical center is a reputable health institution in Nigeria and it is established by renowned Primus Super Speciality Hospital, India.
The hospital is a centre of excellence and brilliance for Specialized Surgeries. The health care has 120 beds capacities with modern infrastructure.
All are being created and maintained using the international standards. The hospital is equally equipped with state-of-the-art and cutting edge technology.
3. University college hospital, Ibadan
The University college hospital or University of Ibadan teaching hospital, Ibadan as many people call it is one of the best hospitals in Nigeria.
...........................
The hospital was founded in 1948 and over time, the premiere (first) teaching hospital has expanded and grow into a beautiful and modern health center.
UCH has a ultra-modern facility for cancer care such as radiotherapy, chemotherapy and oncology.
As a matter of fact, the University of Ibadan teaching hospital has the largest number — more than any other teaching hospital — of medical specialists in Nigeria.
UCH have a well furnished ICU, active ambulance services, transplant surgeries, assisted reproductive technology,open heart surgeries, and many more.
4. EKO Hospital
Equally, there is Eneli Kuku Obiora (EKO) Hospital and it's one of the leading and best health centers in Nigeria.
The EKO hospital is located at Ikeja and it was established in 1982. The private medical center has about 130 bedded facility providing tons of healthcare services.
...........................
The hospital also has multiple facilities and their branches can be found in Ikeja, Ikoyi, Central Lagos, Surulere.
EKO hospitals offer variety of curative and diagnostic services via series of specialties at a regional and national level, carried out by trained and skillful medical professionals.
5. St. Nicholas hospital
Next on the list of the top hospitals in Nigeria is St. Nicholas. This hospital is a leading multi-specialty medical centre offering healthcare services to patients in its outpatient, inpatient and emergency care facilities.
St. Nicholas hospital offers an impeccable health care in modern and state-of-the-art facility having contemporary infrastructure as well as a team of highly trained professionals.
...........................
In addition, St. Nicholas is one of the first private hospital in Africa to establish a dialysis and kidney transplant unit.
Also, the health center is recognized and renowned for performing first ever pediatric kidney transplant in the whole of West Africa.
This amazing hospital, however, takes pride and derive pleasure in proclaiming that its Transplant center has over the years, conducted 160 success surgeries.
6. First Consultants Medical Centre (FCMC)
Another top hospital in Nigeria that is located in Lagos. First Consultants Medical Centre (FCMC) is a renowned private and multi-disciplinary hospital.
It was established by Dr Benjamin Nnamdi Ohiaeri in 1982. FCMC is set-up and dedicated to be offering healthcare services in multitude of specialties.
When it comes to gynecology and obstetrics, internal medicine and general surgery, pediatrics and neonatology, FCMC is the best.
...........................
7. Reddington Hospital
More so, the Reddington hospital has been performing wonderfully well in the Nigerian health industry.
The Reddington hospital has affiliations to the magnificent Cromwell Hospital, London. This health center pioneered the Nigeria's first Digital Cardiac Catherization and Angiography suite.
Such is a wonderful specialty in heart care. This hospital did not make this list on a platter of gold, it actually has quality, well motivated, trained and professional medical staff.
8. Zenith Medical Center
Worthy of mention on the list of the best hospitals in Nigeria is Zenith Medical Center, Abuja. The hospital has a top-notch facilities.
Zenith Medical Centre has grown into a popular and renowned hospital in Nigeria because of its expertise in genitourinary (urology) procedures and exploits in renal transplant.
...........................
Plus, the hospital have invested in up to date medical facilities, dedicated, well trained, professionals and skillful medical staff.
However, the Zenith Medical Centre, Abuja success story and hard-work in kidney transplant have made it deserve a mention in this publication.
9. Neuropsychiatric Hospital, Abeokuta
Talking about the best and leading medical centers in Nigeria, the Neuropsychiatric Hospital, Around Abeokuta can never be overemphasized.
This health institution is owned and managed by the Federal Government of Nigeria and it has 537-bed mental healthcare facilities.
What's more, this reputable healthcare institution is the first psychiatric hospital to be built on purpose in Nigeria. And it has been leaving to its name ever since its establishment.
...........................
10. Noma Children Hospital Sokoto
Accordingly, the Noma Children Hospital, Sokoto is another specialist hospital in Nigeria that is located in the Northern part of Nigeria.
Interestingly, this special hospital is a World Health Organization (WHO) referenced hospital, and it is specifically built for plastic and reconstructive surgery.
That is to say, it is aimed at treating Noma and the ugly or disfiguring it usually brings to patients that survive it.
The costs of the best hospitals in Nigeria
To be candid, it's practically impossible to give a detailed and accurate information about the medical costs of seeking medical attention in any of the above hospitals.
While some of them are government owned institutions, others are privatized and yet, the cost of service fees charged by them can't be said in precision.
...........................
However, for accurate information on the costs of these best hospitals in Nigeria we mentioned above, it's advisable you visit the hospital or their official websites.