To begin with, you must note that there are tons of construction companies in Nigeria that are doing well, hence, they are not limited to the ones you will be exposed to in this publication.
You will agree with me that construction of buildings, bridges, roads, sports and recreation center and any other kinds of infrastructure is a prominent work in Nigeria.
Thus, there are countless numbers of construction companies that are offering these services and doing wonderfully well across the 36 states in Nigeria.
In fact, some of them have been in existence since time immemorial, and they are still performing excellently till now while there are others that are just coming into limelight.
Without further ado, most of these construction companies in Nigeria have contributed immensely to the growth of the building and construction industry in the country.
Top 10 construction companies in Nigeria right now
Without any recourse to hierarchy or order, below is the list of construction companies in Nigeria that you can count on to do your work for you.
.........................
1. Arab Contractors (AC)
Presently, the Arab Contractors is one of the leading construction companies in Nigeria and Africa at large, that you can trust with any construction job.
The company is specialized in diversified portfolio among them are: building houses, bridges, road, tunnels, airport, tunnels, sewage plants, sports building, etc.
Their office in Nigeria is situated at Ajose Adeogun Street, Victoria Island, Lagos. Some of their notable works include: the Owerri-Elele Road reconstruction and the potable works sanitation in the Woi region of Abuja.
2. China Civil Engineering Construction Company (CCECC)
The CCECC is another notable construction company in Nigeria that is doing well. Their head office in Nigeria is at 46 Nnamdi Azikwe Drive, Ebute Metta, Lagos.
The company is currently in charge of the magnificent Lagos Light Rail project.
Historically, the CCECC Nigeria is a subsidiary of a famous China based company which was founded in 1979 in Mainland China.
However, the company has subsequently grown into a highly sought international contractor with capital projects in more than 40 countries.
.........................
Also, China Civil Engineering Construction Company is responsible for the Ikorodu road construction project which is a beauty to behold, and it extends from Calabar to Uyo, Aba, Port Harcourt, Yenagoa, Otuoke, Ughelli, Warri, Sapele, etc.
3. Schwartz Kristoffel (SK)
SK is arguably one of the top engineering companies in Nigeria with tempting portfolios. It was founded in 1987.
This construction company uses its access to technology so well that it has transformed the business from a materials engineering firm to a complete engineering procurement and construction solution.
4. Julius Berger Nigeria
Without any iota of doubt, Julius Berger has become a household name in some cities in Nigeria. This firm is one of the outstanding construction companies in Nigeria today.
Being a subsidiary of the leading German construction company, Bilfinger Berger. Julius Berger Nigeria subsidiary is, therefore, the company that constructed the highly celebrated Eko Bridge.
5. Monier Construction Company (Nigeria) Limited
Similarly, the Monier Construction company has been in the radar for more than 5 decades now and it doesn't look tired or old in term of it activeness in the industry.
.........................
The Monier construction company was incorporated in 1957, and it is an active member of the Federation of Building and Civil Engineering Contractors in Nigeria.
Their head office is situated in Mile 7, Rumuigbo, Ikwerre Road, Port Harcourt, Rivers State.
6. Adold Engineering Company LTD.
Again, Adold Engineering is also one of oldest engineering and construction firms in Nigeria. It is over 40 years old with 250+ successful projects.
The company was established in 1976 and it has, over the years, offer several range of services in construction and engineering management.
Some of Adold company's works include, construction of Shell Petroleum Development Company, UBA Plc, Globacom Plc, ARM, Ajayi Crowther University, Central Bank of Nigeria, etc.
7. Netconstruct
Equally, Netconstruct is another reputable construction company in Lagos, Nigeria.
The company came into limelight in 2011 and it has, ever since then, successfully delivered more than 2000 homes to its seasonal and regular clientele.
8. Reynolds Construction Company
A subsidiary of SBI International Holdings AG, whose headquarters is located in Switzerland.
.........................
Reynolds Construction Company (Nigeria) Limited was incorporated in 1956, and it has, over the years, completed Nigeria several projects. One of which is Umeze-Anam-Mmiata Road.
9. Setraco Nigeria Limited
Another worthy of mention leading engineering construction company in Nigeria is Setraco Nigeria Limited.
The construction company has over four decades service experiences in rendering value-added infrastructural and civil projects.
What's more, Setraco has executed projects, successfully, in more than 20 states in Nigeria.
10. Saidi Nigeria Ltd
MORE SO, Saidi Nigeria Ltd was incorporated in 1997 and it has grown into one of top construction companies in the country ever since then.
The construction and engineering company are made up of qualified and unique teams of engineers who are dedicated team players.
The company is focus and determined on developing the capacity of its workers and this explain why Saidi construction company is fond of organizing workshops and seminars to train and retain their engineers.
.........................
Other top construction and engineering companies in Nigeria
Below is the list of other worthy of mention engineering and construction companies in Nigeria that are able and capable.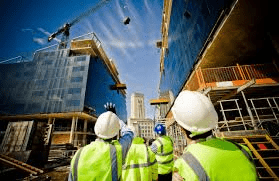 Elalan Construction Company
Brunelli Construction Company (NIGERIA) Limited
Dantata and Sawoe Construction Company (NIGERIA) Limited
CONCLUSION
To be honest, constructing any kind of requires technical expertise and technical know-how. You can easily get your foot in the wrong lane if use the wrong company in carrying out a project.
In other to save yourself the trouble of loosing your money, we have compiled a comprehensive list of top construction companies in Nigeria.
These companies are legit and honourable, majority of them hold the record of the most used and patronized construction and engineering companies in Nigeria right now.
Therefore, whether you'll be building a bridge or cinema, financial institution or university, any of the above mentioned construction companies is the real deal for the job.
.