The most expensive phone in the world is the Falcon supernova iPhone 6 pink diamond valued at 48.5 million dollars.
In today's world, mobile phones have become essential. Since practically everyone on the earth needs one, it is the most popular technology of the twenty-first century. These gadgets are helpful in our daily life.
Although carrying a cell phone seems to be the most prominent and practical for communication, it has evolved beyond that to become a device that must have at all times.
Due to the quick advancement of technology in our modern world, mobile phones can now carry out a variety of complex and unique jobs. As the world of phones advances daily, manufacturers compete to offer the newest capabilities as well as add new luxuries. The value of mobile phones rises as a result.
.........................
A phone becomes more valuable as its capabilities, technicality, features, and other attributes increase. In essence, you can get a phone for a few hundred dollars, but you'll have to spend more money if you want extra, and the world's richest folks are not afraid to do just that.
In this article, we will make a countdown of the most expensive phones that have ever been produced in our century, so brace up. Number one will make your jaw drop.
Also see: The 10 Amazing Most Expensive Restaurants In The World.
15 most expensive mobile phones
15. Dior Reverie ($102,000)
Dior Reverie is made for people who value luxury and style. This phone has a multi-touch LED flat screen and offers you a vast selection of apps and menus. The device's internal technology deserves commendation, as the phone has animations and galleries built into the design.
.........................
The Dior Reverie gives the user the delight of employing the most exquisite and unique materials imaginable. The device enhances materials like diamond, gold, sapphire crystal, pearl, and more, thanks to its exquisite craftsmanship!
Purchasing a Dior Reverie with a unibody design characteristic is like realizing a dream! This makes it the 15th most expensive phone in the world.
14. Caviar iPhone 11 pro max diamond Christmas star ($137,000)
Being part of the iPhone series, this 2021 iPhone doesnt disappoint. The diamond in the center of the rear of the Caviar iPhone 11 Pro Max is a marvel because it represents a lot of different things.
In essence, the phone was created to symbolize Jesus Christ being led by the Star of Bethlehem, which serves as the primary theme of the entire phone design. The phone has a stylish appearance, and the entire back is covered in gold jewels. Even the concept stirs up an intense yearning for an attractive setting.
.........................
13. iPhone princess plus ($176,400)
The phone's name alone can infer a lot of information. You won't believe how much gold and jewels the iPhone Princess plus phone has been covered with. Designed by Peter Aloisson, an Australian jeweler and designer, the phone has 318 diamonds and 17.75 carats of gold and diamonds embedded in it.
Even the flashing beauty is so expensive that it ranks among the priciest phones available. The phone's name comes from the Princess cut, which was applied to 138 of the 318 diamonds on its surface.
Brilliant-cut diamonds make up the remaining 180 stones on the phone, which also has 17.75 carats of diamonds set in 18k white gold around the rim. The diamonds used are all of the highest grades.
.........................
12. Savelli Emerald Night ($250,000)
The Savelli Emerald Night is one of the most expensive phones ever made and features 18k gold components. Judging by its features, the Emerald Night is by far the best of the eleven Savelli models.
The 4.5 carats of emeralds, 18 carats of white gold, and 12.5 carats of diamonds are part of the reasons why this phone is so attractive and equally expensive.
This expensive item is primarily made for fashionable women who enjoy wearing opulence. With 400 mix and baguette-cut emeralds, the item is astonishingly created.
The phone, just like other phones in its time, has Bluetooth, Wi-Fi, GPS, a 5 MP camera, a selfie camera, and a 3.2-inch display with sapphire glass, ceramic, anthracite satin, and rubber.
.........................
This tiny marvel, which comes in a few limited editions with only 27 units released, is a woman's fantasy phone.
11. Ericsson black diamond VIPN Smartphone ($300,000)
Sony Ericsson inspired the Black Diamond VIPN smartphone at first, but the firm VPN now sells it. With its retro appearance, this smartphone stands out from other pricey and elegant smartphones. This phone has a pricey black diamond embedded in its gold and gemstone case.
With a 4-megapixel camera, an OLED screen, an easy-to-use touchscreen interface, and 128 MB of internal capacity, the Ericsson black diamond maintains the status of the aristocratic earlier smartphone age.
10. Vertu signature cobra ($310,000)
Vertu, a British manufacturer, and supplier of high-end, handcrafted smartphones, got established by Nokia in 1998, with the vertu brand becoming a subsidiary of Nokia in 2002.
.........................
Based on the thought that "if you can spend $20,000 on a watch, why not on a mobile phone?" Vertu had the intention to expressly sell phones as fashion accessories rather than as tech-savvy devices.
The Signature Cobra from Vertu might be their best creation yet. The phone was created by French jeweler Boucheron and is only available in eight pieces globally. It was assembled by hand for an added artisanal touch with a cobra design which is the most eye-catching feature.
The handset's jewel-encrusted cobra, which wraps around the body, is made of solid gold, white diamonds, emeralds, and rubies. The body is gold-plated.
In 2017, vertu corporation was liquidated after filing for bankruptcy; however, the vertu brand continues to operate under vertu AK France where you can buy other vertu products today. Vertu signature cobra is the tenth most costly phone of our century.
.........................
9. Goldvish revolution ($488,150)
Goldvish is a swiss company that specializes in fusing Swiss artistry with top-notch technology. Founded in 2003 and headquartered in Geneva, the company created the goldvish revolution costing a whooping $490,000 with only nine units produced.
The phone incorporates materials including white gold, rose gold, leather, diamonds, and sapphire glass, in addition to changing the typical phone's square appearance for one that is more circular. For added originality, it even features a removable analog watch.
8. Gresso Luxor las vegas jackpot ($1 million)
This phone is a jackpot indeed, made from a combination of gold and black diamonds totaling 45.5 carats. The phone's stunning rear panel is made of wood from a 200-year-old African tree, and the keys have 17 manually polished, laser-etched sapphires.
.........................
Only three of these phones were ever produced, and each has a unique number carved on the wood paneling to remind the owners that they indeed have a one-of-a-kind item.
Another invention from the firm is the keyboard, where each key is handcrafted from crystal sapphire and polished with diamond tools—no wonder the phone costs a fortune.
7. Goldvish le million ($1.2 million)
In September 2006, a Russian businessman bought the Le million piece at 1 million euros for his wife. The sale was verified by the Guinness Book of Records, which earned the phone the title of the most expensive phone in the world.
The most recent in mobile technology at the time was included in this handcrafted cell phone, which was fashioned of 18-carat white gold and set with 120 carats of VVS-1-rated diamonds.
.........................
The design was designed as an addition to the "Illusion series" by GoldVish designer Emmanuel Gueit, who is renowned for designing various designs for upscale brands like Audemars Piguet and Harry Winston.
Only on special request was "Le Million" Piece Unique, delivered in a very small edition. Only three pieces were delivered worldwide.
6. Diamond crypto smartphone ($1.3 million)
The Diamond Crypto smartphone, which at the time of its debut held the distinction of the most expensive phone in the world, was created by Austrian designer Peter Aloisson.
The phone is constructed of platinum, has a rose gold logo and home button, and has some high-quality Macassar Ebony wood paneling on the side.
The phone's name is derived from two distinctive features: its 50 diamond studs, including ten extremely rare blue diamonds, and the encryption technology that it uses to protect all of its data totally. With a whopping 1.3 million, diamond crypto is our 6th most expensive phone.
.........................
5. iPhone 3g king button ($2.5 million)
This phone has a flawless 6.6-carat diamond that serves as the device's primary "home button,". The King's Button is made of a combination of 18-carat yellow, white, and rose gold. 138 diamonds are set into the white gold, which is in the shape of a strip that runs around the outside of the phone.
The killer smartphone from Apple was designed by Austrian jeweler Peter Aloisson, whose creative skills straddle the lines between jewelry, art, and technology.
The gorgeous 2008 iPhone is covered in diamonds and worth a staggering $2,517,345 to purchase, giving it the title of the most expensive iPhone in the world at the time.
4. Goldstriker iphone 3gs supreme ($3.2 million)
.........................
The Kings Button and the Goldstriker are similar in many ways, but the Goldstriker takes those similarities to a higher plane.
The 3gs supreme phone cost £1.92 million and took an average of 10 months to make. The phone was made using 271 grams of 22ct solid gold. A staggering 136 immaculate diamonds totaling 68 carats are set in the front bezel.
A single-cut, extremely rare diamond weighing 7.1 carats is housed in the front navigation button, and 53 perfect diamonds totaling 1 carat are set in the solid gold rear emblem.
The chest that holds this one-of-a-kind handset is carved from a single block of Kashmir gold granite, and it weighs a whopping 7 kg. The interior is lined with Nubuck top-grain leather. The device has 32GB of storage, is factory unlocked for usage anywhere in the globe, and can be upgraded with fresh software without freezing.
.........................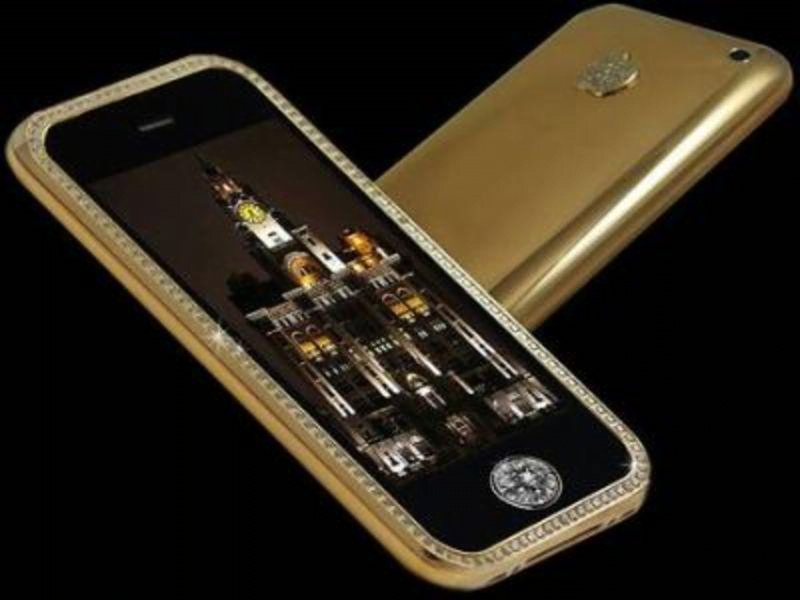 3. Stuart Hughes iPhone 4 diamond rose edition ($8 million)
One of the most expensive phones ever built is the iPhone 4 diamond rose edition, with a 5 million pounds price tag. The bezel is crafted by hand from rose and contains over 100 carats of around 500 unique, immaculate diamonds.
53 diamonds and the rose gold Apple logo offer a special touch to the rose gold rear section. A single-cut 7.4ct pink diamond is set in platinum, which also serves as the main navigation.
A rare 8ct single cut Flawless diamond is also included, which can take the place of the pink diamond. The chest that holds this one-of-a-kind handset is fashioned from a single block of Imperial Pink Granite, and it weighs a whopping 7 kg.
.........................
The interior is lined with Nubuck top-grain leather. This 32GB diamond rose edition smartphone came as a limited edition model with only two units ever made.
2. Stuart Hughes iPhone 4s elite gold ($9.4 million)
Given that this is Stuart Hughes' third entry on the list of priciest phones and that it is just one point off the top, he may have cornered the high-end iPhone market. This magnificent phone is handcrafted and uniquely designed, and its edge is encircled with 500 diamonds totaling 100 carats.
The Apple logo and the phone's back panel are both crafted from real 24-carat gold. A spectacular 8.6-carat diamond serves as the home button in this logo, which also boasts 53 diamonds and goes above and beyond his previous two designs.
.........................
The phone also includes a 7.6-carat diamond as a "spare button". It is packaged in a platinum chest that is embellished with precious stones and even polished fragments of real T-Rex bones.
These features are what really sets it apart from the competition and make it one of the most expensive mobile phones in the world. Only two ultra-exclusive iPhone 4S Elite Gold variants were ever produced.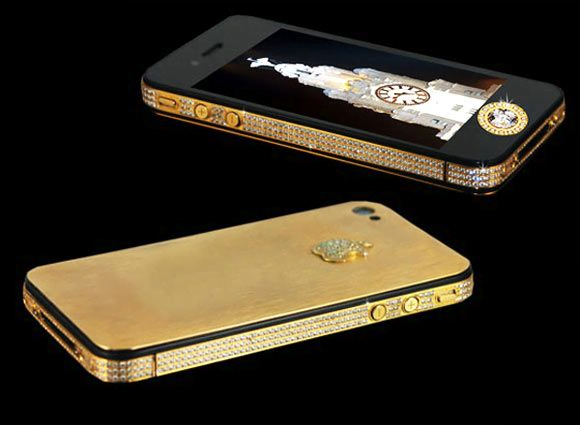 1. Falcon supernova iPhone 6 pink diamond ($48.5 million)
With their SuperNova iPhone 6 Pink Diamond line, US luxury business FALCON has driven up the cost of high-end technology. Despite every phone that has been produced after it, this custom iPhone, which was first created in 2004, still reigns supreme as the most costly smartphone in the world.
.........................
Compared to its rivals, the design is very straightforward, with a 24-carat gold exterior that also comes in rose gold and platinum versions. The phone's centerpiece is a sizable pink diamond that is embedded in the back panel.
The rarity of this phone is what drives its value to soar more than five times higher than that of the second top expensive phone. Its uniqueness makes it more expensive even though it is not as extravagant as one of Stuart Hughes' phones.
Two "less expensive" options with an orange and a blue diamond are also available for eye-watering $42.5 million and $32.5 million, respectively. The falcon supernova iPhone 6 remains the world's most expensive smartphone.
Also read: 12 Smart ways to make money with your phone this year.
.........................
What makes the most expensive phones so expensive?
1. Exclusivity
Exclusivity is the foundation of a luxury smartphone. Luxury smartphones are not usually mass-produced. They come in limited editions, with as low as two or three units being produced by the manufacturer.
Of course, this is excellent value for money cause you may be the only person in the world or in a particular part of the world to own something. One has to pay a lot of cash to enjoy such exclusivity.
2. Luxury
Most luxury smartphones frequently have gold-plated sides and are encrusted with diamonds, rubies, and all sorts of precious stones and metals.
These precious metals and stones are known to cost a fortune, and adding them to any phone automatically means that the phone will become expensive.
.........................
This is the primary reason why these phones are termed luxurious. Without these extra features, these phones won't cost that much.
3. Security features
The risk of using your very expensive smartphone on your daily commute is high. Thus, it is critical to maintaining the firewall because privacy and security are crucial features in luxury cell phones.
Some of these phones offer added security that allows a dedicated team of experts to keep tabs on how it is being used and immediately alerts you to any questionable behavior. Some luxury phones also pose military-grade protection on your smartphone, and why shouldn't any luxury phone have such security?
4. Executive purchase services
You never need to go to a service center if you buy a high-end smartphone since the service center comes to you. Whichever region of the world you reside in, you'll likely get one of the manufacturer's technical engineers to visit with a lifetime warranty on everything.
.........................
Final words
A premium smartphone is never about the technical characteristics; they are not vying for the best CPU, OS, storage capacity, battery life, or camera. It belongs to a different league and thrives more on exclusivity than efficiency or futurism.