There's no doubt that truck driving is one of the lucrative job opportunities in California. Do you intend to become a professional truck driver in California? Then getting a Commercial Driver's License (CDL) would be a great choice to make. This article covers 20 best CDL truck driving schools in California.
Truck Driving School Cost In California
Truck driving training costs vary, it all depends on where you live in California.
The cost for learning how to drive a truck is around the range of $1300 – $7000 in a professional truck driving school. While in an average school, you might be asked to pay $1500.
Requirements for CDL truck driving schools in California
Before a driver would be awarded his or her CDL, it is very important to ensure that they get legit training and advice to ensure a safe road for them and other users
As a result, there are various standards that every truck driver must complete before hitting the open road across the country, particularly in California. The requirements are sub-divided Into two categories; Basic Eligibility and the Required Tests. Below is a full explanation of both terms
.........................
Basic Eligibility refers to standard eligibility that one needs to meet or have before obtaining a CDL form. Such basic eligibility are stated below;
Provide a high school diploma or a GED.
Obtain a social security card
Provide insurance card
Have a valid Class D driver's license
You must be at least 18 years old to drive inside the state and 21 years old to drive across states.
Successfully complete a medical examination
Regularly pass drug tests
Pass the TSA inspection
The Required Tests are set aside to check for your health, skill, and knowledge.
Before getting your CDL and starting your truck driving career in California, you should educate yourself on several areas of road and vehicle safety.
The knowledge examination assesses your understanding of road and safety standards applicable to your vehicle class.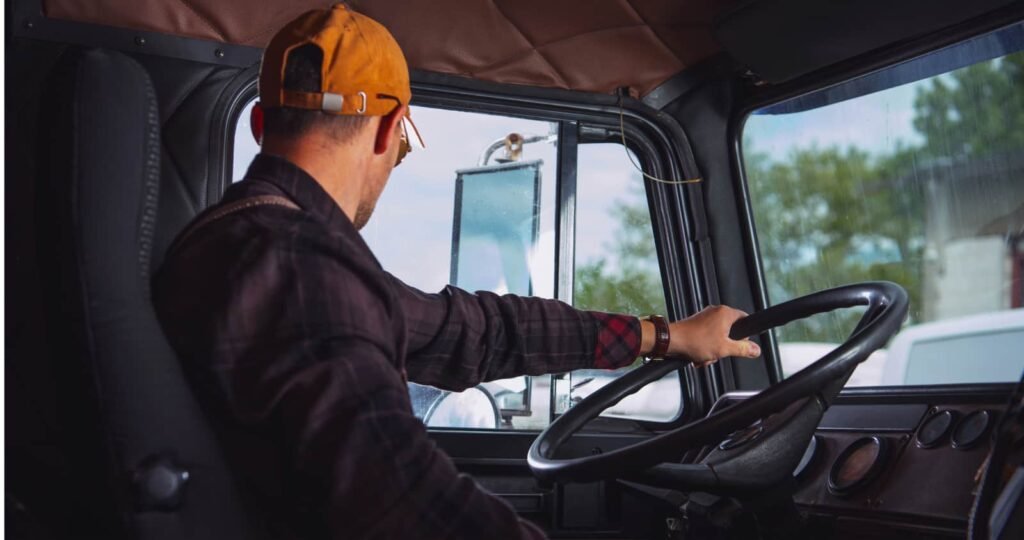 Class A and Class B Commercial Licenses For California Truck Drivers
For work, there are basically 2 types of CDL (Class A and Class B) you might want to obtain it depending on the plan or the kind of school you registered for.
.........................
Although, there is also a "Class C" type of CDLs, which many people don't see value for. It only allows you to drive a 16 passenger bus or and Hazmat truck
The distinction between these two is not in the method of acquisition but in the material conditions of use. Because of this, the practice permit and the driving test will be totally different while the written test and application procedure are generally the same.
Class A CDL
The Class A CDL allows the holder to drive for a job. Class A is mostly classified as a universal license. With it, you can drive any truck that a B or C license wouldn't permit you to handle.
You can drive vehicles or trucks with more than two axles and weigh over 26,000 pounds.
Class B CDL
The Class B CDL allows you to operate a single vehicle weighing 26,000 pounds and towed vehicles that weigh less than 10,000 pounds.
.........................
With this license, you can operate on School buses and city buses or buses that are segmented such as lorries and dump trucks.
Want to get your own commercial driver's license and start making money? Here are the 20 best CDL truck driving schools in California that you can obtain now.
Best CDL Truck Driving Schools In California
1 . California truck driving school
The CDL driving school is the first on my list. Their goal is to help drivers succeed by educating them with the knowledge and skills which are necessary to obtain a CDL pass.
The tutorial is a four-week training program calculated to be 150 Hours. You'll gain access to 20 hours of video lessons, 88 hours of outdoor skill checking, another 40 hours of driving skills training, and also teach you how to apply for jobs with your Class A CDL.
2. Golden Pacific Truck Driving School
Golden Pacific Truck Driving School is one of the best driving schools to obtain your CDL in California.
.........................
This school is dedicated to providing high-quality professional CDL training to meet the demands of this rapidly growing industry. If you register, you'll learn how to succeed as a professional CDL truck driver in the California trucking industry.
You'll spend a total of 160 hours getting your CDL training which you can complete within 4 to 8 weeks.
3. GSF Truck & Bus Driving Schools
This is one of the best CDL truck driving schools that you can enroll in. Its aim is to provide quality CDL truck driving lessons for commercial drivers.
Students are expected to perform well in order to pass and obtain the Commercial Driver License (CDL), so as to be able to get jobs and engage themselves in the transportation industry within and outside California.
4. Abylex CDL Truck Driving School
Abylex offers different courses to fit your schedule and needs. You can also get a one-day course from this school by studying a guide for the CDL permit test and then going to the DMV to pass the CDL test.
.........................
Apart from a one-day plan, there is also a one-week course that you can take and get your CDL instantly in California. You can check here to see full course plans.
5. National Truck And Bus Driving School
Here is one of the best CDL driving schools in the area, with outstanding customer service and support.
The National Truck Driving School provides courses for both beginners and experienced truck drivers. Through their driving techniques, you'll be able to develop the skills required to pass the CDL examination.
Apart from that, you'll be lectured on how to use your CDL to obtain a job in the truck driving industry.
Necessary driving techniques are taught to develop the skill level required to pass the Commercial Driver's Licence examination in California.
6. Allgood Driving School
Allgood Driving School is an expert in helping new drivers obtain a CDL, through quality education. You'll make a good driver and obtain your license with ease.
.........................
7. Sergio School of Trucking
Sergio School of Trucking offers flexible schedules and cheap fees, and with over 10 years of experience, they are set to help you learn to drive and achieve your CDL Class A or B license as fast as possible.
You can complete your training within 3-5 weeks with the lowest prices and the best service guaranteed to become an expert in transportation and truck driving.
With Sergio School of Trucking, you can get a CDL that would provide Job security, acquire high pay Jobs, the opportunity to travel around the country, and many more.
8. HI- Desert Truck & Bus Driving School
Hi-Desert Truck Driving School focuses on helping students acquire their Class A, B, and C commercial driver's licenses.
Students become professional commercial drivers for the transportation business in no time. Its CDL Training Programs take 4-8 weeks or fewer to complete.
9. America Truck Driving School
When it comes to obtaining a commercial driver's license in California, then the America Truck Driving School is the best option for you. As a beginner, you can obtain a Class A/B CDL and gain access to the world of wealth.
.........................
10. C.R. England Premier Truck Driving School
This school offers training in 48 different certifications, the most popular of which is the Class A Commercial Driver's License.
The cost of attending C.R. England Premier Truck Driving School ranges from $1,300 to $8,000, with a median cost of $5,000.
11. United Truck Driving School
The CDL programs at United Truck Driving School are comprehensive and educational, preparing you for the CDL test.
The Class A CDL training program costs $5,995 and includes weekly classes from 7-5 AM on Mondays, as well as intense weekend classes.
12. Toro School of Truck & Bus Driving
Toro School of truck makes the best training possible and eventually helps you obtain your Commercial Class "A" driver's license. It is located on Alondra Blvd UNIT 101, Bell flower, California, United States.
Their services include Driving School, Adult lessons, private lessons, teen classes, bi-lingual, driver training, driving training, night & weekend classes, one on one training, truck driving, truck driving training, and unlimited lessons & DMV testing.
.........................
13. California Truck Driving Academy
This is one of the best CDL driving schools in California to enroll In. California Truck Driving Academy's students receive professional truck driving training and job support.
California Truck Driving Academy educates students with professional lessons with safety instruction throughout the training programs.
14. Roadmaster Drivers School
Its CDL Training Program equips students with the knowledge they need to start driving a truck professionally in a short period.
The truck driving school teachers support students' preparation and make it possible to operate a truck correctly and safely and achieve your Class A CDL in California.
15. Advanced Career Institute
Class A and Class B CDL training classes will be beneficial to all new truck drivers enrolling for the courses. These courses are taught in a conducive sector, enabling them to grasp truck driving skills.
As they proceed from classroom teaching to behind-the-wheel training to begin a career as an entry-level truck driver, students will swiftly master their driving skills.
.........................
16. Los Angeles Trucking College
This university offers quality training on time. When you enroll in the programs, you can immediately begin working as a professional truck driver.
Their goal is to provide students with the necessary skills and knowledge to pass the CDL exam and begin earning a living.
Furthermore, attending the Los Angeles Trucking College will enhance your credibility as a truck driver and will look fantastic on your CV.
17. Truck Drivers Academy
Truck Drivers Academy is not expensive to enroll in. Everything is set up to make sure that you are well prepared to take the CDL test.
Even if you don't have driving skills or experience, you can still join the school, get trained, and get your CDL.
18. Ace Truck Driving School
With just 3-4 weeks of full-time Class A CDL training, you'll be on your way to a high-paying truck driving career.
Ace truck driving school does not require any prior commercial driving experience. You'll be road-ready with recommended skills and certification in just 3-4 weeks.
.........................
19. Advance Bus & Truck Driving School
I highly recommend this school because it renders great skill, curriculum, and communication to its students.
Based on reviews being given about the school, you get exactly what you pay for and that is a good move by supporting the need for life-changing career moves into the commercial driving industry.
Advance Bus and Truck Driving school got 40 5 Stars out of 41 and this makes it a good and recommended academy to join.
20. American Truck & Bus Driving School
Quality driver safety classes have been provided by the American truck and bus driving schools throughout California. After passing this class, you will be issued a Class A license for a 10x speed truck.
Conclusion
The high demand for commercial drivers in the United States has resulted in the establishment of the best CDL truck driver school in California. Statistics show that there is insufficiently trained personnel to fill all vacancies, which is why colleges are constantly forming Schools in California and most other states.
.........................
Many people believe that this job is not well paid; however, drivers involved in this activity begin to earn between $40,000 and $50,000 for the first year, including benefits. So, what are you still waiting for? Get a school from this list of 20 best CDL truck driving schools in California and start making money today.